What Is Welding PPE? A Helpful Guide for Beginners
Welding and cutting metals can expose you to many hazards. While a properly designed workplace is the primary concern for your safety, you can also use various PPE for additional protection. First, let's see what PPE is:
Welding personal protective equipment (PPE) is the sum of the safety equipment welders wear to shield themselves against all the hazards in a welding environment. PPE includes wearable gear such as helmets, respirators, gloves, and flame-resisting (FR) clothing.
A welder must use PPE to protect himself, not only from his work but also from the work of any other workers nearby.
Since safety is of utmost importance, this article will answer many safety questions and present a list of protective gear and clothing needed in welding.
Why PPE is important in welding?
PPE is important because no matter how much effort is given when designing and organizing a welding environment, it is impossible to avoid all the welding hazards. PPE helps to reduce that safety gap down to acceptable levels. A secondary benefit is improved comfort against heat, noise, etc.
Welding hazards that PPE protects you from
PPE protects you from the following hazards:
Ultraviolet (UV) and infrared (IR) light (link to ccohs.ca) from the welding arc or other powerful heat sources. UV light can lead to a condition called an arc eye or welder's eye. IR light can also cause long-term eye damage. UV can also burn exposed skin and is more harmful if you have tattoos, especially around your wrists and forearms.
Intense heat, sparks, spatter, slag, and welded metal can cause severe burns.
Welding fumes and gases, vapors, dust, and other air pollution can hurt the respiratory system.
Degreasers, solvents, oils, greases, and acids can cause mild or serious skin issues by contact. They also release vapors that you may inhale or absorb through the skin.
Electrical shocks from many sources.
Damage from falling objects or moving parts of various machinery.
Intense noise from grinders and other machinery.
These hazards can cause slight discomfort to severe injuries and illness, or worse. Therefore, it is vital to wear proper PPE at all times depending on the environment.
Factors for PPE selection
You select the proper PPE according to the nature and strength of the welding hazards you deal with. Let's see some of the most important selection factors:
The process you use. A welding process that generates many fumes, for instance, stick and flux core, requires higher respiratory protection. A process that generates high-energy UV rays, for instance, TIG, requires higher skin protection.
The amount of energy that the process uses. When using arc-based processes, the higher the amperage, the higher amounts of UV rays, welding fumes, and spatter you will get. When the amperage is set higher than 200A, you need stronger PPE such as leather sleeves or jackets for proper protection.
The material of the workpiece. For example, when welding or cutting metals such as stainless steel, you get fumes that are more harmful than typical carbon steel. Coatings also contribute to the hazards. A typical example is the zinc coating of galvanized steel that generates large amounts of fumes. Aluminum fumes are also more harmful than carbon steel. One thing to notice about aluminum is that it generates higher amounts of ozone when you TIG weld it.
What PPE is required for welding?
A wide variety of PPE is available, but not all of them are required for most jobs.
The required welding PPE are the welding helmet, safety glasses, gloves, flame-resistant (FR) clothing, and leather boots. If you deal with heavy spatter and slag ( stick or flux core) or weld in the overhead position, you also need a cap, earplugs, sleeves, and an apron. If ventilation is insufficient, a respirator is essential.
---
Now let's see a list of the most important welding PPE, starting with gear for the head.
Safety glasses are the most common PPE
Safety glasses are the most common PPE in a welding workshop. The eyes are the most sensitive organs, and they are constantly exposed to many hazards.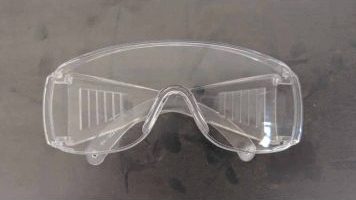 The most important role of safety glasses is to prevent solid particles, no matter the source, from landing in your eyes. This is the most common eye injury and often leads to infections. Therefore, it's wise to wear them all the time, even if you are not currently welding, removing slag, grinding, or cutting metal.
One thing to remember is that all safety glasses provide permanent 100% ultraviolet protection even if they are crystal clear. This will prevent accidental eye exposure to ultraviolet rays from your or a nearby arc. However, most safety glasses don't offer 100% protection from infrared rays.
As a welder, it's wise to wear safety glasses even if you wear a welding helmet, especially if it's a passive one. This way, you get permanent eye protection when you flip the helmet to inspect the weld, chip off the slag, or restart the arc. 
It's best to have several glasses available since even the best companies 3M, lincoln, Bolle, etc offer many models at great prices.
If you use prescription glasses, always cover them with fitting safety glasses.
Why do welders wear helmets?
Welding helmets are the most important and well-known welding PPE. They protect your eyes and face from heat, sparks, flying materials, UV, IR, and intense visible light. Their shape also protects a big part of the neck and ears. Their materials are resistant to heat, radiation, and electricity.
The face of the welder is always exposed to the dangers of the job:
The intense UV rays from arc welding and cutting operations can cause arc eye that lasts several days.
If you weld long enough, your skin will burn from UV light similar to a sunburn and with similar side effects.
Finally, welding exposes your head to sparks and spatter, especially if you weld in the overhead position.
A welding helmet's full-face protection is necessary for arc-based processes that release ultraviolet rays. Other processes such as oxy-fuel generate don't generate ultraviolet rays, so you can use welding goggles.
Welding helmets must follow the ANSI Z87.1 standard (free PDF download from safetyequipment.org).
There are two types of welding helmets: passive and auto-darkening. Passive helmets have served welders for a long time, but technology brings new products that enhance productivity. Nowadays, auto-darkening helmets are efficient, affordable, and popular.
Passive helmets
Passive helmets have a replaceable lens of a specific shade, most often number 10 for arc welding work.
With passive helmets, you have permanent protection from ultraviolet, infrared, and visible light without electronic parts or batteries going bad. Furthermore, they are cheap and durable.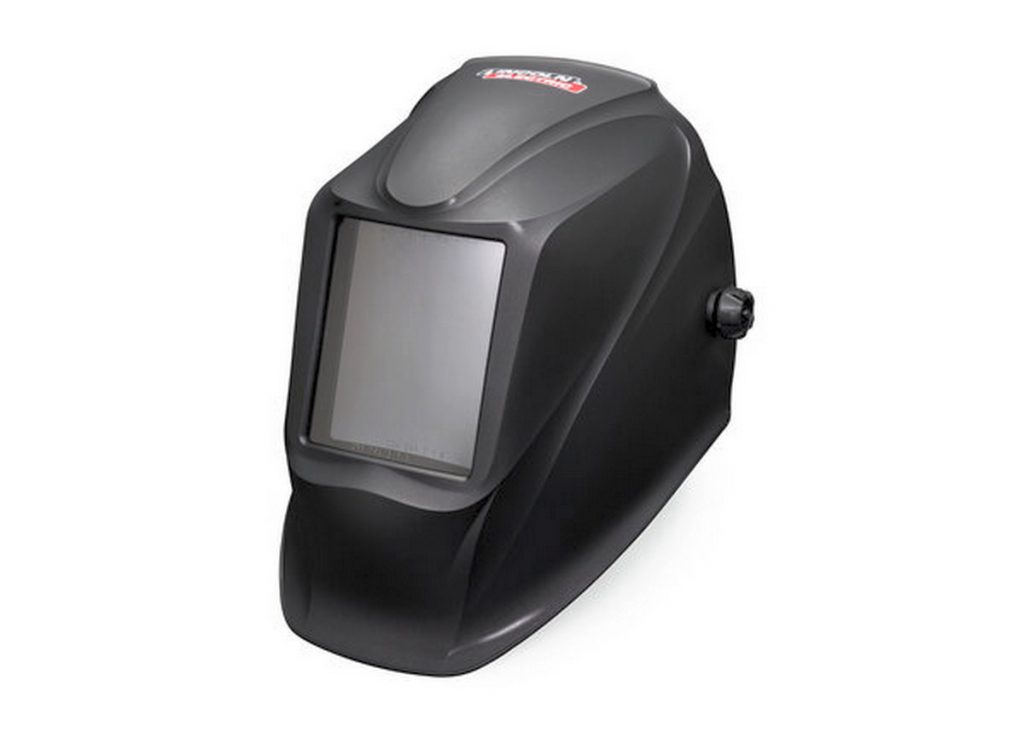 However, passive helmets can cause neck strains from the necessary flipping before striking the arc. In addition, you get faulty arc strikes more often, and you manually change shades according to the amperage and process.
Auto-darkening helmets
Auto-darkening helmets have an electronic filter (ADF) that is clear until you strike the arc. When the arc ignites, the filter darkens and allows a tiny part of the visible light to pass through so that you can see and work. Most helmets cover shades from 4 to 14.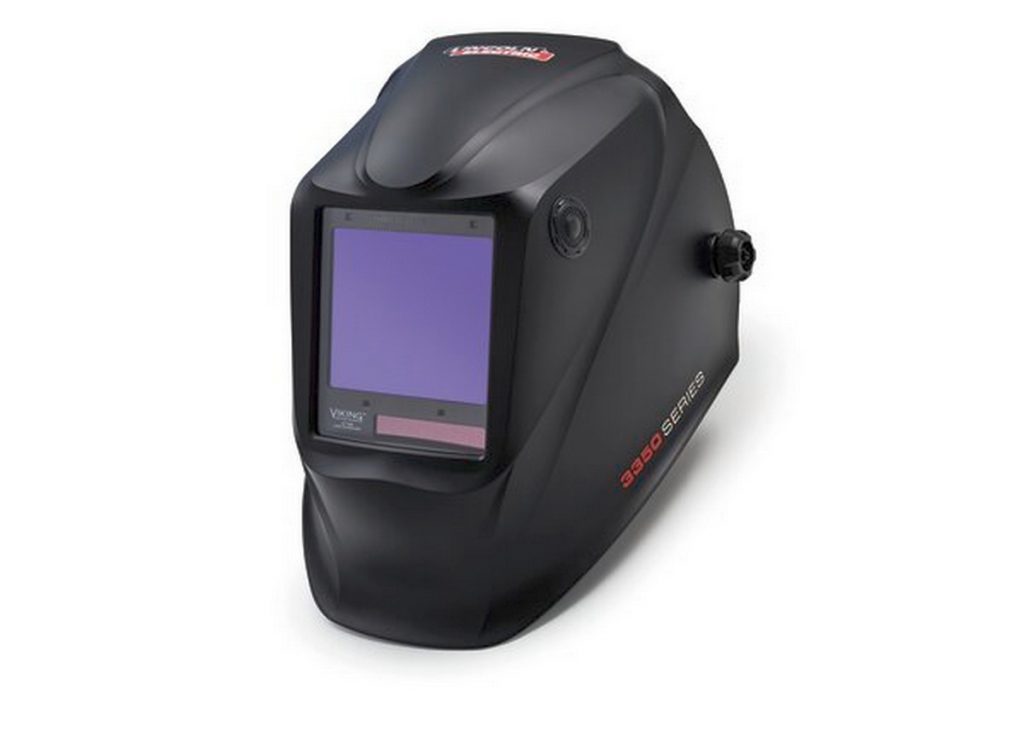 One thing to make clear is that auto-darkening helmets provide permanent protection from ultraviolet and infrared rays, even if the darkening doesn't work. If the filter fails to go dark, the ultraviolet rays will not burn your eyes, but you will get disoriented by the bright light.
Auto-darkening helmets offer visibility without raising your helmet. You can use them with different processes and amperage settings without changing lenses.
However, these helmets have many costly electronics fixed in one part that can go bad. At some point, the batteries will need replacement. In addition, if the helmet's settings are wrong, the filter may randomly go on or off.
Furthermore, an auto-darkening helmet might not be reliable when the weather is very cold or when using very low amperage with TIG welding.
Why do welders wear goggles?
When using gas (oxyfuel) welding, welders use lightweight goggles instead of full-face helmets to work more comfortably. Oxy-fuel welding and cutting (but also brazing and soldering) don't generate ultraviolet rays. Also, the infrared rays and visible light are weaker compared to the arc processes.
An exception is when working in the overhead position. Here, a helmet with the proper shade is necessary to protect you from spatter.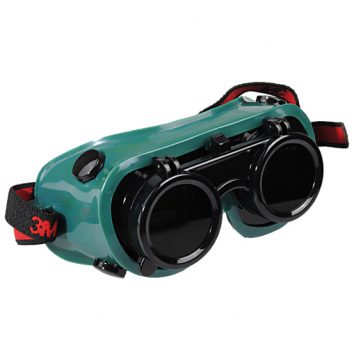 Despite that the oxy-fuel process doesn't generate ultraviolet rays, all welding goggles protect from UV rays. They are not suitable for arc welding because they don't cover the entire face, and cannot block the arc's bright light.
Because googles are close to the face, they tend to fog easily. For this, prefer vented goggles.
What face protection do you need for grinding and cutting?
As a welder, you'll spend a lot of time grinding and cutting the workpieces before and often after welding.
Many auto-darkening helmets have settings to prevent the darkening effect. This makes them suitable for cutting. But it's best to use simpler PPE to keep your helmet longer.
Full-face safety shields are perfect for continuous grinding and cutting. They cover your entire face and offer greater protection than safety glasses. A full-face shield is vital when you use:
Angle grinders to grind or cut metal because if they break the fragments travel at speeds up to 190 mph and can cause serious damage.
Wire wheels attached to grinders remove slag, rust, and other materials in an aggressive causing pain when hitting naked skin. The real danger is steel bristles that can detach and damage not only your eyes but penetrate your skin as well. 
Carbide burrs also remove metal aggressively.
Chemicals to clean metals.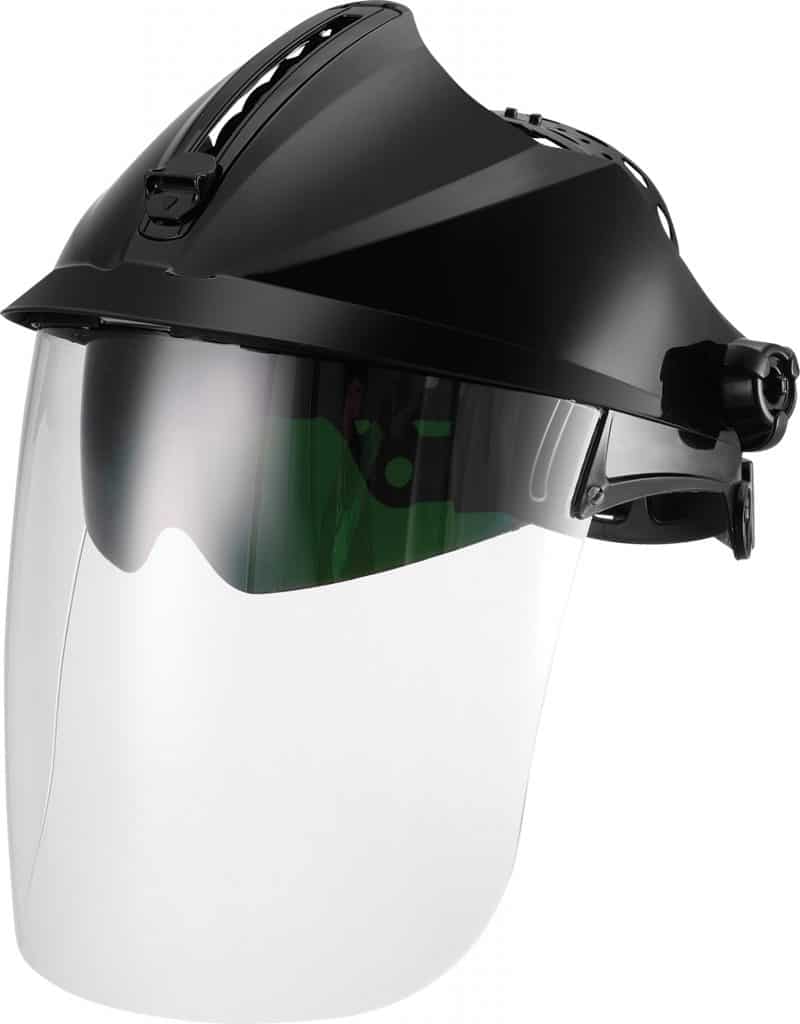 Often, full-face safety shields come with earmuffs for noise protection. They also leave enough space to use a small welding respirator.
How to protect your hair when welding?
Protecting your hair is also important since the welding helmet cannot cover your entire head.
Excessive heat, slag, spatter, and ultraviolet light can not only damage your hair with first contact but also in the long run. If you don't have hair, it's even more important to cover your head against these hazards.
Welding bandanas are popular for hair protection, but a welding cap is the best choice because it covers a wider area, including a part or all of the ears. For heavy-duty protection or if you have long hair, there are welding balaclavas that cover the entire head.
Welding PPE for neck protection
One spot that is often exposed to the arc is the area under your chin. Your shirt may not cover the area properly, or it's unbuttoned. If that happens, you'll get ultraviolet burns.
A simple way to cover this area is with a piece of leather attached to the bottom area of your helmet. However, there are commercial helmet bibs that do the same job. The previously mentioned balaclavas can also protect this area.
What ear protection do welders use?
When using grinders or any other high noise tools, you must wear heat-resistant earmuffs or earplugs. They can save your ears from permanent damage that can occur many years later.
Furthermore, they prevent sparks, and slag fragments from entering your ear, especially when working in the overhead position.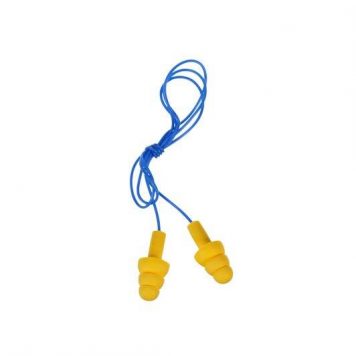 What respirators do welders use?
If the present ventilation is inefficient, welders use welding respirators for protection against welding fumes, gases, and vapors. Respiratory protective equipment comes in different types and sizes:
Simple disposable masks that cover the nose and the mouth. They are cheap but not efficient for welding because they don't offer a tight fit.
Reusable welding respirators that cover the nose, mouth, and chin. Reusable respirators offer satisfactory protection with the proper filters and cartridges. They can fit under most welding helmets.
Powered welding respirators (PAPR) are heavy-duty respirators. They are battery-powered, use heavy-duty filters and combine with an appropriate welding helmet. Powered respirators offer superior protection and comfort for professional welding work.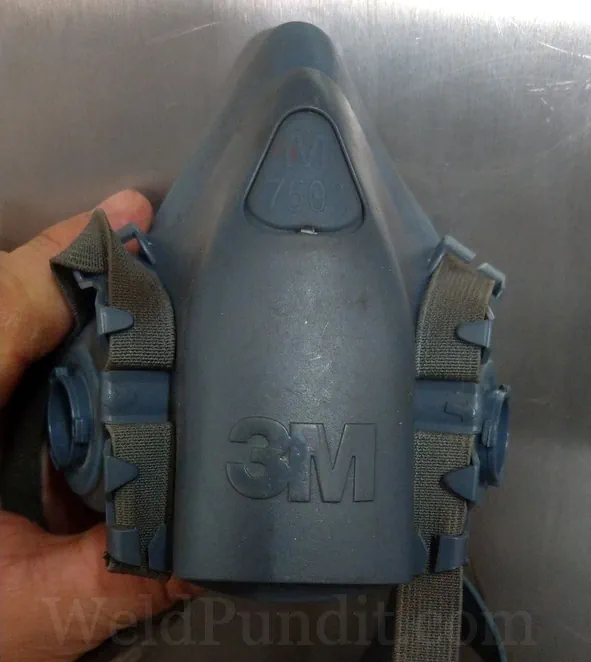 Respirators clean the polluted air using filters that trap particulates (fumes) or cartridges with a sorbent that adsorb gases and vapors.
Always select the right filter or cartridge for the fumes or gases that each process and metal release into the air.
Respirators are also necessary for every cutting, grinding, or cleaning work that pollutes the air. Weldpundit has a detailed guide on welding respirators.
---
Next, we'll see the different clothing and material types for welding.
What type of clothing do welders wear?
Welders wear clothes that are flame-resistant not only to avoid fire but also to avoid burning holes through them. Also, welders' clothing but be abrasion and cut resistant. At the same time, clothing must remain as breathable and flexible as possible. The material type and the thickness depend on the current process and the amperage used.
Since most welding clothing isn't as flexible as normal clothing, it's best to try them first to ensure that:
The size fits without limiting your mobility or causing discomfort.
The heat-resistant enchantments don't cause skin irritations.
These considerations are more important for leather PPE.
All clothing must completely cover your skin for ultraviolet light protection. Furthermore, call PPE must be kept dry even from sweat to avoid electrical shocks.
What are the best materials for welding clothing?
The best material for most welding clothing is cotton ideally chemically treated to acquire a flame-resistant (FR) coating. For heavy-duty welding, the best material is leather. For some types, a combination of both materials offers the best benefits.
Simple tight-woven cotton offers the best comfort in warm environments and is the most flexible material. While it is suitable for occasional welding with low sparks and spatter, it doesn't offer proper protection for continuous or professional work. It may not catch fire but spatter can burn through it.
Chemically treated (FR) cotton offers great heat and spatter protection, while it remains flexible and breathable. But the coating deteriorates each time you wash the PPE. At some point, spatter will start burning holes. Well-known manufacturers offer FR clothing that lasts around 25-50 washes.
Flame-resistant (FR) means that the material will resist temporary contact with flames or hot spatter. It will not catch fire or get damaged. But it doesn't mean it's flame-proof, it's not designed for long contact.
Leather either pigskin or cowhide offers the best heat and spatter protection. But it has the lowest flexibility, it's too hot and heavy to wear, and may cause skin irritations.
PPE is often made by combining FR cotton and leather. Leather is used in the areas closer to the hazards, while cotton is used in the remaining areas for better cooling and dexterity. Common PPE of this type are sleeves and jackets.
Tight-woven cotton with or without an FR coating and leather offer excellent ultraviolet protection.
What clothing should you not wear while welding?
It is vital to avoid wearing any synthetic clothing or shoes in a welding environment. Synthetics can melt or catch fire, even from light exposure to grinding sparks. They can also melt from intense heat. Finally, remove all jewelry and ensure you never carry any lighters in your pockets before you start working.
Every piece of PPE you wear must be free from flammable materials such as oil and grease, especially if you use oxy-fuel equipment. The flame can ignite them easily. Also, if oily clothes come in contact with pure oxygen can ignite even without the presence of flame.
Everyday lightweight or loose-woven materials don't provide enough, heat or flame resistance for welding purposes. They may not catch fire easily, but hot sparks and spatter will damage them with the first contact. Furthermore, ultraviolet light can not only damage clothing given enough time but also pass through them hurting your skin.
What shirts and jackets do welders wear?
Welders wear shirts and jackets made only from flame-resistant materials. They have long sleeves with buttoned cuffs to keep sparks and UV light from burning your forearms. They have pockets with flaps to keep out spatter and slag, and a high collar for covering the neck area under the chin.
Welding shirts offer comfort in high-heat environments and the best flexibility for delicate work, for instance, TIG welding. They offer enough protection for regular low amperage welding in the flat position. But they can easily get damaged if spatter stays on them without rolling. Most welding shirts are made from cotton with an FR coating.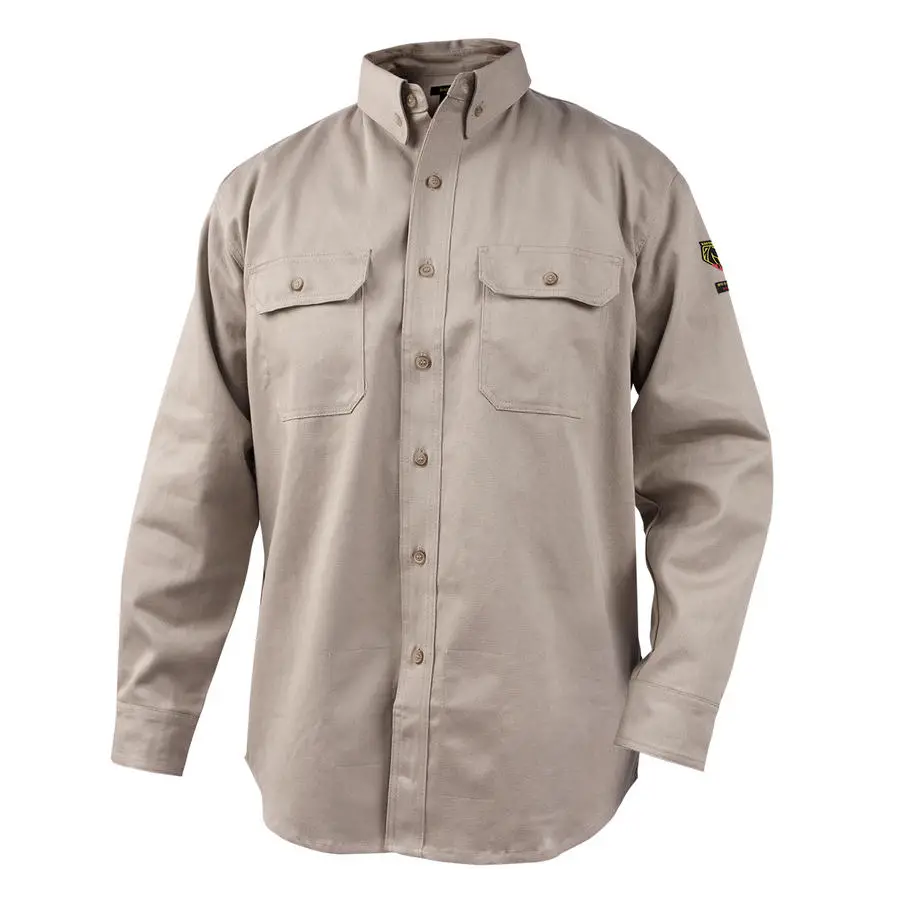 For light work, you can use a shirt that is not made for welding but ensure it's made from tight-woven 100% cotton material without any synthetic additions. Denim shirts are an example.
Many welding jackets are made from leather, which offers the best protection against welding hazards. However, they are heavy, restrict mobility, and can get dangerously hot to wear in hot environments.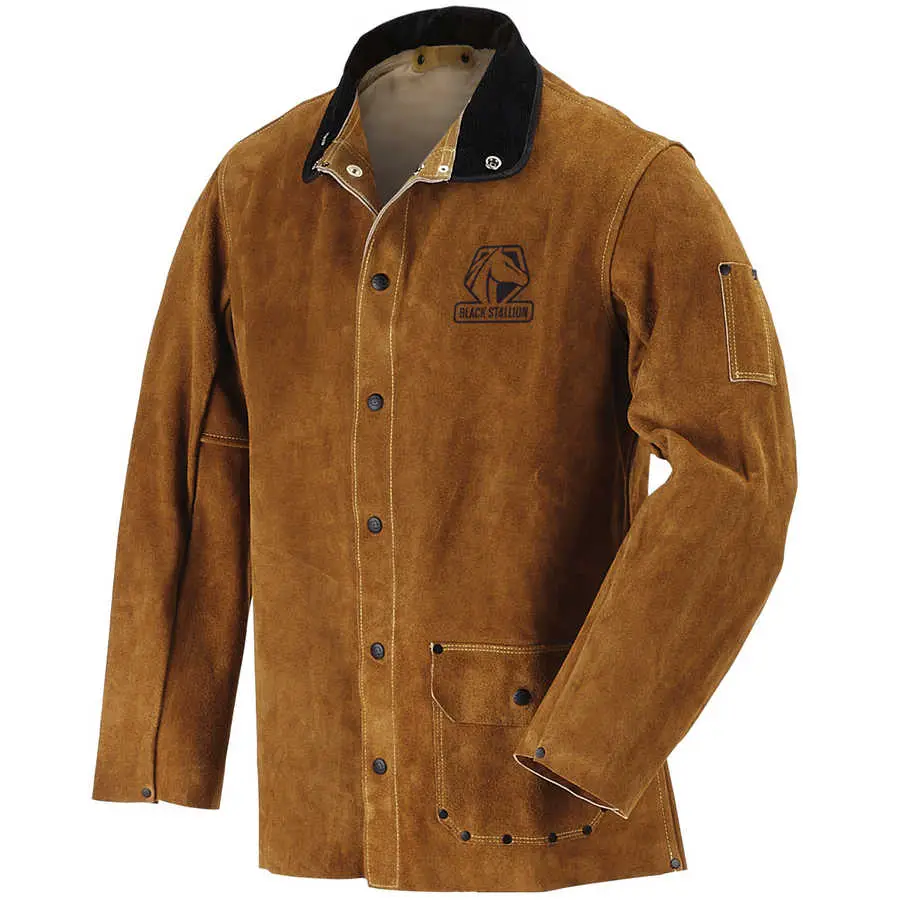 Other jackets are made from heavyweight cotton with FR coatings. They are tougher than shirts and are suitable for colder environments. But they can't offer the same protection as leather.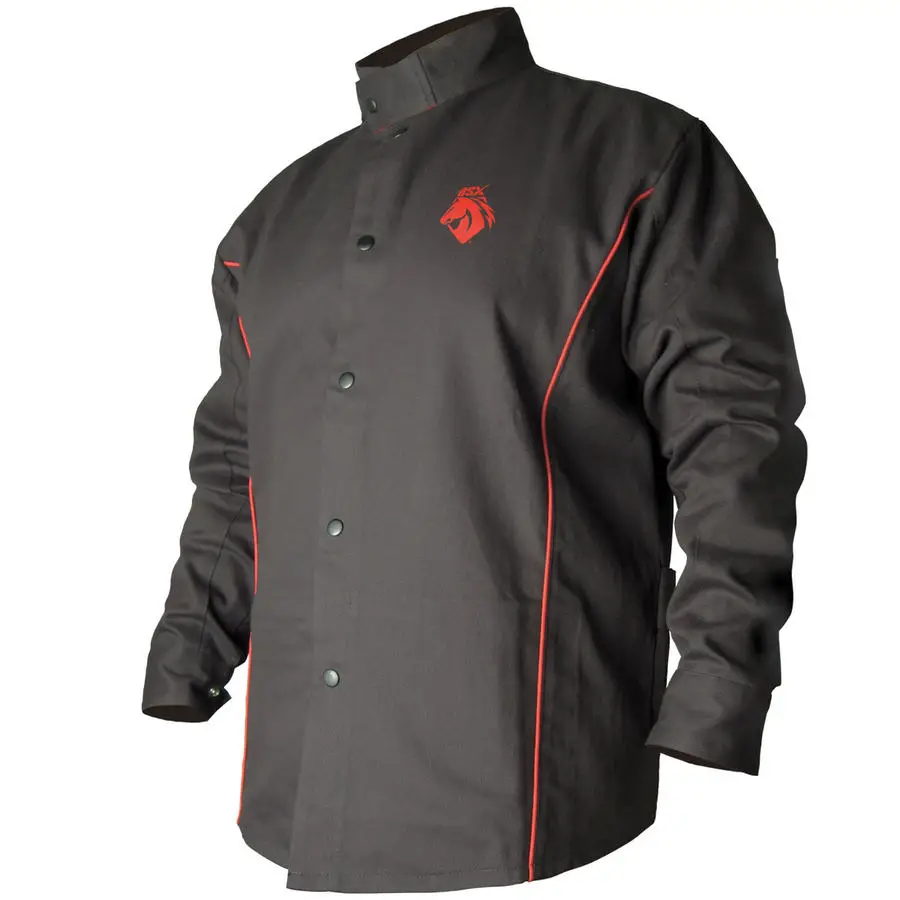 Some jackets are made from advanced flame-resistant materials with added FR coatings as an alternative to leather. These jackets have excellent spatter resistance, don't get too hot, and are lightweight and flexible. But they are very expensive.
A good option is jackets that combine leather sleeves that protect the arms and a cotton body to keep you cool and mobile.
What gloves do welders wear?
The closest part to the welding arc is your hands. They are in constant danger of heat or UV burns, electric shocks, and cuts.
Welders wear gauntlet-type gloves made from leather to provide strong heat and flame resistance, but also electrical insulation. After the safety glasses and the welding helmet, gloves are the most important PPE.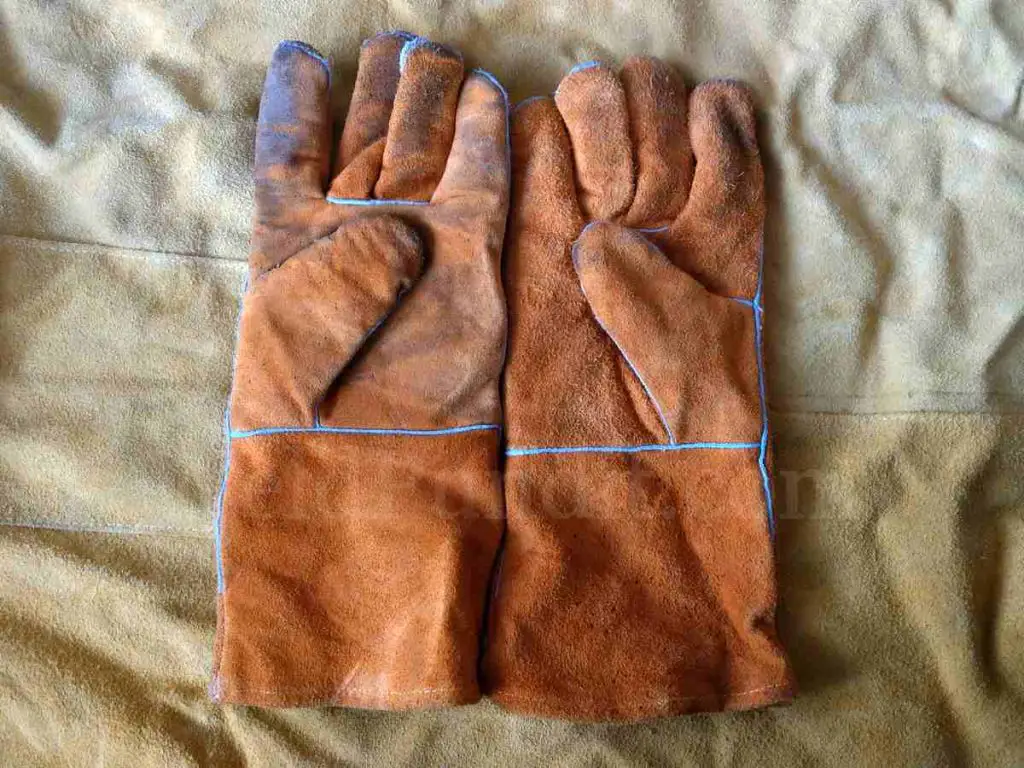 Welding gloves should match the welding process that you are working with:
Thick leather gloves for stick, flux-cored, and spray MIG welding. These processes release high heat and spatter. Spray MIG releases extreme amounts of heat. For this, you can attach affordable backhand leather pads to your gloves for added protection, or expensive aluminized pads that can reflect the excessive heat.
Medium-weight welding gloves for short-arc MIG welding. Short-arc is the common low-amperage MIG transfer mode. It generates lower heat and spatter so you can use thinner gloves for improved torch handling.
Thin gloves for TIG and oxy-fuel welding. These processes release low heat, and you can use thinner gloves for greater dexterity.
For grinding and cutting metal, it's best to use tight-fitting and cut-resistant gloves for improved dexterity. Typical welding gloves are dangerous for handling rotating machinery.
What are welding sleeves?
Sleeves are a popular welding PPE when you want additional arm protection when you deal with excessive heat and spatter. For example, stick welding, or you weld in the overhead position. You can think of them as glove expansions.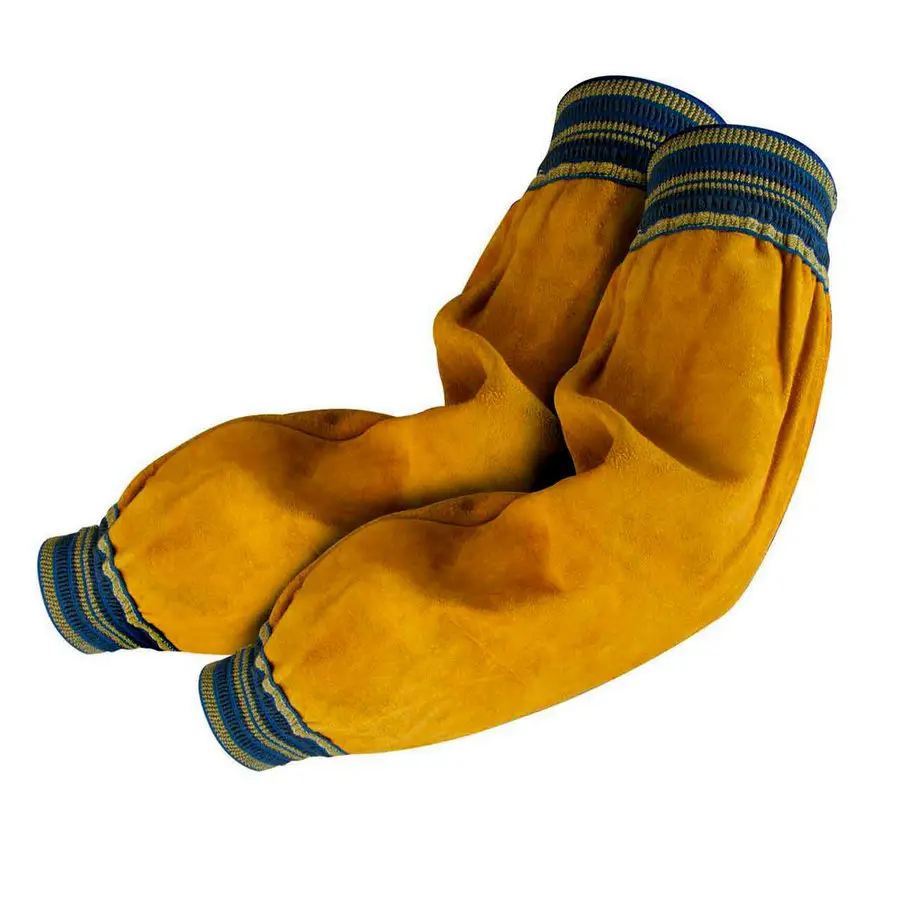 The most common material for sleeves is leather. But there are also cotton sleeves with flame-resistant coatings. Another common type is sleeves made with leather forearms and the remaining from FR cotton.
Often, sleeves have elastic cuffs holding them in place and keeping spatter out. But this type may create discomfort if you wear them for too long.
What is a welding apron?
An apron is a helpful PPE for additional torso and upper leg protection when you deal with heavy spatter. It's useful when welding in positions when spatter doesn't roll over and stays stationary on you. If this happens, hot spatter can damage clothing even if they have FR coatings. As expected, most aprons are made from leather.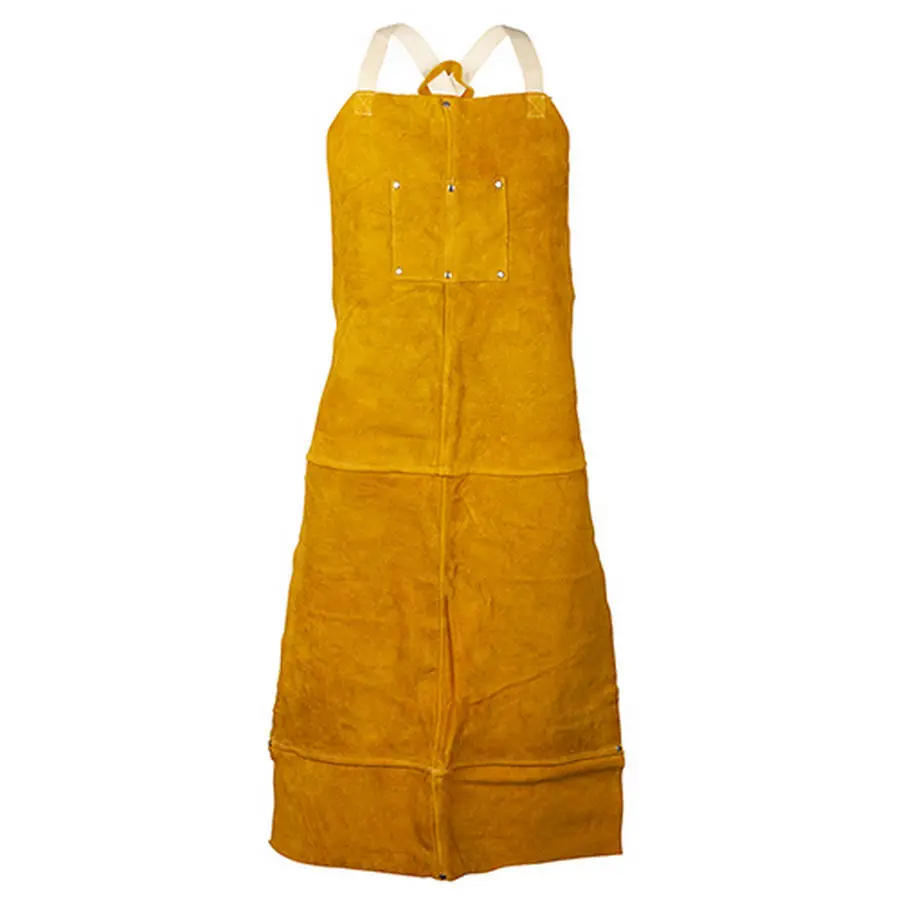 Aprons protect only the front side of your body and allow the rest to be cooler without restricting mobility. They are quite popular for stick and flux-core welding.
What pants should you wear when welding?
For most welding jobs, pants made from 100% tight-woven cotton are enough. A typical example is thick denim jeans. Pants shouldn't have exposed pockets or rolled cuffs and must be long enough to cover the shoes to keep away spatter and slag.
If you need further protection, you can wear pants with a flame-resistant coating. For heavy-duty work, you can cover your pants with leather leggings or an apron.
What shoes do welders wear?
Welders wear shoes or boots made from thick leather because they are exposed to spatter. Steel guards at the toes are recommended for protection against falling weights. Furthermore, shoes should be high-topped at least 6″ and covered by your pants to keep out spatter. Finally, shoes should have rubber soles for insulation against electrical shocks.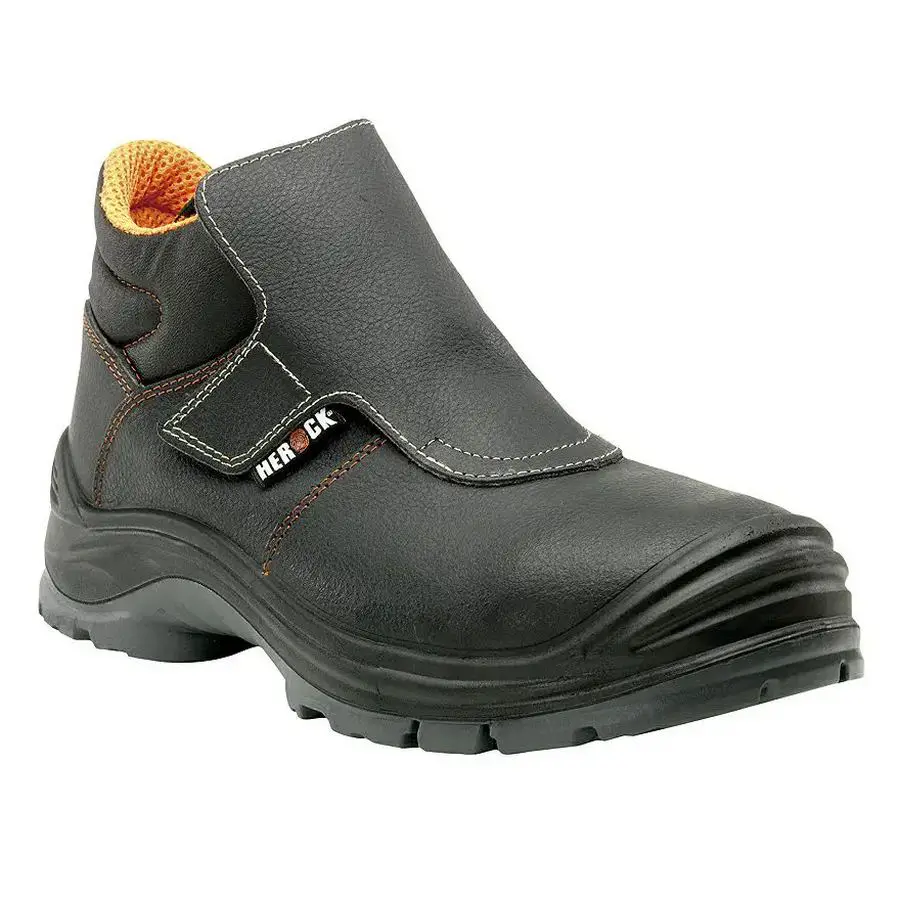 For work that's spatter-free (TIG welding), you can wear shoes made from canvas material. But for most welding work, it's best to wear proper leather boots or cover them with leather spats.
Welding shoes is a PPE that it's best to pay a bit extra for better quality and comfort because you will wear them for many hours, not only when you weld.
Conclusion
You use personal protective equipment (PPE) to fill the safety gaps for every work you do in a welding workshop.
Most PPE is made for the protection of the head: eyes, face, ears, hair, and neck. Respiratory protection is necessary when there is insufficient ventilation. Finally, there are many types of flame-resistant clothing and boots to cover the entire body.
Protection of the eyes and face is the most important with safety glasses and a welding helmet. After that, wear the proper gloves, and flame-resisting clothes. Finally, avoid wearing synthetic clothing.
Finally, as with all equipment, PPE needs proper training in usage, inspection, and maintenance.
| Body part | PPE | Hazards | Usage |
| --- | --- | --- | --- |
| eyes | safety glasses | UV rays, flying objects | All |
| | Goggles | UV and IR rays, bright light, flying objects | Gas welding or cuttings |
| eyes and face | Face shield | UV rays, flying objects, chemicals | Grinding and cold cutting |
| | Welding helmet | UV and IR rays, intense light, heat, flying objects, chemicals | Arc and gas welding or cutting |
| Ears | Earmuffs or earplugs | Noise, slag, spatter | High noise or overhead position |
| Respiratory | Respirators | Fumes, gases, dust, vapors | All (if ventilation is low) |
| Hands | Gloves | Severe heat, burns, spatter, UV rays, chemicals, cuts | All |
| Body | Shirts | Heat, spatter, slag, UV rays, chemicals | Low hazards, hot environment |
| | Jackets | Heat, spatter, slag, UV rays, chemicals | Low hazards, cool environment |
| | Pants | Heat, spatter, slag, UV rays, chemicals | Low hazards |
| | Leather PPE, aprons, sleeves | Heavy-duty protection from all hazards | Severe hazards |
| Feet | Boots | Spatter, falling objects | All |
Basic PPE for welding and cutting
As for prices, the best recommendation is to buy the basic PPE models of well-known manufacturers. For most welding work they are more than enough. Products from unknown internet sources might look good on paper and the images, but they are unreliable.
The only PPE you could spend more for higher safety but also comfort is primarily the welding helmet but also the boots and the gloves.
---
Frequently asked questions on welding PPE
What PPE is needed in gas welding?
Gas welding uses fuel, most often acetylene, to create a flame. Flames don't generate ultraviolet rays as electric arcs. It also generates less heat and bright light. As a result, the required PPE for gas welding is simpler:
Safety glasses for preparation work.
Reliable antifog goggles with a no 5 filter lens.
A pair of thin welding gloves.
A welding respirator is necessary if you weld galvanized or stainless steel.
High-temperature resistant gloves for closing the fuel cylinder's valve in the case of an emergency.
A long-sleeve tight-woven cotton shirt or jacket.
Thick denim jeans in good condition without cuffs.
A pair of leather boots with toe guards.
Always be alert not to wear anything synthetic.
What PPE is needed in TIG welding?
If you use TIG welding, sparks and spatter are not an issue for most projects. So heavy-duty FR or leather clothing is rarely used.
However, ultraviolet rays are an issue, and you should wear clothes that cover your entire body. Remember that ultraviolet rays can bounce off many surfaces and hit you from different angles. For instance: bright paint, concrete, shiny metals, and even bright clothing.
Here is a quick PPE list for TIG welding:
Safety glasses for you and any other person that might be around.
An auto-darkening welding helmet that can weld at low amperage settings. Many TIG welding projects weld thin metals, but many helmets cannot auto-darken when the amperage is low, for example, 5-20A.
A welding respirator with an active carbon layer to capture ozone. Ozone is created by the arc's ultraviolet light, especially if you weld aluminum. Often, TIG welding is used for stainless steel. This metal always needs respirators with P100 filters, even if the fume generation is low.
A suitable pair of thin welding gloves, usually from goatskin. When TIG welding you need the best dexterity.
A long-sleeve tight-woven cotton shirt or jacket to avoid ultraviolet light.
Denim jeans in good condition.
Safety boots with toe guards, but if you weld small workpieces, you can also wear shoes from canvas material.
Always be alert not to wear anything synthetic.
What PPE should you wear for overhead welding?
Overhead welding puts you in a position vulnerable to sparks, spatter, and slag. For this, you should cover your head, ears, arms, and shoulders with heavy-duty PPE, preferably from leather.
Apart from the helmet, you should put on a welding cap that also covers the ears or, even better, a welding balaclava to cover your entire head. If your ears are exposed, protect them with fire-resistant earmuffs.
For the shoulders and arms, you can wear leather cape sleeves over your normal welding clothing, or even better, a leather jacket.
When welding overhead, it's vital to avoid open pockets, etc. that can trap slag or spatter.
Why do welders starch their clothes?
Starching is a method to add heat and spatter resistance to regular clothes or welding clothes that lost their protective coating. Starching acts as a barrier not only to heat, and sparks but also to all types of dirt, oils, grease, etc. You can do it yourself since it's an easy DIY skill to learn.
---
More Weldpundit articles