What Is a Welding Electrode Oven? Do You Need One for Home Welding?
Learn the basics of welding electrode ovens, including why and when they're useful, as well as the different types available. Furthermore, are welding electrode ovens necessary for home welders, and what alternatives are available.
Table of Contents
What is a welding electrode oven?
A welding electrode oven or electrode stabilizing oven is a specialized oven that welders use to recondition hydrogen contaminated electrodes or store healthy ones. Electrode ovens rebake or store stick welding electrodes, flux-cored wire, and the flux material of various other processes.
Why is a electrode oven useful?
A welding electrode oven is useful to extend the electrode's service lifetime, especially when welding critical work. You can do that by storing the electrodes in the oven after you open their package. Or by baking exposed electrodes to remove the excess moisture back to the factory standards.
The flux material of either stick welding electrodes (or rods), flux-cored wires, or submerged arc welding (SAW) fluxes, must have a specific percentage of hydrogen.
When you open the sealed flux packaging for the first time, it starts absorbing moisture from the air.
If you use moisture-contaminated flux, the arc's extreme heat will break down moisture (H2O) to hydrogen and oxygen. These elements end up inside the weld.
Excessive moisture in the flux material harms the weld's quality, especially when using low-hydrogen welding rods such as the famous E7018.
The worse defect from using a moisture-contaminated flux is hydrogen embrittlement.
Hydrogen embrittlement (Wikipedia) causes cracking by the pressure of the excess hydrogen trapped inside the weld metal, but even more, in the surrounding area called heat-affected zone (HAZ). Cracking can happen even after a long period since welding took place.
However, hydrogen embrittlement occurs when the metals are sensitive to it and only when the sensitive areas take stress. These metals are medium and high carbon steel, low alloy steel, and various hardened steels.
Typical mild steel is not sensitive to cracks from hydrogen, except when it gets thicker than 0.75″ (19mm).
Οther difficulties or defects of excessive moisture in the flux are:
Harder starts and restarts of the arc.
Unstable arc.
Porosity.
Spatter.
Uneven consumption of the rod.
Lowers the ductility (or elasticity) of the weld metal.
Without rod ovens, contaminated rods cannot be reconditioned so they can provide the required quality. That means you should disregard them or use them for non-critical work.
What are the types of rod ovens?
According to the purpose and size of welding rod ovens, they divide into the following types.
Rebake or reconditioning ovens
Welders use reconditioning welding rod ovens to rebake moisture-contaminated rods. Only this category can effectively recondition low-hydrogen rods. Reconditioning ovens are heavy-duty and expensive.
Correct rod rebaking needs precise temperatures for a well-defined time duration. As a result, the rods would come out as dry as they were before opening their original package or even dryer.
Holding or storage ovens
Welders use storage ovens for storing low-hydrogen and rutile rods that are already in good condition. Again each rod type has precise temperature storage recommendations.

There are two types of storage ovens :
Stationary storage ovens store rods for a long time 24/7 until the next time they will weld. Stationary ovens are big and placed on tables or the floor. Finally, they have the capability to can rebake rutile rods.
Portable storage ovens are small and lightweight and store rods usually for a short time close to the welder while he is working.
Temperatures and duration for rebaking and storage
I made this chart to give you a general idea about what temperatures are used to store or rebake some of the most known rods. The manufacturer sets the precise temperatures and time for each rod.
Electrode type
Storage
Rebaking
Rebaking
time
Cellulosic
Exx10, Exx11
room temperature
never
–
Rutile
Exx13, Exx14
100°-130°F
(38°-55°C)
250°-300°F
(120°-150°C)
1 hour
Low-hydrogen
Exx18, Exx28
250°-300°F
(120°-150°C)
500-800°F
(260°-425°C)
1-2 hours
Stainless Steel
EXXX-15
225°-260°F
(105°-125°C)
500°-600°F
(260°-15°C)
1 hour
Cast Iron
215°-230°F
(100°-110°C)
250°-300°F
(120°-150°C)
1 hour
Temperature and time duration for rebaking and storage of stick welding electrodes.
You can't rebake low-hydrogen rods at a lower temperature for a longer time and then do critical work. It will not give you the same results.
Long-time exposed low-hydrogen rods, for example, more than a week, need an additional pre-baking for 1 hour at 180°-220°F (80°-105°C).
You can not rebake rods many times. Three times is usually the limit.
Rods that have absorbed a lot of moisture for a long time and show signs of discolorization can not be rebaked.
Do you need a welding rod oven for home welding?
For most home welding projects and maintenance, you do not need a welding rod oven. They are overkill. Rod ovens are usually big and expensive, especially for rebaking low-hydrogen rods. Professionals that make money welding and have a return of investment buy and use rod ovens.
The need for 100% dry low-hydrogen rods is rare when home welding.
When is a rod oven necessary?
Are you going to use exposed low-hydrogen electrodes to weld high strength steel, high alloy steel, or 0.75″ (19mm) thick mild steel?
Furthermore, will the weldments suffer stress from impact, excessive weight, expand and contract from large temperature changes, etc? Then the weld will crack at some point.
Even if you are not going to weld these kinds of metals, ask yourself: What will happen if a heavy-duty weld made from contaminated low-hydrogen rods breaks at some point?
If someone gets injured or hardware damages occur, you must ensure the rods are dry.
For situations like these, you need to store low-hydrogen rods in a proper welding rod oven.
However, welding rod ovens are often expensive. If you want to buy an oven for home welding, an affordable solution is a small portable storage oven.
These affordable rod ovens have a capacity of 11lb (5kg) to 22lb (10kg) and can store low-hydrogen rods. Furthermore, they can rebake and store rutile rods. You can buy one for 100-150$.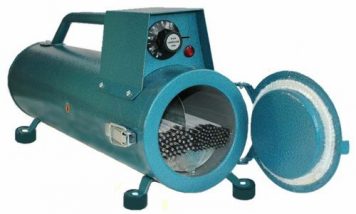 When is a rod oven not necessary?
If you are going to use rods that are not low-hydrogen, you don't need a rod oven.
Cellulosic rods, for example, E6011, don't need rod ovens. Actually, if you heat them even by accident, their flux can go bad and will not weld as intended.
Rutile rods, for example, E6013, will be fine in a sealed container even at room temperature. They will not absorb enough moisture to cause any worrying defects for home welding.
You don't need an oven if you use exposed low-hydrogen rods but will not weld anything critical with them. For simple projects, you will still have great welding results with no problem.
However, there are some other ways to keep rods dry at home and avoid buying an oven.
What can you do if you don't have a rod oven?
Keep in mind that you should use the right tool for the right job. These days many tools have small-budget versions for home usage. But anyway, here are some ways home welders use to compensate for the lack of a true rod oven.
Can you put welding rods in a kitchen oven?
If you have a spare electric oven somewhere, you can use it to store rods because it is designed to provide high temperatures in a controlled environment. But you can do this only for a short time. These ovens are not meant to run nonstop as proper rod ovens can.
With an electric oven, you can store low-hydrogen rods for a short time or rebake and store rutile rods for a short time.
However, an electric kitchen oven can not rebake low-hydrogen rods because it cannot provide the desired temperatures.
It is not a good idea to use your primary kitchen oven for rods because fumes or vapors from the flux are unhealthy in the house.
Homemade rod oven ideas
What can you do if you don't have a second kitchen oven? You can use some tricks old-timers used.
None of the following ideas can store low-hydrogen rods properly. However, they are good enough for rutile rods and better than nothing for low-hydrogen rods if the preset air moisture is excessive. Furthermore, these ideas are meant to be short-time storage solutions.
If you have an unused old refrigerator, you can convert it and use it as a rod oven.

The main idea is to replace the light bulb with a more powerful one to produce enough heat.
Then put a kill switch to turn off the light before opening the door.
Wire the light to be continuously on.
Finally, drill a small hole so the moisture can escape.

An old microwave that is long enough to put rods inside can be modified too. You only use the frame, and you remove the mechanism. You convert it the same way as with the refrigerator.
Probably the best solution when you don't have a rod oven
What can you do if you need to weld with low-hydrogen rods from time to time without having them contaminated?
The simplest thing to do is buying a small package with enough rods for your job.
Prepare everything until the actual weld.
Open the box and use them within the 4-hour or if they are moisture-resistant 9-hour time safe margin they allow.
Keep the rest of the rods for non-critical work.
---
Conclusion
Welding electrode ovens are meant for professionals who must always follow the welding code or meet the project's service requirements.
A home welder, who wants to use low-hydrogen rods to weld something critical, must buy a small portable rod oven, the right tool for the right job.
For typical welding of mild steel, there is no need for a welding rod oven.
---
Relative questions for welding rod ovens
Do stainless steel welding rods need a welding oven?
All stainless steel stick rods need a rod oven for storage or breaking because they are sensitive to moisture. You handle stainless rods the same way as low-hydrogen rods at their recommended temperatures.
If stainless steel rods absorb moisture, you will find it be tough to start the arc and very hard to complete the bead. As a result, you will have an ugly bead on this beautiful and expensive metal.
The most sensitive stainless steel rods are those ending with the -15 suffix. This suffix means the flux covering is low-hydrogen.
Does flux-cored wire need an welding oven?
Flux-cored wire with low-hydrogen characteristics, such as the dual-shielded E71T-5, will absorb moisture despite it is covered by metal. For this reason, these wires need to be stored in ovens and not left unprotected.
Specialized ovens designed for wire spools are available for professional needs.
Rebaking is only possible with flux-cored wires on metallic spools, and it usually lasts 6-8 hours at 300°F (150°C).
Flux-cored wires on plastic spools are never be rebaked and can only be stored at low temperatures of 125°F (52°C).
---
More Weldpundit articles
How to Store Stick Electrodes: With Tips for Home Welders.
Can You Weld at Home? Basic Considerations.
Comparison Between Stick and Flux-Cored-S Welding Processes.
What Welding Respirator Do You Need for Home Welding?