Can You Weld at Home? Basic Considerations
Many people weld at home either as a hobby or with commercial intent. But what do you want to consider before start home welding? In this article, you will read about when it is legal, where to weld, and starting safety guidelines for your welding workshop.
You can weld at your home if your welding practices satisfy safety and legal requirements. As a result, you and your home will be safe from welding risks and legally covered if accidents or complaints occur.
Welding is a rewarding hobby, and building home improvements can save you a lot of money. Furthermore, welding can offer you a good income even if you are doing it at home.
However, there are a few things to think about before starting your welding workshop or expanding an existing one with a welding machine.
First of all, you must be aware of all the legal requirements that must be met before making any other decision.
Is it legal to weld at your home?
In most areas, you can legally weld at your home. However, you should check with the local authorities to know what they require before you start. This way, you will know all the relative laws so you will be legally protected if you even find yourself in trouble.
Before you start welding at home, do some research on the following topics:
If you need a license, and if so, how much will it cost you.
Rental agreements that might not allow you to weld at home.
If your home insurance can cover welding.
Where are you going to weld and if it has adequate ventilation.
The noise restrictions in the area you live.
If you will have trouble with the neighbors.
Limitations on the extra parking space you might need and of the increased traffic outside your home if you weld for other people.
The maximum amount of space your workshop can legally occupy.
Storage restrictions for gas cylinders or chemicals that you may want to use.
Restrictions on the number of people who will be in your workshop if you will need help.
Fire prevention measurements you must have in your workshop.
Do you need a license?
If you weld for a hobby or to make household improvements, you don't need a license in most areas. However, if you weld for other people with commercial intent, you will need a license and probably a few certifications to supplement it.
If you want to weld commercially, you will need specific paperwork depending on the projects you will weld.
It's a different story if you weld simple art projects compared to something critical, for example, trailers. For the last one, you will need specific welding certifications. The first step is to consult with a lawyer.
Do you need insurance?
If you are going to weld at home and acquire a proper license for commercial purposes, you will need business insurance as well. Home insurance policies may have restrictions or require an extension for hobby welding, depending on where you live.
For example, home insurance policies may have strict limits about hot-work or pressurized tanks that processes such as MIG welding need to operate.
Can your neighbors complain?
If you have neighbors next to your welding space, they might become annoyed or express safety concerns when you weld. Especially if they have kids who will try to look at the welding arc while you're working.
Some of these concerns may be:
Eye damage from the welding arc.
Noise from welding and cutting.
Health concerns from welding fumes.
Fear of fires or gas cylinder explosions.
By applying all the safety practices, you can reassure them that you weld safely for everybody. Avoid irritating them to prevent any trouble they may cause you.
You can schedule your work hours to avoid making loud noises when your neighbors are trying to sleep.
If you try to weld at night, the welding light will be extremely bright, which may annoy your neighbors. Welding screens are ideal for preventing the arc light from leaving your workshop.
After you've got a solid understanding of the legal issues you might face, you'll need to decide where you want to set up your workshop.
Where is the best place to weld at home?
The garage is the best and most popular place to set up your welding machine and all the other tools required for your welding projects.
Most home welders work in their garage after they have organized it properly to make it safe and avoid the hazards of welding.
If a garage is not available or does not have enough space, the next best solution is to build a small shed. Keep in mind to find out how much space your new shed is legally allowed to cover.
Can you weld in your basement?
The basement is not a suitable choice to weld. If a fire starts in a basement, it can expand to the house above. Furthermore, basements don't have sufficient natural ventilation, and you can't rely exclusively on mechanical ventilation.
Basements already have poor air quality from humidity, dust, etc., even without any welding.
If you set up gas cylinders in your basement, you risk having gas leaks from a regulator or a hose that you didn't discover in time.
Almost all welding gases are heavier than air and will remain in the basement. Welding gases such as argon will displace the air's oxygen below safety levels if given enough time and cause asphyxiation.
Furthermore, fumes generated from welding or hot cutting metals in a basement will travel upwards and enter the house.
Mechanical ventilation can't offer permanent and satisfactory protection from these issues.
Can you weld in your yard?
You can weld in your yard if your projects have big dimensions or want to weld something that will generate many welding fumes. However, you must ensure that you take every safety precaution for welding in an open area.
The biggest concern when welding outdoors is a fire caused by sparks, especially if it is windy. In yards, there are many flammable materials around, for example, leaves and small branches. With a few welding or cutting sparks, a fire can start.
Therefore, you must ensure to take every measure to prevent fires, for instance, cleaning the entire area from flammable materials. Avoid welding in a place where woodworking took place.
Another thing you want to avoid is moisture in the area where you weld to avoid electric shocks.
You must also consider the safety of any neighbors or passers-by who may be close to your welding area. You shouldn't expose them to the arc or loud noises for the duration of your project.
A great idea is to make a temporary workshop on concrete with welding curtains surrounding it so you can weld with safety.
---
In the last part of the article, I write about general safety considerations and guidelines.
Is it safe to weld at home?
If you follow all the safety practices, you can setup a safe workshop at your home and weld safely. Always follow the safety requirements and recommendations set by the local authorities and by your equipment manufacturers.
You want a workshop that is free of welding-related fire, electrical, fume, or gas cylinder hazards.
To keep the arc's ultraviolet rays (Wikipedia) from hitting you from behind or above, you'll need non-reflective paint on the walls and ceiling.
Have a first-aid kit on hand with no expired items to assist you in the event of an accident.
Keep the workshop clutter-free and minimize the number of cables that lay around. This will reduce the risk of tripping on hard edges or freshly welded metals.
Finally, ensure that there is enough lighting in the workshop.
Fire safety
When you weld or cut metal at home, the greatest fire risk is from hot sparks that can travel far and can start a fire to any flammable material in the area.
To prevent fires, you must remove or secure in metal cabinets anything flammable. Things like cardboard, plastic, fuel containers, etc., must be kept out of the reach of sparks.
You want to clean your workshop from woodworking or other combustible material leftovers. Even the dust that has sneaked into the cracks of the walls or the floor.
The area you weld should be separate from areas you work with flammable materials, such as woodworking.
If the area you work in is small, a good idea is to secure it with welding curtains. They will keep sparks in a restricted area.
A fire can start from an unnoticed smoldering caused by sparks, even one hour after landing on the flammable materials. You must always check the area after you finish your welding. Furthermore, you can install a smoke detector for extra safety.
If you are going to use oxy-fuel equipment, then things are more strict. The fuel gas, which often is acetylene, is extremely flammable and explosive. You should be well informed about the safety issues it presents. 
Oxygen leaks or poor handling of oxygen, such as cleaning equipment, is a bad idea. Oxygen can increase the combustibility of materials such as grease, oil, or your clothes.
Have two fire extinguishers that can cover electricity and metal fires and a welding blanket stand by in case of fire.
Make multiple visual scenarios about how a fire can start and think about preventing or fighting it.
Electricity safety
Place your welding machine in a safe flat area away from water or moisture sources and make sure it is electrically grounded.
Check that all electrical equipment and cables are in excellent condition to prevent electrical shocks or fires.
If you choose a 120V welding machine, any plug with the appropriate circuit breaker, usually 30 amps, will be more than enough.
If it is a 240V welding machine and your workshop doesn't have a 240V plug, an electrician can install one for you, along with the appropriate circuit breaker of 50 amps, cables, and a disconnect switch.
Welding gas cylinder safety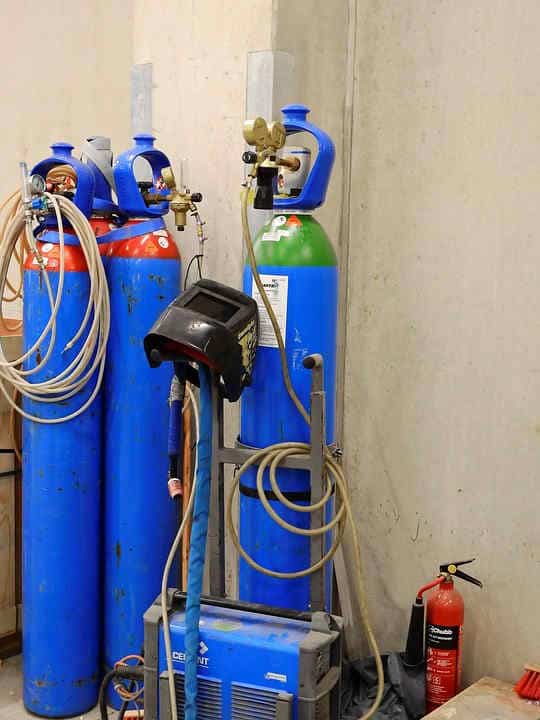 Welding processes such as MIG and TIG need gases such as CO2or argon to shield the puddle when welding. These gases come in highly pressurized cylinders.
While these gases are not flammable, the high internal pressure can push the cylinder at very high speeds if the valve is accidentally broken.
Furthermore, if a cylinder is exposed to high temperatures, it can explode, especially if they are oxy-fuel cylinders.
Considering the above, you must ensure that you store gas cylinders in a safe place of their own to keep them secure.
Basic safety guidelines for gas cylinders in your workshop are:
Pressure regulators and hoses are used only for the gases and pressures for which they are intended.
Store gas cylinders indoors in a well-ventilated, dry location away from heat sources or combustible materials.
Keep gas cylinders upright and secure them to the wall or a cylinder cart with a chain or another steadying device.
Make sure that gas cylinders won't be part of an electrical circuit.
Regularly examine the gas cylinders and everything relative to them for signs of leakage, corrosion, and so on.
Remove the regulators and put the valve caps back in place whenever you move or store the gas cylinders for a long time.
Finally, keep them clean from oil and grease, especially if they are oxy-fuel cylinders.
All manufacturers provide detailed safety instructions for every kind of cylinder and gas they sell. When you follow all of the safety practices, you have nothing to worry about.
Welding fume safety
Stick welding (SMAW) and flux-core (FCAW) welding generate many welding fumes in the workshop. Ultraviolet rays from MIG and TIG welding create gases such as ozone close to the arc.
If you weld metals such as stainless steel and copper alloys or metals with coatings, you will have toxic fumes in your workshop.
Furthermore, if you use solvents and degreasers close to the welding area, the arc's UV rays will interact with the solvent's vapors and create hazardous gases.
Welding fumes and gases can cause health problems if you overexpose yourself to them. Weldpundit has more in-depth articles on protecting yourself from welding fumes and gases and welding respirators for the home welder.
The place you will do your welding must be big enough so the welding fume concentrations stay low. It must also have sufficient natural ventilation, for example, windows and doors.
However, most home workshops are small, and welding fumes can pass safety levels quickly. For this reason, you must install sufficient general exhaust ventilation such as:
Wall extractor fans.
Portable extractors.
Squirrel-cage blowers.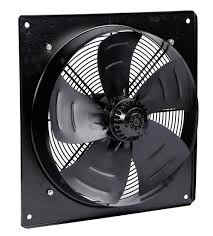 Many affordable ventilation options are available in the market so that you can ensure safe air quality in your workshop.
Can you weld inside your house?
If you want to maintain or repair something in your house, but it is impossible to move it to your workshop, you can weld it in your house. But only if you use TIG welding that creates very few sparks and fumes for safety reasons.
If you want to weld in your house, sparks and spatter are a big fire hazard. Even if there are no flammable materials around, they will leave their permanent and ugly marks on any surface they will touch. Welding fumes have no place in a house, either.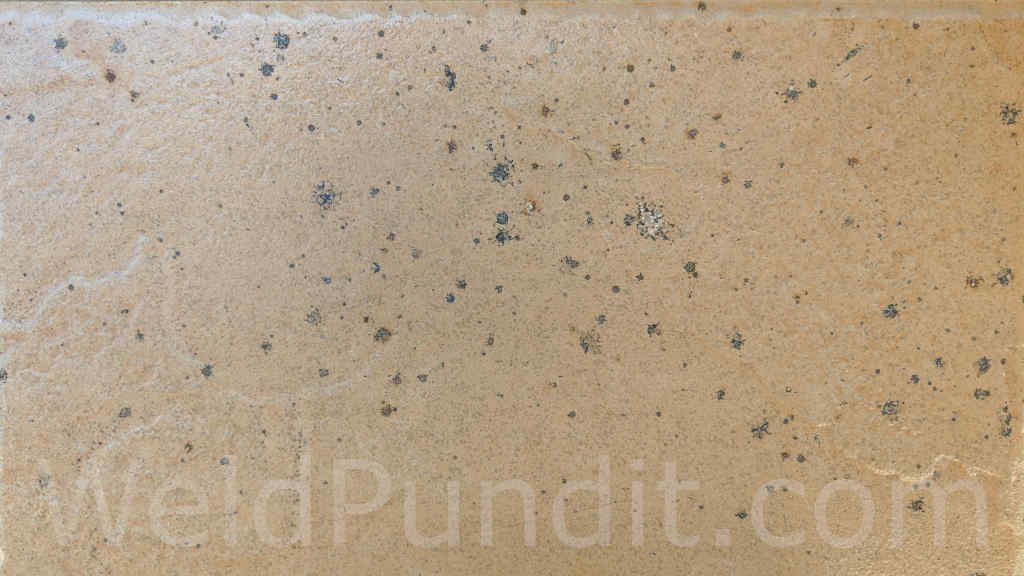 Stick welding will throw sparks all over the place and produce many fumes, so it is out of the question. Flux-cored welding is even worse. MIG welding produces fewer sparks and fumes, but it is still not safe enough.
TIG welding is the only option because it generates the least amounts of fumes, sparks, and spatter. However, TIG welding generates UV rays that can reflect on shiny surfaces and hit you from all sides.
If you want to weld in your house move everything out the way and protect the remaining exposed areas with welding blankets or welding screens.
---
Conclusion
In most areas, you can weld at home, ideally in your garage. To stay out of trouble, you must understand and respect all legal implications and all welding safety practices.
You can weld for commercial purposes at your home. But to do so, you need to take care of all the necessary paperwork depending on the projects you will do.
---
More Weldpundit articles