How to Protect Yourself From Welding Fumes: A Helpful Guide
Protecting yourself from welding fumes in the welding environment is one of the most important things you should know as a welder. Otherwise, you increase the risk of short or long time effects on your health.
In the last years, more data show that the health impact of welding fumes was underestimated. No matter if you are an employee, self-employed, or welding at home, there are several measures you can follow to avoid overexposure.
First, a few words concerning welding fumes, gases, and other air pollutants you need to protect yourself from.
What air pollutants exist in a welding environment?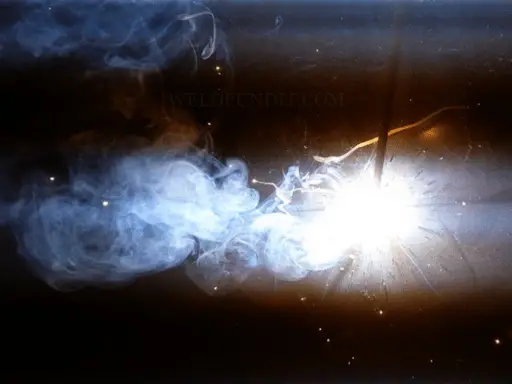 All metalworking processes in a welding environment have the potential to pollute the air. However, processes that use a welding arc can create extreme temperatures, which results in high welding fume generation.
Arc-based processes create welding fumes that are fine solid particulates of the materials you work with. Most of the fumes come from consumable electrodes and coatings. Welding fumes are the primary health concern.
Arc-based processes also release many harmful gases. Especially if there are materials such as paint, grease, or oil on the workpieces. Gases can also occur when the arc's heat and UV rays react with the ambient air.
Besides welding fumes and gases, there are other air pollution sources in a welding workshop, for instance, chemical stripping or high-speed machinery.
Chemical vapors from chlorinated solvents used to clean metals are by themselves very harmful. Furthermore, the heat and UV rays in the area can decompose them into toxic gases.
Dust consists of solid particles that are larger than welding fume particulates. Dust comes from dry grinding, cutting, sandblasting, removing paint from metal, etc. While dust is not as penetrating as fumes, it is still quite harmful.
High-speed machinery that uses oil for lubrication or cutting aid can create oil particulates in the air.
Your main concern is not to overexpose yourself to these dangers by inhaling them. Some substances such as chemical vapors or very fine particulates can also enter your body from the skin, eyes, and digestive system.
---
How can you figure out the welding pollution in your environment?
The first thing to do is find out what welding fumes and other air pollution are in your working environment. Unfortunately, figuring this out is hard and complicated or expensive.
The only reliable approach is with the help of a professional who will take air samples from your breathing zone while you work. If you do your own research, you might be way off.
As for home welders, if you can smell welding fumes, you are overexposed, and you need to avoid them.
Now, let's see the steps you want to follow to protect yourself from welding fumes and other harmful pollutants.
---
How can you protect yourself from welding fumes?
You can protect yourself from welding fumes and other forms of air pollution by eliminating or substituting their sources. After that, by using ventilation, with better working practices, and finally with the help of welding respirators.
Let's take a closer look at each one of these safety methods.
1. Eliminate the source of welding fumes
Elimination is the complete removal of the pollution sources that create welding fumes, gases, vapors, etc. You can do this by redesigning the project and replacing processes, consumables, machinery, equipment, and materials that create pollution. Elimination is the most effective method to avoid welding pollution.
The following are some examples of elimination control:
If the workpiece has a coating, such as galvanized steel, remove it. If removal is not possible, use a workpiece that is not coated at all. This way, you will avoid the welding fumes and gases that the coating could produce.
Instead of welding a workpiece, use bolts to join it.
You can replace a hot cutting process such as plasma cutting with a cold one like a band saw that doesn't create fumes.
If a machine pollutes the air with oil mist, you can replace it with another that doesn't.
Do not use chlorinated hydrocarbon degreasers. Use modern ones that are free of substances that release vapors in the air.
Elimination is the most effective method because you avoid creating fumes and gases in the first place. It would be best to use elimination with dangerous toxic elements such as cadmium, lead, chlorinated chemicals, etc.
However, elimination is the most expensive and challenging method to apply. Elimination isn't possible in many cases because the project needs the original design without modifications.
2. Substitute the pollution source
Substitution is the replacement of pollution sources with alternatives that produce lower amounts or less harmful welding fumes and gases. You can do this by replacing materials, processes, electrodes, shielding gases, solvents, and so on.
Substitution is the second most efficient method to control pollution. The following are some examples of substitution control:
Use stick welding (SMAW) that creates fewer welding fumes instead of shelf-shielded flux-cored welding.
When MIG welding, prefer 75/25 argon for shielding gas instead of CO2 to reduce the welding fumes.
You can modify the existing procedures you use to get the job done but minimize the volume of fumes. For example, weld with fewer amperes or with pulsed welding.
Use filler metals, electrodes, and fluxes with lower amounts of harmful elements. Many manufacturers make low-fume welding rods and wires while keeping their welding effectiveness.
Replace high-speed dry cutting processes with slower ones.
Use fluxes in the form of paste instead of dust.
Replace dry removal of coatings with mild chemical stripping or wet slurry vacuum methods.
Use heavy-duty vacuum cleaners instead of compressed air to clean the workshop.
Replacing pollution sources is a very effective method and leaves you less polluted air to remove with the following method. Substitution is suitable for toxic elements, for example, copper, nickel, fluorides, manganese, etc.
However, substitution is inconvenient for many projects, and it will not give you the same results. Furthermore, the new materials may introduce other types of pollution, labor costs, and delays.
3. Control the pollution with ventilation
Ventilation is an engineering method to control the welding fumes and keep the workshop's air quality at safe levels. This is achieved with local extraction at the pollution source or diluting the entire workshop's air using mechanical or natural ways.
The primary role of ventilation is to keep welding fumes, gases, and any other pollutants below the safety limits. As a result, you will not inhale them above the safety limits.
Another helpful benefit of ventilation is to control oxygen levels. Many processes can deplete or displace oxygen, especially in confined spaces. This can cause asphyxiation.
Furthermore, if an oxygen cylinder leaks or oxygen is misused for cleaning equipment, the oxygen in the air will surpass safety limits.
Ventilation also controls dangerous concentrations of flammable gases. Either from welding gases such as acetylene or solvent vapors.
There are three ventilation types for the welding workshop:
Local exhaust ventilation (LEV)
Local exhaust ventilation (LEV) is a mechanical system that captures welding fumes exactly at their source. As a result, the fumes will not reach your breathing zone or spread to the workshop's environment.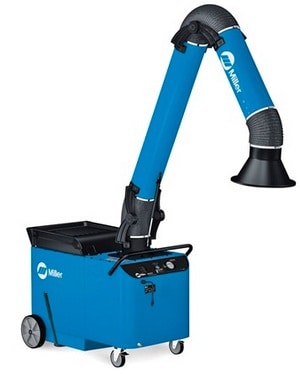 An LEV system consists of the capturing device, the ducting system or hose, an air-cleaning mechanism, a fan and motor, and a discharge point.
Most LEV systems have a movable capturing hood you place over the arc to capture the welding fumes. Or, in the case of a downdraft table system, you place the workpiece on it.
Local exhaust ventilation is by far the most efficient ventilation type. An LEV system is necessary when welding toxic materials such as stainless steel or coatings.
Furthermore, LEV systems with the appropriate capturing device can capture dust particles from dry grinding or cutting.
However, LEV systems are expensive. Even a portable unit is very expensive to purchase. They also need the proper training to use and maintain them.
Heavy-duty LEV systems require professional installation, training, and maintenance.
General exhaust ventilation (GEV)
General exhaust ventilation is the dilution and refreshment of the workshop's air with the help of machinery. The main purpose of GEV is to keep the air quality at safe levels, both from welding pollution and off-limit oxygen levels.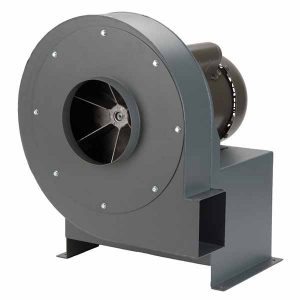 Welding fume particulates are tiny and hot, so they rise upwards quickly right after their creation. As they rise, they cool down and stop at the height of 16 feet (5 m).
At this height, GEV can efficiently capture and exhaust the welding fumes before they start to spread over the workshop and settle down.
Exhaust fans on the walls or the roof force the polluted air outside, allowing fresh air to enter naturally or through other fans that draw the fresh air.
A suitable GEV offers steady and robust airflow that replaces the workshop's air many times per hour.
General exhaust ventilation is suitable for:
Typical welding projects that don't use toxic materials and don't have fast fume generation rates.
Pollution sources that are too wide for the capturing hoods of LEV systems.
Widely dispersed pollutants that only the complete refreshment of the air can remove.
Lowering air conditioning costs if the outside temperature and humidity are desirable.
However, GEV needs equipment you need to buy and install. In addition, GEV equipment must be strong enough to create an airflow able to refresh your workshop's air volume at least five times per hour.
Furthermore, GEV's parts need regular maintenance and consume energy to run. These costs are going to be much higher if the outdoor air temperature needs continuous correction.
Natural ventilation
Natural ventilation is the dilution and refreshment of the workshop's air by natural means. For example, by leaving structural openings such as windows and doors open, the wind or pressure differences from the outside environment can refresh the workshop's air.
Natural ventilation is the most economical type. There is no need to buy machinery, install ducting systems, or pay for energy to run it. Except if you need to correct the workshop's air temperature.
However, you don't have direct control over natural ventilation. Natural ventilation depends on the weather for enough wind or pressure differences to circulate the workshop's air.
You also need to have a big and uncluttered workshop so that natural ventilation can keep the air quality at safe levels. If you don't, you need to install mechanical ventilation.
Natural ventilation is the least effective of the three ventilation types. It is efficient for light welding fume generation from non-toxic materials such as carbon steel.
Factors general exhaust and natural ventilation depend on
General exhaust and natural ventilation must handle the entire workshop's air. Therefore, there are some factors to consider when determining their efficiency:
The workshop's design that:

Must have big enough volume and ceiling height. This is mentioned later in the article.
Doesn't have structural barriers or equipment that may prevent the constant airflow.
Avoids the creation of cross flows. Open doors or fans for personal cooling can create air turbulence in the workshop. Cross flows can interfere with the general ventilation but also with LEV systems.
Allows fumes to be diluted without having to pass through people.
Provides a sufficient ventilation rate.
Offers wide air distribution.

If the welding fumes or gases contain very toxic elements, GEV and natural ventilation can't keep you at low risk.
The pollution rate of the process. For example, self-shielded flux-cored welding produces far more fumes than MIG welding.
The number of pollution sources. If a lot of processes take place in the workshop simultaneously, they can overwhelm the ventilation efficiency.
The total work hours of the pollution processes.
Ventilation is a very efficient method to control air pollution. Depending on the welding taking place in the workshop, all three types may be necessary.
However, because air pollution control by ventilation is not perfect, the previous methods are more important.
Even the best LEV systems cannot capture 100% of the fumes.
Dilution ventilation cannot clean the workshop's air to acceptable levels in many situations.
4. Isolate the pollution source
Isolation is another engineering control method to control welding fumes and other air pollution hazards. With isolation, you physically isolate the hazardous process or materials from the rest of the environment.
The following are some examples of isolation control:
Use an isolated welding booth to prevent the spreading of fumes and gases, and use ventilation to capture the welding fumes.
Use a separate area for chemical stripping, completely isolated from the welding area.
Use airtight cabinets to work with small toxic materials.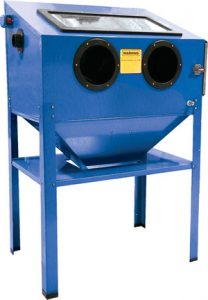 5. Avoid welding fume exposure with work practice control
With work practice control, you reduce your exposure to the remaining welding fumes and gases by improving the existing working methods. Practice control isn't about permanent solutions such as removing pollution sources or removing pollution from the air.
Work practice control requires a lot of training to improve your knowledge and working skills. With this method, you must be alert to avoid welding fumes around you actively.
The following are some examples of work practice control:
You must know what materials you are dealing with. Make sure you read the manufacturer's material safety data sheet (MSDS) (Wikipedia). The MSDS comes with all welding electrodes, fluxes, cleaning chemicals, and all other materials you work with. An MSDS is quite technical but contains information you need to know before working with these materials.
Position your work and your head in a way to keep the welding fumes away from your head.
Avoid welding in confined spaces as much as possible.
Always use the correct welding technique. For example, keeping a tight arc and correct speed to reduce welding fume generation.
Know the correct usage, inspection, and maintenance of LEV systems or welding respirators.
Ensure your welding helmet offers you a good view of the welding puddle. This way, you avoid fume exposure because you don't need to keep your head very close to the puddle. You can achieve better vision by replacing the welding helmet's external lenses regularly. Alternatively, you can add magnifying lenses to the helmet.
Use signs to warn everyone in the workshop of potentially hazardous materials.
Furthermore, you shouldn't store or eat food in welding areas. When the fume and other particulates settle down, they will land on the food.
Finally, your working clothes will absorb a part of the welding pollution. You should avoid mixing or washing them with the rest of your clothes.
Work practice control is not very efficient because many welders focus on the actual welding rather than keeping safe working practices.
For example, many welders find respirators inconvenient or forget to position themselves away from the welding smoke.
6. Get additional protection with welding respirators
A welding respirator is a popular personal protective equipment (PPE) device to protect yourself against welding fumes and gases. A respirator improves your protection in many harmful situations.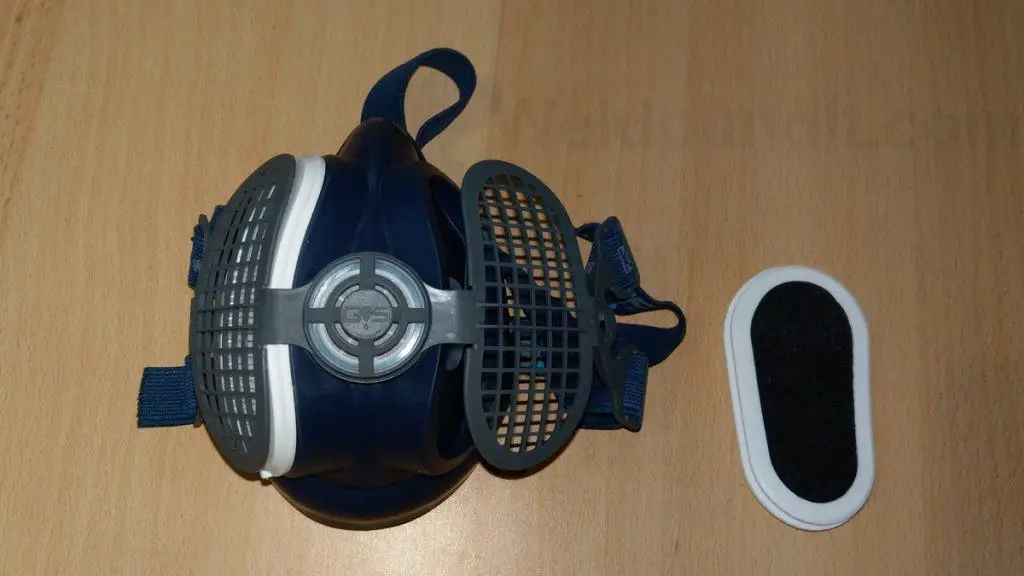 Welding respirators are popular, but they are the least effective method of protection against welding fumes and gases. Because respirators have limitations such as:
You must choose the correct welding respirator type and filters for the task at hand.
You must learn how to use and maintain each type correctly.
Most welding respirators are tight-fitting. This means that they must perfectly fit your face. Otherwise, respirators will let pollution into your breathing zone.
Welding Respirators will not protect you if the concentrations are too high, for example, welding fumes cover your face.
People with medical issues can not wear respirators.
You wear a welding respirator as a temporary solution, for example, if local ventilation has malfunctioned or is under maintenance.
Another case when you use a respirator is for additional protection when welding toxic metals, coatings, and so on, while local ventilation removes most of the welding fumes at their source.
---
Conclusion
Welding fumes and gases are the most difficult welding hazards to deal with. Their nature, sources, prevention, and control are troublesome. Unfortunately, for many welders, air pollution is the most underestimated danger when welding.
After preventing as much as possible the creation of welding air pollution, you can control it with general and even better local ventilation. Keep welding fumes away from your head at all times. Finally, respirators are a fitting supplement to the previous methods.
---
More questions about welding fume protection
What is an example of a welding workshop's natural ventilation against welding fumes?
If only one welding process is used to weld mild steel in a workshop with natural ventilation and all safety precautions are followed, the workshop must have the following features:
A volume of 10,000 cubic feet (285 cubic meters). For example, dimensions of 22'x22'x22′ (6.5 m).
A minimum ceiling height of 16 feet (5 m). Welding fume particulates rise at least 13′ (4 m) before they cool down. For this, the previous dimensions can change to 25'x25'x16′ (7,5×7,5×5 m).
Designed for safe continuous human presence with easy entry or exit. For example, no basements or rooms with no windows or only one door.
Finally, a proper internal design that does not have any additional walls or large equipment that would block the free flow of air.
If one of the above is not met, you need to install mechanical exhaust ventilation with a flow rate of 2,000 cubic feet per minute (3,400 m3 per hour).
Furthermore, mechanical exhaust and natural ventilation are not efficient enough to protect against:
Welding fumes from toxic materials, for example, stainless steel, coatings, hardfacing filler metals, etc.
From processes and practices that pollute the air too fast, for instance, high amperage (200A+) welding or hot-cutting.
From heavy and fast-moving dust particles, for instance, dry grinding.
For these hazards, you'll need to install local exhaust ventilation.
When welding outside, what kind of welding fume protection do you need?
When welding outside, the wind handles most of the work to disperse the fumes and gases. What you need to do is position yourself so the wind drives the fumes away from you. However, if you weld toxic metals, you need to wear a welding respirator.
When you weld outside, you probably do it with stick or flux-cored welding that can shield the puddle from the wind. However, these processes produce a lot of welding fumes.
If you use these processes to weld toxic materials such as stainless steel, you will have a dangerous combination that will produce a lot of toxic fumes. For this, you need additional protection.
The problem is that more reliable protection methods such as local exhaust ventilation are not practical outside because the wind will interfere with the capturing hood's airflow.
The only option you have left is to use a welding respirator for added safety.
Does drinking milk protect you from welding fumes?
There is no scientific evidence to support that milk can protect from harmful welding fumes. Therefore, the best way to protect yourself is to avoid being exposed to fumes in the first place.
Drinking milk or keeping it in your mouth for welding fume protection is a dangerous myth.
If you keep milk in your mouth and it gets dirty from welding fumes, it doesn't mean that the milk absorbs the fumes. Instead, only a small fume amount sticks to it.
Furthermore, calcium in milk cannot absorb the toxic substances that enter your body through the lungs, as some people believe.
What drinking milk offers is a false sense of security that eventually will lead to health problems.
---
More Weldpundit articles