What Is a Welding Blanket? Do You Need One?
Welding is a hazardous activity, and safety equipment such as welding blankets are used to protect the welder and equipment. Blankets are not very common, but they have their uses in heavy-duty environments or when welding close to pricey equipment.
A welding blanket is a fire and heat-resistant covering accessory used as a flexible shield for protection against welding and hot-cutting hazards. For example, intense heat, sparks, spatter, slag fragments, and other projectiles.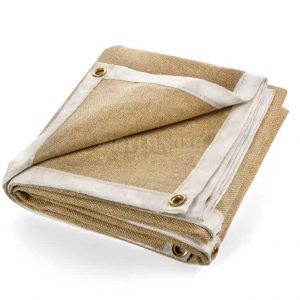 In this article, you can learn about the various types and materials and what to consider if you want one.
Table of Contents
What do you use a welding blanket for?
Welding blankets can cover equipment, materials, and surfaces, protecting them from damage. Welding blankets are versatile and can also be used in the vertical position as stationary or movable curtains for personnel and equipment protection.
Ideally, welding takes place in environments where everything is designed with safety in mind. However, you may weld in places and conditions that are not ideal.
When welding, high amounts of heat, sparks, spatter, and slag material scatter all over the area. These hazards occur in higher amounts when welding in the vertical and overhead positions.
Heat, sparks, spatter, etc., can cause aesthetic damage to the surrounding materials, up to severe injuries and fire.
Welding spatter globules have a temperature of, 5000 °F (2,760 °C) when they leave the puddle. Despite that spatter cools down fast, when it comes in contact with surrounding materials, it still has a temperature of 3300 °F (1,816 °C).
To make things worse, hot-cutting processes such as oxyfuel and plasma produce spatter in larger amounts. Heavy spatter drops underneath the metal and is more harmful than welding spatter.
Also, there are cases where welding must take place in the presence of gas tanks or flammable materials that can not be removed.
Furthermore, other less intense processes such as brazing, heat treatment of metals, grinding, and sandblasting, can also damage the surrounding area.
Welding blankets offer additional protection for situations like these.
From what factors the resistance of a blanket depends?
The fire and heat resistance a welding blanket offers depends on several factors:
The material of the welding blanket.
If the material is woven or in a flat form.
The density of the material.
The material and thickness of the blanket's coating.
If the coating is single or double-sided.
The total thickness of the blanket, usually from 0.016″ (0.4 mm) to 0.16″ (4 mm) or more.
What are welding blankets made of?
In the past, manufacturers made welding blankets from woven asbestos. Asbestos is very resistant to heat and fire and is cheap. However, it's very toxic. For this reason, asbestos is banned from commercial products.
Nowadays, most blankets are from fire and heat-resistant inorganic fibrous materials that are flexible, lightweight, and easy to handle.
The materials used to make welding blankets are:
Leather is friendly to human skin and sensitive materials such as wood and painted metal. However, leather is expensive, heavy, and deforms from prolonged exposure to welding heat. Furthermore, leather is sensitive to oil, acids, and other pollutants.
Felt is a material made from pressed carbonized fibers. It's resistant to high temperatures up to 1800 °F (982 °C), somewhat skin-friendly, and cheap. It has good insulation properties, and you can cut it without problems. However, felt is not durable and will not last long.
Fiberglass is the most popular material to make durable and reasonably priced welding blankets. However, fiberglass (Wikipedia) is harmful if you breathe it and causes skin irritation. For these reasons, it's coated with other materials or has a heat-treated surface.
Silica fabric is a material with high resistance to spatter and thermal shrinkage. Furthermore, it's great for insulation purposes and is skin-friendly. However, silica fiber is expensive and meant for professional blankets.
Ceramic is a heavy-duty material for demanding industrial welding blankets. It offers the highest protection from heavy spatter and intense heat. However, ceramic material is expensive and harmful and must be handled with care.
Many welding blankets have brass eyelets at the edges, so you can secure them in place or hang them in a vertical position as welding curtains. The blanket's perimeter is usually sewn with fireproof Kevlar or fiberglass threads.
What are the different coatings types?
A welding blanket can be single or double-sided coated. Coatings offer extra protection from heat and spatter or additional protection from water, oils, acids, electricity, or skin irritation. Some materials such as felt cannot be coated.
Depending on the service conditions, many coating materials can be used. Some are suitable for light heat-resistant blankets and others for heat and spatter resistance. Some popular coatings are:
Neoprene
Acrylic
Aluminum
Heat-treated uncoated fiberglass
Silicone
Ceramic
Graphite
Vermiculite
What types of welding blankets are there?
Manufacturers combine different types of modern base materials, coatings, and procedures to make welding blankets for various service conditions. There are blankets for light welding up to industrial heavy-duty welding and hot-cutting.
The welding blanket types according to the protection they offer are:
Light-duty blankets from fiberglass. The surface can be coated or heat-treated. These offer heat protection from 500 °F (260 °C) up to 1000 °F (538 °C) for a short time. They have a small thickness and can handle light cutting, welding sparks, and light weld spatter.

However, light-duty blankets are not durable enough to place in the flat position and weld above them. If you do, then spatter can fuse with it or even burn through it.

Medium-duty blankets from thicker and denser fiberglass material combined with strong coatings such as graphite. These offer improved heat protection up to 1000 °F (538 °C) or more and can resist average welding spatter. This type is the most cost-efficient for regular usage.

While medium-duty blankets have coatings that offer improved resistance to spatter and burn-through, they are not suitable for use in the flat position.

Heavy-duty blankets from silica fabrics with durable coatings such as vermiculite. These offer protection up to 1800 °F (982 °C) for a longer time.

Heavy-duty blankets can withstand heavy spatter for a long time and are durable enough to use in the flat position and weld right above them with caution.

Industrial welding blankets from ceramic materials with vermiculite coating. These are the most durable. These offer continuous protection up to 2200 °F (1204 °C) or even 3000 °F (1650 °C).

Special-purpose blankets have specific usage. For example, blankets with an aluminum coating offer high heat insulation, which is suitable for slowly cooling down hot workpieces.

Other special-purpose blankets offer scratch-free by having very smooth coatings without any eyelets. As a result, these can protect sensitive materials, for example, painted metals or stainless steel metals.
What is the best welding blanket for home welding?
The best general-purpose home welding blanket is one from fiberglass with silicone or even better vermiculite coating. This blanket has the best versatility and will last for a very long time.
However, a cheaper solution is a blanket from felt. You can weld or hot-cut above a felt blanket, use it as a welding pad, or cut it for insulating needs. However, they are not very durable.
Some things to think about before choosing a welding blanket.
If you want the welding blanket to have any special protection from moisture, oils, acids, or other chemicals.
If you want to use it in the flat position. Only felt blankets can do that and still be affordable.
The size and weight, so you can handle it with ease.
If you want it to have eyelets to hang it as a curtain.
Keep in mind that affordable blankets cannot be placed in a flat position and protect against heavy welding spatter. You must use them with an angle no less than 15 degrees so that spatter can roll off, or you can brush it away.
If spatter stays stationary, it can fuse into the blanket. After this, when you use the blanket, the solidified spatter will scratch the surfaces you want to protect.
If you cut metal with processes such as oxyfuel or plasma cutting over an affordable blanket, the heavy spatter will burn through it. It's easy to ruin your new blanket if you use it as a welding pad.
Conclusion
Welding or hot-cutting heat, sparks, and spatter are harmful to the welder and the surrounding equipment and materials. A welding blanket is an excellent tool to protect everything around the welding area from these hazards.
Several welding blankets materials with several coatings provide heat and spatter protection for light or industrial needs. Special coverings can offer additional protection from acids, chemicals, and so on.
The best welding blanket for home welding is one made of fiberglass. As an alternative cheaper solution, you can get one from felt material.
---
Frequently asked questions
What are the differences between a welding blanket and a fire blanket?
A welding blanket is thicker, heavier, more versatile, and reusable for a long time, but it is more expensive than a fire blanket. Furthermore, you can use a welding blanket as a fire blanket to cut a fire's oxygen supply or cover yourself in case of fire.
A fire blanket is a single-use blanket designed to extinguish a small fire or cover yourself and escape a fire. It cannot withstand the high temperatures of welding spatter. Not to mention spatter from oxy-fuel or plasma cutting.
Can you use a welding blanket for pellet smoker insulation?
If you already have an old or spare welding blanket, you can use it to insulate a meat smoker with great efficiency. However, there are dedicated smoker insulation covers that are more suitable for the job.
A welding blanket offers sufficient insulation to protect the smoker from the weather during the winter. It provides controlled temperatures and lowers costs by using fewer pellets.
However, if you don't have a blanket to spare, there are smoker insulation covers to pick that don't need any modifications. Smokers require heat resistance and insulation, but not spatter or flame resistance a welding blanket offers.
How can you clean a welding blanket?
The correct way to clean a welding blanket is by following the manufacturer's instructions for the specific blanket. The cleaning procedure depends on the material and coating.
However, you can clean most modern blankets with dry cleaning. Keep in mind that you must do it with equipment not used for everyday clothing. That's because most blankets can release materials (fiberglass) that can cause skin irritations.
Furthermore, if you have a spare washing machine that you don't use for everyday clothing, you can wash the blanket with it.
Put the blanket in the spare washing machine and wash it for a short time with cool water and mild detergent. Avoid the use of bleach or other potent cleaning agents.
---
More Weldpundit articles