Can You Weld Magnetized Metal? and How to Demagnetize It
Welders often find that magnetized metal is troublesome to weld. If you have magnetized metal and consider welding it, you can get some help from this article.
You can weld magnetized metal with oxyfuel welding but not with arc-based processes. With an electric arc, welding a magnetized metal will be challenging because magnetism will interfere with the arc. Magnetism can cause welding defects or even extinguish the arc. To counter this, you can weld with AC current or demagnetize the metal.
However, oxyfuel welding is not that common anymore because arc welding processes offer faster and better results.
The problem with stick, MIG, and TIG welding is that they use an electric arc that magnetic interference (arc blow) can occur.
Table of Contents
First, let's see what is called residual magnetism.
The permanent magnetism in metals is called residual magnetism and is measured in gausses (G). Residual magnetism occurs in ferromagnetic metals such as iron, nickel, cobalt, and most of their alloys.
Inside ferromagnetic metals, there are tiny regions that act like miniature magnets. If these regions are in random positions, the metal is not magnetized.
However, if their poles align in the same direction, they act as a unified magnet, and the metal is now magnetized.
How can your workpiece or welding table get magnetized?
Metals such as your workpiece or your welding table can get magnetized when exposed to external magnetic fields in their creation, transportation, storage, and work environment. Furthermore, metal can get magnetized when electricity passes through it.
Let's take a closer look at some examples where metals can get magnetized:
Handling metals with any magnets, for example, moving metals with electromagnets at transportation or using welding magnetic clamps to hold them.
Nearby power sources like generators, electrical motors, and so on can create magnetic fields and magnetize nearby metals.
Live cables close to metals can magnetize them given enough time.
Plasma cutting can create strong magnetic fields and magnetize nearby metals.
When heat-treating or forging the metal.
Installed pipes that had liquids running through them can develop strong residual magnetism.
The earth's magnetic field can magnetize metals if stored in a North-South direction for a long time. A typical example is magnetized pipes that were North-South oriented when transported, stored, or installed.
If a metal suffers impact when transferred, stored, or shaped, it can develop residual magnetism.
From any magnetic non-destructive testing processes done in the past.
You can end up with residual magnetism on your welding table if you weld with DC. The routine of always using the same polarity and placing the workpiece and the working clamp in the same position can build up magnetism in our table after enough time.
If your welding table has residual magnetism, it can cause arc blow defects even when welding workpieces that are not affected by magnetism. That will happen because the magnetic fields can pass through the workpiece and affect the arc.
How can you detect residual magnetism in metals?
The best way to detect and measure residual magnetism in metal is a gaussmeter, either an analog or a digital one.
Analog gauss meters (or residual field indicators) are simple and affordable devices reliable enough to check for residual magnetism.
Analog meters are easy to use and can show you the polarity and a reliable indication of the field's strength, usually up to 20 gausses. Their only requirement is precise factory calibration.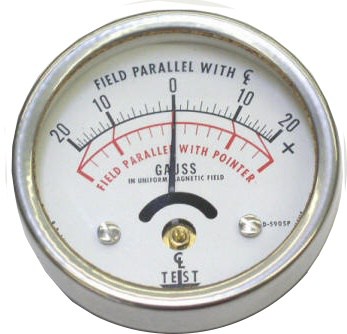 Digital gauss meters are electronic devices with many advanced functions. They can show you the polarity and strength of the residual magnetism in great detail. As expected, they are more expensive and complicated to use than analog meters.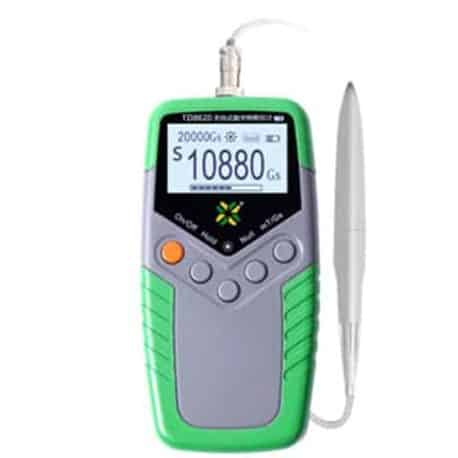 When checking for residual magnetism with these devices, do it exactly at the edges of the joint you will weld. Residual magnetism hasn't the same strength everywhere.
If you don't have a dedicated device at hand, you can use some simple tricks to detect magnetism:
A compass will show you if the metal has residual magnetism.
You can also throw metal shavings on the metal and check if and where they stick. The metal's surface must be clean so that the shavings can move freely.
What residual magnetism levels are safe for welding?
For safe welding, residual magnetism must not be stronger than 5 gausses. After that, you can weld with caution, but if it exceeds 20 gausses, arc blow will cause severe defects. TIG welding uses a lower arc voltage, and problems are severe from 10 gausses.
Magnetic fields in the air gaps of open root joints curve and become stronger than closed joints.
Magnetized nickel tanks or used pipelines of large scale can have residual magnetism that is hundreds or even thousands of gausses strong in their open root joints.
---
How can you demagnetize metals?
Demagnetization (or degaussing) is the process of removing residual magnetism from metals. You achieve this by randomly disorientating the metal's magnetic regions.
The best way to demagnetize metals is to use a proper demagnetizer (or degausser). After that, you can demagnetize with a welding power supply, a strong enough magnet, heat treatment, and impact on the metal.
If you partially demagnetize a workpiece at the joint, do it right before welding. If you don't weld right away, after a few hours, residual magnetism will return.
When you demagnetize metals, always place them at a West-East orientation. This way, you can avoid the earth's magnetic field interference and achieve better results.
If you want to demagnetize your welding table, the best solution would be to hire a professional to fix it with a proper demagnetizer. This way, the entire table will be free of magnetism.
1. Use a proper demagnetizer
The right tool to demagnetize metal is a demagnetizer. It's a device that contains a coil of wire and has AC or DC running through it. A demagnetizer creates a magnetic field suitable to demagnetize the metal.
Demagnetizers are available in different types and sizes. From affordable small handheld devices that can demagnetize small or partially magnetized metals. To heavy-duty and expensive demagnetizers that generate magnetic fields that naturalize residual magnetism in thick and large metals.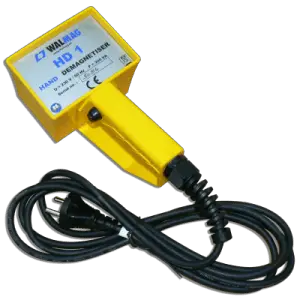 Residual magnetism is a common problem in pipe welding, and the industry manufactures heavy-duty coils to fit the shape and size of pipes.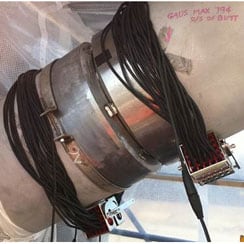 You could try some other methods to demagnetize metals. However, they are less precise, need some trial and error, take a long time, or they are impractical if the workpiece is too large.
2. Use your welding power supply
You can demagnetize metal using an existing welding power supply. You can do this by creating a coil with the welding cables around the metal. Depending on the metal's size, you might need long cables to do it.
Essentially, you emulate a degausser. It's an affordable way to remove residual magnetism from pipes before welding.
AC is the easiest and most error-free current type to use. AC is effective up to 1/2 inch (12.7 mm) of metal thickness.
You can use DC and demagnetize thicker metals. However, demagnetization with DC needs accurate measurements, is more complicated and time-consuming.
Make sure the workpiece is not hot from previous welding or any preheating for the cables' safety. Also, the cables must be in excellent condition without wear to avoid electric shocks.
With AC
Let's take a closer look at each step in the process of using AC to demagnetize metal.
Wrap several times a welding cable around the workpiece. No less than five and no more than ten times is a good starting point. The strength of the magnetic field results from the amperage plus the times you wrap the cable around the metal.
Connect the welding cables to close the circuit. However, it's best to temporarily switch the working clamp and the electrode holder (or torch) with welding cable connectors. After that, join them and you will have a safe connection.
Turn on the welding machine.
Set the amperage at the highest level so that the magnetic field will be strong enough.
Turn the welding machine on.
Now decrease the amperage all the way down at a steady and slow rate. A ten-second drop-down period is fine.
Now measure the metal with the gaussmeter. If demagnetization didn't work, wrap the cable more times around the metal to increase the magnetic field and start again.
With DC
If you use DC, then the polarity matters. You must create a magnetic field that has the opposite direction to the residual magnetism. If the direction is the same, then the magnetic field can get stronger.
Furthermore, be careful not to generate a reverse magnetic field that is stronger than necessary. It will eliminate the existing residual magnetism, but it will produce another one with the opposite magnetic direction.
Moreover, magnetism in the metal may have random directions in many areas.
To counter these issues, when you demagnetize with DC, you must reduce the amperage in 10 to 15 ampere increments, each step lasting just one second, and reverse the polarity with each step.
The procedure of activating and stopping the circuit, reducing the amperage, and reversing the polarity will leave a randomized residual magnetism reduced to safe levels.
To change the polarity, your welding machine will either have a dedicated switch or detachable cables so you can switch them. Otherwise, you have to wrap the cables clockwise or counterclockwise around the workpiece after each step.
With DC, you need an accurate measurement of the residual magnetism's strength and its direction. For this reason, it is important to use a reliable gauss meter.
3. Heat-treat the metal
You can heat treat the workpiece up to a temperature that will remove any magnetism in it. This temperature is called Curie temperature (Wikipedia) and depends on the metal. For iron, it's 1418 °F (770 °C).
Use a heating process to heat the affected metal slowly. While doing so, use a gaussmeter to check the residual magnetism. When the metal reaches this temperature, it will demagnetize. Then let it cool down in an environment without magnetic fields.
Heat treatment is the only demagnetization process that can thoroughly remove all residual magnetism. But to achieve this, you must heat-treat the entire metal evenly.
You also want an even preheat and cooling down of the metal to avoid warping. Additionally, extensive heat can damage any protective coatings on the metal. Finally, take care that the heat treatment doesn't alter metal properties that you don't want t, for example, ductility (elasticity) or strength.
4. Use an electromagnet
You can use a strong and large enough electromagnet to demagnetize metal. Prefer one that uses AC to make things simpler. AC will be effective for local or surface residual magnetism.
A DC electromagnet works well for thick metals, but you should choose the correct direction when you pass it over the metal. If you get it wrong, you risk making residual magnetism stronger.
Put the electromagnet on the magnetized area.
Switch on the electromagnet.
Pull it with a slow and constant speed towards the edge of the metal.
When the electromagnet is at least 2 feet (60cm) away from the metal and switch it off.
Measure the results and repeat if necessary.
5. Use impact
Finally, if the metal is small or the residual magnetism is local and weak, you can hit the metal with a hammer to demagnetize it.
Hit the magnetized metal hard ten times or more on the poles, and then check it for any remaining magnetism. Repeat if necessary.
The vibrations by the impact will randomize the orientation of the magnetic areas in the metal. The stronger you hit, the better the results are, as long as you don't damage the metal.
---
Conclusion
While you can weld magnetized metals with oxyfuel welding, you will face problems with an arc welding process.
The causes of residual magnetism are external magnetic fields, poor handling of the metal, and passing DC current through it.
With a demagnetization process, you can reduce the residual magnetism of the metal to safe levels. A proper demagnetizer is the most reliable and safe way to demagnetize metals.