Welding Magnets Guide: Usage, Types, and Selection
Welding magnets have gained a lot of popularity and come in various shapes and sizes. You can read this article to familiarize yourself with them and decide if you need one or two.
Table of Contents
What are welding magnets?
Welding magnets are accessories that contain strong magnets covered by metal plates. They resemble welding squares and angle clamps. For this, they are also called magnetic squares and magnetic clamps.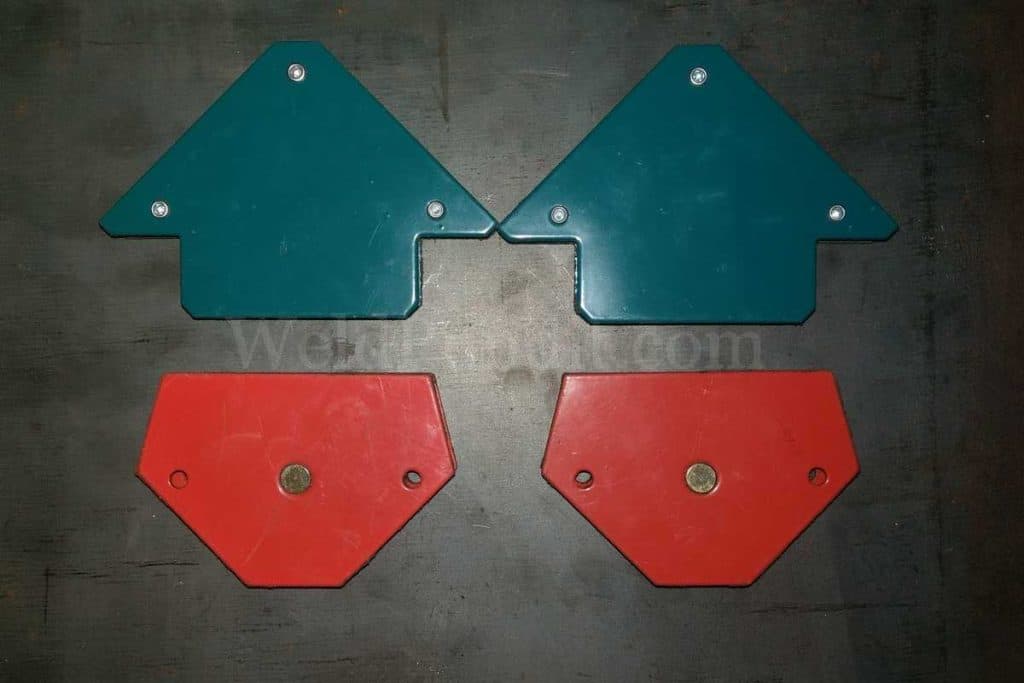 Their metallic plates extend beyond the magnet to hold round or uneven workpieces with higher stability. This gap also keeps the magnet at a distance from hot metals.
Big welding magnets have a large finger hole in their center for easier setup and removal. Some varieties use a hex hole or a level for breakaway leverage.
Others have small riveted holes at their edges so that you can combine more magnets as fixturing elements.
They don't have sharp corners for easier handling and to fit better into the joints.
What does the magnet's pulling force refer to?
Manufacturers claim that their magnets can pull many times their weight. Let's see that in more detail.
The most popular magnets have a maximum pull of 25lb (11.3 kg), 50 (22.5 kg), and 75lb (34 kg).
There are smaller ones that can pull 9lb (400 gr) and far stronger heavy-duty ones with on-off switches that can pull over 1000lb (453 kg).
The magnet's pulling force refers to the maximum force it can pull at the longest side. The shorter the side is, the weaker the pulling force.
The maximum pulling force is valid when the longest side is attached to the center of the workpiece and for a specific metal thickness. Most often 3/8″ (9.5mm). If the metal is thinner, the pulling force is weaker.
The magnet and the workpiece must also be at rest. You cannot move or lift a workpiece that weighs the same as the magnet's pulling force.
Furthermore, to get the maximum pulling force, the workpiece must be clean from dirt, without coatings, and must have an even surface.
What are welding magnets used for?
Welding magnets are used for squaring and holding ferromagnetic metals of any shape, such as pipe, tubing, or bar stock. Ferromagnetic metals are those that contain high amounts of iron, nickel, or cobalt.
Most projects use ferromagnetic metals such as mild steel. They can hold metal even if they have coatings, for instance, galvanized steel.
Welding magnets are faster to use and more versatile than traditional squares and clamps. They can save you a lot of time if you use small to medium-sized workpieces.
With traditional squares and clamps, you must use the square to set the angle. Then use the clamps to hold the metals. With a magnet, you combine both tools.
Compared to angle clamps, magnets are still easier, faster, and more versatile.
Magnets are small framed and can fit in confined spaces where traditional clamps cannot.
You can use many magnets to hold a section or your entire project.
You can also use them to hold metals for any other joining process, such as brazing or soldering.
Another thing you can do with magnets is to wrap them with a piece of plastic or cloth and clean up your workplace from metallic dust and shavings.
What is the correct way to use welding magnets?
Use welding magnets to hold the metals at the desired angle and tack the joints. Then you must remove the magnets before you start welding.
Removing them is important because they are sensitive to heat and can influence an electric arc. Both are explained later in the article.
What types of welding magnets are there?
There are many welding magnet types. From small and simple that most welders and fabricators use, up to heavy-duty ones for industrial purposes.
Most magnets come with preshaped angles, but there are adjustable ones for projects with unusual angles.
1. Multi-angle with six sides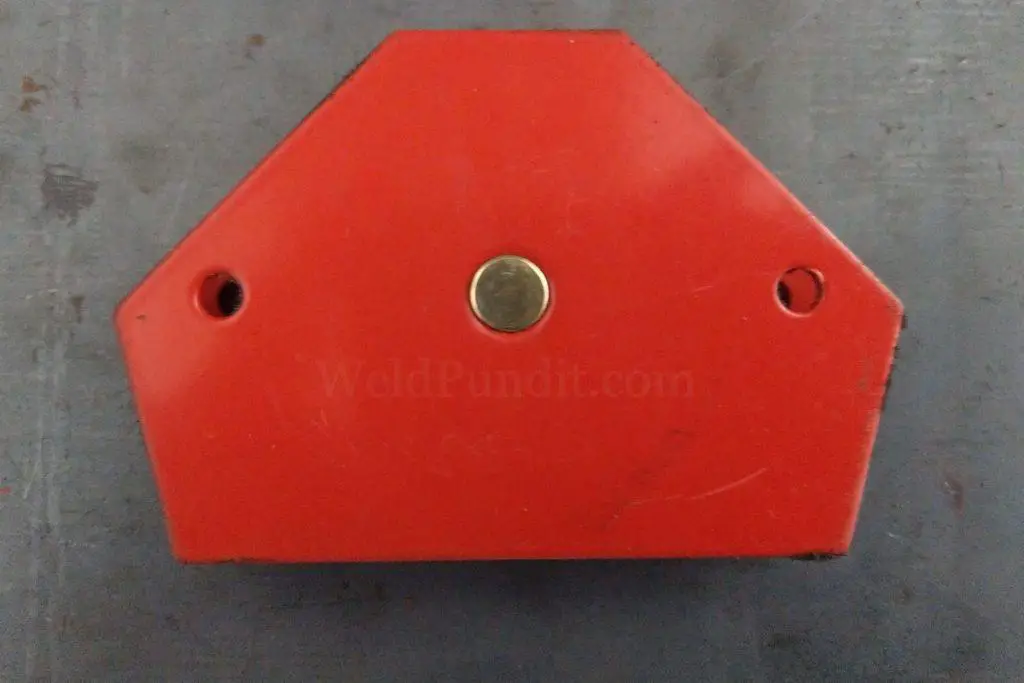 Multi-angle magnets have six usable sides. This makes them very versatile because they can hold metals at many angles with enough strength.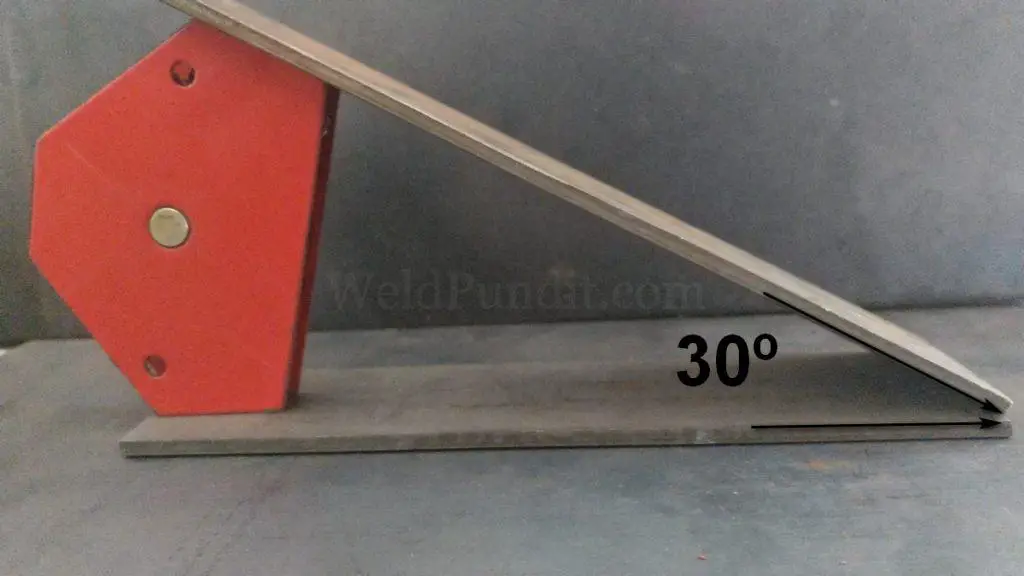 Like all the other magnets, they can hold metals at 180º with any side that is long and strong enough.
2. Multi-angled with a defined 90º angle
These are also multi-angled, but they have a well-defined 90º angle since it is the most common one to use. They also have 30º, 45º, and 60º angles.
3. Arrow shaped
Arrow magnets are the most popular. They have a shape of an arrow, thus the name. Their shape makes them easier to handle while providing some additional corners for small workpieces.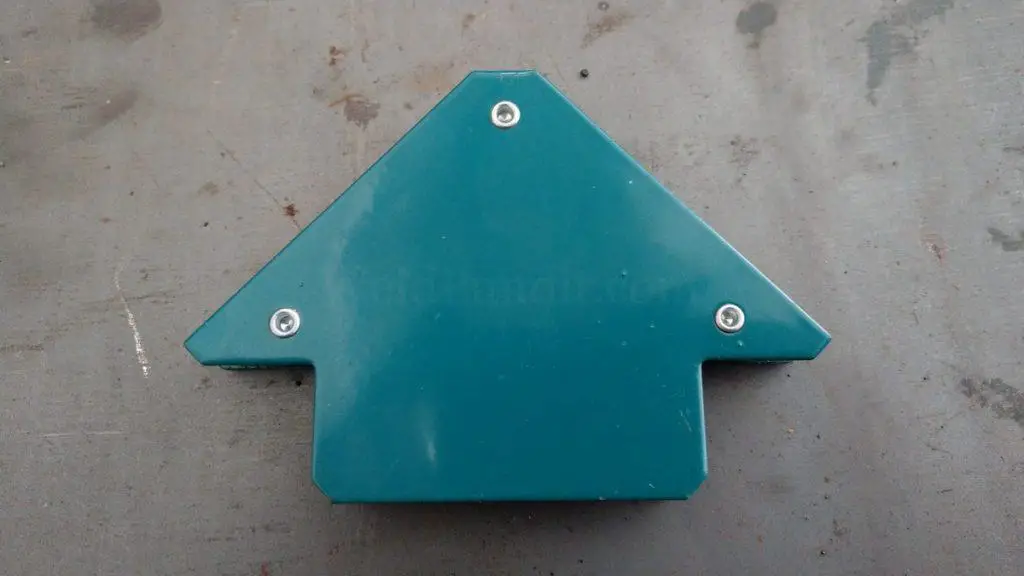 With arrow magnets, you can hold the inside corners of your workpiece at 45º, 90º, and 135º. These angles cover the most common corners.
Also, you can use their small corners to hold the outside corners of very small workpieces at 90º.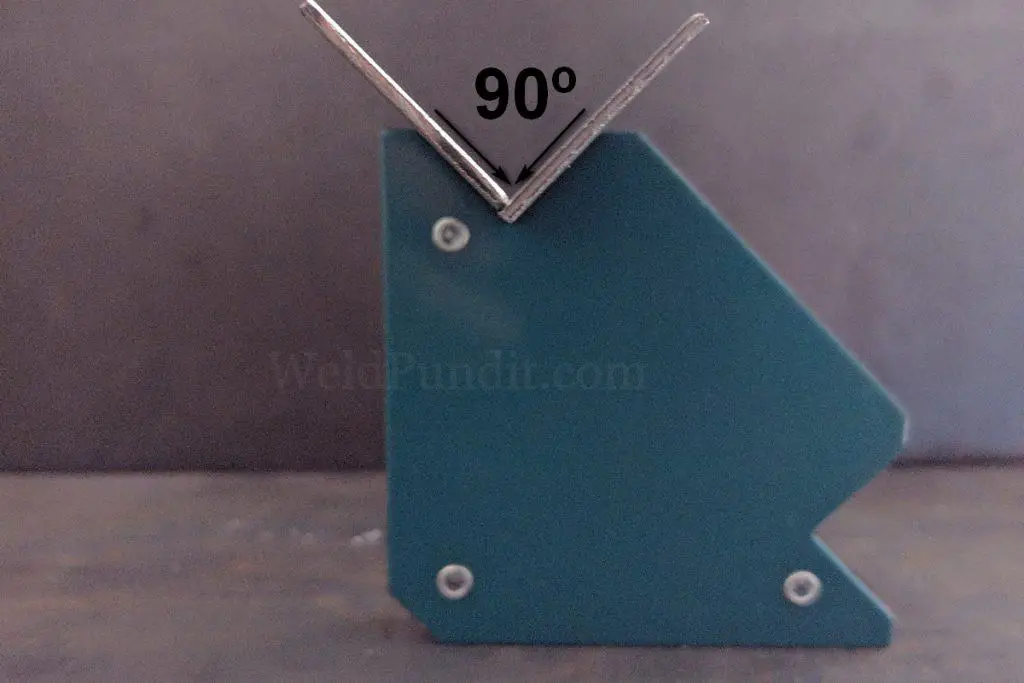 4. Fixed inside-outside corner
The previous types have the limitation that you can use them only with inside joints. If you don't have access to the inside joint, then corner magnets solve this problem.
They have an L-shape so that you can place them on outside corners at 90º. This is also useful when you want to work with an inside joint free of obstacles.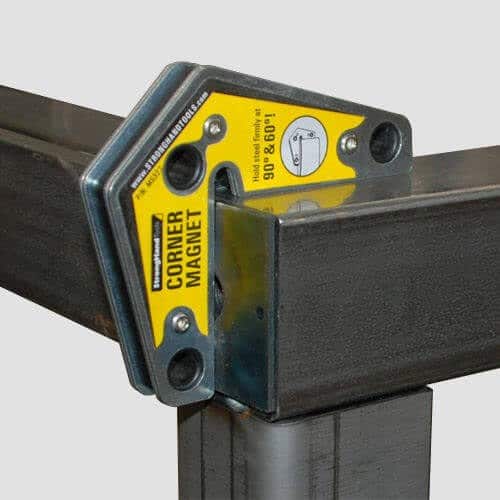 You can also position them in inside joints, and depending on their design, they can hold them at various angles. For instance 30º, 60º, 90º, or 120º.
Their inside corner has a relief that offers an extra gap for tall lips of sheet steel that may extend outwards.
5. Adjustable inside-outside corner
Magnets with adjustable angles are like the corner type, but they are not preshaped. You can adjust the angle you want before you place them on the workpiece.
Depending on their design, they can adjust to all 360º or a limited range, for example, 30º-270º like the one in the picture below.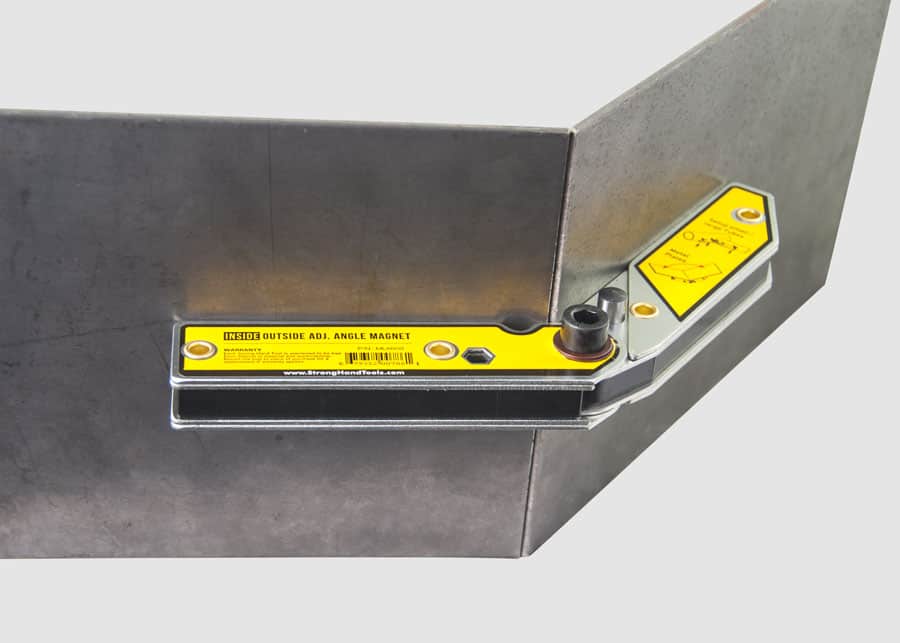 You set the angle you want and then tighten the magnet to lock the angle. They are good to hold at odd angles, both inside and outside corners.
6. Adjustable angle V-Pads
V-pads magnets are small and light-duty. They consist of the main body and two pivoting heads. All parts have neodymium magnets, so they are powerful despite their size.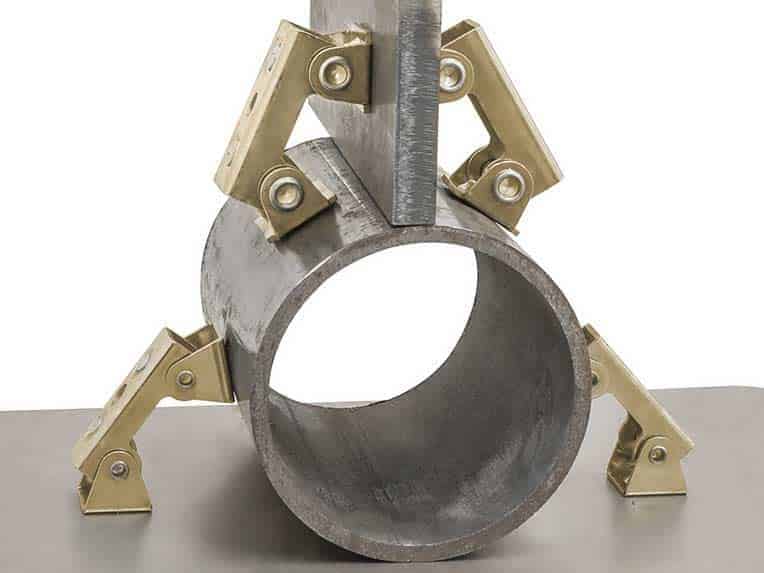 The V-pads' size and shape make them very versatile. They are ideal for holding small workpieces at various angles and positions, so you can tack them together or to the main workpiece.
On-off welding magnets
On-off welding magnets look like the arrow, multi-angle, or corner types, but they have a switch that turns their magnetic fields on or off.
When you take a look at them, you might be puzzled about how they can do that.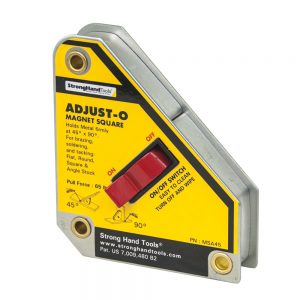 How do on-off magnets work?
First of all, on-off magnets are not electromagnets. For these sizes and pulling strengths, they don't need to be.
On-off magnets contain many small but powerful magnets and small steel bars positioned in a specific arrangement. When you turn the switch, you rotate half of them and change their magnetic poles' arrangement.
When the switch is off
When the switch is off, the magnet's poles are aligned in the opposite direction. The opposite poles attract, and their magnetic fields concentrate inside the steel bars.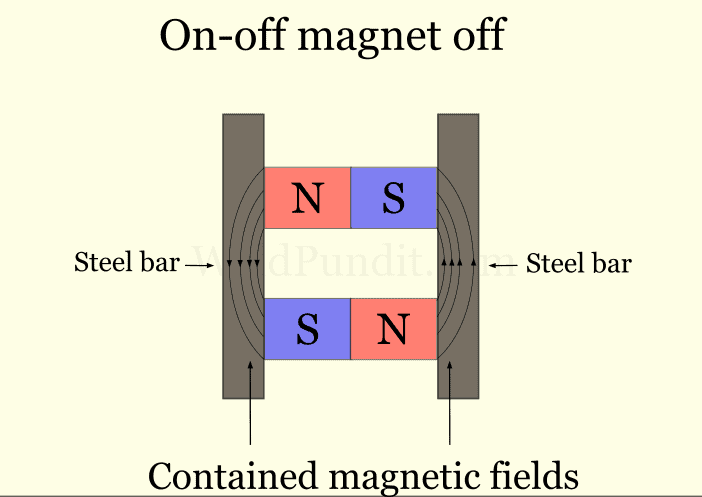 That happens because steel provides a much easier traveling path for the magnetic fields than air. The steel bar is big enough to contain most of them, so they cannot reach outside. In a way, the steel bars act as barriers.
When the switch is on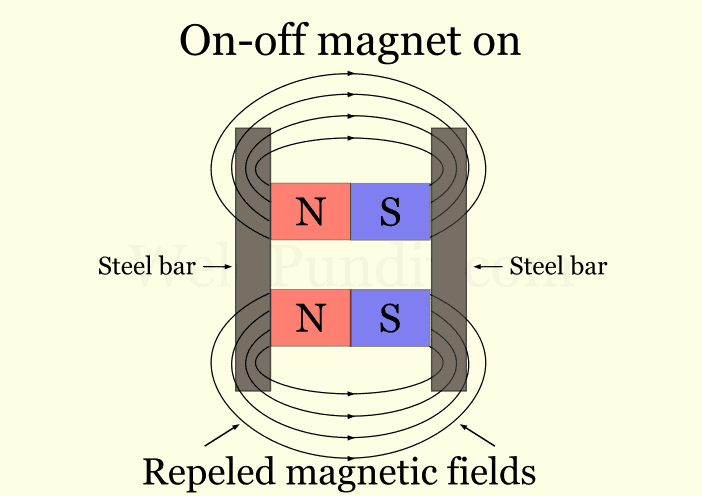 When you turn the switch on, you align the poles in the same direction. The poles repel each other so strongly that their fields cannot travel through the steel bars.
Now they prefer to pass through the air and reach beyond the magnet. Now the magnet works and can hold the metals in place.
Pros of on-off magnets
On-off magnets offer excellent benefits:
They are straightforward to use. You can set them on or off at the correct place and time. This is very important because strong magnets, for example, 50lb, are very hard to handle. You may even have to use a rubber-headed mallet to remove them from the workpiece.
Easier to handle also means that they are safer to work with.
You can store them easier and safer. You can put them in a toolbox without pulling or magnetizing the other tools.
They don't hold any metal shavings when you turn them off.
If you want to work with heavy workpieces, then on-off magnets are the way to go.
Cons of on-off magnets
The disadvantage of on-off magnets is the cost because neodymium is expensive.
Neodymium is rare earth magnet material and is the strongest type. Also, they don't lose their magnetic fields when they are close to each other.
---
What metals magnets cannot hold?
Welding magnets cannot hold a variety of popular weldable metals:
Stainless steel austenitic grades, for example, 304, 308, 310, 316. Despite that, they contain iron and nickel.
Aluminum.
Copper.
Bronze.
Brass.
The internal structure of austenitic stainless steel doesn't allow it to interact with magnetic fields.
If your magnet sticks to stainless steel, it may be:
Duplex and weldable.
Ferritic that's also weldable.
Martensitic, which is very hard to weld.
The other metals are not ferromagnetic because they don't contain iron or nickel.
Cons of welding magnets
Welding magnets have disadvantages when you use them with hot processes:
Magnets are sensitive to heat. If you expose them to high temperatures, they will start to lose strength. After a point, they won't be strong enough to hold the workpieces together, and accidents may occur.

Neodymium magnets that are in on-off and V-pad magnets are sensitive to high temperatures. They work well if their temperature is not above 175Fº (80Cº).

Most other magnets use ceramic magnetic materials and can operate up to 400Fº (205Cº).

Furthermore, if the magnet's temperature reaches the Curie temperature (Wikipedia), it will lose its magnetism. Neodymium magnets lose their magnetism at 600Fº (315º) and ceramic ones at 840Fº (450º).

Magnets also lose their magnetism if they take impact, for example, from falling or if you hit them to take them off the joint.

They can also shatter from impact because they are brittle.

They are strong, but cannot hold the workpieces as firmly as traditional clamps. If you move them or a metal they hold sideways, you will see that it is not hard to do. This can also cause accidents.

If you leave the magnets on joints for a long time, any remaining magnetism will attract metal filings in the joint.
But the most significant disadvantage of welding magnets is the next one.
Do welding magnets affect welding?
A magnet can affect welding if it involves an electric arc. That's because magnetic fields close to an arc will offer an easier or harder path for the arc to follow. This will force the arc to wander off the desired path.
This misdirection of the arc is called arc blow (or arc wandering) and is very noticeable when using direct current (DC). If you use alternating current (AC), the effect on the arc is low.
Welding magnets are meant for tacking only. If you have them on the workpiece and weld close to them, you risk ending up with faulty welds.
The effect of a magnet on the arc depends on:
The magnet's pulling strength.
The distance from the arc. The strength of magnetic fields drops at a high rate the longer the magnet is from the arc.
The size of the workpiece. The bigger it is, the more magnetic fields it can 'absorb', reducing the magnet's range.
Furthermore, If you leave strong magnets on your welding table for a long time, it can permanently be magnetized. This will cause an arc blow when you pass the arc near this magnetized area.
You can read more about arc blow in this WeldPundit article.
---
What welding magnet do you need?
Before you choose one or more welding magnets, you must consider:
Their pulling force.
Their size.
The different angles they offer.
If they are going to hold outside corners.
The versatility they offer, for instance, if they can combine to create larger fixtures.
If they have an on-off switch.
For most jobs, a pair of 25lb (11.5 kg) arrow or multi-angle welding magnets is all you need. They are cheap, easy to find, and have enough angles for most projects.
After a while, if you like working with magnets, you can buy specialized or bigger ones.
How to clean your welding magnets
When you start using magnets, you will find out that they pick up metal shavings and dust superfast.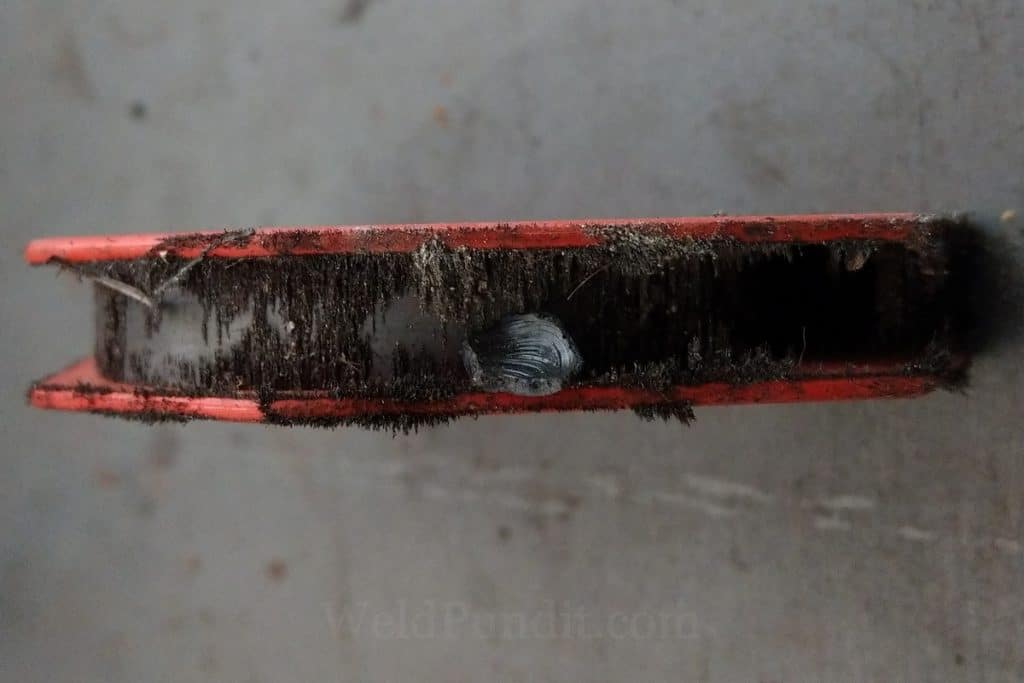 On-off magnets don't have this problem since the dirt drops off when you turn them off.
But here are a few ways to remove metal dust from simple magnets:
If you have compressed air, use it to blow away all the dirt. This is the easiest way.
Use a brush with stiff plastic bristles.
You can use a neodymium magnet covered in plastic to remove the dirt. Neodymium magnets are the strongest and can pull the metal fillings from most other magnets. Then take off the plastic to remove the dirt and repeat.
---
Conclusion
Welding magnets are helpful gadgets that can help with the quick and correct positioning of ferromagnetic workpieces.
Use them to tack weld the joint. It is not recommended to leave them on the joint while welding because they can interfere with the arc. It is also possible to lose their strength from exposure to the welding heat.
---
More Weldpundit articles
Can You Weld Magnetized Metal? And How to Demagnetize It.
Big List of Tools and Equipment for Welding.