Voltage Reduction Device (VRD) in Welding: Beginner's Guide
As technology and safety awareness grow, more welding safety measures such as voltage reduction devices (VRD) are introduced. After reading this article, you will learn the basics of a VRD and if you need one.
What is a welding voltage reduction device (VRD)?
A voltage reduction device (VRD) is a hazard reduction device that lowers the welder's open-circuit voltage (OCV) to prevent electric shock from welding current. A VRD is often combined with stick welding machines used in damp environments.
The OCV is the voltage between the electrode holder (or stinger) and the working (or grounding) clamp when the welder is on, but you are not welding. If you have a welding rod in the stinger and the working clamp is connected, the OCV is between the rod and the base metal.
Heavy-duty stick welding (SMAW) machines use a high OCV up to 85V, for even more demanding work they can reach up to 110V. Affordable welders for home welders and hobbyists have an OCV of 50V. A VRD reduces these voltages below 15V.
In many high-risk situations, VRDs are mandatory and specific laws control VRD's specifications and usage. For high-risk welding, it is illegal to deactivate them.
---
What are the types of voltage reduction devices?
A VRD can be a separate device that attaches to the welding cable connectors, permanently placed into the welder, or embedded into the welder.
1. External VRDs for heavy duty work
External heavy-duty VRDs can operate under demanding environments without being a safety concern. These VRDs:
Are impact and corrosion resistant.
Fully waterproof.
Can handle a wide range of welding voltage and amperage with a perfect 100% duty cycle.
They also have built-in warning systems in case of failure to keep the low voltage.
You connect the external VRD to the welding cable connectors, and after that, you connect the stinger and the working clamp to the VRD. As expected, external VRDs are very expensive.
2.VRD kits to add the function internally
VRD kits are small units that you can install permanently into welders. These VRDs are specifically designed for popular heavy-duty welders that use high OCVs in harsh environments. They match each welder's characteristics and internal design so they can fit and work perfectly.

3. Embedded VRDs
Finally, many modern stick welders or TIG welders that can also stick weld, come with an embedded VRD. Some welders allow you to choose whether or not to use VRD, as well as the delay time before the VRD reduces the OCV after stopping the arc.
---
Why is a voltage reduction device useful?
A voltage reduction device (VRD) is useful in welding because it reduces the electric shock hazard under high-risk conditions. At the same time, the VRD manages to provide the proper OCV when necessary.
Most stick welders use a high OCV to burn all available stick welding rods, especially basic or low-hydrogen rods such as the E7018.
An OCV value of 75V and higher will start the arc with the first try and prevents the rod from sticking on the base metal.
But the higher the OCV is, the higher is the risk for an electric shock. When welding, the most probable point to get an electric shock is when changing the electrode.
If you use the correct safety practices, an electric shock from the welding current is minimal. Under typical conditions, a voltage of 75V or even 85V is not high enough to bypass the resistance of dry skin.
However, many welding jobs are performed under conditions that are not ideal:
Especially in summer, you sweat, and your welding gloves and clothes can absorb the sweat to dangerous levels before you realize it.
In some welding sites, you weld very early in the morning or close to water.
The welding leads might not be in good condition with exposed internal wire.
Many times welders use gloves that are not in good condition and leave the skin exposed.
You might weld on or around metallic surfaces.
If your skin comes into contact with water, the natural resistance to electricity drops many times. Furthermore, if your skin is cut or burned, it also has less resistance.
Under such conditions, even a low OCV voltage of 30V can force the current to pass through your skin. No matter how short an electric shock might be, it can through you of balance. You might fall from a height, on hard surfaces, or on the extremely hot welded joint.
The low voltage that a VRD maintains decreases the risks of an electric shock greatly and helps avoid serious situations.
---
How does a VRD work?
The VRD device monitors the resistance level of the welding terminals. When the resistance is high, for example, the air, your welding gloves, or even your skin, the VRD keeps a reduced OCV of 15V or even less.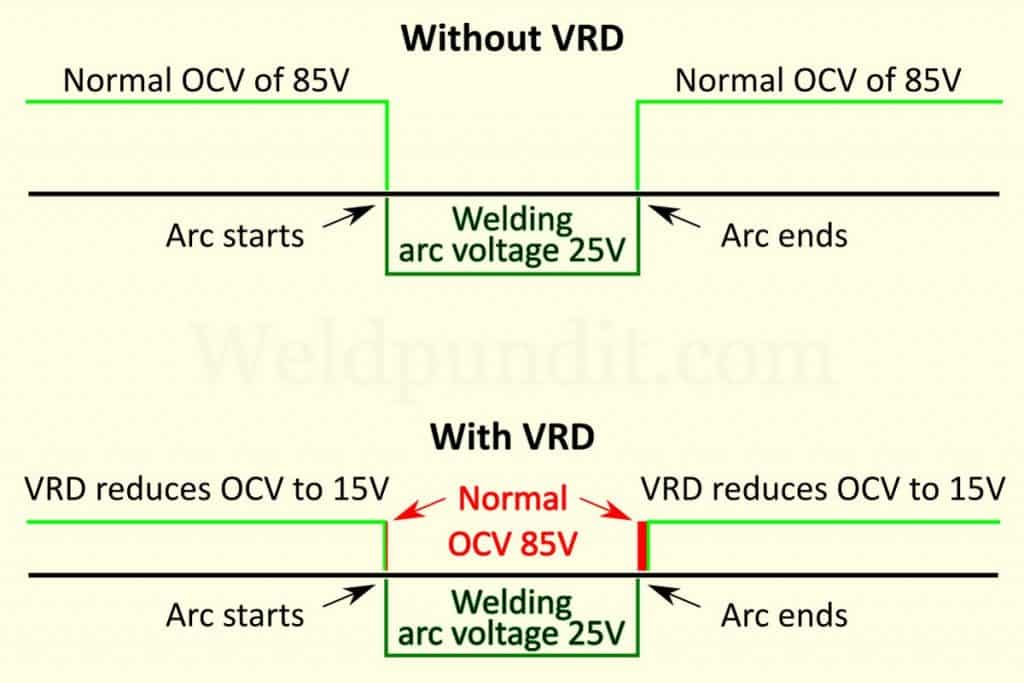 When you try to start the arc by touching the electrode on the base metal, the resistance drops to a very low level, and the VRD detects that. To be able to start the arc, the VRD allows the normal OCV value.
When you finish welding, the VRD detects the new higher resistance levels and, after a short delay, reduces the OCV to 15V.
---
What are the disadvantages of a VRD?
The main disadvantage of a VRD is that it can give you trouble when you want to work with hard-to-start electrodes such as:
Basic or low-hydrogen rods such as the E7016 and the E7018.
Cellulosic rods such as the E6010 and the E6011.
Several rods for high-alloy steels, for example, rods for stainless steel.
Rods for nonferrous metals.
These hard-to-start rods need a high OCV of at least 75V for good results. If the VRD does not have a swift response time when the electrode touches the base metal, you will end up with arc strikes and a rod stuck to the base metal.
Arc strikes are considered a welding defect when welding hardenable metals because they can result in cracking.
Furthermore, a VRD that activates immediately after you stop the arc makes tack welding very troublesome or even impossible.
For these reasons, many welders avoid using a VRD or deactivate it, even illegally, if it is embedded.
Modern VRDs, try to fight this problem by providing a rapid response time and a programmable time delay making it easier to start and restart the rod.
Also, when VRDs were introduced, they were big and heavy reducing portability and were prone to failure. However, these days technology offers compact VRDs often embedded into the welder and are very reliable.
---
How do you test a welder's VRD?
The simplest way to test the VRD's promised lower voltage is to check the electrode holder and the working clamp with a voltmeter or a multimeter (Wikipedia).
After that, there are dedicated VRD testers. These can range from simple testers that act like specialized voltmeters to heavy-duty testers that connect to the lead connectors and monitor the voltage in real-time.
---
Do you need a VRD to weld?
If you are welding fabrications or doing repair work in dry environments and your PPE is always dry, you do not need a VRD. However, if you weld outdoors, in a wet or damp environment, or in conductive confined spaces, VRDs are necessary.
---
Conclusion
A voltage reduction device is a must when welding in wet or damp environments to minimize the risk of electric shock and serious injuries.
Existing welding machines can combine with an external or internal VRD. Some may come with an embedded VRD.
While VRDs are very useful, many welders find it troublesome to weld with low-hydrogen rods when a VRD is active.
---
More Weldpundit articles