How to Choose a Stick Welder: Best Entry-Level Characteristics
Choosing a stick welder (SMAW) is not difficult, but there are a few things to consider to guarantee you get the best one for your needs.
Table of Contents
Keep in mind that this article is about dedicated stick welding machines, not TIG or multipurpose machines that can also stick weld.
What is a good entry-level stick welder?
First, let's see the best combination of characteristics a stick welder must have to weld the most common jobs effectively. But also to be future-proof as your skills grow.
The best entry-level stick welder for most people would have the following characteristics: It uses inverter technology to generate DC welding current, has an amperage no less than 140A, a 75V open-circuit voltage, a 35% duty cycle, and plugs into a 240V socket.
Now let's see each one of those characteristics in detail.
Should you choose an AC or a DC stick power supply?
Overall, a DC stick welder is the best choice. With DC, welding is safer, easier, you can use all welding electrode types, and you will get the best overall results. However, if you weld magnetized metals often, an AC stick welder is the better choice.
A good reason to select a direct current (DC) stick welder is that electric shock from DC is not as harmful as alternating current (AC).
Getting an electric shock from welding current is unlikely if you use the correct safety precautions because the voltage is low. Of course, if you are not careful, for example, by using wet welding gloves, the risk increases.
A DC stick welder creates a smoother arc than AC. The arc is easier to start and maintain with a lower risk of sticking, making welding easier. This makes a DC welder more suitable for a beginner because stick welding (SMAW) is not the easiest process and needs time and effort to learn.  
Furthermore, all stick welding electrodes use DC, but several do not support AC. A good example is the cellulosic electrodes that end with a "0" in their designation, for example, the popular E6010. Their flux covering doesn't contain chemical elements that AC needs to sustain a stable arc. 
Finally, electrodes that support both AC and DC always give better welding results when using DC. There is less spatter, less porosity, the bead looks prettier, and with DC- you can stick weld thinner metals with less distortion.
One exception when you might prefer an AC stick welder is when you weld magnetized metals. In a case like this, the magnetic fields interfere with the arc's desired path. This interference is called arc blow. The results can range from welding discontinuities to severe defects.  
Finally, some stick welders combine both DC and AC, but they are often quite costly.
Should you choose an inverter or a transformer stick welder?
An inverter stick welder is the best overall welder. They provide modern features that make welding easier, safer, offer higher electrical efficiency, and are more portable. However, if you want the most economical welder, or you weld in harsh environments, a transformer welder is more suitable. 
Inverter welders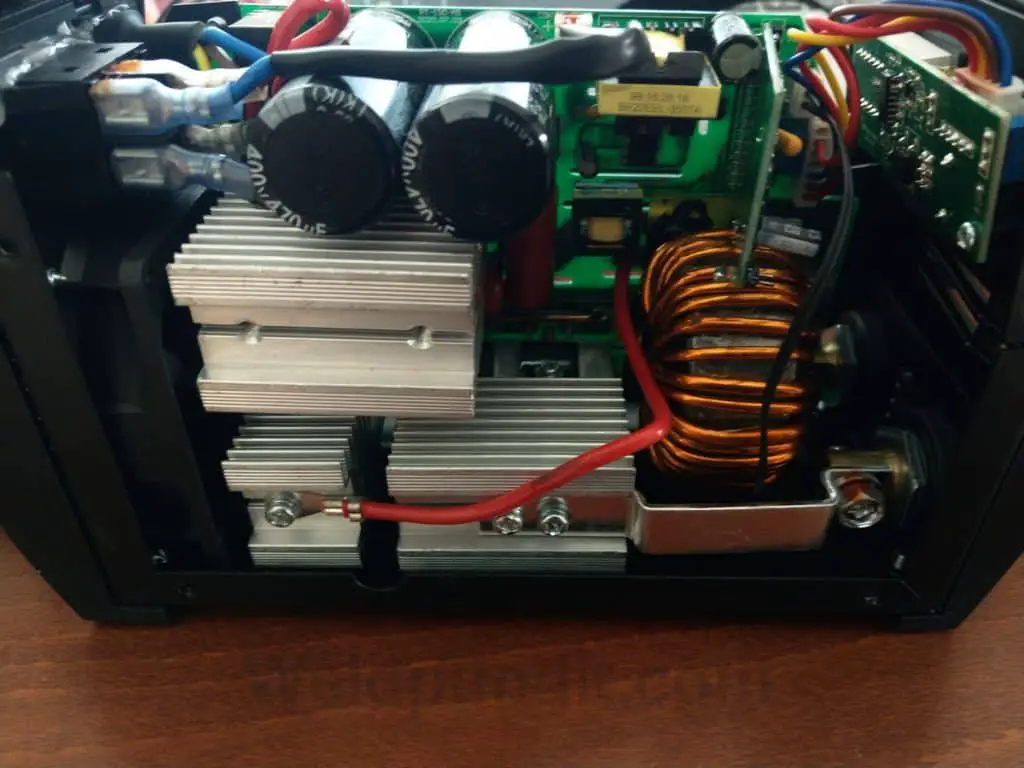 Stick welding is not that easy to learn, and inverter machines can help you weld with fewer problems. The advantage of inverters is that they can integrate many helpful features that make welding easier, such as:
Hot start makes arc striking easier by preventing the welding rod from sticking to the base metal. Hot start also avoids lack of fusion at the beginning of the bead.
Arc force prevents sticking the rod when welding.
Anti stick stops the current when the rod is stuck to the base metal.
New inverter welders come with a synergic function. You input the rod's type and size and the base metal's material and thickness. After that, the welder provides the desired amperage. 
Weldpundit has a more in-depth article on hot start, arc force, and anti stick. 
Inverter stick welders can also come with a feature called a voltage reduction device (VRD). VRD offers greater safety from electric shock, by decreasing the voltage between the electrode and the workpiece before you start welding.
Another advantage of inverter welders is higher power efficiency. That means they make better use of the electricity they consume:
The machine can generate a higher amperage. This is important if you only have 120V sockets.
The electrical bill will be cheaper if you weld often.
Inverter welders don't need large electrical parts. As a result, they are smaller and more lightweight than transformers. This makes them easier to move around, but you should handle them with care to avoid malfunctions.
Transformer welders
Transformer stick welders use old and simple technology without delicate electronic parts. Their design makes them last much longer, and they have cheaper parts in case of repair. 
Inverter welders have expensive parts. Depending on the damaged part, fixing an inverter may not be worth it. As a result, transformers are overall more cost-worthy.
Furthermore, their durability makes transformers more suitable for harsh environments. For example, frequent welding under heat, dust, or high moisture.
In a nutshell, an inverter welder is the way to go these days (2020). They are reliable and affordable enough, and their advantages are more significant.
How much amperage do you need?
The first question I get when someone wants to buy a stick welder is what amperage (A) is enough.
A stick welding machine with an amperage of 140A will be enough to handle most jobs. With this amperage and the proper electrode, you can weld mild steel up to 3/16 inches (4.8 mm) thick with ease. With joint preparation and multiple passes, there is no upper limit of metal thickness.
An affordable 140A welder offers good productivity for most welding projects, home or farm improvements, repairing, and light professional work. Most jobs need 80-130A.
One of the advantages of stick welding is that you don't need a high amperage to work with thick metals. You want enough amperage to burn with efficiency each rod you want to use.
If you create single or double V groove joints, you can weld any thickness with multiple passes. It will just take more time.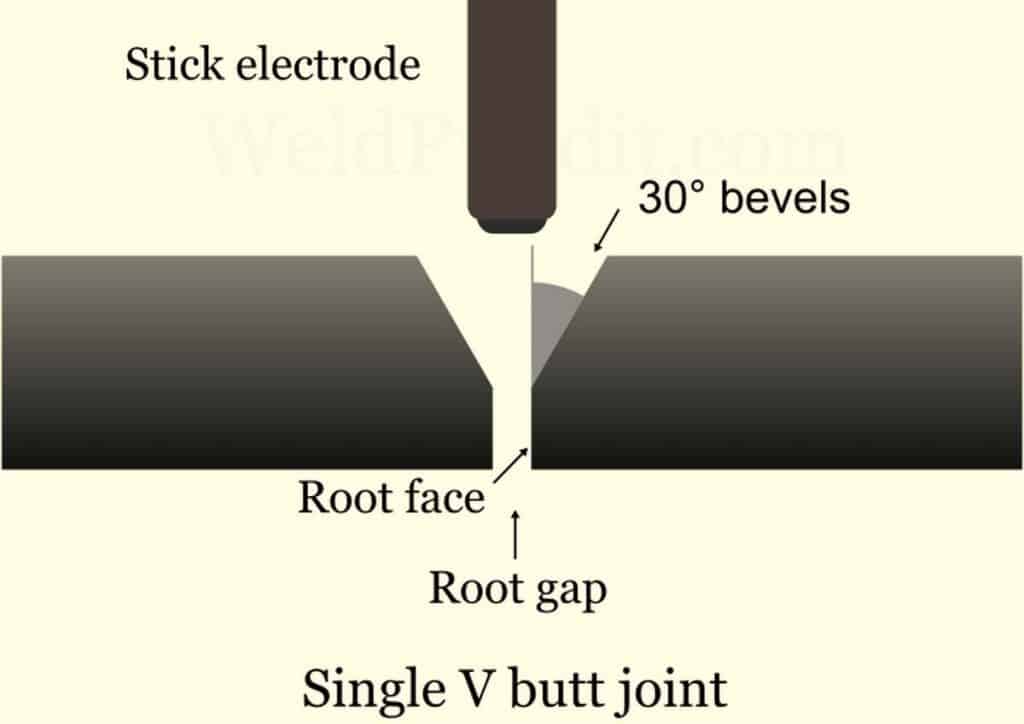 A table of different electrode types and diameters that a 140A stick welder can burn is shown below.
Stick
electrode
1/16″
1.6mm
5/64″
2.0mm
3/32″
2.4mm
1/8″
3.2mm
E6011
–
–
60-90
75-130
E6013
25-50
40-70
65-95
85-135
E7014
–
–
75-105
100-150
E7018
–
–
70-110
90-160
E308L-16
–
25-55
50-85
70-115
ENiFe-CI
–
–
70-85
85-110
Stick welding electrodes that a 140A stick welder can use (DC+)
The most common electrode sizes are 3/32″ (2.4 mm) and 1/8″ (3.2 mm). Even for heavy-duty welding, larger sizes are not used very often. As you can see, a 140A welder can cover them.
Keep in mind that you use the average of a rod's amperage range for most jobs. For example, an E7018 has a range of 90-160A, for most jobs, you use 125A. If you weld vertical-up or overheat, you use an even lower amperage.
But what happens if you only have a thicker rod, for example, a 5/32″ (4 mm) E6013 that has an amperage of 105-180A? The average amperage of this rod is 140A, something that the welder can cover.
But what if you want to max out a 5/32″ rod that needs 180A? You can preheat the metal at 250 °F (120 °C). Welding preheated metal is like welding with higher amperage. So a 5/32″ rod at 140A and a preheated metal would be like welding with 180A.
A lower amperage is not recommended because it will exclude the 1/8″ rods, except if you are certain, you won't use them.
On the other hand, if you will weld thick metals often, you may need to choose a stronger welder to reduce multiple passes. Most of the time, price differences are not high if the only difference is the amperage.
Do you need a dual-voltage, a 120V, or a 240V power supply?
A stick welder with a 240 input voltage is clearly the best choice from a 120V welder, even for entry-level machines. A 240V welder provides not only a higher welding amperage but burns the rods more efficiently. However, a dual-voltage welder is more versatile and a better choice.
Choosing between 120V and 240V is a big one, and there are some traps to avoid.
120 voltage
120V stick welders have several advantages:
They are more compact and affordable.
You can use them with most outlets, making it highly portable, which is a huge advantage.
They are also great if you want to use them with a power generator for greater portability.
The problem with 120V stick welders is that it's not easy to reach the recommended 140A welding amperage.
Theoretically, it is possible for a 120V inverter welder with excellent power efficiency to offer the recommended 140A amperage. But only if the 120V socket has a 30A circuit breaker. But most 120V breakers are 20A at best.
With a 20A breaker, you can only get around 100A of usable amperage. That's why most 120V welders offer an amperage of 90-110A.
With 100A, you will be able to use up to 3/32″ (2.4 mm) diameter rods. This amperage is fine if you do occasional repair work and small fabrications. However, it will be troublesome for heavier work.
If you want to change a 20A circuit breaker with a 30A one, the existing cables are probably not strong enough. You need to have the cables replaced as well, or the breaker will trip all the time.
To make things worse, you risk overheating the cables resulting in a fire hazard. You can check for the breaker size your welder needs by reading the manual.
Furthermore, when you push the limits of 140A welders plugged into 120V outlets with 30A breakers, you cannot use extension power cables for your welder.
Another thing to keep in mind is that a 120V welder will not only offer lower amperage but lower open-circuit voltage (OCV) and arc voltage as well. 
Lower welding voltage restricts the rods you can use and offers poorer results with the remaining rods. These are explained in more detail later.
240 voltage
A welding power supply needs enough electrical power not only to create the arc but to keep it stable until you finish. A voltage of 240V offers enough amperage but also high open-circuit voltage and arc voltage.
Enough arc voltage will keep the arc stable and melt all the rods with efficiency. Even if you use the same rod and amperage, demanding rods such as the E7018 or the E6011 will give better results with a 240V welder.
If you already have a 240V outlet, things are simple. Typical 240V outlets and their circuit breakers can provide enough power to handle a 140A welder with ease.
A single-phase 240V outlet with the proper breaker and cables can support an inverter stick welder up to 250A.
The problem with a 240V welder is that if you don't have a proper outlet, you will need to pay an electrician to install it. And that could cost a lot of money.
Dual-voltage
Dual-voltage stick welders are a great option. You can do most of your work using 240V in your workshop, and if you want to weld somewhere else, you can plug it into a common 120V outlet.
Most dual-voltage welders weld with 100A when plugged into a 120V outlet to avoid circuit breaker incompatibilities. As explained earlier, this amperage is not bad for occasional repair work and light fabrications.
What open-circuit voltage (OCV) is enough for a stick welder?
An open-circuit voltage (OCV) of 75V is the recommended a stick welder must provide to burn most welding electrodes.
Open-circuit voltage (OCV) is the voltage between the rod's tip and the workpiece before you start welding. OCV must be high enough to start each rod's arc with ease.
Furthermore, higher OCV means the voltage of the arc is also higher. Arc voltage is important to keep it steady, preventing the rod from sticking to the base metal and getting better welding results. For example, less spatter, better fusion, less smoke, etc.
But high OCV means a higher risk for electric shock. For this reason, modern welders come with an OCV upper limit of 85V. If you use safe practices, getting an electric shock from this OCV is minimal.
However, many affordable stick welders provide an even lower OCV of 50V. This voltage reduces the risk of an electric shock for untrained hobbyists and makes the welder cheaper. But it introduces a huge disadvantage, you can only use rutile rods for mild steel.
Rutile rods for mild steel are the E6012, E6013, and E7014 rods. The E7024 rods are also rutile, but welders like these do not offer enough amperage to burn them.
With a 50V OCV, you cannot use basic rods such as the E7016 and the E7018, or cellulosic rods such as the E6011, even if the amperage is enough. The arc is difficult to start and maintain. For the same reason, you cannot use rods for stainless steel, cast iron, or hardfacing.
As a result, a low OCV limits you to just a few rods for mild steel. To prevent bad surprises, the stick welder you will select should offer an OCV of 75V.
Of course, if you are certain you will only use rutile rods, you can buy a more affordable welder with a low OCV.
If you want a dual-voltage stick welder, you should know that the OCV it mentions is about the 240V mode. If you plug it into a 120V outlet, it will offer a lower OCV. The new OCV may cause trouble with basic and cellulosic rods.
What duty cycle is enough for a stick welder?
A duty cycle of 35% is high enough for a stick welder. You do not need a high duty cycle to stick weld without interruption, as you would with a MIG welder. This is another advantage of stick welding.
The duty cycle refers to how long the arc can be lit before the welder shuts down for cooling. Duty cycle is measured as a percentage of a 10-minute period.
With a duty cycle of 35%, the welder will hold the arc on for 3.5 minutes before shutting down. The fan will work for 6.5 minutes to cool the machine. After that, you can weld again.
A stick rod takes one minute to burn, then you stop to take a look at the results and replace the rod. While doing so, the welder's fan cools it down.
Furthermore, the duty cycle refers to the welder's maximum amperage, but you rarely use the welder at full power. When you use lower amperage, the duty cycle is higher.
For example, a 140A welder mentions that it has a 30% duty cycle, but when you weld with 100A, the duty cycle is 60% or higher.
Portability of stick welders
Stick welders are already quite portable because they do not need gas cylinders.
When inverter welders first appeared, one of their main advantages was the drastically reduced size and weight. However, these days even transformer welders are quite compact and portable.
If portability is essential for you, you can find ultraportable 5lb (2.3 kg) inverter welders.
What level of build quality do you need?
As a general rule, for an entry-level stick welder, the best option would be a known manufacturer's budget option. A stick welder is not a complicated machine such as a MIG or a TIG welder. If the manufacturer is relatively well-known and has a reliable reputation, it is more than enough.
The wrong thing to do is to buy a stick welder from unreliable online sources. These machines promise an amperage of 200A+ while they fit in the palm of your hand. If you measure them with an ammeter, you will only get half the amperage.
Their OCV will be weak as well, preventing you from using basic rods. Also, some of them promise that they work with E6010 welding rods, but there is no chance they can do that.
However, their worst feature is lacking a cable to ground the power supply. This is extremely dangerous since you will get shocked for sure in case of internal electrical leakage.
Other features to consider
The working (or grounding) clamp that comes with the stick welder is important. The clamp must be strong enough to maintain the arc's stability and performance. 
Many affordable stick welders come with a cheap working clamp. However, this is not a big problem because it is easy to change the clamp with a stronger one.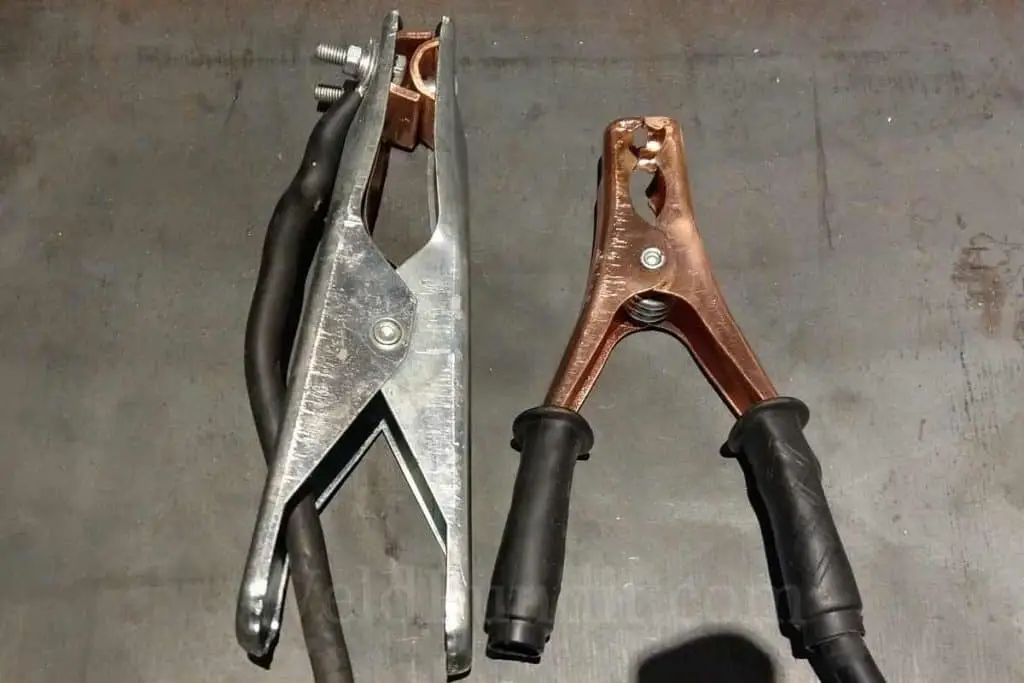 Many stick welders come with an LCD screen which helps you to set the amperage with precision. The LCD screen also displays the hot start and arc force values if the welder supports these features.
Finally, when you weld, the LCD screen displays the amperage fluctuation, depending on how steady arc length you can keep.
An LCD screen is helpful but not essential.
What are the most common mistakes when selecting a stick welder?
When choosing a stick welder, most people make these mistakes:
Selecting amperage that is either too low, limiting the rod sizes, or too high, paying for power that will never use.
Choosing a low-cost welder with a low OCV and missing the capability of using most rod types.
Purchasing welders from unknown manufacturers. These badly designed machines give poor welding results and have a high risk of electrical shock or fire.
---
More Weldpundit articles