What Is Mill Scale in Welding: And How to Weld Through It
Mill scale covers hot-rolled steel, causing difficulties for welders. After reading this post, you will understand what mill scale is, if it is necessary to remove it, and how to weld over it.
While mill scale covers all hot-rolled steels, this article will cover hot-rolled mild steel and the most well-known arc welding processes to keep things simple.
Table of Contents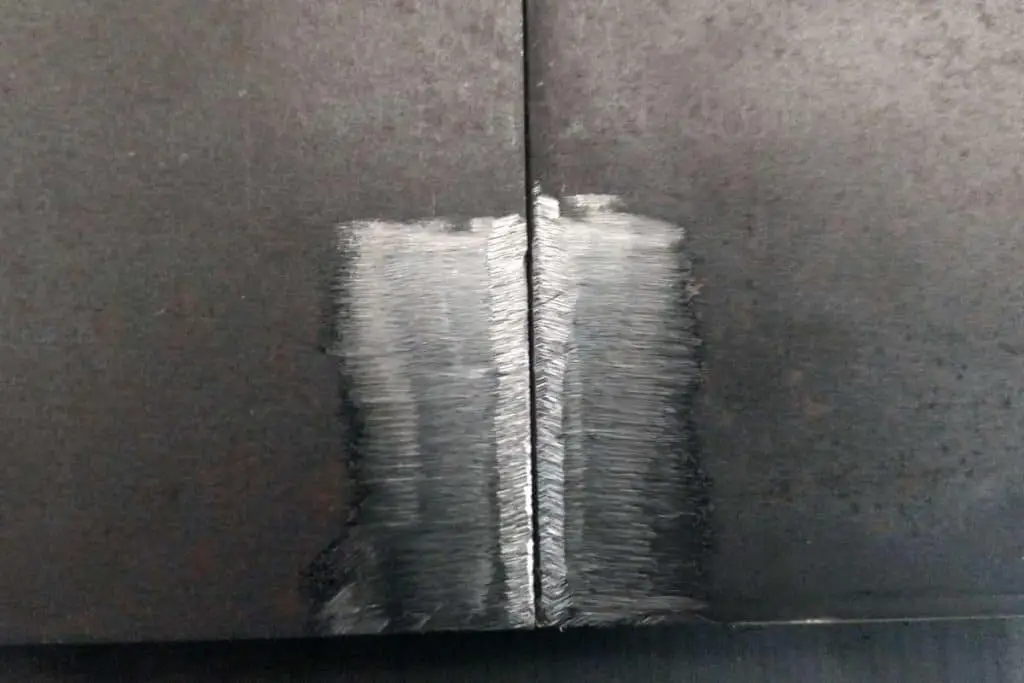 What is mill scale on steel?
Mill scale is a uniform layer of various iron oxides and other impurities that covers hot-rolled steel surfaces. When machinery rolls the hot steel to form it, the air's oxygen reacts with the hot iron and creates these oxides.
Mill scale has a black or black-blueish color and spreads evenly over the entire metal's surface. The thickness it has is usually around 0.004″ (0.1mm), but depending on the metal's thickness, it can reach up to 0.04″ (1mm). 
When mill scale is fresh, it protects the steel from rust, but it gets dry and eventually starts to break as time passes. Cracks in dry mill scale let moisture contact the steel, and rust will begin to appear.
Many steel manufacturers or suppliers remove mill scale from hot-rolled steel and ship it covered in protective oil or primers. This is not the same as cold-rolled steel, which has precise dimensions and is noticeably more expensive.
It's more helpful to buy hot-rolled steel with the mill scale removed. Although it is slightly more expensive, the lack of mill scale is beneficial if you consider removing it for painting.
Is welding over mill scale harmful?
Welding over mill scale generates additional fumes, but they are not as harmful as fumes from galvanized or, even worse, painted metal. However, mill scale can be contaminated with oil used for lubrication during the hot-rolling process. If the oil concentration is high, it will generate hazardous fumes during welding.
Another thing to keep in mind if you decide to weld over it is that suitable welding processes that can burn through it generate more fumes by nature.
You will also choose consumables that contain high levels of deoxidizers that will generate more welding fumes.
All welding fumes are harmful. Weldpundit has in-depth articles on protection from welding fumes and gases and welding respirators for the home welder.
Similarities and differences in mill scale and rust for welding
Mill scale is a mixture of iron oxides and other impurities formed in very high production temperatures. Rust is also a mixture of iron oxides but is created in the presence of moisture in everyday temperatures. 
For the same thickness, rust is far easier to remove than fresh mill scale. If scale is old, dry, and rusty, it is almost as easy to remove.
Mill scale has a fixed thickness, never gets thicker, and doesn't destroy the steel. Unfortunately, rust digs deeper into the steel as time passes by, and it will corrode and ruin mild steel with ease.
While welding over mill scale is possible, welding over old and thick rust is much harder.
Weldpundit has a dedicated article on welding rusty metals.
Do you need to remove mill scale before welding?
If you weld fabrications that take heavy impacts or endure harsh conditions, you must remove the mill scale completely. However, if you weld small to medium-sized fabrications that will endure low static loads, you do not need to remove it.
As a general rule, to get the best overall welding results, you should always remove the mill scale. Removing mill scale is faster and cheaper than correcting a weld with defects that it can cause. 
Welds must perform as expected for the long run, not just when produced in the workshop. Perfect welds need clean metals.
However, there are situations when you do not want or you cannot remove it.
For example, you are sure you will have strong enough welds but want to save the time and the costs to remove the mill scale.
In situations like these, and since the welds are not critical, you can weld over mill scale with the proper welding process and electrodes and save time and money.
How can you remove mill scale?
The simplest and fastest way to remove mill scale before welding is by using an angle grinder with a grinding wheel or flap disc covered with silicon carbide abrasive material.  
When the mill scale is fresh, it is firmly attached to steel and hard to remove. If you use manual or mechanical ways to remove it, you will notice that it tends to move around and remain on the metal. 
If you want to use an angle grinder, avoid wheels or flap discs covered with aluminum oxide, zirconia oxide, or ceramic material. The mill scale will clog flap discs after a short time. Instead, save these for clean metal.
Only a wheel or flap disc from silicon carbide material can give you consistent results to remove fresh mill scale without moving it around or clogging the discs.
Use one to remove the mill scale 1/2″ (1.25cm) to 1″ (2.5cm) from each side of the joint, depending on the base metal's thickness. 
If it is hard to find a silicon carbide disc for metal, you can buy one for concrete or stone. Use it only to remove the mill scale and not on the metal itself.
Many manufacturers produce wheels and flap discs to remove mill scale without mentioning their material. Most of the time, these products are pretty expensive and might still get clogged by fresh mill scale.
A common disc from silicon carbide for metal or stone is the best and cheapest option.
Other methods to remove fresh mill scale are:
Sandblasting has the best results overall if you want to remove all the mill scale for painting, but it is too much trouble if you only want to weld the joint.
You can use several acids, but like sandblasting, it is time-consuming if you only want to weld.
Flame cleaning with oxyfuel equipment can remove fresh mill scale locally, but it costs and might warp the workpiece if it is thin.
Inefficient methods to remove fresh mill scale are:
Wheels and discs covered with aluminum oxide, zirconia, and ceramic material.
Stripping discs for paint.
Wire wheels for angle grinders.
Needle scalers.
Hand wire brushes.
However, you can use these methods when the mill scale has dried up or has signs of rust.
How mill scale affects welding?
Mill scale acts as an electrical and heat insulator resulting in arc instability and restricted puddle fluidity. Mill scale also releases oxygen and other impurities in the puddle. The worse defect is lack of fusion to such a degree that even small fabrications can fall apart by themselves.
If there is mill scale, the amperage and voltage running through the electrode and the working (or grounding) clamp will be reduced and unstable, affecting the arc's performance.
You will have a harder time starting the arc, and the penetration level at the bead's beginning will be superficial. In addition, the arc will be unstable until the end increasing sparks and spatter.
Mill scale has a higher melting point than steel and, in combination with the lower heat and current conductivity, it will make the arc and the puddle smaller.
The puddle will move slower and will not flow to the bead's sides as expected, resulting in a narrow and convex bead with undercuts.
At the joint's sides (or toes), the weld metal deposition will be uneven and without reliable fusion.
Mill scale will also give you added trouble when welding out of position. For instance, vertical up welding needs excellent puddle fluidity to provide reliable fusion, and mill scale decreases fluidity.
If you use the wrong welding settings and technique that will input low heat into the metals, mill scale will prevent their fusion to the point that you will easily separate them with a breaking test.
Furthermore, mill scale will break down, releasing oxygen in the weld metal. The excess oxygen will create high porosity levels. Porosity will make the joint weaker by concentrating stress on the remaining weld metal. 
Mill scale contains many impurities that will remain in the weld metal as nonmetallic inclusions. These inclusions can reduce the weld metal's mechanical properties, for instance, the ductility (elasticity).
If there is surface porosity and undercuts, moisture can concentrate and cause corrosion given enough time.
---
Can you weld through mill scale?
You can weld through mill scale if you choose the suitable welding process and electrodes and adjust the welding settings and technique accordingly.
When you want to weld through mill scale, you should use a higher amperage to provide more heat. Heat will help to burn it and increase the puddle's fluidity.
A slightly slower traveling speed will also help counter the puddle's slower speed, but you should be careful not to overdo it. The electrode must always point to the leading edge of the puddle, not over it.
Because removing mill scale is not always possible or desirable, manufacturers produce electrodes to give acceptable results. Electrodes that combine with flux material are the best for this kind of job.
The main deoxidizers all welding rods, wires, and filler metals have are manganese and silicon. These elements combine with oxygen creating oxides that will float to the bead's surface.
Furthermore, silicon can significantly enhance the puddle's fluidity so it can reach and fill the joint's toes.
Can you stick weld through mill scale?
Stick welding is the best welding process to weld through mill scale. The stick welding rods are covered with a thick layer of flux material. The flux contains many deoxidizers and other impurity scavengers that can remove mill scale from the puddle.
Stick welding (SMAW or MMA) always creates a forceful arc. If you set an amperage high enough to meld the stick welding rod, the generated heat is enough to burn through mill scale and fuse with the base metal.
The metals' fusion will be enough to hold small fabrications, but never for critical work.
Furthermore, stick welding rods are the cheapest consumables compared to the other processes.
Now let's see which welding rod is the best and how the other rods compare.
What are the best stick welding rods for mill scale?
The best stick welding rods for mill scale are the cellulosic rods, for example, the E6010 and the E6011. These rods can weld through the thickest mill scale and penetrate deep into the base metal.
Only the stick welding process has cellulosic electrodes. These rods generate the strongest arc than any other rod. That's about 70% stronger with the same amperage.
Cellulosic rods also generate high amounts of shielding gasses. The gas coverage is large enough to manipulate the rod with a whipping forth and back movement. 
When you pass the rod over the mill scale, the powerful arc can burn it and preheat the base metal. Then, when the puddle arrives, the mill scale is not there to restrict good fluidity, and the metal is preheated for improved fluidity and fusion.
Rutile rods such as the E6013 create a very smooth arc and medium gas coverage. However, while rutile rods can weld over mill scale, they cannot offer the same efficiency as cellulosic rods.
Finally, basic rods such as the E7018 create a smooth arc and low gas coverage. Basic rods need relatively clean base metal but can still give good results if the mill scale is not thick. 
Basic rods are also called low-hydrogen rods. That's because they are used for welding hardenable steels that need to avoid high hydrogen levels inside them to prevent cold cracking.
But mill scale will contain impurities with hydrogen that will go into the welded joint, making low-hydrogen welding impossible.
Can you weld through mill scale with flux-core wires?
Flux-cored wires are very efficient to weld through mill scale. They contain flux material with large amounts of deoxidizers. These materials counter the negative effects that mill scale has on the puddle.
However, flux-cored wires are expensive and need proper storage to avoid going bad from moisture absorption.
Another thing to keep in mind with flux-cored wires is that most of them use the DC- polarity to burn properly, while MIG welding uses DC+. So if you forget to switch the polarity, you will end up with heavy spatter and a bad-looking bead.
There are two types of flux-cored wires:
Self-shielding wires that create their own shielding gases. These are more efficient against mill scale.
Gas-shielding wires that need external gas coverage like MIG welding. These are for high production work.
Self-shielded flux-cored wires
The best self-shielded flux-cored wire for mill scale is the E71T-14. This is because it has the highest amount of deoxidizers. But, E71T-14 is a single pass wire only and hard to find. 
E71T-14 has such high amounts of deoxidizers that a second pass will concentrate them so much that may crack the weld right after welding. We call this hot cracking.
The general-purpose E71T-11 self-shielded wire is suitable enough. It can weld through thick layers of mill scale, but not like a cellulosic stick rod. In addition, it is easy to find, a bit cheaper, and can do multipass welds. 
Gas-shielded flux-cored wires
The best gas-shielded flux-cored wire for mill scale is the E71T-2. It is designed to weld over mill scale and rust with excellent results. But it is a single-pass wire, expensive, and available in thick wires and heavy spools.
E71T-2 welds with DC+, and there are two versions. E71T-2C uses 100% CO2, and E71T-2M uses mixed 75% argon and 25% CO2.
The E71T-1 is the general-purpose gas-shielded wire and can weld through mill scale if it's not very thick.
Many manufacturers produce ExxT-G wires. These wires always have different characteristics. Many of them are specifically designed for welding over mill scale. You must read and trust the manufacturer's description for each one.
Can you MIG weld through mill scale?
You can MIG weld through a light layer of mill scale but not a thick one. Under poor welding settings and torch handling, MIG welds can suffer from a severe lack of fusion. The presence of mill scale can worsen fusion problems to dangerous levels. 
MIG welding and surface impurities as mill scale do not combine well. This is because MIG wire does not come with flux material that can trap impurities. As a result, MIG welding needs a relatively clean metal to work well. 
If you set low voltage or wire speed, the heat that goes into the base metal is not enough for good fusion. The same happens if you do not point the wire at the puddle's leading edge but on the puddle.
If there is mill scale, the lack of fusion worsens greatly. As a result, the weld metal will just sit on the workpiece without fusion.
If you want to MIG weld over mill scale, you can weld on similar scrap metal and do breaking tests. This way, you will be certain that your welds are strong enough.
One tip to prevent lack of fusion is to always point the arc in front of the puddle. The following image shows the V pattern that offers better results than the circular one.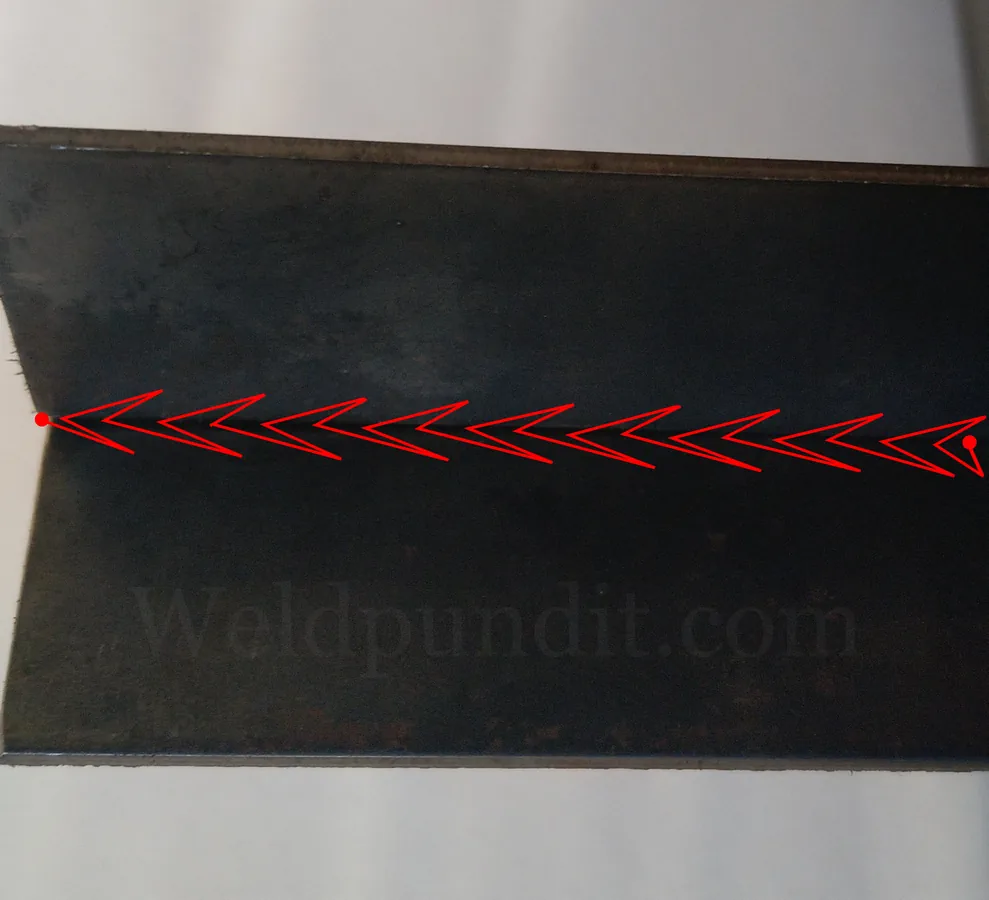 What is the best MIG wire for welding over mill scale?
The ER70S-2 is the best MIG wire for mill scale because it has three special deoxidizers, titanium, zirconium, and aluminum, that have a strong cleaning effect. After that, the popular ER70S-6 wire gives good results against thin mill scale.
All MIG wires have manganese and silicon that act as deoxidizers. While these elements can work against mill scale, they are more suitable to capture free oxygen. 
Titanium, zirconium, and aluminum can capture the mill scale's oxygen creating new oxides that will float to the surface while leaving the remaining iron in the weld metal.
Even if a small percentage of the new oxides remain in the weld metal, they are not as harmful as mill scale. 
However, the ER70S-2 wire is hard to find and much more expensive than the standard ER70S-6 wire. 
The ER70S-6 wire does not contain titanium, zirconium, and aluminum, but it has the highest manganese and silicon amounts. With proper attention to avoid lack of fusion problems, ER70S-6 can give acceptable results over thin mill scale of simple fabrications. 
If you have a MIG welder, you can buy a small spool of self-shielded flux-cored wire as an alternative to weld over thick mill scale.
Can you TIG weld through mill scale?
You cannot use TIG welding to weld through mill scale and receive acceptable welding results, even if the mill scale is thin. TIG welding always needs a clean base metal.
Mill scale will release large amounts of oxygen that TIG welding cannot handle. Oxygen will lead to severe porosity both inside and on the surface of the bead.
TIG welding on perfectly clean metal generates minimum sparks or spatter, but they will be abundant in the presence of mill scale. Sparks, spatter, and oxygen will contaminate the tungsten electrode, resulting in frequent stops to resharpen it. 
If you tried to clean the mill scale, but there are remainings on the metal, use an ER70S-2 rod to get somewhat better but still poor results. 
A more efficient thing you can try is to weld with an austenitic stainless steel rod such as the 309L. This rod has high amounts of nickel that can dilute various contaminants. But 309L rods are much more expensive than standard rods for mild steel.
Conclusion
Mill scale is a leftover byproduct on hot-rolled steels, undesirable for welding. It is necessary to remove it for critical welding, but you can weld over it for simple welding projects.
The fastest way to remove mill scale along the joint is with an angle grinder and a silicon carbide wheel or flap disc.
The best procedure to weld through mill scale is stick welding with cellulosic welding rods. After that, flux-cored welding with self-shielding wire is the next best option.
MIG welding can weld over thin layers of mill scale with the correct settings, but TIG welding requires removing it completely.
---
More Weldpundit articles