Can You Weld Rusty Metal? Problems and Best Options
Welding rusty metal without cleaning it is a situation that you will face sooner or later as a new welder. For instance, you want to do a repair, but you don't have the proper cleaning equipment at hand.
Table of Contents
Can you weld rusty metals?
You can weld rusty metals using the proper welding process and consumables for the job at hand. However, you shouldn't weld rusty metal for professional work. Rust lowers the joint's strength and causes many defects. Furthermore, you want to take extra precautions to protect yourself from the added fumes.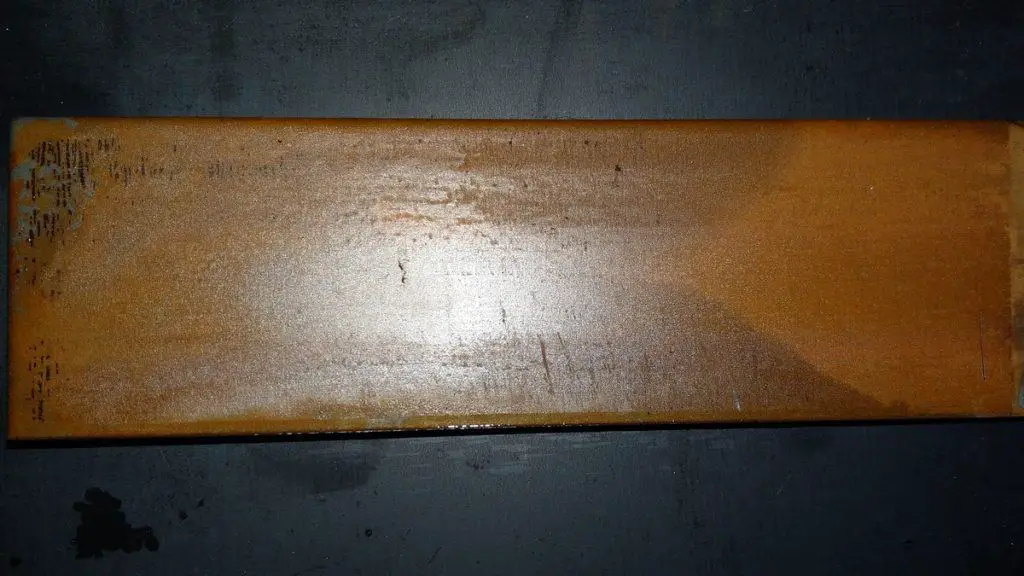 For professional work or when the joints should have full strength, you always weld perfectly clean joints. This way, you ensure that the weldment will perform according to the service requirements. You avoid weak joints that may lead to accidents.
However, for quick repairs or small joints that don't need to meet the strength of the base material, welding over rust is a common practice. You can weld through light or even thick rust up to a point.
Before you start welding, you should remove as much rust as possible, depending on your situation. So even if you won't reach bare metal, you will have the least amount of impurities. This way, you will get stronger welds with fewer defects.
What are the problems when you weld over rust?
Now let's see the effects of rust in more detail.
1. Lower tensile strength
Rust is an iron oxide, meaning it contains oxygen. The arc will break down these oxides. Free oxygen will combine with alloying elements such as manganese and silicon in the weld metal. The reduction of these elements lowers the joint's tensile strength. 
2. Lack of fusion
Because rust acts as a heat barrier, it worsens the lack of fusion defect. Lack of fusion is when the weld metal doesn't mix with the base metal. This is dangerous because it weakens the joint and isn't detectable to the untrained eye.
3. Poor electrical flow
Rust will prevent the electricity's normal flow between the working (or grounding) clamp and the electrode. As a result, you are going to have trouble starting the arc. If the rust is too thick, the arc may not start at all. 
4. Unstable arc and spatter
When you weld, rust will give you an unstable arc, resulting in increased sparks and spatter. Furthermore, it would feel like you are welding with lower amperage.
5. Poor weld metal fluidity
Rust will also restrict the puddle's flow making it stiffer and slower.
As a result, the bead will be narrow, asymmetrical, and convex, with undercut since the sides will not fill with weld metal.
To improve a stiff puddle, you can weld with a higher amperage or at a slower speed.
6. Porosity and inclusions
As mentioned, rust will release oxygen in the weld metal. Oxygen will create porosity and will combine with various elements, creating inclusions. 
Porosity and inclusions make the bead less dense and act as mechanical and corrosion stress points. 
As a result, the joint may break under high loads. Under a corrosive environment, it will rust at higher rates. 
Is welding rusty metal bad for you?
Pure rust can worsen the fume generation problem because it makes the arc unstable. But things can get worse if there is paint or grease mixed with the rusted metal. The resulting fumes will be more complex, thus more harmful. 
You must always keep your head away from the fumes and wear a welding respirator for added protection. 
Furthermore, if you try to remove rust, you must avoid inhaling the dust you will create. 
An N95 respirator or filter is enough for rusted metal. Still, you need higher protection if there are paint or oil residues.
Weldpundit has an article on welding respirators for home welders to learn more about them.
---
In the second part of the article, we'll see how each process can handle rusted metals and the best consumables to use.
The welding industry understands that cleaning the workpieces to perfection is not always practical, necessary, or cost-effective.
Manufacturers provide various rods and wires designed to give better results when you weld over rust, mill scale, and other surface contaminants.
The best consumables come with flux material that forms slag capable of trapping impurities in the puddle.
All the rods and wires described below are for low-carbon steel.
What is the best way to weld rusty metal?
The first process that comes to mind when considering welding over rust is stick welding (SMAW).
Stick welding is the best process for rusty metals because it uses rods covered with flux material. These rods create an aggressive arc that can burn the rust. Furthermore, the flux creates slag material that cleans the puddle.
Stick rods have a wire core and a flux coating. The flux coating creates slag with high amounts of deoxidizers and other scavengers that trap most pollutants and drive them to the surface.
Another significant advantage of stick welding is that it has rods with cellulosic flux material.
What is the best welding rod to use on rusty metal?
The best rod for rusty metal is the E6010 and, after that, the E6011. These rods have a cellulose-based flux that creates an aggressive arc that can burn thick rust, find the metal underneath and weld it.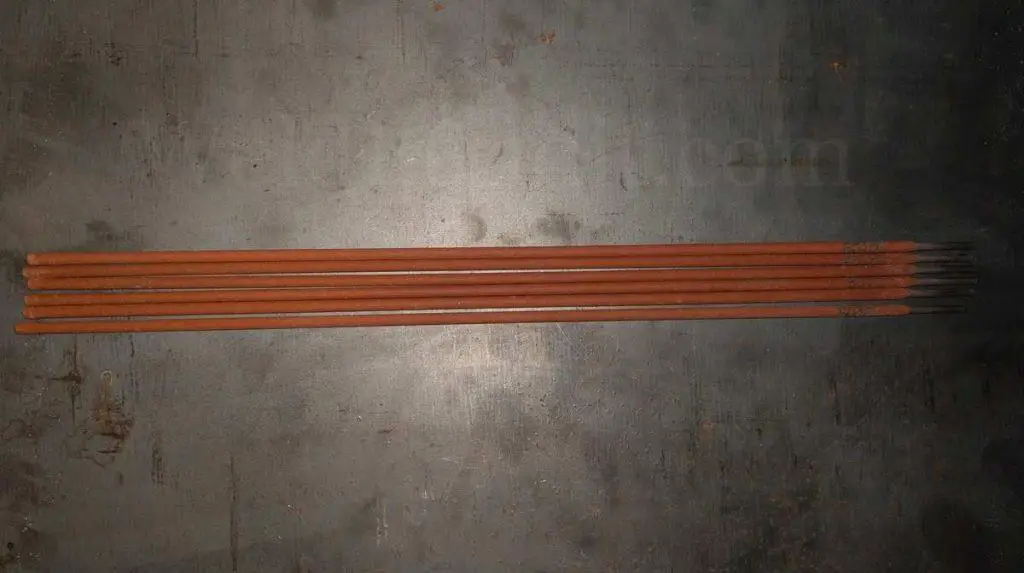 Cellulose is an organic material (fibers) that releases gases such as carbon dioxide (CO2) and hydrogen. These gases create a hot and aggressive arc. 
Furthermore, the gas coverage is wide, and you can manipulate the rod back and forth. We call this the whip and pause technique. It helps to burn the rust and preheat the metal before the puddle arrives. 
As a result, cellulosic rods can weld heavily rusted metal. They are excellent for quick repairs on exposed farm equipment, etc.
The E6010 is the strongest and runs on direct current (DC+). But it cannot work with most common welding machines. You don't want to buy a box of E6010s and discover later that they cannot even start.
As a great alternative, you can use the E6011, which can also run on alternating current (AC). If your welder can burn an E7018, it can burn an E6011 as well.
Rutile stick rods such as the E6013 and the E7014 can also weld rusted metals. 
These rods will hold the pieces together but are not as efficient as the cellulose ones. They cannot weld thick rust.
It is also possible to weld rusted metals with low-hydrogen electrodes, such as the E7018. 
This rod has a basic flux covering that can capture excessive oxygen and prevent the creation of inclusions. As a result, the bead is stronger and more ductile. 
However, an E7018 doesn't create a strong arc and cannot weld thick rust.
One disadvantage of stick welding, especially with cellulosic rods, is that it cannot weld thin rusted metals. 
Always prefer the DC+ polarity since it offers deeper penetration.
Can you weld rusty metal with a flux-cored wire?
With a flux-cored wire, you can weld rusted metal and receive good results because it contains flux material. The flux creates an aggressive arc and contains elements that can clean the puddle. It is the next best process for rusted metals after stick welding.
Flux-cored welding uses electrodes in the form of wires in spools. The wire is tubular with a core filled with flux material. It's like a stick rod turned inside out that offers faster speeds, and it's easier to use.
There are two types of flux-cored wires, the self-shielded and the gas-shielded (or dual-shield).
Self-shielded wires for rusted metal
Self-shielded wires are the most common, and they don't need external gas shielding. They are good at welding thick layers of rust. However, they cannot compete with the effectiveness of cellulosic stick rods. 
The popular general-purpose wire E71T-11 can offer great results because it has large amounts of deoxidizers. 
If you need the best one, then go for the E71T-14 wire, because it has the highest amounts of silicon and manganese. But it is a wire for single-pass welds and is hard to find.
These wires work only with DC- polarity.
Gas-shielded wires for rusted metals
Gas-shielded wires produce slag but need external shielding gas to protect the puddle. They are not as efficient for rusty metals as the self-shielded wires, but still offer far better results than solid MIG wires.
The most popular wire of this type is the E71T-1, which has enough deoxidizers to weld over light rust. 
A better wire for the job is the E71T-2, but it's a single-pass wire and available on thicker wires and larger spools.
For puddle protection, these wires need 75% argon and 25% CO2 (75/25 or C25) or 100% CO2 shielding gas.
However, dual-shield wires are costly, hard to find in small spools, and need a high amperage 240V machine. They are suitable for high-production work.
Can you MIG weld rusty metal?
MIG welding (GMAW) can weld over thin layers of rust. It's not as good as stick or flux-cored welding. The reason is that MIG wires don't have flux material to produce slag and have much lower amounts of deoxidizers. 
MIG wires try to offer good results when welding rusty metals by containing silicon and manganese. These elements act as deoxidizers. Furthermore, silicon enhances the puddle's fluidity and counteracts the stiffness caused by rust.
As for shielding gases, 100% CO2 gas will provide deeper penetration and material fusion. A 75/25 mix is better for thinner metals with less spatter.
MIG wires for rusted metals
The ER70S-6 can weld over thin layers of rust because it has the highest silicon and second-highest manganese amounts (after ER70S-7, but this one has specific uses). It is the most popular and versatile MIG wire and comes in many diameters and spool weights.
The ER70S-2 wire contains special deoxidizers such as zirconium, titanium, and aluminum. This makes it better to weld over rust, but it's much more expensive and harder to find.
The ER70S-3 wire has low amounts of deoxidizers and requires clean metal.
A serious consideration
The common MIG machines (under 200A) use the short-circuit mode to transfer the weld metal. This is a low-heat mode with low penetration. As a result, it's not very efficient against the rust-related problems described earlier, especially the lack of fusion defect. 
MIG welding with low heat on rusty metal can lead to a weak joint that will fail on the first sign of mechanical or thermal stress.
One tip to prevent lack of fusion is to always point the arc in front of the puddle. The following image shows the V pattern that offers better results than the circular one.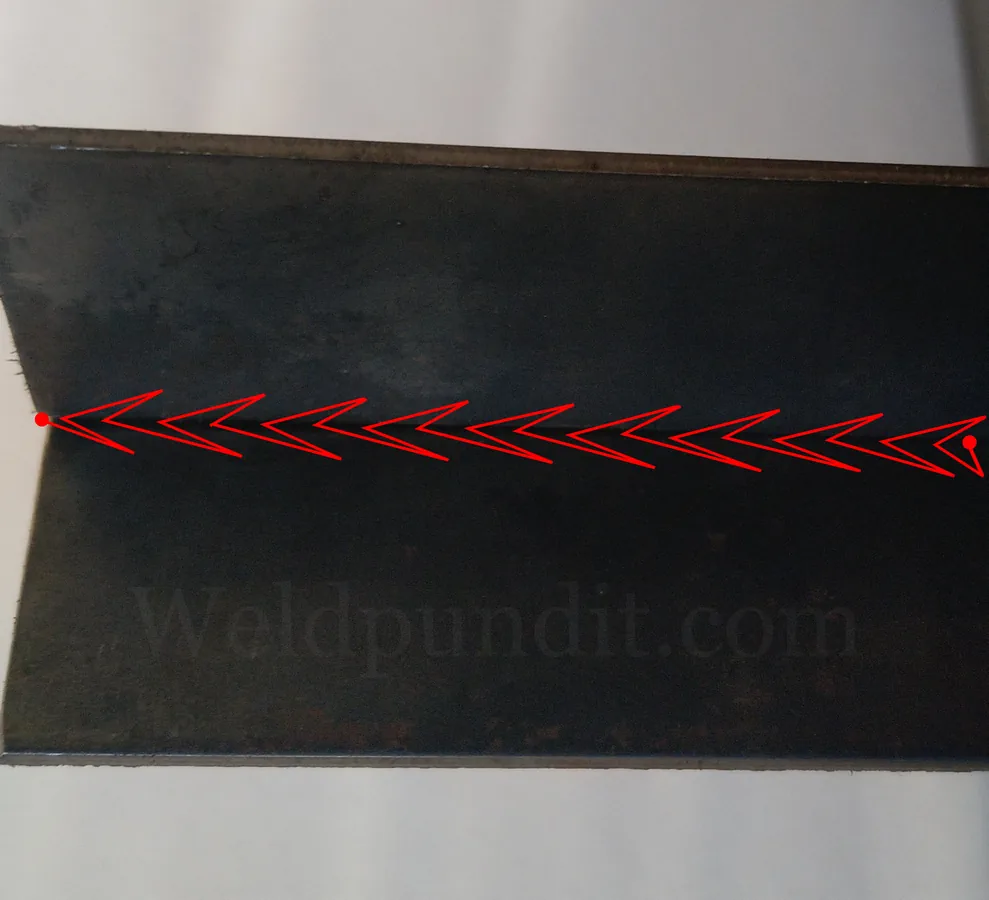 The other commonly used transfer mode is the spray mode. It is far better to weld over rust, but you need a high-amperage machine to use it.
Can you TIG weld rusty metal?
TIG welding (GTAW) will never offer good results for rusty metals. Even, for quick repairs on superficial rust, you will have an unstable arc, porosity, and a contaminated tungsten electrode to grind.
Can you weld rusty metals with oxyfuel?
You can weld rusty metals with oxyfuel, but since you already have the equipment, you can use it to clean the rust. You can use the technique called flame cleaning. 
You set a neutral flame, then pass it over the surface by using a small angle, almost parallel to the surface. The flame will burn the rust and leave a clean surface.
But be careful when using flame cleaning. If the metal's surface has grease or paint, and there is an excess of oxygen in the flame, it might ignite.
The RG60 oxy-fuel rod contains almost double the amount of manganese and silicon than RG45 and is more suitable for the job.
Can you weld rusty thin metal?
Welding rusty thin metal is exceptionally hard because rust makes it even thinner and asymmetrical. Even with the best low-heat practices, it's easy to burn through the damaged workpiece. The best thing to do is to cut and replace the rusted part.
The best process for thin metal that has rusted is MIG welding. TIG is excellent for thin metal but has trouble if it's rusted. 
Stick welding and flux-cored wires cannot weld very thin metals even if they are rust-free because they create an aggressive arc.
If you have a stick welder, you can try a small diameter E6013 rod since it is the best to weld thin metals.
If you consider welding rusty car panels, watch the following video.
---
Conclusion
It is always best to clean the rust before welding. A piece of coarse sandpaper or a simple wire brush can remove a lot of rust. 
However, there are several cases when you can't or don't want to clean the metal.
The best process to weld over rust is stick welding with cellulosic electrodes. After that, flux-cored with self-shielded wires. Ensure the weld is strong enough for the job.
MIG can weld over light rust. But keep in mind the lack of fusion defect. TIG is not suitable for rusty metals.
Finally, with oxyfuel welding, you can remove the rust and weld on clean metal.
Increasing the amperage and/or welding at a slow speed can improve the results.
---
References
---
More Weldpundit articles
How To Remove Galvanized Coating for Welding: 5 Efficient Ways
Can You Weld Magnetized Metal?