How To Remove Galvanized Coating for Welding: 6 Efficient Ways
Galvanized steel has a zinc coating for rust protection. When you want to weld it, it's best to remove the galvanized coating to avoid many problems.
This article starts with an overview of the problems that zinc creates, the basic protection when you remove it, and six ways to do it.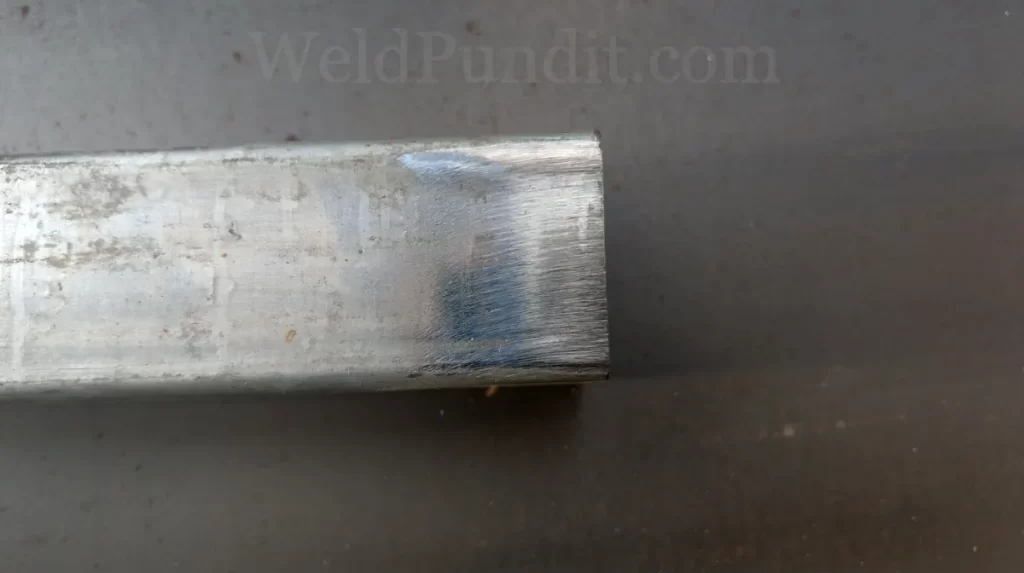 Problems when welding over a galvanized coating
The galvanized coating has a low melting and boiling point. The welding heat will turn it into liquid zinc and white fumes. Zinc introduces or worsens many problems:
A large amount of zinc fumes can make you sick with metal fume fever (pubmed.gov). Furthermore, hot-dipped galvanization might contain traces of lead or chromium.
Liquid zinc can penetrate the bead and the heat-affected zone (HAZ). The HAZ is the area next to the bead. Under harsh service conditions, this can lead to cracking.
Excessive spatter and smoke stick to all sounding surfaces, including MIG or TIG torches.
Excessive porosity in the weld metal.
Lack of fusion along the joint.
Low root penetration.
Inclusions in the weld metal.
Harder arc strikes.
When you remove the zinc coating, you eliminate or reduce these problems. Even if there is some zinc residue left, it will:
Not have negative effects on the joint strength for typical home or small workshop projects.
Generate a fraction of additional fumes.
Reduced spatter and popping will allow the usage of MIG weld galvanized steel.
Depending on the metal's thickness, you remove the zinc coating from the joint by 1-3″ (25.4 – 76 mm).
However, there is another issue.
You need to remove the zinc coating all around the joint
When metals get hot, they will melt and vaporize the zinc coating, even if the puddle is at a distance. That makes it hard to avoid the zinc problems if you only clean the side you will weld.
An example of this is when white smoke escapes from inside a square or round tube.
The problem becomes worse with a thick tee joint or a lap joint because the overlapping areas will trap the zinc inside. This creates two problems:
The trapped gases will eventually escape through the puddle.
The liquid zinc will contaminate and may crack your weld.
To avoid this, you want to remove the galvanized coating on every surface around the joint as much as possible.
Precautions when removing the galvanized coating
All removal methods release air pollutants such as dust, fumes, vapors, and gases. The basic steps to avoid exposing yourself to air pollutants are:
Try to work outside so that the air dilutes and drives away the pollutants.
If you want to work indoors, leave windows and doors open and use ventilation. Local ventilation is the best because it captures the pollutants at their source. After that, use mechanical ventilation to pull or push the pollutants outside without passing them through you.
Always keep your head away from the pollutants' path.
For added protection, use a quality respirator with P100 filters or gas cartridges to capture any remaining hazards.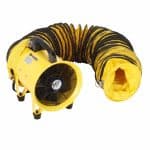 Weldpundit has in-depth articles on welding respirators for home welders.
---
The galvanized coating is tough and firmly attached to the steel, but the following six methods can remove it.
1. Grinding is the most practical method to remove galvanization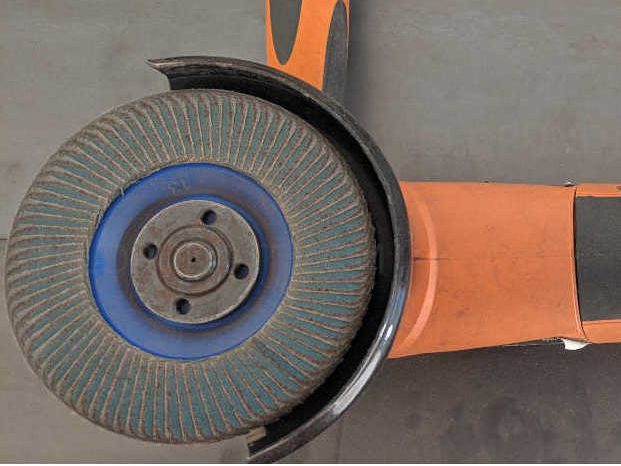 The most common, fast, and easy way to remove the galvanized coating is to use an angle grinder. A bench grinder can also be useful for small workpieces.
For most jobs, you can use a coarse 36-grit flap disc. When you start grinding, the sparks are few, short, and reddish. When the grinder starts to create the sparks of clean steel, most of the zinc is gone.
If you have thick hot-dipped galvanization, a grinding disc would be more suitable. That's because zinc tends to clog flap discs.
Silicon carbide (SiC) is the best abrasive to remove galvanized coatings. It can detach coatings with higher efficiency than aluminum oxide or zirconia abrasives. That helps to reduce zinc residue and clogged discs.
The problem with grinding is that zinc tends to smear over the area. As a result, grinding cannot remove 100% of the zinc coating.
If you try to grind to perfection, you will start removing metal. This will result in a weaker joint.
If the galvanization is thin, a knotted wire wheel can also remove most of the zinc without removing metal.
Grinding doesn't do a perfect job, but welding can burn the remaining zinc. Therefore, there will be no noticeable effects and only a fraction of additional fumes.
Grinding reduces spatter and porosity enough to use MIG, but not TIG welding.
If you want to remove the remaining zinc, you need the help of an additional method, for example, a flame torch to burn it.
Another negative is that grinding cannot clean the inside surface of small square or round tubes and other hard-to-reach areas.
The primary air pollutant of grinding is dust. Dust from galvanized steel is more harmful than dust from rust or mill scale.
Local ventilation is the best measure if you have a lot of work to do. A respirator is also effective against dust particles.
An angle grinder is a high-speed tool that can propel particles or, even worse, broken discs at high speeds. It would be best to wear safety glasses and a full-face mask.
Also, grinding is very noisy, and it would be wise to use ear protection to avoid long-term hearing problems.
2. Flame cleaning doesn't leave zinc residue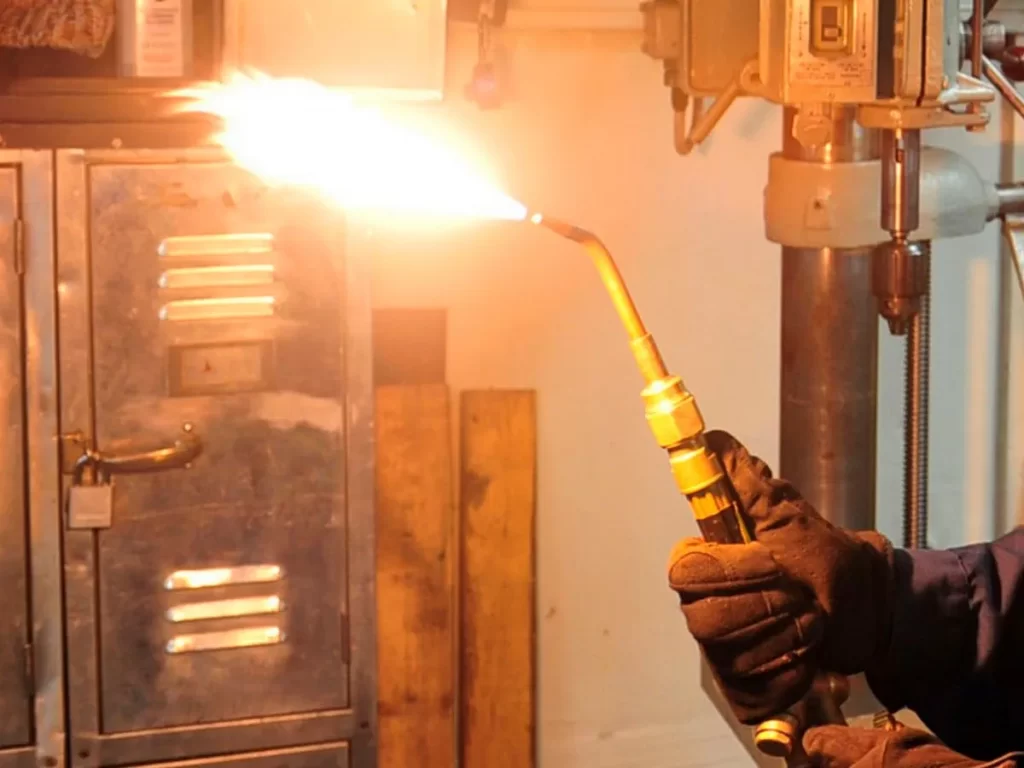 High heat can remove galvanized coatings. If you have a flame torch or even better access to oxyfuel equipment, you can use the flame cleaning technique to clean the joint.
You set an oxidizing flame and position it at an angle almost parallel to the workpiece. Then move it along the joint to burn the coating. When zinc starts to flake, you can use a wire brush for faster results.
Flame cleaning can remove thick galvanization without damaging the metal and leaves a smooth surface without residual zinc. It's also suitable for hard-to-reach areas.
If your workpiece is thin, too much heat at one point can warp it. To avoid this, don't focus the torch on one spot for too long.
Flame cleaning creates a huge amount of fumes, far more than welding. To avoid the fumes, you should work outside and wear a respirator.
3. A chisel and a hammer won't pollute the air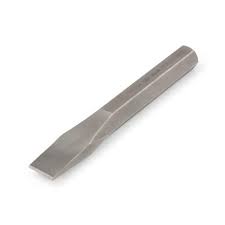 If you have a thick coating, you can use a chisel and a hammer to remove it. This solution is slow and needs manual effort, but it doesn't release dust or fumes into the air. It's also the cheapest one.
4. Long arcing as a fast but dirty solution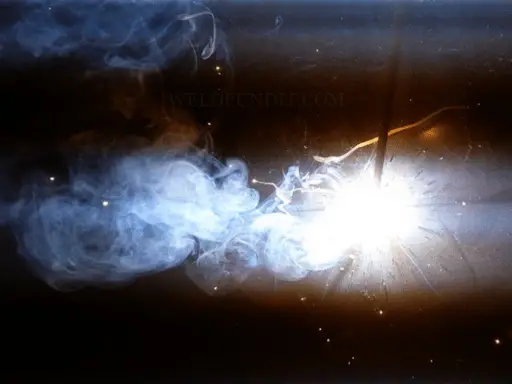 If you have stick welding equipment, you can use an unorthodox way to burn most of the galvanized coating.
You can use a long arc and pass it with a fast traveling speed over the joint one or two times. A long arc will create a larger and hotter arc that will burn most of the zinc, even if it's thick.
This method will create a lot of spatter and fumes. But it's better than nothing if the coating is too thick to weld.
5. Abrasive blasting for high productivity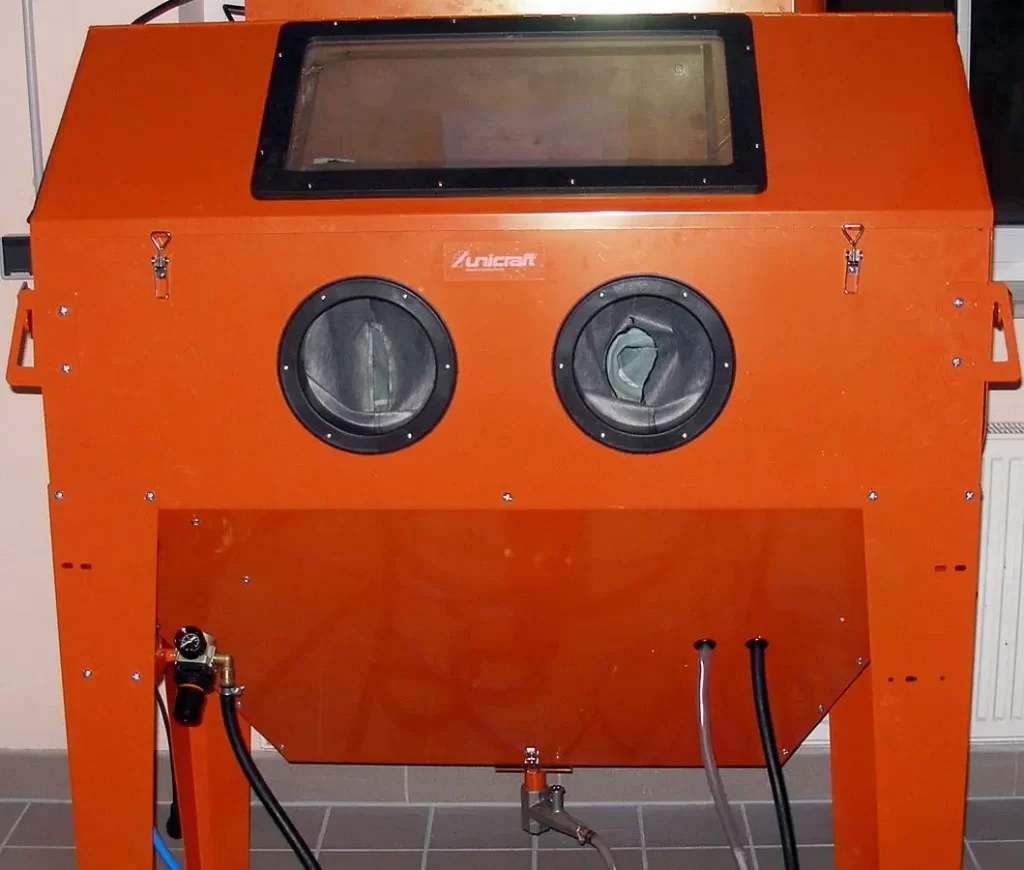 Abrasive blasting is an aggressive method that uses high-speed abrasive particles to remove thick galvanized coatings at fast rates. It can also clean hard-to-reach areas.
The most well-known type is sandblasting, which uses sand and a large air compressor. However, natural sand creates a fine dust cloud so harmful that many countries banned it. That's because sand contains silica (90%+) in the form of quartz.
Other well-known blasting materials (or media) for the job are:
Aluminum oxide.
Silicon carbide.
Garnet.
Chilled iron grit.
Steel grit.
Sand with a small amount of silica (2%).
The effectiveness of abrasive blasting also depends on the media grit size and the speed it comes out of the nozzle.
The blasting force generates a lot of dust, both from the media and the coating. Furthermore, high-speed particles can damage exposed or lightly protected skin.
The most practical method for your safety is to use a cabinet to isolate the dust and the high-speed particles. This way, you can use this method indoors. The cabinet can also recycle the media, making it more economical in the long run.
However, a cabinet is only useful for small workpieces that can fit inside.
Without a blasting cabinet, you need to work outdoors and wear protective equipment suitable for abrasive blasting that covers your entire body.
Blasting is so aggressive that it can overheat and damage thin metal if you keep the nozzle steady. Furthermore, blasting can leave an abrasive residue on the metal.
6. Acids are efficient but most have safety issues
Most acids are capable of removing galvanization and are often used to clean the entire workpiece. Many coating removal products contain these acids and other chemicals, making them more expensive but safer to use. 
Removing the coating with acids has the following benefits:
You avoid the dust particles of grinding and sandblasting, or the fumes of flame cleaning.
They don't leave zinc residue.
Weak acids don't remove metal as grinding, but given enough time the stronger ones will.
Finally, acids don't warp thin metals.
However, many acids are very corrosive and have their own serious safety issues for:
The skin and eyes.
The entire respiratory system.
Clothes and equipment.
Strong acids also have legal issues. 
Most acids release vapors and gases of various volumes and toxicity. For this, you should always use them outside. Even if you use ventilation and respirators, the harmful concentrations can exceed their capabilities in a confined area.
Furthermore, ordinary respirator filters made for welding cannot capture these pollutants. Acid vapors and their byproducts need specialized gas cartridges.
Weak acids are cheap and pretty safe
The recommended acids to remove galvanized coatings are acetic acid and citric acid. Acetic is the acid in vinegar, and citric is the acid in lemons. 
These acids are pretty safe for occasional usage since they have low corrosion strength. Furthermore, you use them in low concentrations, for example, vinegar has only 5% acetic acid.
They do not generate vapors at fast rates and release minimal amounts of hydrogen.
They cannot irritate the skin without long exposure.
Finally, they are cheap and simple to use.
The disadvantage of these weak acids is that they take a long time to remove coatings. Depending on the zinc thickness, acid density, and temperature, it may take from one hour up to a whole day.
Let's see how to use vinegar to remove galvanized coating:
Put the workpieces in a clean plastic container.
Fill the container with enough vinegar to cover them.
Leave them for a couple of hours. You always leave the container open.
Test them with a wire brush to see how much of the coating has dissolved.
When the coating is gone, rinse and dry the workpieces.
I prefer citric acid because it's odorless and cheaper since it's easy to find in concentrated form.
It also doesn't create flash rust as easily as vinegar. Flash rust is a thin rust layer that forms rapidly on wet metals. It's common when you clean them with acids.
You can buy some citric acid from your local supermarket's food section.
Fill a plastic container halfway with water and add 5% acid. You can increase the percentage to 10% for quicker results. Then mix it until it dissolves, and follow the previous procedure for vinegar.
After the recommended weak acids, there are many stronger ones. As acids increase in corrosive power, you go up to the popular but dangerous muriatic acid. 
Dangers of muriatic acid
Muriatic acid is a cheap and diluted form of hydrochloric acid (Wikipedia). It can remove thick galvanized coatings in a couple of minutes, or even less.
However, muriatic acid has many safety issues:
Muriatic acid can chemically burn your skin and cause permanent eye damage.
Inhaled vapors can damage the entire respiratory system.
Muriatic vapors or acid residue on metals are converted to toxic gases when they come into contact with heat (the puddle or heated metals). The same happens when they react with the arc's ultraviolet rays. These gases are more harmful than welding fumes.
When muriatic acid cleans metals, it releases high amounts of flammable hydrogen. If hydrogen concentrates in the air, it can ignite with explosive force.
If muriatic acid comes in contact with other cleaning chemicals, it will release toxic gases. Use only water to dilute it.
It can damage your clothes and most equipment it lands on.
If you forget the workpieces in this acid, they will start to lose material.
Muriatic vapors will cause flash rust on all unprotected ferrous metals they come in contact with. 
If you illegally discard muriatic acid, you risk paying a large fine at best. Ask your local recycling center before you use it.
Muriatic acid or any other chlorinated products must not be used in welding or hot cutting areas.
How to safely use muriatic acid for welding
Muriatic acid was extensively used in domestic cleaning and many people are familiar with it. If you decide to use it on galvanized steel, you need many safety precautions:
Since muriatic acid is so harmful, always use it outdoors and away from other people or pets.
Wear full-body rubber personal protective equipment (PPE) that are acid-resistant. The respirator must cover the entire face to protect the eyes, too. Furthermore, the respirator needs gas cartridges for chloride vapors.
Use heavy-duty plastic containers and long pliers to handle the workpieces.
Since muriatic acid is so corrosive, you can dilute it with water to make it safer. It will still be strong enough to remove the galvanization in minutes. You can use 1 part acid up to 10 parts of water.
Always dilute the acid into water, never water into the acid.
Fill the plastic container only halfway to keep the acid inside when you work.
Dip the workpieces slowly to avoid spilling acid.
When you take the workpieces out, you must rinse them with water. Then dip them in another container that has a solution of water and baking soda. This solution will naturalize any remaining acid on them. Finally, rinse the workpieces again and dry them. You cannot avoid this if you want to weld or hot-cut them.
The last step is to dispose of the acid. As mentioned earlier, you want to know how to do it legally. Remember that now it may contain traces of lead. The recycling center may want to handle it themselves or instruct you how to naturalize it, for example, with a baking soda solution. 
Since muriatic acid is so effective, you can remove the zinc coating locally:
You can use tape along the joint and leave exposed only the area you want to remove the coating. This way, you protect the remaining galvanization.
Apply the acid to the exposed area with a brush or a spray bottle. 
Rinse the area and apply a baking soda solution.
Finally, rinse again. This will ensure there is no acid residue left.
If you want to remove galvanization at the edges of long workpieces such as pipe or tubing, you can:
Dip the edges in 1-2″ of acid.
Rinse the area and dip them again in a baking soda solution.
Finally, rinse again. This method will remove the coating inside and outside.
In a nutshell
Grinding is the best way to remove the galvanized coating for most projects. However, it leaves zinc residue.
Weak acids such as acetic and citric acid are safe, but they require a long time to remove galvanization.
Flame cleaning doesn't leave zinc residue, but it will generate a lot of fumes.
A chisel and a hammer remove thick coatings. This method will not release air pollutants, but it's slow.
Long arcing is a messy method, covering every surface with spatter and smoke. But it can burn most of the coating.
Abrasive blasting is fast but requires full-body protection if you don't have an isolation cabinet.
Corrosive acids such as muriatic acid are efficient but dangerous in many ways.
---
Weldpundit articles
Can You Weld Galvanized Steel?