How to Prevent Your Welding Table from Rusting? (Best Practices)
You want your welding table to perform and look great, but rust often makes its presence. Rust will contaminate everything it touches, the workpiece, the tools, and your hands. So, how can you prevent your welding table from rusting?
To prevent a welding table from rusting, you must keep away any form of water. Without water, rust cannot form. You can do this by avoiding direct water exposure, keeping the air's moisture at low levels, and creating a protective water-repellent coating on the table.
After reading this article, you will know how to prevent and remove rust, and how to apply protective coatings, among other useful information to keep your table rust-free.
Table of Contents
Practices to prevent your welding table from rusting
Rust is a combination of iron and oxygen in the presence of water. Aside from the horrible appearance and contamination issues, if rust remains on the table it will create pits and dig deeper with time.
Prevention is the best way to avoid rust issues, considering that if your table rusts once, it would be easier to rust again.
You should keep all forms of water away from the table. For example, cleaning tools and equipment on the table, placing your water or coffee, etc. Water exposure also includes your sweat after prolonged work in a hot environment.
You should wipe the water dry and blow air to vaporize the residue.
While liquid water is relatively easy to keep off the table, the air will always contain moisture.
If you live in a place with high humidity, it would be hard to keep the table rust-free. You should lower the workshop's humidity and prevent condensation. Condensation (Wikipedia) is when the air's moisture forms droplets on cold metal.
Controlling the moisture level in your workshop will not only protect your equipment from rust but your health too:
Avoid additional moisture sources in the workshop, cleaning tools, wet clothes, propane heaters, roof leaks, etc.
Use enough ventilation to dilute the air's moisture.
Maintain a high enough temperature in the workshop.
Ensure you have sound insulation.
Use a dehumidifier to lower the moisture levels.
Another source of rust is muriatic (hydrochloric) acid vapors. Muriatic acid contains chorine that drastically accelerates the rusting process.
If you use or store muriatic acid indoors, the vapors can rust not only your table but all steel surfaces, even if you have a large workshop.
We call this flash rust, and it's common with most acids. You should use and store strong acids outside to protect your health first and prevent rust on your equipment.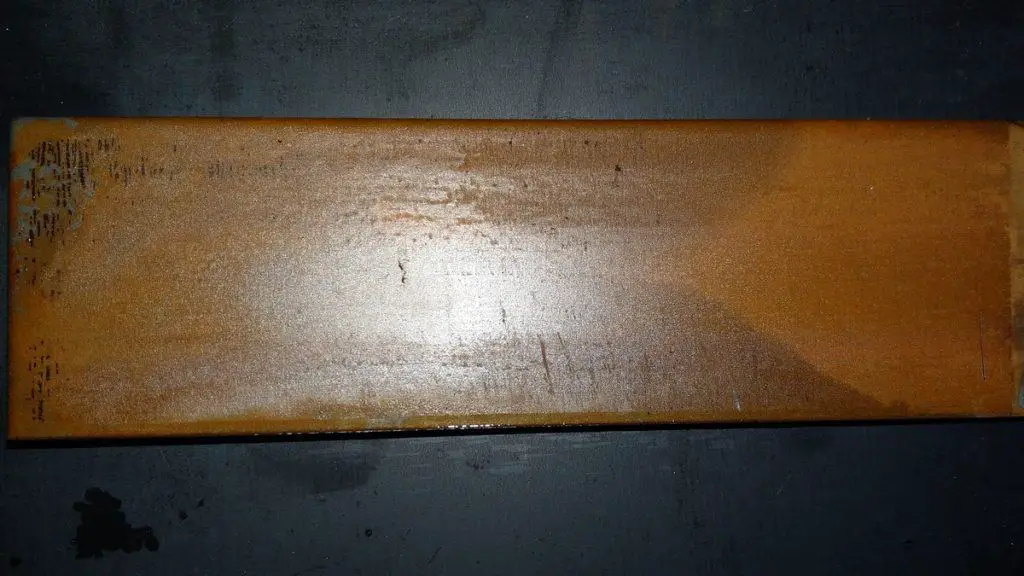 Another substance that accelerates rust is salt. If you clean or repair equipment that is contaminated with any form of salt on the table, any flakes or dust left on it can make it rust faster.
Pits and crevices on your table top should be filled since they can trap moisture. You can remove the damaged area with a carbide burr and weld them. Then use a flap disc to remove excessive metal to be flush with the surface.
You should also keep your table clean. Dust, shavings, workpieces, and tools can accelerate rust formation in the trapped areas.
If your welding table is permanently outside, it's very hard to prevent rust. You need to cover it against rain and morning condensation, but also clean and maintain it more often.
---
How do you get rust off a welding table?
If you have a rusted table, there are many ways to fix it. Rust that formed recently is superficial and quite easy to remove, but you need power tools or chemical ways to remove thick rust.
All mechanical methods create a plume of dust in the air, you should avoid breathing. You can position yourself so that the air pushes it away and wear a dust mask.
First, let's see the mechanical ways to remove rust from a welding table:
Steel wool is a cheap and practical way to remove superficial rust by hand.
Scotch-Brite pads give faster results.
You may also use sandpaper to remove thin rust. But make sure to use fine grit (220 or higher) to avoid scratch marks on the surface.
Sanders, either dual-action or orbital, are great for removing rust quicker and easier than the previous methods. These power tools operate at low speeds and have a flat contact surface, preventing damage to the metal. Also, many models have dust collectors to capture the dust. One disadvantage is that sanders cannot clean corners and other hard-to-reach areas.
A needle scaler is another tool that removes thick rust without damaging the metal. It can reach corners and other hard-to-reach areas. However, it needs some patience.
An angle grinder with a cup knotted-wire wheel is a cheap and efficient way to remove thick rust without removing metal. However, the knotted wire can remove big chunks of rust at high speeds. Furthermore, flying steel bristles can penetrate deep into the skin. For this, you need thick protective clothing, for instance, welding gloves and sleeves. Furthermore, you should use a quality face shield to protect your eyes, face, and neck. Even if you wear a face shield, safety glasses are necessary. A pair of earplugs or earmuffs are vital to prevent deafness in old age.
An angle grinder with an abrasive polycarbide disc can remove rust fast without damaging the metal. But they don't last long, especially if you push them on clean metal or use them on corners. Discs cannot clean corners and hard-to-reach areas.
An angle grinder with a flat flap disc can also remove thick rust at high speeds. But keeping it flat on the table is essential to avoid removing metal and making waves on the surface. For the same reason, you avoid putting any pressure and let gravity press it on the surface. If your grinder has adjustable speed, use a low setting.
Sandblasting propels fine abrasive media through a nozzle. It's an aggressive method and removes thick rust very fast. It offers the best results for hard-to-reach areas. But you need professional respiration protection from dust and full-body skin protection from the media.
Removing rust with chemicals requires less effort and removes it from hard-to-reach areas. However, chemicals produce vapors that are hard to capture. You can read this Weldpundit article on welding respirators, filters, and gas cartridges for more information.
Let's see what chemicals you can use to dissolve or convert rust:
The popular product WD-40 (Water Displacement, 40th formula) is a penetrating oil that is designed to remove rust. You can apply it to the table and let it sit for 15 minutes. Then use steel wool, a Scotch-Brite pad, or sandpaper to remove thick rust. For protection, you need synthetic gloves to avoid irritating or absorbing chemicals through the skin and a face shield.
Using similar ways, you can apply many other commercial rust removers, for example, Evapo-Rust. These products are easy to use and far safer than raw chemicals, but more expensive.
You can use weak acids, for example, citric or phosphoric, to remove rust. Citric is the same acid found in lemons. It's quite safe, but weak and requires a long time to work. Phosphoric acid is quite stronger with the advantage that it forms a black iron phosphate layer that protects the table from rusting. You usually apply these acids with a painting brush, synthetic gloves, and a face shield in a ventilated area.
Strong acids, for example, muriatic (hydrochloric) acid can remove thick rust in a few minutes, but it's too dangerous to use. Contact with this acid can severely damage the skin and the eyes. The vapors can cause lung damage. Depending on where you live, these acids have specific laws on usage and disposal. Furthermore, when the acid removes the rust, you must naturalize the surface with an alkaline solution. Otherwise, your table will immediately develop flash rust when it contacts the air's oxygen. As a result, they are not recommended since there are other much easier and safer ways to choose from.
---
What can you put on a welding table to keep it from rusting?
If you live in an area with high humidity or you won't use your table for a long time, you should apply a protective coating to prevent rust from reappearing.
When your table is clean and dry, you can apply a rust inhibitor, to create a protective layer against moisture and rust. Popular ways are, WD-40, wax products, and phosphoric acid.
However, all protective layers lose their effectiveness from abrasion or if they come into contact with the welding heat.
The following chemical treatments create vapors that irritate the respiratory system, the eyes, and often, the skin. For this, you should apply them in a well-ventilated area with synthetic gloves and a face shield to protect your eyes.
1. Apply WD-40 to keep the rust away
Perhaps the most popular way is the WD-40 product because it's easy to find and apply. This product is versatile because it repels moisture, lubricates the metal, and dissolves rust residues.
If this layer isn't removed by abrasion or high heat, it can protect metals for up to one year outdoors, but not under direct contact with water, and two years indoors.
To use it, get a ready-to-use WP-40 aerosol bottle and spray it on the table. Then use a clean rag to spread it everywhere. Ensure, you only leave a thin layer behind. But, there is a better way.
Instead of using an aerosol bottle, you can buy the chemical in stock and an empty bottle with a pump and trigger. You fill the bottle, use the pump to create pressure, and press the trigger to spray the chemical. This is an economical and healthier way.
After removing rust with mechanical ways, you can use WD-40 to remove residues.
2. Create a thin water-repellent layer with paste wax
Another way to make a rust-free table top is to cover it with paste wax. There are many products that combine natural wax and other substances to make the layer more durable. The SC Johnson product is a popular example.
These waxes create a layer with strong waterproof resistance that lasts for a long time, with excellent anti-rust results. However, waxes don't remove rust, so you need to apply them on perfectly clean surfaces.
After removing the rust using a mechanical or chemical way, use acetone or alcohol to clean the table and let it dry before applying the wax.
Apply the wax to the table and use a clean rag to spread it, making a thin layer. Ensure you don't leave thick areas behind.
Then let it dry for 15 minutes.
Finally, use another clean rag or a polishing tool to buff it.
Another trick to try is to slightly preheat the table up to 140 °F (60 °C) with a flame torch before you apply the wax. This will make the wax spread easier and also makes the surface completely dry, which helps adhesion.
Always move the torch all over the table and never pause. Measure the temperature with a welding temperature stick or an infrared (IR) digital thermometer.
3. Use phosphoric acid to create rust-resistant iron phosphate
Another way to protect a welding table is by applying a solution with phosphoric acid on clean metal. This acid reacts with iron to form a black iron phosphate that offers excellent rust resistance.
This layer is perfectly safe to touch and lasts many months if not removed by abrasion or welding heat. Phosphoric acid can also remove residues.
You can apply 10-20% acid diluted in water with a painting brush or a spray bottle, leave it for a few minutes and wipe it with a clean rag. You always add the acid to the water, never the opposite.
Phosphoric acid is considered weak, but you should always wear synthetic gloves and a face shield.
Can You Paint a Welding Table?
Paint is a classical way to prevent rust, but is it a good idea for a welding table?
You should not paint a welding table because paint is a fire hazard. Paint can catch fire under the welding heat, but also generate harmful gasses. Furthermore, paint is an electrical insulator and will prevent closing the circuit to start the arc.
Most types of paint are flammable, and the high temperatures of welding can start a fire. That's the main reason you will never see a painted commercial welding table.
Even if you use heat-resistant paint, it cannot handle welding heat. If it doesn't start a flame, it will break down and flake.
Paints are chemically complex and when they burn they generate gasses that are extremely harmful to breathe.
For the same reasons, you cannot use zinc sprays, powder coatings, etc on a welding table.
Finally, paint easily resists the low voltage current and makes it impractical to connect the working (ground) clamp on it. You can only connect the clamp to clean metal.
---
Weldpundit articles
Can You Weld Rusty Metal? Problems and Best Options.