Welding Slag Inclusions: How to Prevent and Remove Them
If you are not careful with stick (SMAW) or flux-cored (FCAW) welding, you will probably get slag inclusions. After reading this article, you will know how to prevent and correct this welding defect.
Table of Contents
What are slag inclusions in welding?
Slag inclusions is a welding defect where parts of molten slag material solidify in the weld metal. Slag inclusions appear only with welding processes that use flux material such as stick and flux-cored welding.
Slag comes from the flux material that is around a stick welding electrode (or rod) or inside of a flux-cored wire. When MIG or TIG welding, you can get other nonmetallic inclusions but not slag inclusions.
When these consumables burn, a part of their flux melts and travel through the arc into the puddle as slag droplets. Τhe slag's job there is to clean the molten metal from various impurities and prevent oxidations.
But after that, the molten slag needs to float on the surface by pressure differences in the puddle. On the surface, it will continue to protect the hot bead from oxidation as it cools down and solidifies.
With poor welding practices described later in the article, a part of the slag material might not rise to the surface. If that happens, they solidify in the final weld as slag inclusions.
Shape and location
Most of the time, slag inclusions come in the form of numerous porous fragments with irregular shapes and sizes.
Sometimes slag inclusions can be long and narrow, running along the edges of the bead. In this form, they are also called wagon tracks.
Frequently slag inclusions are visible on the surface of the weld. This is good because you are aware of their existence so that you can remove them.
But many times, slag inclusions can be hidden inside the weld. If so, they are detectable only with specialized methods.
Slag inclusions can also exist between the unfused parts of the weld metal and the base metal. But also between the unfused beads of multipass welds.
What are the effects of slag inclusions?
Slag inclusions create gaps in the weld metal. They also cause a lack of fusion between the weld and the workpiece or between multipass welds. Furthermore, corrosion may appear in those gaps if moisture can concentrate there. Corrosion may also occur if the electrode's flux had chemicals such as fluorides.
The weak spots of slag inclusions result in a weak weld with less metal density and strength. Any stress the weld takes will concentrate on the remaining metal.
Depending on the extent of the slag inclusions and the weldment's service conditions, slag inclusions can lead to failure. Slag inclusions are not acceptable for any critical work.
---
What can cause slag inclusions in welding?
There are many causes of slag inclusions. Some prohibit the correct control and flow of the molten slag. Others cool down the slag prematurely or interfere with the arc.
1. Low amperage
If the amperage is low, the arc is not strong enough to push the slag back. The slag may run ahead of the puddle and closer to the cold unwelded metal, and it will solidify. After that, the molten metal will solidify around it, resulting in slag inclusions.
Low amperage provides low heat that hinders the slag's good fluidity, so it cannot rise on the surface in time.
Finally, low amperage makes the puddle cool down faster, increasing the risk of slag inclusions in general.
2. Incorrect electrode angle
If you position the electrode perpendicular to the joint, you don't have a proper angle to push the slag back.
If the angle is too great, the arc will not melt the workpiece quickly enough, and the slag will cool down.
3. Bad traveling speed
If the traveling speed is too great, you will move the puddle on the cold metal, and it will solidify.
Also, high traveling speed can cause undercuts where slag can concentrate.
With low traveling speed, the slag will build up too much, and it will run ahead of the puddle.
4. Wrong electrode manipulation
If you keep a long arc length, the arc spreads out and is not concentrated enough to push the slag back.
With a weaving technique, you must be careful not to overdo it because the slag will cool down.
If you cannot keep the electrode on the joint and wander off, you will leave gaps that fill with slag.
Also, frequent restarts of the electrode increase the chances for slag inclusions.
5. Insufficient cleaning of the joint
If you weld on previous beads, then you must remove all remaining slag. Even if a small amount of slag is left, it is not certain that it will burn off when you weld over it.
Also, it would help if you cleaned all of the mill scale, rust, paint, or other impurities next to the joint. They can contribute to slag inclusions or form their own. They also act as insulation to electricity and heat. This prevents the slag from wetting out and be controllable.
6. Gaps and asymmetries in the joint
If the joint's fit-up leaves any gaps, the molten slag can concentrate there and solidify.
Each bead of a multipass weld needs to have a flat and symmetrical surface. So there will be no big gaps between them.
If there are undercuts from previous welds, they can concentrate slag.
Also, if the workpiece is too big and thick, it can absorb the welding heat too fast. This can cool down the slag even if the amperage and the traveling speed are correct.
7. Poor electrode selection
You must be careful so that the electrode's diameter is not too big for the joint's size.
If the electrode's flux material is damaged in any way, for example, if it has cracks or wrong moisture levels, it can cause an arc erratic.
Slag inclusions get worse if you use an unsuitable electrode for out-of-position welding.
8. Arc blow
Finally, arc blow caused by external magnetic fields can alter the arc's correct path even if you move the electrode with precision.
An affected arc will create uneven metal deposition and undercuts that will fill with slag inclusions.
---
How to prevent slag inclusions in welding?
Knowing how to prevention slag inclusions will save you a lot of time from correcting them.
1. Set the amperage high enough
It would be best to use the highest amperage for the current electrode job at hand. Just a step before too much heat can cause defects.
This way, you can push the slag back and keep it fluid enough to rise on the surface.
With flux-cored welding, after setting the correct wire speed, make sure you set enough voltage so that the arc melts the wire and the base metal at a good rate.
2. Pull the electrode at the correct angle
First of all, you always pull the electrode with the stick or flux-cored welding processes. If you push, it is impossible to keep the slag at the backside of the puddle. The only exception is when welding vertical-up.
Keep the rod at a 10-20 degree traveling angle from vertical. If you use rutile rods, a bigger angle, for example, 30 degrees, is better.
If you use Flux-Core welding, pull the torch at 5-15 degrees.
When welding out of position, you use smaller traveling angles.
3. Use the right traveling speed
When you point the electrode at the correct angle, the right traveling speed is when the arc points at the leading 1/3 of the puddle.
If you pull the electrode faster, the puddle will have a smaller size and stay behind.
If you pull slower, you will point the arc over the puddle. The puddle will build up too much.
4. Focus and weld with correct electrode manipulation
When stick welding, keep the arc length no longer than one-rod diameter. Flux-core can autocorrect small arc length changes and makes things easier.
Use straight beads (stringers) at a maximum width of two electrode diameters. Try to keep the arc where it can evenly deposit the metal in the joint. Avoid frequent stops and restarts as much as possible.
5. Weld over clean metal
Clean the joint from any surface impurities such as rust, mill scale, paint, or any coating, for instance, galvanized steel.
To avoid slag inclusions, it is essential to clean all of the slag left from previous beads if you want to prevent slag inclusions.
After you use a chipping hammer on the slag, remove the remaining with a wire brush. Or you can use an angle grinder with a cable twist wire wheel for faster results.
6. Ensure good joint fit-up and correct any asymmetries
A joint with a good fit-up has no gaps where the slag can concentrate and solidify.
If there are undercuts from previous passes, correct them with an angle grinder. Do the same if previous beads are too convex or have any other asymmetries.
Also, if the workpiece is very thick, preheat the joint.
7. Select the proper stick rod or flux-cored wire size and type
When stick welding, select the correct rod diameter so it can properly fit in the joint.
The electrode's flux must be in good condition. Protect electrodes with a basic flux such as E7018 from excess moisture. But you want to prevent rods with a cellulosic flux such as E6011 from losing their moisture.
Keep in mind that electrodes with a rutile flux such as the E6013 stick rods tend to create more slag inclusions.
Also, for out-of-position welding, pick an EXX1X stick rod or an EX1T wire. 1 means they can weld at all positions.
But if you weld vertical down, you might want to choose true all position rods, such as the E6010 or the E6011. These can freeze very fast without the slag running ahead, causing slag inclusions.
8. Check for and avoid any external magnetic fields
If you weld with DC, you must check if there are any external magnetic fields close to the arc. For example, if you weld close to welding magnets or you weld on a magnetized welding table.
If you weld with AC, arc blow is seldom an issue. You can read this WeldPundit arc blow article to learn more about it.
---
How to correct slag inclusions in welding?
The proper way to correct slag inclusions is to remove the affected part of the weld, then weld it again.
Many welders try to correct slag inclusions by burning them with additional passes, especially when using cellulosic rods such as E6011s.
These rods have a very aggressive arc that digs deep in the metal and can burn slag inclusions. The final bead might look good without any visible inclusions.
But if you weld like this, you can never be sure that there are no slag inclusions left inside the final weld.
Remove slag inclusions with an angle grinder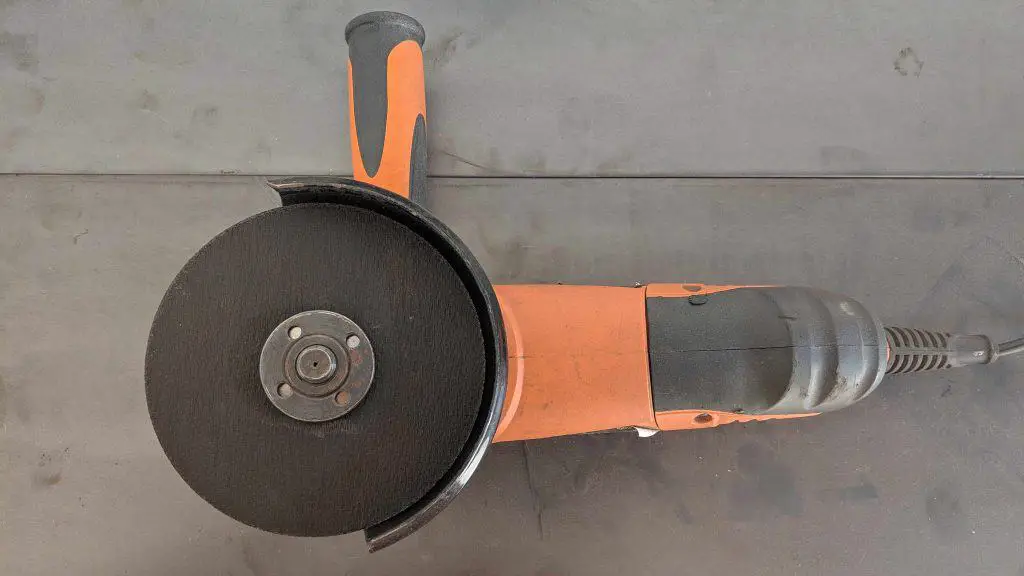 Removing slag inclusions with an angle grinder is a simple, affordable, and very effective way to do it.
To remove the affected weld metal, you must use the angle grinder perpendicular to it. Cut-off wheels are ideal for this since they are made to work with their edges.
But which cut-off wheel? Thin cut-off wheels, for example, .040″ (1mm) thick cannot remove a lot of material, and they are prone to shattering. Wheel shattering is one of the most dangerous things to happen when using an angle grinder.
The 1/8″ (3.2mm) cut-off wheels are the best choice since they are thicker and safer with fast material removal.
When removing weld metal with a cut-off wheel, the best technique is to pull the grinder. Back and forth movements are not the best ones for this kind of work. You can tilt the grinder a bit to help remove more metal.
Make sure when you select a cut-off wheel to be suitable for each kind of metal you work with. Also, check that the maximum rotations per minute mentioned on the wheel are at least as many as those mentioned on the angle grinder.
Grinding wheels are not suitable to remove slag inclusions because their edge can work only at a 5-15 degree angle and not perpendicular. If you use them perpendicularly, you will damage them.
Ordinary flap discs are also not suitable for the same reason. There are flap discs with curved edges for perpendicular work, but they are tough to find.
Gouging processes to remove slag inclusions
While an angle grinder is good enough for most cases, I will mention some heavy-duty gouging processes to remove slag inclusions.
Arc (SMAW) gouging is the simplest one. It uses a stick welding power supply and does not need compressed air. The only difference is the special gouging rods.
Oxy-Fuel gouging is popular and uses oxy-fuel cutting equipment but only works with carbon steel.
Carbon arc gouging is considered a "violent" process and uses a stick welding power supply with high amperage, a gouging torch, special rods, and compressed air. It is very efficient but doesn't offer good for stainless steel.
Plasma gouging is the best one but also the most expensive. It uses plasma cutting equipment.
---
Conclusion
Slag inclusions are a common welding defect with the stick and flux-cored welding processes. If they are excessive, they make the weld weak and prone to failure.
Low amperage, wrong electrode angle, and slag material from preceding welding are the main reasons for slag inclusions.
---
More WeldPundit articles