How to Weld Galvanized Steel with Flux-Cored Wire: 7 Steps
Flux-cored wires can weld galvanized steel, even if you don't remove the coating. While it is not recommended, there are times when you need to do this.
This guide mentions the basics of flux-cored wires and describes the procedure step by step with the proper settings and techniques.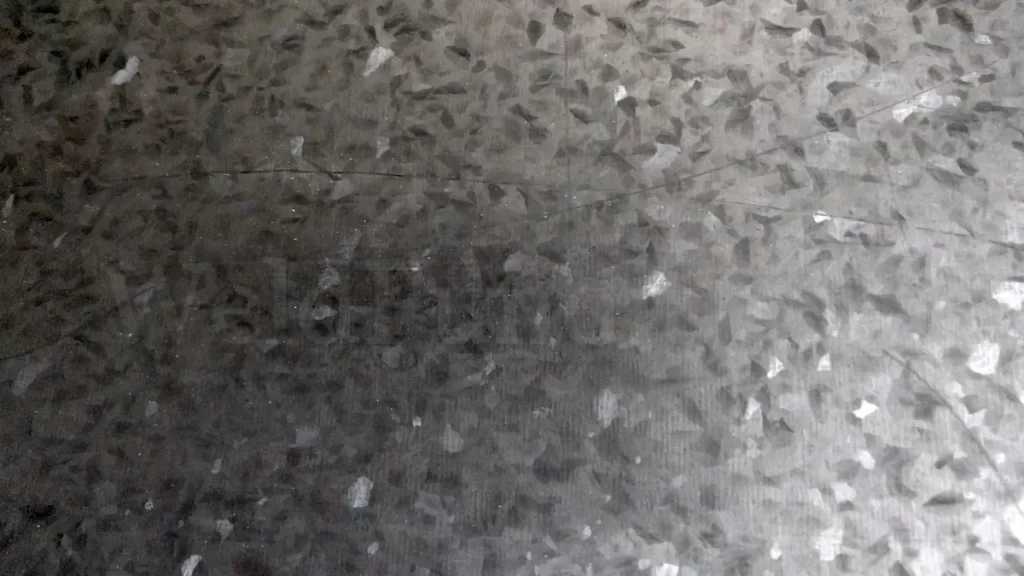 Galvanized steel is regular steel that has been zinc-coated to prevent rust. But zinc creates many welding defects and additional fumes.
In a nutshell, if you weld over zinc, it will vaporize, creating a large volume of fumes that mix with the typical welding fumes. The combined fumes can quickly oversaturate workshops that don't have local ventilation equipment. Inhaling the fumes can lead to metal fume fever (pubmed.gov).
To avoid this, you should always weld galvanized steel outdoors, position yourself to avoid the fumes, and wear a welding respirator.
Zinc is an unwanted element in the puddle because it creates many defects such as cracking, incomplete root penetration, lack of fusion, inclusions, porosity, and spatter.
Weldpundit has a detailed guide on galvanized steel for beginners that covers these issues in detail.
---
Flux-cored wires are tubular and filled with flux material. Flux contains elements that serve many purposes, improving the results. For galvanized steel:
It creates an aggressive arc that can burn the zinc in and around the puddle.
It contains many cleaning elements that significantly reduce all the defects zinc creates.
You can use these wires with a MIG welder after a few modifications, or with a dedicated flux-cored arc welder (FCAW).
There are two wire types, self-shielded and gas-shielded.
This guide will cover the self-shielded flux-cored wires (FCAW-S) that can generate their own shielding gases. They are also called inner-shield wires. They are the most common and the best for the job because:
Their flux contains the highest amounts of cleaning elements.
Their gas generation is so strong that makes them suitable for windy environments.
The strong gas coverage allows a wider torch manipulation to help burn the coating.
Since flux-cored wires generate their own shielding gases, you don't need a gas cylinder. This makes your welder very portable.
Their main disadvantages are:
It's hard to weld thin metal. Skilled welders can weld down to 18ga (1.2 mm). But new welders may have trouble when the metal is thinner than 1/8″ (3.2 mm).
They create a slag covering that's hard to remove.
The gas-shielded flux-cored wires (FCAW-G), or dual-shield wires, need MIG gases to weld. Either with C25 (75% argon and 25% CO2) or 100% CO2.
For this, they cannot weld outdoors if you don't protect the work with windscreens. Also, the gas cylinder reduces portability.
Furthermore, their flux contains fewer cleaning elements than FCAW-S wires. They are also hard to find in small spools or thin diameters and need high-amperage machines to work.
---
After the short introduction, let's look step by step at how to weld galvanized steel with flux-cored wires.
1. Gather the equipment you need
The first step is to gather all the necessary personal protective equipment:
A welding helmet is the most crucial PPE. It lets you see your work and protects your eyes and face from the arc's radiation, sparks, spatter, and flying objects.
Safety glasses protect your eyes from UV rays and all flying objects, including the slag material on the bead when you clean it.
If you use an angle grinder, wear earplugs or earmuffs.
Thick welding gloves protect your hands from UV light, sparks, spatter, and hot metals.
Fire-resistant clothes that cover all of your body. Never wear synthetic clothes.
Leather boots. Grinding sparks and welding spatter can easily destroy synthetic shoes and burn your feet.
A welding respirator with P100 filters. These filters can absorb almost every air contaminant when you weld galvanized steel. But remember that respirators are supplements. They cannot protect you if fumes are too dense. You can read this article on respirators for home welding to learn more about them.
You also want a chipping hammer and a wire brush to clean the slag covering left on each bead, and the burned galvanization.
Do a quick safety check to avoid surprises that may harm you. For instance, don't weld close to flammable materials, exposed electrical wires, correct helmet settings for outdoor welding, etc.
2. Select the correct flux-cored wire
The best flux-cored wire for galvanized steel is the E71T-14. This wire is designed for welding over galvanization and other coatings such as mill scale and light rust.
But the E71T-14 is hard to find and capable only for single-pass welds of 3/16″ (4.8 mm) thick metals. If you weld multiple beads, you may end up with cracked beads.
The popular general-purpose E71T-11 can also weld galvanized steel with great results. With the proper wire diameter, you can weld thin metal from 18 ga (1.2 mm) up to 5/16″ (8 mm) with a .045″ wire. You can also do multipass welds. Also, it's easy to find in small spools and thin diameters. For most jobs, it's all you want.
Welding thicker metal than 5/16 requires a .068″ wire, which means you need a three-phased heavy-duty machine.
Since both wires have the 1 in their designation, they can weld in all positions. Wires that cannot have a 0, for instance, E70T-xx
Another wire type you can use is the ExxT-G. These wires always have different characteristics.
Often, manufacturers design them for galvanized steel. These wires can reduce many defects, especially porosity and spatter. They are great if you have a lot of welding to do.
However, you must ensure that an ER70S-G wire explicitly mentions that it's made for galvanized steel before you buy it.
Something to mention is that there is no .024″ (0.6 mm) flux-cored wire diameter.
As a general rule, if you have a 120V welder, select a 0.30″ (0.8 mm) wire. If you have a 240V welder, select a 0.35″ (0.9 mm) or a 0.45″ (1.2 mm) for faster work on thick metals.
If you change the wire diameter, always use the proper roller, liner, and contact tip size.
If you have a MIG welder, set the correct wire roller and polarity
If you have a dedicated FCAW machine, you don't need to read this part. But chances are you have a MIG welder, and you must change from solid to the cored wire.
If you change the wire without knowing a couple of things, you will not want to weld with a flux wire again.
Flux-cored wires need serrated drive rollers because they are soft. This roller type will allow you to set a lighter pressure on the wire and feed it without problems. Always use the fitting groove size for your wire.
A typical roller will put too much pressure on the cored wire and deform it. As a result, small amounts of flux may escape the wire and pollute the wire feeding mechanism. Furthermore, the deformed wire may jam and create birdnesting.
Solid wires weld with DC+ polarity, but self-shielded wires need DC- polarity to work correctly. If you don't change the polarity, you will have excessive fumes, large spatter, and a smoked joint even if you weld on clean metal.
Depending on your machine, you either:
Unplug the torch cable and plug it in the DC- socket and the working (or grounding) clamp in the DC+.
Switch the polarity from within the power supply next to the wire feeding mechanism.
After that, you install and pass the cored wire through the feeding mechanism and the liner as usual.
You can remove the gas nozzle if you want to weld hard-to-reach areas. But it's best to leave it on to keep spatter away from the internal parts.
3. Clean the joint
Even if you don't remove the coating, it would be best to remove any dirt close to the joint. The zinc coating already makes welding difficult, and the presence of soil, dust, oil, etc., will make things worse. The wire brush and a rag can remove most of them.
4. Prepare the joint and clamp the workpieces
Preparing the galvanized joint is similar to uncoated steel, with some modifications.
While cored wires can penetrate deep, zinc causes incomplete root penetration.
If you have a butt joint, leave a wider root gap (10-20%) and use a wider side-to-side movement to achieve the same penetration.
Another benefit of a wider root gap is that the liquid or gaseous zinc can escape easier.
For the same reasons, you want to avoid closed butt joints and always leave a small root opening.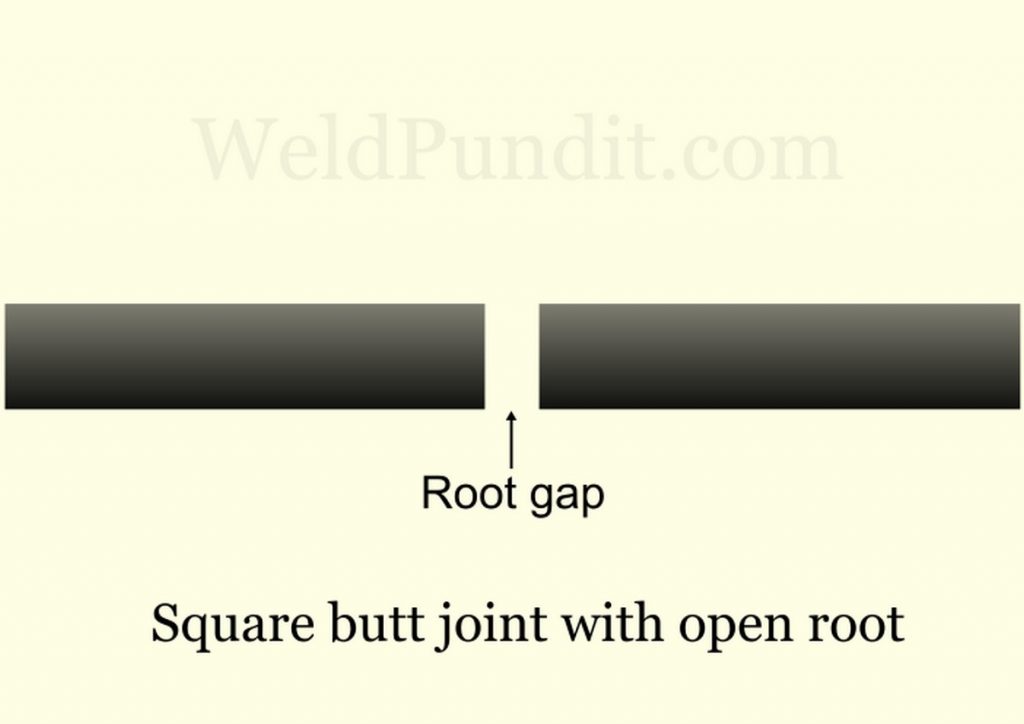 If you weld from one side and the metals are thicker than 1/8″ (3.2 mm), bevel them at 30 degrees and make a single-V joint. Again, leave a wider root gap than usual.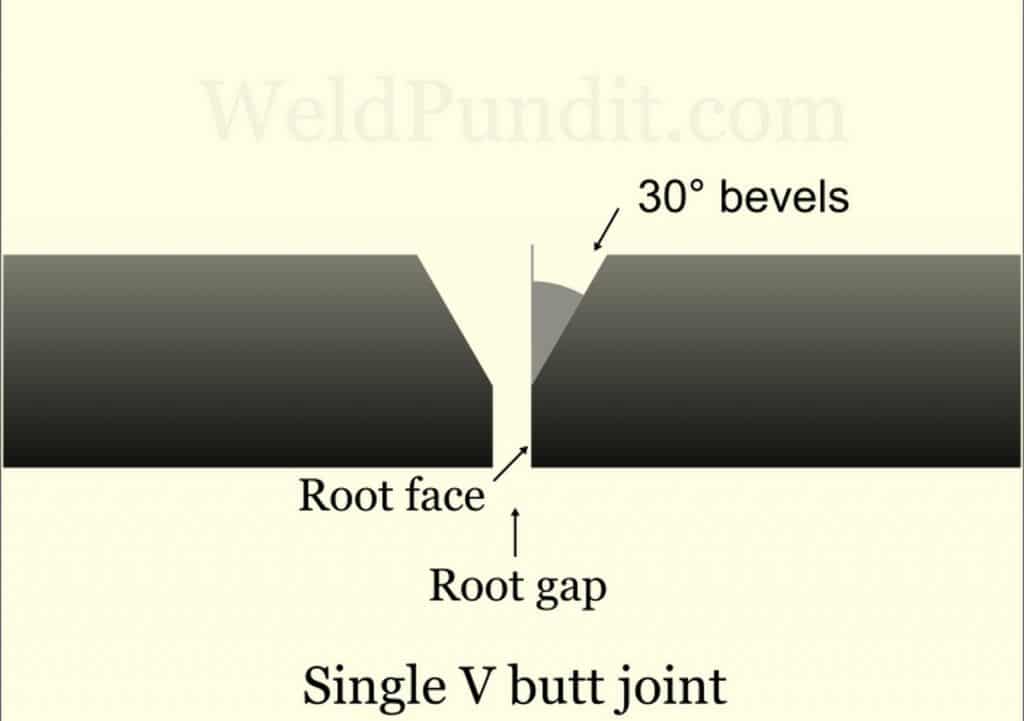 Fillet welds of tee and lap joints are the hardest to weld. That's because fillet welds cover a larger part of the joint and burn more zinc. But even worse, these joints almost always don't have root gaps.
As a result, the zinc fumes formed at the abutting surfaces will not escape easily. Instead, they will escape through the puddle when they gain enough pressure, creating excessive porosity. Liquid zinc will also contaminate the metals, increasing the cracking risk.
If the metals are thick, for example, more than 1/4″ (6.4 mm), you can leave a small 1/32-1/16″ (0.8-1.6 mm) gap. This way, the fumes can escape before building up pressure.
You can use welding wires or other thin metals to create this gap, then tack weld the joint and remove them. 
Outside corner joints are the easiest because you don't burn much of the galvanization.
Ensure you will always have a symmetrical fitup. Irregular joints may blow through at the wider or thinner parts. Furthermore, try to weld in the flat position if possible, since it's the easiest one.
5. Set the correct voltage, wire speed, and stickout
To figure out what amperage (A) you want, you consider the metal thickness. For every .001″ of steel, 1A is required.
For example, if you have a 1/8″ thick metal, you divide 1 by 8, and you get the decimal .125″. So a 1/8″ thick metal requires 125A.
For galvanized steel, using a higher amperage (5% or higher) will help burn the zinc easier, especially if you weld tee or lap joints.
When dealing with MIG or FCAW welders, to set the amperage, you must select the correct wire speed for the wire diameter you are using. After that, you set the voltage (V) high enough to melt the wire.
For example, a .035″ cored wire needs around 170 inches per minute (IPM) to give 125A. Then you set 14-15V to melt the wire.
However, selecting the correct speed and voltage is a bit tricky. Each welding machine is calibrated to give optimal results with specific settings for each wire. To make things worse, manufacturers optimize the settings considering their own wires.
This complicates things since each machine can have very different voltage and wire speed settings for the same wire type and diameter. The best thing to do is to follow the manufacturer's recommendations.
Each machine has a voltage and wire speed chart for each wire diameter and metal thickness. If it's not printed on the welder, and you don't have the manual, you can find them on the manufacturer's website.
The chart is essential if your machine's control knobs don't display the actual voltage and wire speed values but numbers or letters.
But sometimes you may not be able to find the chart. Below is a chart with typical values for a .035" E71T-11 wire. Start with these settings and run test beads on similar scrap metal. After each one, fine-tune the settings.
For the same metal thickness, self-shielded wires need lower voltage and wire speed than solid MIG wires. You cannot use the settings of solid wires.
Metal Thickness
Wire-speed
inches/min
Wire-speed
meter/min
Voltage
18 ga (1.2 mm)
70
1.8
14
16 ga (1.6 mm)
90
2.3
14
14 ga (2 mm)
110
2.8
14.2
3/32″ (2.4 mm)
140
3.6
14.5
1/8″ (3.2 mm)
170
4.3
15
3/16″ (4.8 mm)
200
5.1
15.5
1/4″ (6.4 mm)
220
5.6
16
.035″ E71T-11 wire voltage and wire-speed settings for the flat position.
If you have a modern inverter machine, it may have a synergic function. This automates the settings, making them simple.
You select the cored wire, its diameter, and the metal's thickness.
The machine will set the correct voltage and wire speed. Start by following these instructions, but if the amperage feels low, manually increase them by 5% or more.
You also want to set the correct wire stickout. When you weld with a solid wire, you usually set a short stickout 1/4″ up to 3/8″ (9.5 mm). However, cored wires need a longer one:
A 3/8″ up to 1/2″ (13 mm) stickout for 0.30 and 0.35 wires.
A 3/8″ up to 5/8″ (16 mm) stickout for 0.45″ wire.
If your welder has an inductance setting, don't use it with cored wires. Set it to 0.
At this point, you can tack weld the metals to keep them in place and avoid distortion. Tacking length depends on the thickness: the thicker the metals, the longer but larger the tacks.
6. Tips for welding galvanized steel with flux core wires
Now, let's see some modifications and tips that will help against the coating:
The most significant change when welding over galvanization is to travel at a slower speed. Because FCAW uses a fast traveling speed, slow down 20-30%. That's around 30 – 40 inches/min final traveling speed. This will input more heat into the workpiece and burn the zinc coating easier. One way to reduce the speed is to use wider torch manipulation. Try to avoid straight (or stringer) beads if possible because they use a fast traveling speed.
When you want to burn coatings, it helps to use a pattern that keeps the arc in front of the puddle all the time. In the following image, you can see the V weave pattern that's suitable.
When you weld with cored wires, you always pull the torch. This is necessary to push back the slag material that's in the puddle. Otherwise, you increase the risk of slag inclusion and lack of fusion, among other defects. Furthermore, pulling burns the coating easier.
The zinc coating interferes with the workpiece (or grounding) clamp connection. As a result, the current doesn't flow smoothly and the arc becomes unstable. That's important when you weld with a MIG or FCAW welder. Try to connect the clamp to the workpiece as securely as possible.
Always fill the ending crater. If the crater is concave, the shrinkage forces may crack it, especially if zinc is trapped inside it.
Clean the slag covering before passing another bead to prevent slag inclusions.
If you weld outdoors, and it's cold, you will have serious welding problems. The arc will not start easily, and it will feel like you weld with low amperage. To avoid this, preheat the joint with a flame torch up to 100 °F (38 °C).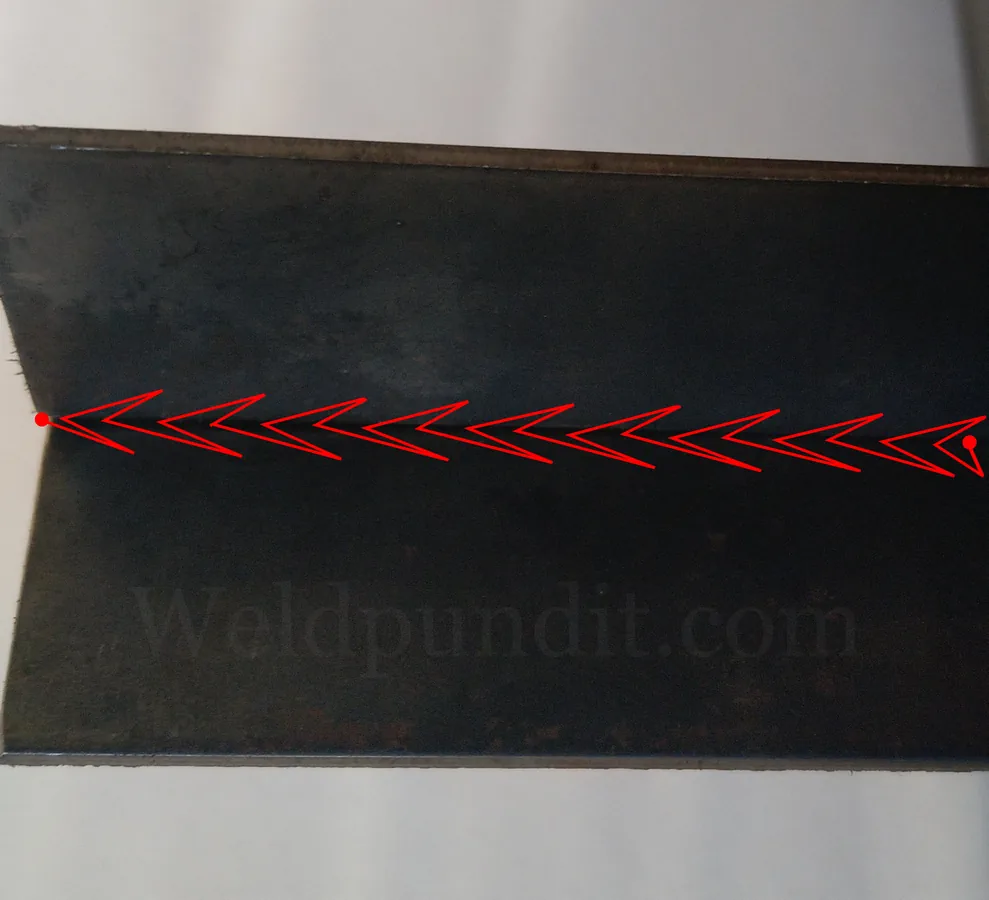 7. Restore the galvanization
When you finish, it's best to restore the metal's corrosion resistance. That includes the new bead and the burned galvanization not only on the side you welded but all around the joint.
Furthermore, spatter and porosity left on the joint act as corrosion concentration points that you want to remove or cover.
The easiest way to fix this is to grind the joint with a 40-60 grit flap disc and wipe it with a clean cloth. After that, apply zinc-rich paint or spray on all exposed areas. We call this cold galvanization.
After welding, it's best to remove the flux-cored wire and store it in the original package or a similar one. This way, you keep it from rusting and avoid moisture in the flux material. Moisture causes the arc to become unstable, increasing porosity and splatter.
---
More Weldpundit articles
Can You Weld Galvanized Steel?
Can You Weld Galvanized Steel with a MIG Welder?
Comparison Between Stick and Flux-Cored-S Welding Processes.