Can You Weld Galvanized Steel with a MIG Welder?
Galvanized steel has poor weldability, and there are many things to know before you begin welding it with a MIG welder. Let's start with a quick answer:
With a MIG welder, you can weld galvanized steel with great results if you remove the coating. However, if you wish to weld over the coating, a MIG welder will provide satisfactory results if you use flux-cored wires. For most projects, typical solid wires are incapable of dealing with the issues caused by the coating.
Welding galvanized steel with a MIG welder and solid wires is not ideal because:
Galvanized steel is covered with a strong coating, but solid wires need clean metal to offer good results.
Most galvanized steel projects or repairs are welded outdoors, but gas shielding provided by a gas cylinder cannot protect the arc or the puddle in windy environments.
But there are many things you can do to get improved results. After reading the rest of the article, you will learn: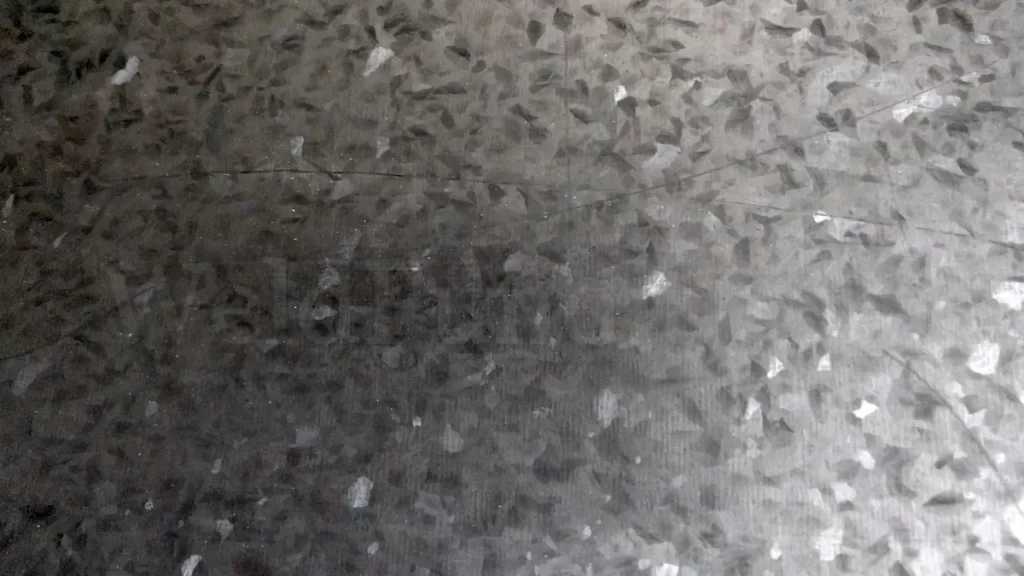 Why it's best to remove the coating?
Galvanized steel is regular steel that went through galvanization and got a zinc coating. The coating protects the steel from rust, making it popular for outdoor projects.
The zinc coating is very different from other coatings, such as mill scale or rust. It creates more problems, and it's hard to remove.
Zinc melts and vaporizes at temperatures below the melting point of steel. This introduces or worsens many problems when you want to weld over it:
The welding heat converts zinc to white fumes in high quantities. If you breathe them they can cause a temporary sickness called metal fume fever (pubmed.gov). It's top priority to avoid inhaling these fumes.
Liquid zinc can penetrate the bead and the base metal. Under harsh service conditions, this can lead to cracking.
Lack of fusion and low root penetration are also serious defects that can result in joint failure.
Heavy and frequent spatter that covers the area.
Excessive porosity inside and on the bead's surface.
Inclusions in the weld metal.
The magnitude of the welding problems depends on the coating's thickness. The thicker the metal, the thicker the coating.
But the galvanization method also matters. The common hot-dipped method creates a coating several times thicker than the electrogalvanizing method.
However, if you remove the galvanized coating, you can MIG weld the steel underneath without the previously mentioned problems.
Most often the metal underneath is mild steel, but on rare occasions, you may have a harder to weld metal. Here is an article on how to identify metals for welding.
Depending on the metal's thickness, you remove the coating 1-3″ (2.5-7.5 cm) from the joint. But the coating is not easy to remove because it forms a very strong bond with the metal. Even aggressive methods cannot remove it 100% or have other issues.
Grinding is the easiest method and removes most of the zinc, but not completely.
Sandblasting can remove most of it, but it may leave its own abrasive residue. 
Flame cleaning can remove the coating completely, but generates a lot of fumes.
Acids don't leave zinc residue, but they have their own safety issues.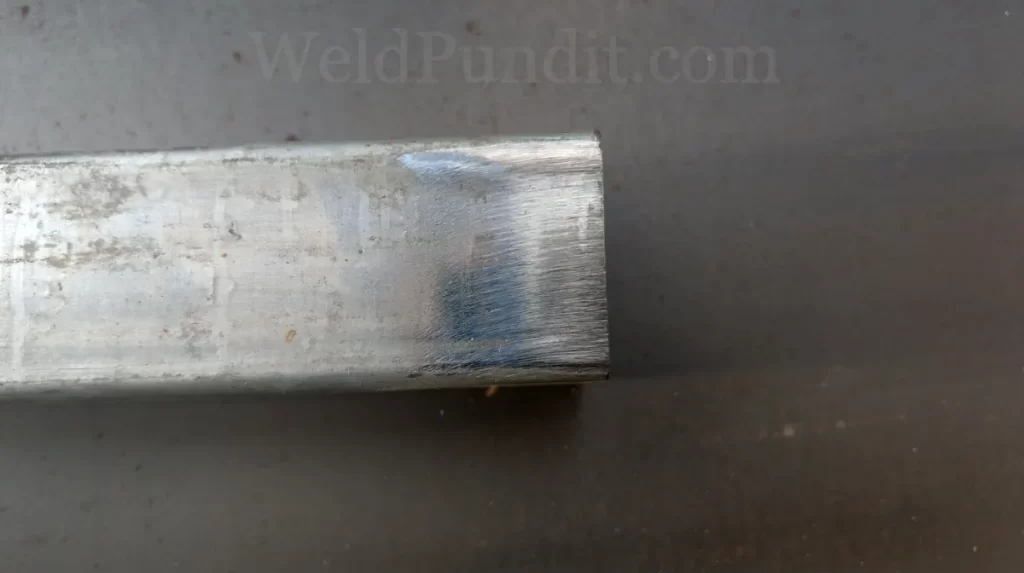 Weldpundit has a detailed article on how to remove galvanization for welding. 
Why it's hard to MIG weld galvanized steel?
While processes as stick welding can weld over thick galvanization, MIG welding cannot offer the same results.
The main reason it's hard to MIG weld galvanized steel is that solid wires do not contain flux material. Flux contains elements that can clean the puddle and greatly reduce porosity and spatter.
The lack of flux material cannot help against these problems:
Excessive porosity in the weld metal will weaken the joint and act as concentration points for corrosion.
The excessive spatter will stick on all nearby surfaces, including the MIG torch. If spatter sticks to the contact tip, it will cause irregular wire feeding. Even worse, if spatter stops the wire, the wire feeding mechanism will continue feeding it, forming a wire ball inside the machine. We call this birdnesting. 
When excessive spatter sticks on the nozzle, the gas coverage will become irregular, failing to protect the arc and the puddle from the air.
Since solid wires are low on cleaning elements (deoxidizers), they cannot combine with zinc oxides in the puddle and drive them to the surface. 
Another problem is that MIG welding needs a secure workpiece (or grounding) clamp connection. The zinc coating will interfere with the current flow, making the arc less stable. Try to connect the clamp to clean metal.
Also, you cannot MIG weld outdoors without surrounding the work with windscreens. That's because solid wires need external shielding gases to protect the arc and the puddle, but the wind will blow them away. 
That will prevent you from welding outdoors to avoid the zinc fumes. But also, most of the welding work for galvanized steel is done on the field.
There are two common ways that MIG welding deposits the filler metal in the joint. Let's see how they perform when zinc is present.
Short-circuit mode
The short-circuit transfer mode is the most common one. Most low amperage machines (200A or less) weld only on this mode.
Unfortunately, the short-circuit mode creates a weak arc that cannot burn much of the zinc. As a result, porosity and spatter are so high that the bead is unacceptable even for home or hobby projects.
However, the most serious short-circuit mode problem is the lack of fusion defect. If you set low voltage and wire speed settings, the wire melts, but it doesn't have enough heat to penetrate the base metal.
The same happens if you point the arc on the puddle instead of the leading edge of the puddle. These two mistakes will result in a weak joint that will fail under the slightest load.
The zinc coating acts as a barrier, aggravating the lack of fusion problem.
Spray transfer mode
The spray-transfer mode uses a much higher voltage (24V or more) and wire-speed for the same wire diameter. 
The spray mode creates a hot arc that can burn the zinc coating with better results than short-circuit mode. Still, spatter, and smoke will be more than noticeable.
However, you need a high-amperage machine (200A+) to use this mode. Furthermore, the welder must be designed to use the spray mode.
If you try to force the spray mode on a welder that's made only for short-circuit, the hot arc will damage the torch or worse.
The spray mode can weld only in the flat position and horizontal fillet welds. Also, it cannot weld thin metals. If the galvanized steel is thicker than 3/16″ (4.8 mm), you can use the spray transfer mode if your machine supports it. 
Why are flux-cored wires better for galvanized steel?
Since MIG welding with solid wires isn't suitable for most galvanized steel jobs, it would be best to use self-shielded flux-core wires.
The flux-cored wires are better for galvanized steel because they contain flux material. The flux greatly reduces the zinc coating's defects, such as porosity and spatter. These wires also create an aggressive arc that can burn the zinc coating. Also, they generate their own gases, making the MIG welder capable of outdoor welding.
The flux can also capture zinc and other inclusions in the puddle and drive them to the surface, trapping them in the slag covering. This will make the weld metal cleaner, stronger, and more ductile.
To avoid zinc fumes, it's best to weld outdoors. But solid wires require external shielding gases that are easy to blow away. However, the shielding gases of cored wires are so strong that can protect the puddle in windy environments.
Furthermore, most galvanized steel projects are done outdoors, for example, galvanized fence pipe. The lack of a gas tank makes carrying the MIG welder around your work easier.
The negative of flux-cored wires compared to solid ones are:
The flux material creates excessive welding fumes that will combine with the zinc fumes. The fume volume is so large that make welding indoors unwise even if you have a large workshop and ventilation. However, most galvanized jobs are done outdoors, so you can avoid the fumes.
The strong arc doesn't make welding thin metals easy. Flux-cored wires can weld down to 18 ga (1.2 mm). But most beginners will have trouble when the metal is thinner than 1/8″ (3.2 mm).
They always create some spatter, even if the workpiece is clean.
A slag covering that's hard to remove.
They are more expensive.
The popular E71T-11 is a general-purpose cored wire that can weld galvanized steel with great results. You can do multipass welds up to 3/4″ (19mm) thick steel.
However, the best flux-cored wire to weld galvanized steel is the E71T-14. This wire is designed to weld over coated metals. But it is hard to find and capable only for single-pass welds of 3/16″ (4.8 mm) thick metals.
Remember that self-shielded wires need DC- polarity to work properly. If you use DC+ polarity, you will have excessive fumes, spatter, and a smoked joint.
Furthermore, flux-cored wires need serrated rollers because they are soft and can deform easier than solid wires. This can lead to birdnesting.
When you use cored wires, you always pull the MIG torch because they generate slag material. When you pull, the arc keeps the slag away from the puddle, so it can solidify without creating slag inclusions.
While you can use a MIG welding machine with flux-cored wires, you don't MIG weld, but you are doing flux-cored arc welding (FCAW).
The previous wires are self-shielded (FCAW-S) because they generate shielding gases. However, there are also gas-shielded flux-cored (FCAW-G) wires that need MIG gases to weld. Most of these wires are not very effective for galvanized steel, are expensive, and cannot weld outdoors.
Weldpundit has a guide on how to weld galvanized steel with flux-cored wires.
---
Because it's not always possible to remove the coating or use flux-cored wire, let's see how to MIG weld over very thin galvanization or steel with zinc residue.
What MIG wire do you use for galvanized steel?
It would be best to select the low-silicon ER70S-3 or the ER70S-2 wires to MIG weld galvanized steel that will endure high mechanical stress. Also, the ER70S-G wires are often made for galvanized steels offering minimal porosity and spatter. However, you don't need to search for special wires for simple projects.
The ER70S-3 and the ER70S-2 wires have half the silicon content than the popular ER70S-6 wire. Silicon increases the zinc cracking risk, something vital for projects with demanding service conditions.
The tradeoff is that silicon acts as a deoxidizer that somewhat reduces welding fumes, porosity, and spatter. Still, porosity and spatter are preferable to cracking. 
The ER70S-2 wire contains some special deoxidizers that can also clean the puddle from various impurities. But that makes this wire much more expensive and harder to find. 
The ER70S-G wires are made for specific jobs and are always different. Often, manufacturers produce these wires for galvanized steel. They contain elements that keep the arc stable and offer great porosity and spatter reduction. These wires are great if you have a lot of welding to do.
However, you must ensure that an ER70S-G wire explicitly mentions that it's made for galvanized steel before you buy it.
If you are welding simple home projects and improvements, the zinc cracking risk is low. If you have very thin galvanization and follow the previous tips, you can weld with the popular ER70S-6 wire without losing time for costlier wires. Although there may be porosity, the joint will be stronger than required for these projects.
What is the best MIG gas for galvanized steel?
For the short-circuit mode, use 100% CO2 because it creates a hotter arc and can burn the zinc easier. 
If you weld thin metals up to 1/8″ (3.2 mm), you can use the common C25 (75% argon and 25% CO2) since it's more suitable.
For spray transfer, it would help to use a 90% argon and 10% CO2 mix instead of the 2% CO2 mix. You can also go up to 20% CO2 to burn the zinc easier.
Settings and techniques
The MIG settings for galvanized steel are similar to regular steel, with some modifications to help burn the zinc easier. The following recommendations are quite useful, especially for the short-circuit mode:
Always use a 20 or even 30% slower traveling speed to increase the heat input. This is an effective and easy way to burn the zinc.
You can also increase the heat (wire speed and voltage), for example, 5% to burn the zinc a little easier. That's more important when you weld fillet welds.
Use a torch manipulation technique that always points the arc in front of the puddle and never over it. (See the following image)
Prefer to pull the MIG torch. This way, the arc has better access to the metal's surface to burn the zinc easier. If the workpiece is thinner than 1/8″, pushing the torch may be enough.
If you weld an open-root butt joint, leave a slightly wider root gap for deeper penetration.
The fillets of tee and lap joints are the hardest to weld. It would help to leave a small gap (0.03-0.06″) between the metals so that the gases can escape.
To prevent spatter on the nozzle and the contact tip, you can use an anti-spatter spray on them. You can also use it on the metal next to the joint to simplify spatter removal after welding.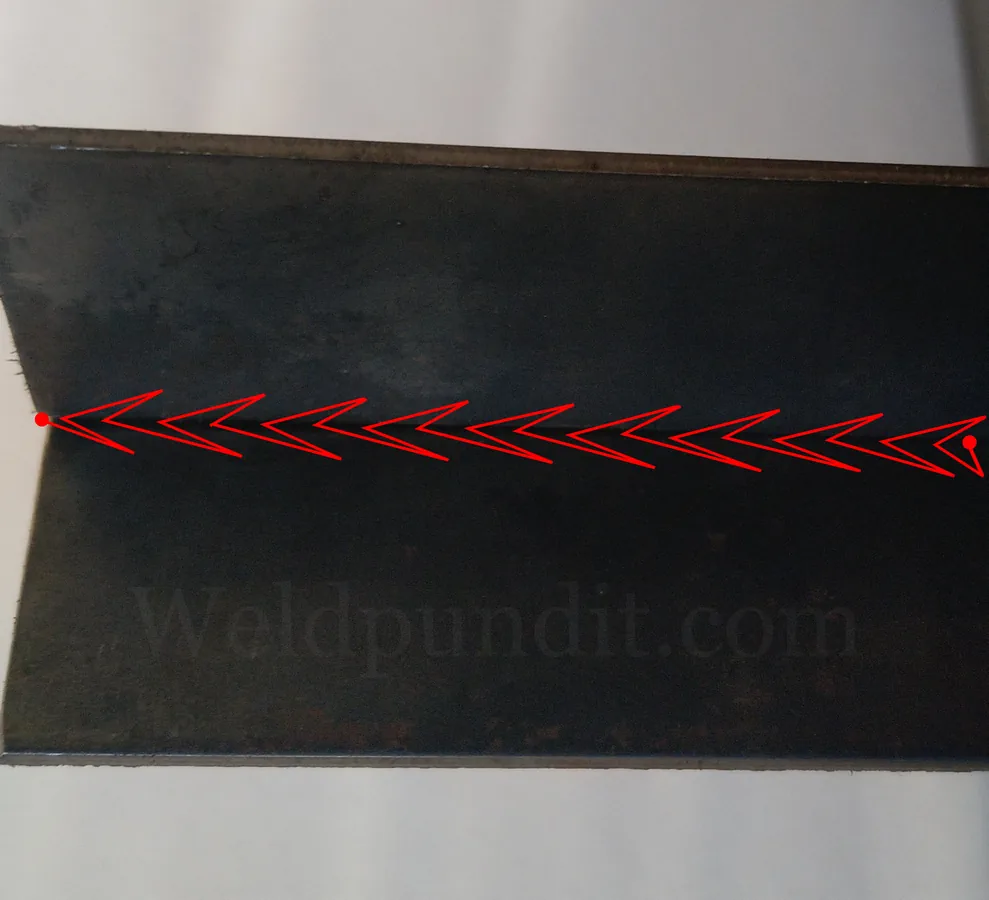 Many MIG welding machines have an inductance setting to reduce spatter. Sadly, higher inductance doesn't seem to improve the spatter problem that zinc creates.
In a nutshell
If you try to MIG weld galvanized steel the same way as uncoated steel, you will stop with frustration. Solid MIG wires cannot cope with the problems the zinc coating creates. It's always best to remove the coating.
If you cannot remove the coating, a self-shielded flux-cored wire is your best option to weld galvanized steel with your MIG welder.
The most important welding modifications to use are a slower traveling speed, keeping the arc in front of the puddle to burn the zinc, and using wider root gaps. 
Can you MIG weld stainless steel to galvanized steel?
You can MIG weld stainless steel to galvanized steel if you completely remove the galvanized coating without leaving any zinc residue. This is because the stainless part is very sensitive to zinc cracking.
After removing the galvanized coating, you can follow this guide on how to MIG weld stainless to mild steel.
If you cannot remove the galvanized coating, using a brazing wire is a safer way to use a MIG welder to join those two metals together. 
Brazing wires such as silicon bronze (ERCuSi or SiB) are copper-based and melt before steel melts. There is no puddle, but the wire melts on the base metal. As a result, the zinc coating will be slightly damaged and far less molten zinc will contaminate the stainless part. 
However, brazing wires have lower strength and heat resistance than steel wires. For this, they are not suitable for heavy-duty projects. Furthermore, they always leave a goldish bead, and they are more expensive.
Brazing wires need 100% argon gas, U-shaped rollers, and a teflon liner. To avoid the last two, you can use a spool gun.
Another issue when welding galvanized and stainless steel together is that the galvanized part will corrode faster than usual.
That happens because the stainless part has higher galvanic corrosion resistance than both the zinc coating and the steel. As a result, the galvanized part will absorb most of the corrosion hazards protecting the stainless part. The same will happen if you use a brazing wire.
To avoid this, you must always protect the joint with zinc-rich paint after welding it.
---
More Weldpundit articles
Can You Weld Galvanized Steel? Best Beginner's Guide.
Can You Weld Stainless Steel to Carbon Steel? Beginner's Guide.
Vertical MIG Welding with Settings and Examples.
How to MIG Weld Cast Iron: With and Without Preheating.
Welding Magnets Guide: Usage, Types, and What to Consider.