What's the Best Way to Weld Aluminum? (Arc Welding Comparison)
Knowing the best way to weld aluminum is helpful for everyone who wants to get involved. We'll do that considering that aluminum is a hard-to-weld metal and most projects need a good appearance.
TIG welding using alternating current (AC) is the best way to weld aluminum for most projects. TIG offers great heat control and many high-tech features, for pretty and strong aluminum welds. Next, MIG welding, preferably with pulsed current also offers great welds. Last, stick welding is troublesome for aluminum, offering poor welds with strength issues.
In the rest of the article, you'll learn the difficulties, why TIG is best, and how each one of the remaining arc processes performs.
Table of Contents
What makes aluminum hard to weld?
Aluminum has quite different metallurgical characteristics than steel, and it's harder to weld. Let's see why.
One of the major welding problems is that aluminum has high thermal conductivity. This means that aluminum absorbs heat at fast rates, at least four times faster than steel. This creates many problems:
When you start welding the cold workpiece, it's hard to create the puddle.
When you reach the ending point, the workpiece is too hot, and you may melt the edges.
If the workpiece is thick, it will strongly pull the bead, resulting in cracking. If it's 1/4″ (6.4 mm) or thicker, preheat it up to 200 °F (95 °C).
For this, you set a high amperage to melt the joint, but travel at high speed to prevent overheating the base metal. Preheating is not necessary but helps for workpieces thinner than 1/4″.
Aluminum welding suffers from cracking when the bead cools down. We call this hot-cracking.
Hot-cracking happens if the filler metal and the base metal are not compatible. It also happens because aluminum is a soft metal and when it's liquid it's even weaker than expected. When the puddle solidifies, the contracting forces pull the weak bead from each side.
To avoid cracking, you select the proper filler metal (most often 4043) and control the metal's dilution and heat input by fast traveling.
Another serious issue when welding aluminum is the oxidized surface. When aluminum contacts the air's oxygen, a tough oxide forms on the surface. The aluminum oxide enhances the corrosion resistance, but makes welding harder in many ways:
Aluminum oxide has a melting point of 3,762 °F (2,072 °C) but most aluminum alloys melt at 1220 °F (660 °C). When you weld, the heat can melt the metal under the oxide, but not the oxide. When the oxide finally breaks, the molten aluminum pours out, creating a mess.
If it's trapped in the molten puddle, the oxide makes the bead brittle and crack sensitive.
The oxidized layer is so tough that often doesn't allow the metals to fuse together. We call this lack of fusion.
The oxide is an electrical insulator. This makes striking the arc harder, but also interferes with the working (grounding) clamp.
For these reasons, you should remove this layer with a dedicated stainless steel brush. You can also use suitable chemicals to avoid scratching the metal. But they have safety issues.
Because aluminum has such a low melting point, the welding heat can easily burn through it.
Arc welding always makes the joint weaker. Because aluminum is soft, manufacturers harden it to make it stronger. The high welding heat can reduce this strength by 30-50%, especially if you stick weld it.
The most common aluminum defect is porosity. When the puddle solidifies, air trapped inside it wants to escape. If it doesn't escape quickly enough, it creates gaps (porosity) as it passed through.
Porosity gaps weaken the joint and also make it look ugly. The main causes are poor shielding gas coverage, poor arc control, wind, and contaminated filler or base metals.
Impurities on the workpiece or the filler metal can also cause problems:
Grease and oil even at low amounts can create porosity issues.
Dust, iron particles, etc. can make the bead brittle and crack sensitive.
If you see black soot around the joint, impurities are the main cause.
Using acetone or equivalent products before and after removing the oxidized layer, solves these problems.
A few words on aluminum alloys and filler metals
There are non-heat-treatable aluminum alloys that are easy to weld. For example, 1100, 3003, and 5052.
Heat treatable alloys are hard or impossible to weld with arc welding because they crack:
The heat-treatable 6061 is a common alloy, but with the correct filler metal (4043) the cracking risk is low.
However, 2024 and even more the 7075 are so hard they are unweldable by typical welding processes. Fortunately, these alloys are not common.
The popular 4043 filler metal has a low cracking risk and is suitable for high-heat applications. The 5356 filler is suitable for marine applications and wire feeding mechanisms.
| Aluminum alloy | Filler metal |
| --- | --- |
| 1100 | 1100 |
| 3003 | 4043, 5356 |
| 5052 | 5356 |
| 6061 | 4043, 5356 |
Popular aluminum alloys and their filler metals
---
Why TIG is the best way to weld aluminum?
Now let's see the characteristics that make TIG welding the best for aluminum.
TIG welding is the best for aluminum because it offers separate arc and filler metal control and a foot pedal to control the amperage as you weld. TIG can also use alternating current (AC) to remove the aluminum oxide. Finally, modern TIG welders come with many high-tech features that improve the results.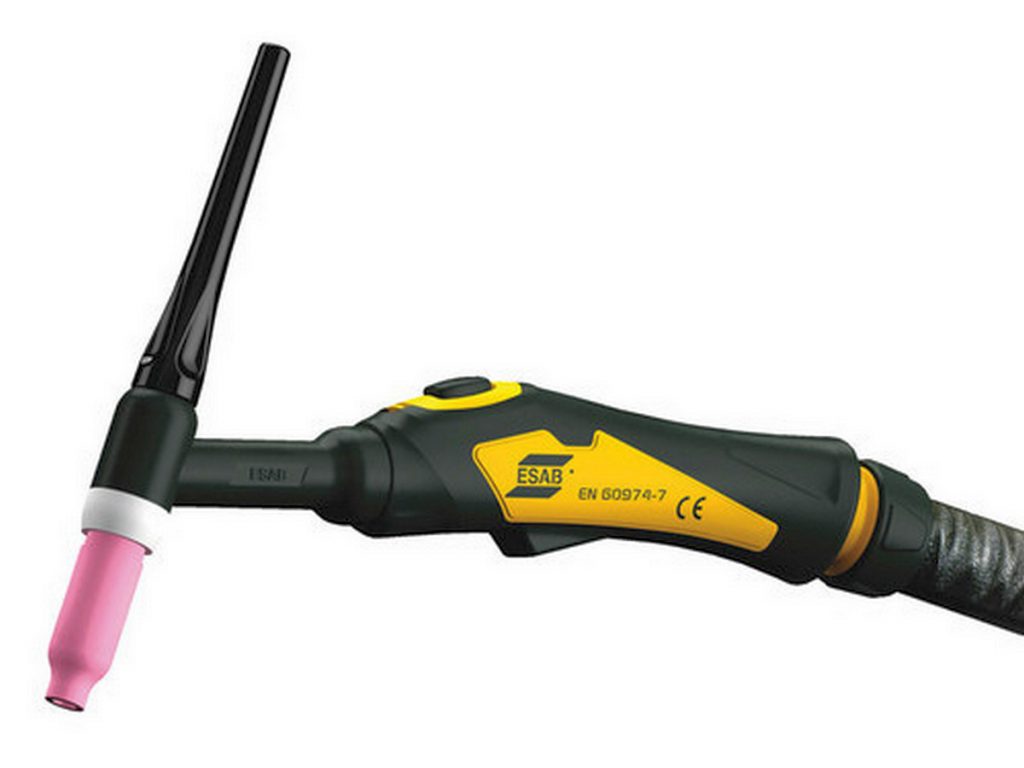 TIG welding (GTAW) uses a torch that creates the arc and provides shielding gas to protect the tungsten electrode and the puddle. You add the filler metal with the other hand. This has several advantages:
The arc is clean without filler metal passing through, making it extremely smooth.
This also prevents fume generation that could contaminate the hot electrode and create black soot around the bead.
The arc is concentrated and without superheated metal falling on the joint the heat input is low. This minimizes the strength reduction of the joint.
With the separate filler metal, you add as much as you think is necessary.
With a TIG welder, you can use a foot pedal to control the amperage as you weld. This way you can:
Start with high amperage to form the puddle when the aluminum is cold. This prevents a convex bead and lack of fusion.
Reduce the amperage as you weld, because the workpiece is getting hotter. This stabilizes the bead's shape and saves the final edge from melting.
For aluminum, you need a TIG welder that can output alternating current (AC). AC uses both current polarities, direct current negative (DC-) and positive (DC+):
DC- directs the heat on the workpiece melting it while preventing the tungsten electrode from overheating.
DC+ has the advantage that can remove the aluminum oxide completely as it passes from the workpiece to the electrode. The disadvantage is that DC+ can overheat and destroy the electrode.
AC gives TIG welding a huge advantage because no matter how well you clean the joint, a thin oxide layer will form right before you weld. With AC you can remove it without using flux material like stick or oxyfuel welding.
Removing the oxide not only prevents the numerous defects but also leaves a shiny and stronger bead.
AC TIG welders have a feature called AC balance that sets how long you use each polarity. For most jobs, you set, 70% for DC- and 30% for DC+. This setting is enough to remove the oxide and protect the electrode without overheating it.
Another useful feature of AC TIG is the current frequency manipulation. You can set a low frequency for example 60 Hz that creates a wide arc or a high one for example 200 Hz that concentrates the arc in a narrow cone. The most common setting is 100 Hz.
Most AC TIG welders have the high-frequency (HF) arc feature. This helps to start the arc with a current frequency so high that it can jump the gap between the workpiece and the electrode. This way you avoid electrode contamination.
Most TIG welders also offer pulsed current. Here, the power supply delivers the current in two different values.
A high amperage melts the workpiece, a lower one delivers less heat to avoid overheating it. Pulsed current makes TIG welding the best process for thin aluminum. It also helps in out-of-position welding.
All AC TIG welders can set the starting and ending amperage. You can set a high one when you start the arc and the aluminum is cold. And then fill the ending crater with lower amperage to avoid crater cracking.
You can also set time intervals for pre- and post-welding gas flow. Before the arc starts the gas flows for a couple of seconds to prevent porosity. And when you stop the arc the gas flows for a few seconds more to protect the red-hot electrode and the crater.
With enough experience, you can TIG weld some harder-to-weld aluminum alloys without cracking or losing much strength.
TIG welding creates, by far, the most beautiful beads, something essential when looks are important. It's possible to get spatter-free, symmetrical beads that don't need improvement with filling or grinding.
Finally, TIG welding generates almost no fumes if the metals are perfectly clean. This is important because aluminum fumes immediately irritate the respiratory system and the eyes.
TIG welding aluminum is your best option if you have professional intent. It's in high demand since many aluminum products need TIG welding, and not so many welders put the effort to learn it.
Cons of TIG welding for aluminum
No process is perfect, so let's see the disadvantages.
TIG is the hardest welding process to learn. It's not only the manual control that requires both hands but also one foot, but the power supply has many features to set correctly.
An AC TIG machine is very expensive to buy, and the torch has many replaceable parts.
Furthermore, the long learning curve and the failure rate will cost argon gas, wire, electricity, etc.
It's a very slow process, not ideal for very long or thick joints.
MIG with pulsed current is the second-best for aluminum
MIG welding is quite popular because it's easy to use. It can weld aluminum in a few different ways.
The best way to MIG weld aluminum is with a machine that can output pulsed current. As explained earlier, pulsing delivers the current in two values:
The high amperage penetrates the base metal and transfers the molten metal into the puddle.
The low one keeps the arc lit without penetration or metal transfer.
As a result, you weld with the least amount of heat possible while achieving deep penetration. Furthermore, you can:
Weld thin aluminum, less than 1/8″ (3.2 mm), without burning through and less warping.
Weld in the vertical position.
Create good-looking beads without spatter.
However, pulsed MIG is only available on new inverter machines and is meant for high productivity work. It's completely the opposite of the slow TIG process. With it, you can weld long and large joints very fast.
The pulsed power supply also offers many high-tech features, making aluminum welding more effective. For example, wire burnback protection, pre- and post- gas flow, crater filling, etc.
As expected, a pulsed welder is much more expensive than a typical MIG welder. For aluminum, it's often combined with push-pull guns.
The problem with aluminum MIG welding is that the wires are soft and very easy to deform. As a result, they often stuck in the machine or the liner of a typical MIG gun. If that happens, the feeding mechanism will continue to feed wire, resulting in birdnesting (entangled wire).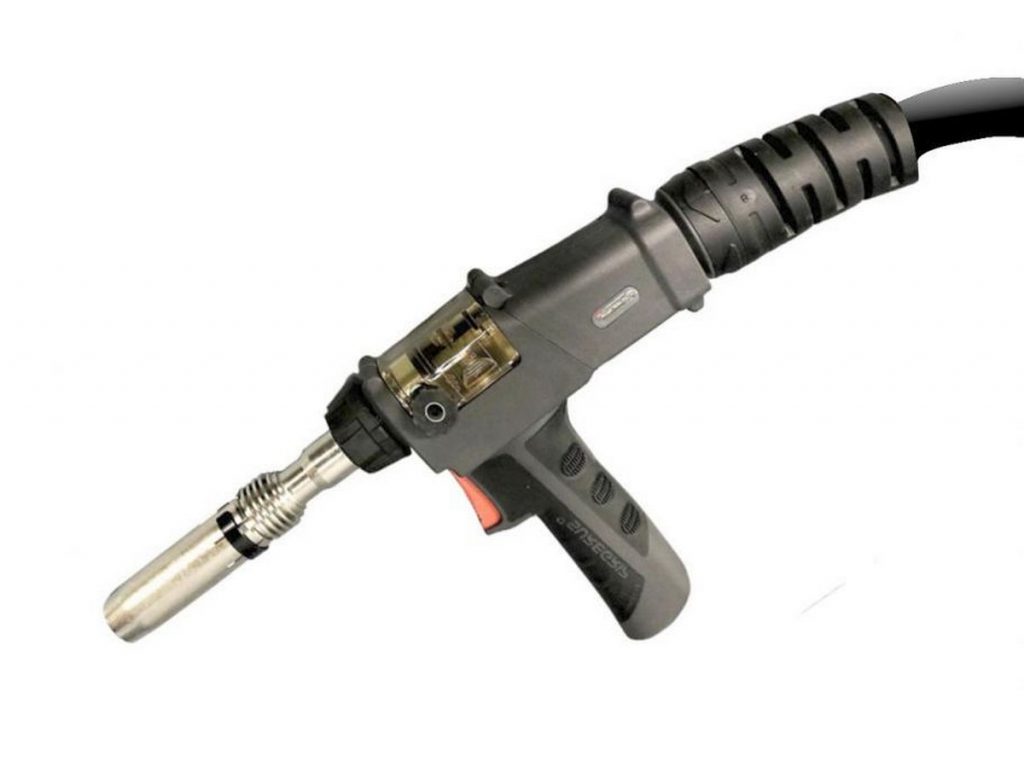 A push-pull gun includes a small wire feeding mechanism that pulls the wire while the machine pushes it. This avoids wire feeding issues at long distances even with 4043 wire, something essential for high productivity. Push-pull guns are very costly and intended for high-amperage professional work.
Of course, you can use a pulsed welder without a push-pull gun but with a modified MIG torch. This combination is great for beginners with commercial intent that want to avoid the hard TIG welding process.
A spool gun attached to a MIG welder is great for aluminum
A spool gun is another device you can connect to a MIG welder to solve the wire feeding problems. It has its own wire-feeding mechanism and a compartment that accepts small 4″ (10 cm) spools. They are great for small workshops or frequent home welding.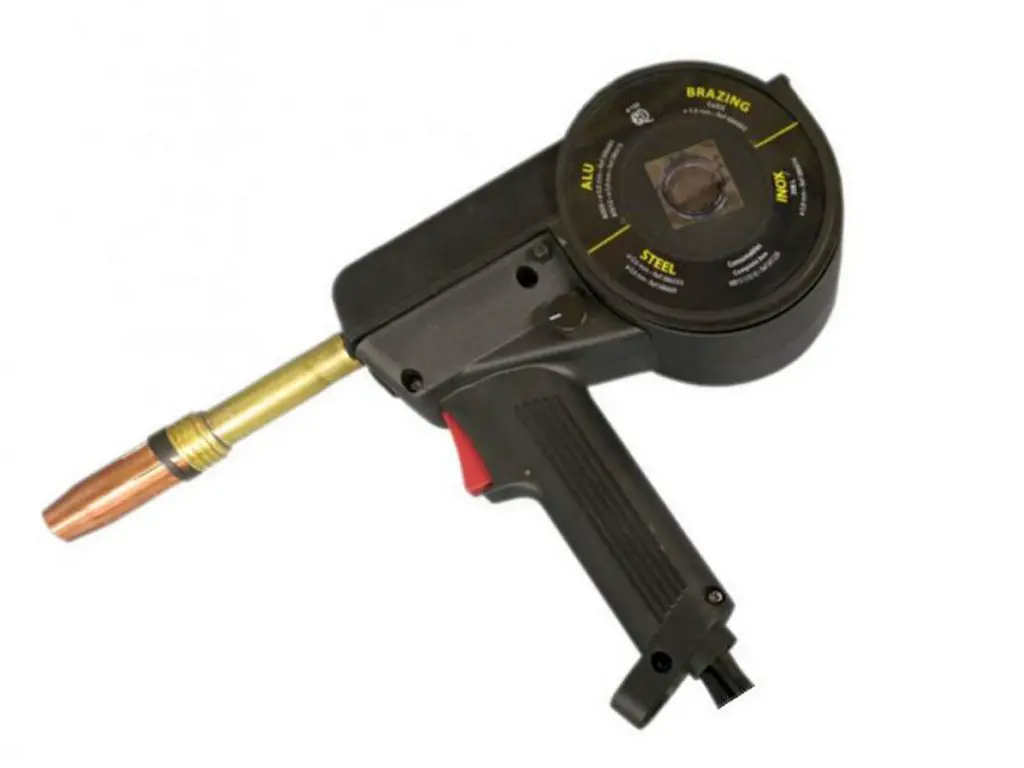 The advantages of spool guns for aluminum are:
They solve the birdnesting problem even with 4043 wire.
You don't modify the welder's feeding mechanism.
There is no problem if the spool cable twists since there is no wire passing through it.
They are much cheaper than push-pull guns.
However, spool guns have their disadvantages:
Many budget MIG welders cannot connect with a spool gun.
They are an additional cost from $300 to $700 for small workshops.
Spool guns are easy to break if you drop them.
Because they only support small spools, they are not suitable for high productivity work.
They are bulky and cannot reach tight areas.
Their welds aren't as pretty as the previous methods.
A MIG welder with a few modifications gives good welds
A regular MIG welder with a few modifications is the last suitable way to get acceptable aluminum welds. To avoid the bird nesting problems, you should:
Install U-shaped drive rollers to avoid deforming the soft wire.
Set the lowest possible pressure on the drive rollers by starting low and applying pressure until the wire stops slipping.
Installing a teflon liner is essential for protecting the wire.
Keeping the cable straight and avoiding kinks is also crucial for putting less pressure on the feeding mechanism.
Use contact tips for aluminum. These have a 10% wider opening because aluminum expands more than steel.
Use the thickest wire possible for the metal thickness you weld.
Also, use the stronger 5356 wire instead of the 4043 if possible.
If you intend to do a lot of work, check if sharp edges in the feeding mechanism scratch the wire. If so, replace the parts with higher-quality ones made from softer materials and rounded edges.
A regular MIG welder with these modifications is the cheapest way for occasional aluminum welding. However, the birdnesting risk is high and it's tough to weld thin workpieces. A MIG gun and a spool gun are suitable for aluminum 1/8″ or thicker.
Because MIG is the most common way for aluminum, let's go over the fundamentals:
MIG welding and aluminum are sensitive to impurities. It's vital to clean the joint and the remove the oxidized layer.
When you use aluminum wire, you always use 100% argon shielding gas. If you use gas that contains oxygen or CO2, the oxygen will rapidly combine with the hot aluminum. As mentioned earlier, the oxide creates many problems.
MIG aluminum welding always uses the spray transfer mode (esabna.com) which needs a longer wire stickout of at least 3/4″ (19 mm).
A longer stickout needs a higher gas flow to avoid oxidation or black soot.
Because the oxidized layer acts as an electrical insulator, you should connect the working (grounding) clamp to a clean area. MIG welders need this more than TIG or stick welding.
You always push the gun for improved shielding gas coverage against oxidation.
When you start welding, you travel at a faster speed than steel welding. You should not pause at any time to avoid blowing through the metal.
It's best not to try welding aluminum thinner than 1/8″ as a beginner.
If you don't have efficient ventilation, use a welding respirator.
A MIG welder can also work with flux-cored wires but there are none for aluminum because it's too soft to form tubular wires.
---
Stick welding gives poor aluminum welds
Stick welding is a process that cannot handle the aluminum difficulties. This process uses a welding rod covered with flux material that tries to improve the results.
The flux has elements that can decompose the oxidized layer and remove impurities. But it creates a strong arc and introduces other difficulties:
Aluminum stick rods stick like crazy, resulting in arc scars and bad restarts.
The aggressive arc releases a lot of heat, weakening the joint.
For the same reason, it's impossible to stick weld thin aluminum. It's best to start practicing with 3/16″ (4.8 mm) or thicker workpieces.
The overwhelming smoke disrupts the arc, creating heavy spatter.
The flux creates slag material that protects the bead, but with the wrong manipulation, it forms slag inclusions.
The slag is corrosive to the workpiece and the tools you use to remove it.
The flux is highly sensitive to moisture, you must weld immediately when you open the package to avoid high porosity.
For the same reason, long time exposure will destroy the flux. For this, you must keep the remaining rods in vacuum bags or welding rod ovens.
No matter how experienced a welder gets, pretty and strong aluminum beads are hard to get with this process.
The advantages of aluminum stick welding are welding in windy environments and on somewhat dirty metal. These characteristics make stick welding suitable for repairing aluminum in the field. It's also the cheapest option, you only buy the rods you need.
---
Conclusion
The best overall way for the best-looking and strongest welds, even on thin aluminum, is TIG welding. But it's a hard process to learn, expensive, and suitable for small joints.
Pulsed MIG welding can offer high productivity work and out-of-position welding. It can also weld thin aluminum. But it's expensive to buy.
A spool gun is great for small projects. Modified MIG welders are also suitable for occasional work.
Stick welding, however, cannot offer good-looking welds, and it's hard to avoid defects such as porosity. It's only suitable for repair work.
---
Other Weldpundit articles