Can You Weld Aluminized Steel? Considerations and Best Options
Aluminized steel welding gains popularity because this metal combines many benefits at a reasonable cost. As a welder, you're definitely curious if and how to weld it so that you avoid costly mistakes. First, let's see the overall picture:
You can weld aluminized steel with excellent results if you remove the aluminum coating first. Aluminum is a nonferrous metal, at high concentrations, it can cause welding defects in an iron-filled puddle. However, there are several scenarios where you can weld over it with satisfactory results.
Welding aluminized steel is not as troublesome as someone might initially think. But there are several things to keep in mind to avoid making mistakes.
This article describes its nature, the welding difficulties, how suitable each welding process is to weld it, and more.
What is aluminized steel?
Aluminized steel is carbon steel coated with a thin layer of aluminum. As a result, the steel's surface has the aluminum's high corrosion and heat resistance, but overall the workpiece has the high strength and lower cost of carbon steel.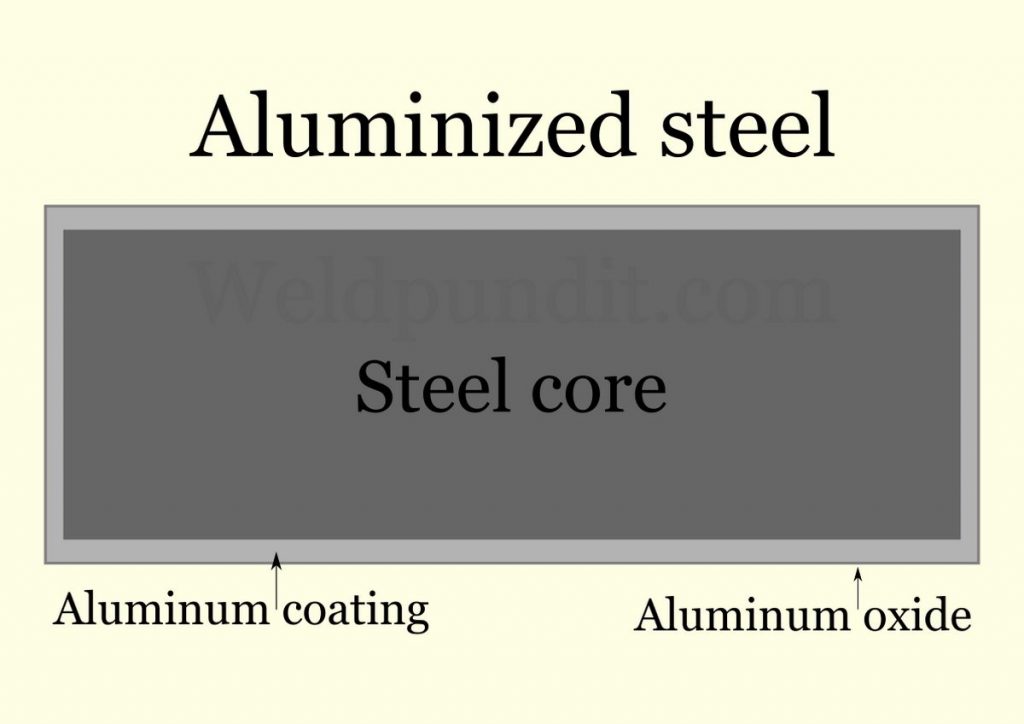 Most people initially believe that aluminized steel is some kind of aluminum metal because of its soft and satin-like appearance. However, the difference between them is huge. The first has a thin layer around it, but the second is an aluminum alloy.
The metal's overall properties such as tensile strength, toughness, ductility (elasticity), etc., are the same as the carbon steel inside it. That's why it's also heavy and magnetic, but aluminum is not.
The coating acts as a protective shield over the steel base metal against corrosion, primarily rust. It also has high heat resistance, making it suitable for mufflers, ovens, etc.
When aluminum contacts the air's oxygen, it forms an oxide on the surface. This aluminum oxide is extremely tough and durable and provides the characteristic corrosion resistance.
The cost-efficiency of aluminized steel for the corrosion and heat resistance it offers is superb. As a result, it gains popularity for many applications against stainless or galvanized steel.
Aluminized steel comes mostly as thin piping, tubing, and sheet metal. The most common thicknesses are between gauge 10 (.138″ – 3.5 mm) down to gauge 30 (.016″ – 0.4 mm).
Most aluminized steels are basically mild steel, which is the easiest metal to weld. However, other metals can also be used such as medium carbon steel, low-alloy steel, even stainless steel (409), etc.
It's important to know which steel you will weld to avoid potential problems like cracking.
Is aluminized steel the same as galvanized steel?
Now let's see another misunderstanding that many people have.
While aluminized steel is manufactured with a procedure similar to hot-dipped galvanized steel, they are not the same.
Aluminized steel is coated with aluminum, but galvanized steel is coated with zinc. Aluminum has higher corrosion and heat resistance than zinc, but also a higher price.
Aluminized steel becomes more popular in the food industry because it doesn't contain traces of lead or chromium like hot-dipped galvanized steel.
For the same reasons, it's much safer to weld it. Lead and chromium generate toxic fumes even at low concentrations.
Furthermore, aluminum doesn't generate the high volume of fumes as zinc does. As a result, there are low chances to get the notorious metal fume fever (pubmed.gov).
Types
There are two main types of aluminized steel, depending on the silicon content of the coating:
Type 1 is hot-dipped steel in molten aluminum that contains a high silicon content (5-11%). Silicon improves adherence to steel and heat resistance. Type 1 is suitable for various heat exhaustion parts, drying ovens, fireplaces, stoves, heat shields, water heaters, mufflers, and similar applications. It's also used for cookware such as pans and pots.
Type 2 is also hot-dipped, but the coating is almost pure aluminum. As a result, it doesn't offer high heat resistance. However, this type has thicker coatings for improved outdoor corrosion resistance and insulation. Type 2 is suitable for roofing, air-condition ducting, piping, etc.
After those popular types, there are coatings created with other methods, cladding, metalizing, etc. However, these are rare to find because of the higher cost and specific applications.
Benefits of the aluminum coating:
The main benefit of aluminized steel is the high corrosion resistance that protects it from severe corrosive environments. Primarily from rust, but also against marine environments and mild acids.
The second benefit is that it has much higher heat resistance than other coatings, for instance, the zinc covering of galvanized steel. The aluminum-silicon alloy offers good performance at least up to 1070° F (575° C) compared to zinc's 420° F (215° C).
Depending on the coating's quality, aluminum can reflect a big part of the incoming heat (up to 80%), making it an excellent insulator.
It also offers great rust protection, avoiding the usage of high-cost metals, such as stainless steel.
Aluminized steel is weldable without the high toxicity of other coatings such as galvanization or chromium. Or metals such as stainless steel.
Finally, it doesn't require painting for protection or appearance, except if the coating is damaged.
Drawbacks of aluminized steel
The main drawback of aluminized steel is that the coating is quite softer than steel and prone to physical damage. If the coating is damaged or removed for welding, the underneath steel will start to corrode.
For the same reason, it's unsuitable for abrasive or impact applications.
The coating cannot protect against strong acids such as nitric acid.
Finally, if you don't remove the coating first, it's harder to weld it.
Is it hard to weld aluminized steel?
Welding aluminized steel is somewhat harder than uncoated metal. The aluminum coating acts as a heat restrictor and a puddle polluter. At large concentrations in the puddle, it may produce a variety of defects, most often porosity. Proper restoration of the damaged coating is another issue to resolve after welding.
The coating can make welding harder. However, it isn't as troublesome as other coatings, for example, the galvanized steel's zinc coating. The fact that aluminum coatings are quite thin minimizes the following problems:
The coatings often retain moisture which results in high porosity problems and increased spatter.
The oxide on the coating acts as insulation and can cause arc starting problems.
The oxide has a high melting point of, 3760° F (2070° C), making it slow to melt. The less fluid puddle may cause lack-of-fusion at the bead's toes (sides). Lack of fusion is when the base metal doesn't melt and the filler metal superficially sticks to it.
Aluminum, especially as an oxide, can make the final bead less ductile (elastic), and thus more brittle. As a result, if the weldment takes heavy stress, it may crack. However, cracking is rare.
Another issue with the coating is that it generates fumes that easily irritate the eyes, the nose, and the throat. This forces you to put more effort into avoiding the fumes and wearing a welding respirator.
---
How to remove aluminized coatings
To avoid potential problems and additional fumes, the best way to weld aluminized steel is to remove the coating first. Then, you can weld exactly the same way you would weld the underneath metal, most often mild steel.
Removal will give you the best results if you want to keep the workpiece's service conditions, such as exhaustion tailpipes or mufflers.
Even if you don't want to keep the coating's characteristics, it's best to spend some time and effort removing it:
If the defects are worse than you expected, you may have to remove the bead and reweld the joint.
If the bead's appearance is poor, you will spend time improving it.
Removing the coating up to 1/2″ (1.25 cm) from all sides around the joint would be enough to avoid all the negative effects.
Let's see some methods you can use to remove the coating:
Since aluminum is soft and the coating thin, you can remove the coating by hand with coarse sandpaper or a file. Push or pull in one direction to avoid smearing the surface.
A bench grinder is a great option, but aluminum doesn't spark. So when you see the first sparks, you should stop to prevent removing useful metal.
An angle grinder also works, but it can remove metal at fast rates. Use flap disks instead of grinding disks to avoid damaging thin metal. Be alert and stop when you see sparks.
Sand blasting is an aggressive but fast way to remove the coating. It's useful if you have a lot of work to do, but it can damage thin metals.
Another aggressive way is using strong acids. They remove coatings without leaving residue. But they have serious safety issues, especially for welding purposes. As a result, they are not recommended.
Most of the previous methods leave aluminum residue behind that may or may not be a problem. If you want to remove it, use a rag with acetone or an alcoholic product.
Keep in mind that tools meant for steel may clog if you use them on aluminum. To avoid this, use tools and consumables designed for this metal.
If you are reading this article for information on aluminized steel to mild steel welding, then by removing the coating, you follow your normal procedure. Even if some residues are left behind, the heat will burn them off.
How to prepare aluminized steel before welding
It's not always necessary, possible, or desired to remove the coating. Welding over it sounds different, but since it's thin, most welding processes can burn it off easily. The final results would be quite acceptable for the most common projects.
Still, even without removing the entire coating, you can follow some preparation steps:
If the workpiece isn't brand new, it's always best to clean it from oils, dust, etc. This will prevent high porosity problems.
After that, it would be helpful to use a wire brush to remove the oxidized layer. The oxide causes most of the problems. Always, brush in one direction, not forth and back, to prevent smearing the oxide on the surface.
Cleaning is more beneficial if you use a process with a weak arc, for example, MIG welding. However, they are necessary for a process that needs perfectly clean metals, such as TIG welding.
If you intend to grind the bead for good appearance, it's best to bevel the joint even if the metals are thin. This way, enough weld metal stays in the joint to keep it strong.
---
Can aluminized steel be MIG welded?
MIG welding is the best process to weld aluminized steel, since most applications use thin metals. For example, car exhaust tailpipes.
MIG creates a low-heat arc that prevents burning through or warping. The wire-feeding mechanism allows fast welding speeds and makes welding easier than the other processes.
MIG can weld aluminized steel with excellent results if you remove the coating. If some residue is left behind, the arc will penetrate deep enough to offer strong joints for most projects.
If you don't want to remove it, one thing to improve your results is to use torch manipulation that always points the arc in front of the puddle. The V pattern is the best one to burn or melt the coating.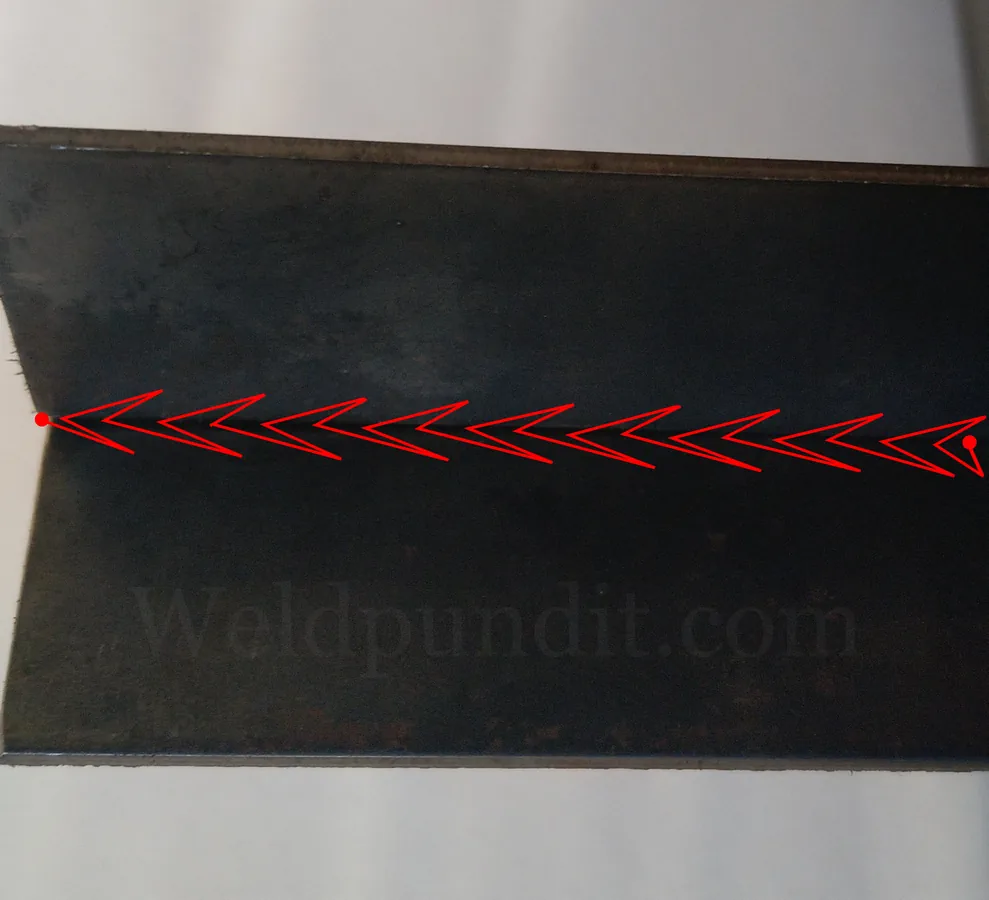 As for consumables, the popular ER70S-6 wire combined with C25 (75% argon and 25% CO2) or 100% CO2 shielding gas are suitable for aluminized steel. You don't need a special wire.
The issue with MIG is the lack of fusion defect. This is when the arc isn't strong enough to melt the base metal. Since the coating creates an oxide that's extremely resistant to high temperatures, the arc might not manage to melt it.
If that happens, the bead will superficially stick to the joint without fusing with it. The final joint can fail with low effort and damages or injuries may happen. For this reason, it's always best to remove the coating and use high enough wire speed and voltage settings.
Another issue is that you cannot MIG weld outside because the wind will blow away the shielding gases. To fix this issue, you must surround your work with windscreens.
Can aluminized steel be TIG welded?
With TIG, you can weld aluminized steel, but you should remove the coating first. TIG welding needs perfectly clean metals to avoid high porosity problems and electrode contamination.
While TIG offers excellent results when you weld carbon steel or aluminum, their combination can cause some problems.
Apart from porosity, even light sparks and spatter can attach to the tungsten electrode and make the arc irregular. This would require stopping to fix the electrode.
TIG always needs a totally clean metal for smooth welding. Keep in mind that grinding wheels always leave aluminum residue behind. Wipe the joint with alcohol to remove it.
The settings you use are the same as carbon steel, with a slight amperage increase. The common ER70S-6 rods and argon gas are suitable.
TIG is the hardest process to use, and that's the main reason many welders prefer to use MIG for this metal.
Can you weld aluminized steel with flux core?
Flux-core wire is great for aluminized steel because it creates a strong arc that can burn off the coating. This prevents the lack of fusion defect. However, the strong arc makes thin metals susceptible to burning through or warping.
The flux-cored wires always generate a strong arc that burns coatings and offers deep penetration.
Also, the flux inside the wire can clean the puddle from many impurities. This makes welding of coated or unclean metals possible.
Furthermore, the flux material generates gases that make outdoor welding possible.
The wire-feeding mechanism offers high welding speed and productivity, which are useful since most aluminized projects involve long sheet metal.
However, the strong arc can burn through or warp thin metals. This makes it harder to weld if you don't have a lot of experience.
Furthermore, this process generates a large amount of fumes, making welding indoors impossible without strong ventilation.
The well-known E71T-11 cored wire is suitable for aluminized steel. Remember that flux wires need DC- polarity for a smooth arc and knurled drive rollers to avoid crushing the sensitive wire.
Can aluminized steel be stick welded?
Because stick welding creates a strong arc, you can stick weld aluminized steel even without removing the coating or cleaning it. However, this process isn't recommended for thin metals because the strong arc can burn through or warp them.
Stick welding is the best choice for repairs in the field since it can weld in windy environments and is quite portable. The flux material that covers the rods contains cleaning elements that remove impurities in the puddle and traps them in the slag.
If you want to repair aluminized steel in the field even without cleaning it, stick welding is the best process for it. However, you need a lot of skill to avoid burning thought or warping it (distortion) thin metals.
The 6010 and the 6011 rods create the strongest arc that will burn through the oxidized surface, melt the coating, and penetrate deep into the steel. But you need a lot of experience with the whip and pause technique to avoid blowing through thin metals. These rods always leave an ugly joint.
The rutile 7014 or the 6013 rods are the best for aluminized since they create a smooth arc and leave good-looking beads. The 6013 is the best rod to stick weld thin sheet metals.
If you want to use a 7018 it's best to remove most of the coating first to avoid porosity and arc starting problems. If your workpiece is thin, 7018 rods are not the best choice. These rods are suitable for thick metals and heavy-duty work.
How to protect aluminized steel after welding
When you weld aluminized steel, you either remove the coating or the welding heat destroys it. If the joint is left exposed to a humid or wet environment, it will start to rust. If it's in a corrosive environment, for example, a muffler, it will start to erode fast.
You want to restore the corrosion resistance to keep the joint safe. The easiest way is to apply a high-temperature anti-corrosion paint that's designed for aluminized metals.
A simple example is silver barbecue paint. However, paint will not offer the same resistance and most probably will not last as much.
Let's see the basic steps:
If you used stick or flux-core welding, you must remove the slag covering.
Clean the remaining, dust, and smoked areas, with a wire brush or even better an angle grinder with a wire wheel.
Before painting, clean the area with alcohol or a similar product specified in the paint's instructions.
Always read the paint's safety instructions because their vapors are more harmful than typical paint.
Apply the paint following the instructions on the packaging.
If the service conditions are demanding, you should realuminize the damaged area. This is the only way to get back the same corrosion and heat resistance as before.
Can you weld aluminized steel to stainless?
Stainless steel is often used for applications that need high corrosion and heat resistance, so you may have to weld it to aluminized steel.
To do this, you completely remove the aluminum coating first. Then, use 309 stainless filler metal to weld them together. If you use a MIG welder, the best shielding gas is a tri-mix blend with helium.
The issues concern the stainless part:
The main problem here is that excessive aluminum in stainless weld metal makes it less ductile and prone to cracking.
Stainless steel has a low thermal conductivity that makes it prone to warping.
It can also lose corrosion resistance when you weld it.
After removing the coating, you can follow this Weldpundit guide to weld stainless to mild steel.
---
Conclusion
Aluminized steel offers high corrosion resistance and satisfactory heat resistance for the cost. It's better than galvanized steel without being much more expensive.
However, it cannot compete with the characteristics of stainless steel, but it's much cheaper.
If you remove the protective coating, aluminized steel has the same weldability as the metal underneath.
If the coating is relatively thick, and you cannot remove it, it's best to use stick or flux core welding. Otherwise, if the coating is thin, you can MIG weld it. TIG cannot offer good results if you don't remove it first.
Finally, after welding, it's best to protect the bead and the damaged areas. The easiest way is to apply proper paint.
---
More Weldpundit articles
What's the Best Way to Weld Aluminum?