Can You Weld Stainless Steel to Carbon Steel? Beginner's Guide
Stainless steel and carbon steel are common metals used for many welding projects. Since stainless steel is more expensive, you might consider using it only where necessary and use typical steel for the rest of the project.
Welding is a strong and fast way to join metals, but can you weld these dissimilar metals together?
You can successfully weld stainless steel to carbon steel if you use the proper filler metal (309) and a low-heat procedure to avoid overwelding both parts. This way, you keep the superior corrosion resistance of the stainless part and prevent the hot-cracking defect.
Stainless steel has superb corrosion resistance under a wide range of corrosive environments even under high temperatures without maintenance.
However, if you overweld it, the corrosion resistance will drop. As a result, the stainless part will corrode sooner or later, depending on the environment. Rust is the most common and well-known corrosion that will appear.
Furthermore, too much heat into the carbon steel part will cause carbon migration in the weld metal. As a result, the final bead will become brittle and crack sensitive with lower corrosion resistance.
Hot cracking is a well-known defect when welding austenitic stainless steel. Hot cracking happens when the bead is contaminated with impurities that cause uneven solidification. It often appears longitudinal along the center of the bead. To avoid it, you need the proper filler metal and welding with low heat.
But there is so much more to learn, after reading this article.
Table of Contents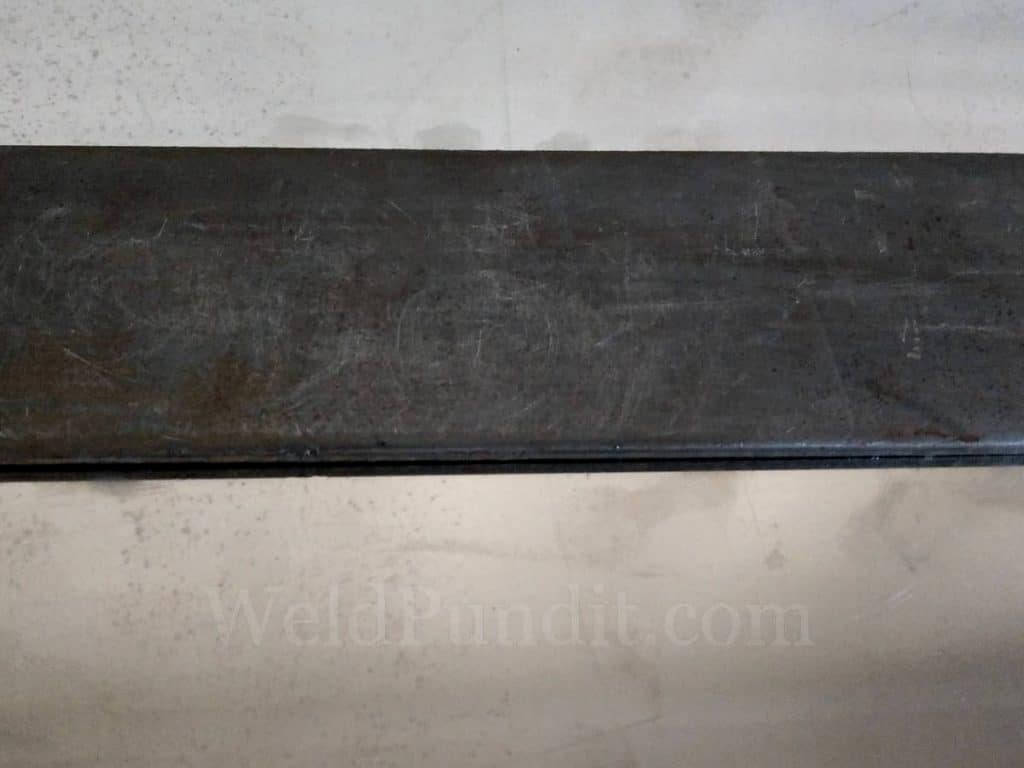 First, let's see the basic stainless and carbon steel types.
Types of stainless steel
Stainless steels are complex iron alloys containing at least 10.5% chromium and low amounts of carbon. It may contain many other elements depending on the type and grade.
The high chromium content combines with oxygen on the metal's surface and creates a protective film. This film offers high corrosion and heat resistance.
There are three basic stainless steel types:
Austenitic steel which contains high amounts of nickel, is the most common type and the easiest to weld. This type has the highest corrosion and heat resistance. Popular austenitic grades are the 304 (or 18/8), often used for cookware, food service equipment, etc. And the 316 grade with higher corrosion resistance for marine equipment.
Ferritic such as the 409 grade is the cheapest type and suitable for decorative projects and heat resistance applications such as exhaust pipes. Ferritic is hard to weld because excessive heat makes it brittle.
Martensitic such as the 410 grade is suitable for hardened cutting tools, surgical instruments, etc. Martensitic is exceptionally hard to weld without strict pre and post welding heat treatments. 
Types of carbon steel
Carbon steels are simple iron alloys with a small amount of carbon for strength.
There are three basic carbon steel types:
Low-carbon or mild steel is by far the most common and the easiest to weld because it contains only 0.05-0.30% carbon. It never gets hard after welding, except if it is thicker than 3/4″ (19 mm). A well-known grade is the A36.
Medium-carbon steel with 0.30-0.50% carbon is hard to weld because it gets hard and brittle after welding. It requires preheating.
High-carbon steel with 0.50-0.90% carbon gets very hard and brittle after welding. This makes it exceptionally hard to weld without strict pre and post welding heat treatments.
Since austenitic stainless and mild steel are by far the most common and easiest metals for beginners, the rest of the article is about them. 
What are the differences between stainless steel and mild steel for welding?
When you consider welding these two metals together, it's good to know their chemical and corrosion resistance differences.
1. Mild steel contains more carbon than stainless steel
The carbon content of mild steel, for instance, the A36 grade, is 0.30% carbon compared to 0.08% of 304 stainless. Ultra-low carbon grades such as the 304L contain only 0.03% carbon.
This is a problem because when the mild-steel part melts, carbon can migrate into the stainless weld metal. When carbon is close to chromium under high heat for a long time, they combine forming carbides.
As a result, there is less free chromium to form the corrosion-resistant film, and rust can appear. Furthermore, the affected metal becomes brittle and prone to cracking.
2. Stainless steel expands more under the same heat
Austenitic stainless steel expands under heat more than mild steel. This is called thermal expansion (engineeringtoolbox.com) and is a big problem.
When you weld these metals together, the expanded stainless steel will push the mild steel. When the bead cools down, the stainless part will pull even harder. As a result, the metals will bend and twist, losing their desired shape. We call this distortion or warping.
Also, if the welded joint is under constant temperature differences, it will endure fatigue stress. As a result, the joint will break given enough time.
3. Stainless steel absorbs heat at a slower rate
Stainless steel cannot absorb high heat amounts at fast rates. As a result, the heat concentrates in a narrow zone called the heat-affected zone (HAZ) next to the bead. Furthermore, the heat remains there for a longer time than mild steel.
This leads to excessive warping, carbide formation, and corrosion.
4. The electrical resistance of stainless steel is higher
Stainless steel also has higher electrical resistance. It's more difficult for electricity to travel through it. Compared to mild steel, you set a 10-15% lower amperage to generate the same heat.
5. The tensile strength and ductility of stainless steel are higher
The 304 stainless steel has an 85,000 psi tensile strength, while mild steel usually has 65,000 psi. As a result, stainless can withstand stronger mechanical stress before bending or breaking.
The ductility of stainless is also higher. As a result, it can bend longer without losing strength or breaking.
6. Mild steel has a higher melting point
Most austenitic stainless steels melt at 2600 °F (1425 °C), but mild steel melts at 2800 °F (1540 °C). Despite that, you want to avoid pointing the arc on the mild-steel part.
7. Galvanic corrosion makes mild steel corrode faster
When two different metals touch each other in the presence of an electrolyte such as water, one of them corrodes faster than normal. That is called galvanic corrosion (nace.org) or bimetallic corrosion.
In this case, mild steel will deteriorate even faster. However, galvanic corrosion is of no concern if there isn't an electrolyte present.
8. Mild steel can be affected by the arc blow defect
Arc blow is a magnetic interference that can misdirect the electric arc. It affects ferrous metals, but not austenitic stainless steel. Arc blow gets worse when the electrode and base metals get very hot or when the mild steel part is magnetized.
| Property | Mild steel | Austenitic (304) steel |
| --- | --- | --- |
| Thermal expansion | 65 | 100 |
| Thermal conductivity | 100 | 33 |
| Electrical resistance | 12.5 | 72 |
| High-temperature strength | 900 °F (480 °C) | 1300 °F (700 °C ) |
| Tensile strength | 60-70ksi | 85ksi |
| Ductility | 25 | 55 |
| Melting point | 2800 °F (1540 °C) | 2600 °F (1425 °C) |
| Galvanic corrosion | High | Low |
Differences between mild and austenitic steel for welding
---
Is it hard to weld stainless steel to mild steel?
New welders worry about passing a quality bead when joining those dissimilar metals. How hard is that?
Welding stainless steel to mild steel is slightly harder than welding pure stainless steel, despite that they have quite different compositions and properties. In a nutshell, avoid overwelding, deep penetration, and focus the arc a bit more on the stainless part.
Low heat is important to prevent deep penetration, maintain corrosion resistance, and avoid carbon contamination. To input low heat you:
Set the lowest amperage that will melt the filler metal.
Travel at a fast speed.
Prefer stringer beads instead of weaving.
Use chill bars under or on the metals.
Prepare a symmetrical joint that needs the least amount of weld metal.
Point the arc towards the stainless part. Despite the uneven angle, the resulting bead will be symmetrical with good toe fusion.
If you use a process that leaves slag on the bead, the customized angle is more important because it prevents slag inclusions.
Always test on similar scrap metals before welding your main project.
Another issue is to avoid contaminating the stainless part with iron particles. These particles will start rusting the stainless part.
Use a separate set of tools to clean and bevel the stainless part. Furthermore, avoid scratching it on carbon steel, for instance, the steel part, the welding table, etc.
Never preheat austenitic steel. It will worsen all the problems you want to avoid. Furthermore, if you do multipass welds, let the metal cool down to 300 °F (150 °C) between each bead.
What is the best filler metal for stainless to typical steel welding?
The best filler metal for welding stainless steel to mild steel is the 309. The 309 has enough chromium and nickel to counter the carbon dilution problem. As a result, the bead will have excellent corrosion resistance. It will also have strong hot-cracking resistance. 
When you weld dissimilar metals, the final bead consists of the filler metal (60%) and a small part of both base metals (20% and 20%). Since mild steel has no chromium or nickel, you need a filler metal with higher amounts than the stainless part.
An austenitic 309 filler metal with 23% chromium and 13% nickel will offer a bead with at least 18% chromium and 8% nickel. The bead will have superb corrosion resistance.
If you use a typical stainless filler metal such as the 308, the chromium (20%) and nickel (10%) content will be diluted by the mild steel component. The resulting bead will have low chromium (15%) and nickel (7%), making it hard and crack sensitive, without strong corrosion resistance.
Be careful not to use a filler metal with excessive nickel, such as the 310 (21% nickel). A bead with excessive nickel is easy to crack.
Additionally, the 309 has an added ferrite amount that prevents hot cracking. Ferrite is rich in chromium and even if some chromium carbides form, free chromium will still be above safety levels.
Using low-carbon 309L filler is necessary when the stainless steel part is also 304L. The ultra-low carbon helps to keep the corrosion resistance and prevents cracking in high-temperature environments.
Some things to keep in mind when using 309 filler metal:
The 309 can also weld ferritic and martensitic stainless to mild steel without preheating. However, if the joint requires further heat treatment or serves under high temperatures, you select a matching filler.
The 309 offers strong heat resistance up to 700 °F (370 °C).
Multipass welds with 309 filler might break if the joint serves under high temperatures. That's because the additional passes will contain too much chromium and nickel caused by lower dilution. To avoid this, you can use the buttering technique described later in the article.
The 312 is another filler metal to weld dissimilar metals and offers strong hot-cracking resistance. It has the highest amounts of chromium, at least 28% but a low 9% nickel.
The 312 is superior to 309 and can weld unknown metals or hard-to-weld metals, for example, martensitic stainless to high-carbon steel. The 312 filler was designed for this purpose.
The catch is that you cannot apply post-welding heat treatments to the joint.
Also, the 312 is not as suitable for high-heat service conditions and is more expensive.
For austenitic stainless to mild steel welding, the 309 is more than enough, and you can avoid buying 312 filler metal.
I will also mention the NiCrFe filler metal. It's nickel-based and offers superior results for demanding joints:
A NiCrFe filler metal can safely weld a joint that serves under high heat conditions, far higher than 700 °F (370 °C).
It has lower thermal expansion than stainless-steel rods and reduces fatigue stress in the carbon steel part.
The high nickel content prevents carbon dilution, resulting in fewer chromium carbides and higher corrosion resistance.
The disadvantage of the NiCrFe filler metal is the high cost.
Welding with mild-steel filler metal will result in a brittle bead without corrosion resistance. The bead will rust given enough time, and it may break under mechanical or thermal stress. The same will happen to the stainless part's heat-affected zone. Galvanic corrosion is a concern since the bead will corrode at fast rates in the presence of water.
Why is the buttering technique useful?
When you weld a large joint between stainless and mild steel, the buttering technique is useful to avoid the hot cracking defect.
To do this, you weld the surface of the mild steel component with 309 filler metal. This way, you seal the part and protect the following stainless weld metal from carbon migration.
After that, you use common austenitic filler metal, for example, the 308 to weld a 304 component to the buttered 309 surface.
The thickness of the buttered surface must be at least the same as the depth of penetration that will follow. For most cases, 5/64″ (2 mm) to 1/8″ (3.2 mm) would be enough.
---
Now let's see how the different processes compare.
Can you TIG weld stainless to carbon steel?
With the TIG welding process, you can weld stainless to mild steel and acquire the best bead appearance and corrosion resistance with minimal distortion. The final bead might not need further improvement. For the best results, use the ER309LSi rod.
Since one part is stainless steel, TIG might be the best process for the job.
TIG is a manual process using one hand to control the TIG torch that creates the arc and provides the shielding gas while the other hand feeds the filler metal.
Furthermore, if you use a foot pedal, you can increase or decrease the amperage as you weld.
Moreover, if the power supply supports pulsed current, you can achieve the same penetration with lower heat input.
All these control the heat input with great precision and achieve low dilution.
Finally, TIG releases the lowest amount of fumes. This is very important since stainless steel produces harmful fumes.
The negatives of TIG welding are:
It's the most challenging process to use.
You cannot TIG weld outside.
The equipment and torch consumables are costly.
The welding speed is slow for long beads or thick metals.
You need perfectly clean metals.
An ER309LSi rod contains almost two times more silicon (Si). Silicon makes the weld metal more fluid resulting in a flatter, smoother, and prettier bead.
Can you use MIG welding?
You can weld stainless to mild steel using MIG welding with great results, especially if you want the easiest and fastest process. For the best results, use a ER309LSi wire and the short-circuit transfer mode with tri-mix shielding gas. It is also helpful to use high inductance.
MIG has a wire-feeding mechanism that continuously feeds the wire electrode. This makes it the easiest process to use. MIG creates good-looking beads, it's great for thin metals, and there is no slag to clean.
The negatives of MIG welding stainless to steel are cost-oriented:
You need a different and more expensive shielding gas than 75/25 or CO2.
Even the smallest wire spool costs much more than a few TIG or stick rods.
For thick metals, you need a high-amperage machine capable of using the spray mode.
For the perfect job, you want to replace all the components that touched mild-steel wire, especially the liner. But you can avoid this trouble, by using a spool gun.
You cannot MIG weld outside.
What settings and consumables to use?
You use the short-circuit transfer mode to weld thin stainless to mild steel, since it offers low penetration and dilution. All home welding machines support this mode since it needs the lowest power.
With the short-circuit mode, you get great results up to 1/4″ (6.4 mm) thick metals. Use a short electrode extension of 3/8" (10 mm). It would also be helpful to use a contact tip meant for a thicker wire to avoid bird nesting.
One problem with short-circuit is that the properties of stainless steel don't help the puddle to wet out, resulting in a tall and narrow bead.
To counter this problem, use wire with higher silicon, a tri-mix gas, and high inductance:
ER309LSi wire contains higher silicon (Si), making the weld metal more fluid.
You need a "tri-mix" of 90% helium, 7.5% argon, and 2.5% CO2 as a shielding gas, especially for multipass welds. If you use typical 75% argon and 25% CO2 gas, the bead will look uglier, narrow, and tall. It will have poor toe fusion and the corrosion resistance will deteriorate.
Many power supplies come with the inductance feature. High inductance increases the arc's duration per short circuit. This makes the puddle more fluid, resulting in smoother and flatter beads.
The spray-transfer mode is useful for thicker metals but needs a 240V power supply that offers high amperage.
If you want to use the spray transfer, use a 98% argon and 2% CO2 gas blend. As a better alternative, you can use 1-2% oxygen (O2) and argon to avoid carbon in the puddle.
The spray mode needs a longer electrode extension of 3/4" (19 mm).
Expensive MIG welders can weld with the pulsed-transfer mode. It's like spray transfer but can weld thin metals. It uses the same gas, but you need a costly power supply.
The globular-transfer mode is not used because it creates a lot of spatter.
Here is a detailed guide on how to MIG weld stainless to mild steel.
Can you use stick welding?
You can stick weld stainless to mild steel if the metals are not thinner than 1/8″ (3.2 mm). It's excellent for outdoor work because it's portable, and the shielding gases tolerate breezes. For the best results, use an E309L-16 rod. However, the bead will not look good, and it's easy to warp or blow through the stainless part.
Stick welding (or SMAW) is very popular since it is cheap to buy the equipment. You can also buy a small rod package since stainless filler metal is expensive.
Stick welding offers great results for metals thicker than 1/8″. You need long experience to weld thinner than that without overheating defects.
The E309L-16 rod is the most popular one. The suffix -16 indicates the flux covering type and usage. This rod is relatively easy to use, welds with DC and AC, and leaves a flat bead. But it's hard to weld in the vertical and overhead positions.
However, stick welding has many disadvantages:
It creates an aggressive arc with deep penetration and high carbon dilution.
Slag inclusions can be trapped in the bead.
The solidified slag tends to pop off when it cools down, so always wear your safety glasses when you look at the bead.
You need to remove the remaining slag every time you weld. This takes time and can contaminate the stainless part with iron particles.
Stainless rods stick on the metal easily, and it is guaranteed to cause frustration to new welders.
Stick welding produces many fumes and isn't suitable for indoor work without local extraction ventilation. Even if you weld outdoors, you need a welding respirator for added protection against stainless steel fumes.
Stainless rods need a high open-circuit voltage (OCV). This is the voltage between the rod's tip and the workpiece when there is no arc. If your welding machine can burn E7018 rods, it will burn E309 rods too.
Stainless rods are sensitive to the air's moisture. Even more than low-hydrogen E7018 rods. Exposed rods are prone to sticking, creating an unstable arc, and a bead with high porosity.
Here is a detailed guide on how to stick weld stainless to typical steel.
Can you use flux-cored wires?
You can weld stainless to mild steel with flux-cored (FCAW) wires if the metals are not thinner than 1/8″ (3.2 mm). However, the bead will not look good, and the amount of spatter will be high. Using dual-shielded wire will give you much better results, but you need shielding gas and a high-amperage power supply.
Flux-cored wires are tubular and contain flux material. You can use them with your MIG equipment, but always put serrated rollers and check the packaging for the correct polarity.
Also, it would be best to use a dedicated liner for stainless steel wire to avoid contamination.
Since flux-cored wires generate slag material, it's best to pull the torch instead of pushing. Pulling will keep the slag back and avoid slag inclusions.
Flux-cored wires are the most expensive electrodes per pound because tubular wires are hard to manufacture.
They also need protection from the air's moisture. You can store small spools in rod ovens, but you cannot rebake them. You can read this article on how to store welding rods to learn the basics.
There are two types of flux-cored wires:
The self-shielded (or FCAW-S) wires that produce their own shielding gas and
The dual-shielded (or FCAW-G) wires that need external shielding gases like MIG welding.
Self-shielded wires
The self-shielded wires offer similar results as stick rods but are faster and easier to use. However, the arc has deep penetration and it's hard to offer low dilution. It's easy to warp the stainless steel part if it is thinner than 1/8″ until you gain good welding experience. 
The self-shielded wires offer a fast traveling speed, so you can weld somewhat thinner metals than stick welding. Furthermore, they generate enough shielding gases for outdoor welding.
A self-shielded wire for the job is the E309LT1-3 (or E309LFC): 
T indicates a tubular wire. 
1 that welds all positions, a 0 would indicate the flat position and horizontal fillet welds.
Finally, 3 that it's self-shielded, and you don't need a gas cylinder.
Other negatives of self-shielded wires:
Their slag is hard to remove.
They produce the highest amount of fumes and are not suitable for indoor work if you don't have local extraction ventilation.
Dual-shielded wires
The dual-shielded wires give excellent results. They are much easier to use in the vertical and overhead positions because they need less torch manipulation. In addition, the slag material is easy to remove. However, they are meant for professional work and high productivity. It's hard to find affordable thin wires or small spools.
Dual-shielded wires use a 75% argon and 25% CO2 mix (75/25 or C25) or 100% CO2 shielding gas. For this, they are a great alternative to avoid the cost and the trouble of an additional gas cylinder, either a tri-mix or an argon/O2 mix.
A dual-shielded flux-cored wire for the job is the E309LT1-4.
T indicates a tubular wire. 
1 that welds all positions.
4 indicates C25 for shielding gas. 1 would indicate 100% CO2 gas.
However, most dual-shielded wires support both gases. The CO2 gas is cheaper but the C25 mix will offer:
A better-looking bead.
Reduced spatter.
Lower penetration.
Higher tensile strength.
But remember that you cannot weld very thin metals, and you need a power supply with a high amperage for dual-shielding wires.
For example, a MIG 0.35″ stainless wire starts from 18 volts and 110ipm wire speed (55A), but a dual-shield 0.35″ wire needs at least 23 volts and 300ipm (110A).
Because these wires need external shielding gases, they aren't suitable for outdoor welding.
Now let's see a comparison table for the mentioned processes.
| | TIG | MIG | Stick | FCAW-S | FCAW-G |
| --- | --- | --- | --- | --- | --- |
| Bead appearance | Best | Good | Poor | Poor | Good |
| Easy to use | Hardest | Easy | Hard | Easy | Easy |
| Welding speed | Slowest | Fast | Slow | Fast | Fast |
| Good for outdoors | No | No | Yes | Yes | No |
| Cost of power supply | Highest | High | Low | Low | High |
| Cost of consumables | High | High | Low | High | High |
| Fumes | Lowest | Low | High | Highest | High |
Welding process comparison for stainless to carbon steel
---
Conclusion
Welding stainless to mild steel is not that hard if you already have some welding experience.
Avoid overwelding both metals. Remember that the stainless part doesn't like too much heat. It will warp and lose corrosion resistance. It also doesn't like absorbing carbon from the mild steel part. Excessive carbon will make it brittle and cause corrosion.
Also, avoid contaminating the stainless surface with iron particles from the mild steel part or the cleaning and cutting tools.
Always use filler metal for dissimilar metals such as the 309 or the 312 for strong and long-lasting results.
The buttering technique helps against hot cracking when dealing with thick metals.
If you want the best-looking bead or to weld thin sheet metals, use TIG welding. MIG and flux-cored wires are the easiest to use. Stick welding is for fieldwork and quick repairs.
---
Now let's answer some related questions on the topic.
Can you weld stainless steel to galvanized steel?
You can weld stainless to galvanized steel if you remove the zinc coating first. The clean metal is most often mild steel. You can use 309 filler metal and the proper low-heat procedure to weld these dissimilar metals together. 
Stainless steel filler metal has poor fluidity, and the zinc coating prevents the puddle from wetting out even more. Even traces of residual zinc can restrict fluidity. The resulting bead will be too narrow and tall without filling the sides (toes).
To make things worse, even residual zinc on the steel will contaminate the stainless bead and the stainless part, making them brittle. Brittle metals are crack sensitive. Austenitic filler and base metals are very sensitive to zinc contamination.
Welding on galvanized metal produces a high amount of fumes. In combination with the fumes from the stainless wire, they create a dangerous environment. Removing the zinc coating reduces the fumes.
Can you weld low-alloy steel to stainless steel?
You can weld most low-alloy steels to stainless steel with the proper filler metals the 309 or the 312. You should also weld with a low-heat procedure to avoid carbon contamination that reduces the stainless part's corrosion resistance. 
Low-alloy steels are like carbon steels with low amounts of various alloying elements. The added elements increase their tensile strength and corrosion resistance.
If the carbon content is lower than 0.30%, low-alloy steels are harder to weld than mild steel but easier than medium-carbon steel. Use a 309 austenitic filler metal and weld them to the stainless part following a procedure that inputs the lowest amount of heat.
If the carbon content is higher, it would be best to use a 312 austenitic filler metal.
Using these austenitic fillers makes welding easier because you can skip preheating. But you cannot heat-treat the final weldment.
If the final joint serves under high heat, a NiCrFe filler metal would be more suitable. It can handle high temperatures better than stainless-steel rods. Also, the NiCrFe has lower thermal expansion. This will place less fatigue stress on the low-alloy component.
---
More weld pundit articles
Welding Cast Steel: For Beginners.
Cast Iron Welding: Beginner's Guide.
Can You Weld Cast Iron to Steel?