What Welding Rod to Use on Cast Iron? With Helpful Charts
Because cast iron is a tough metal to weld, various welding rods are designed for gray, malleable, and nodular iron. This article will cover stick and oxyfuel rods for cast iron and answer if you can use the typical steel rods.
Table of Contents
Let's start with the most important question.
What is the best welding rod for cast iron?
The ENiFe-CI is the best overall stick rod to weld most cast-iron jobs. It has a flux covering designed to improve the poor weldability of cast iron. The flux combined with the wire deposit weld metal high in nickel, iron, and carbon to repair gray and ductile irons but also welds cast iron to steel.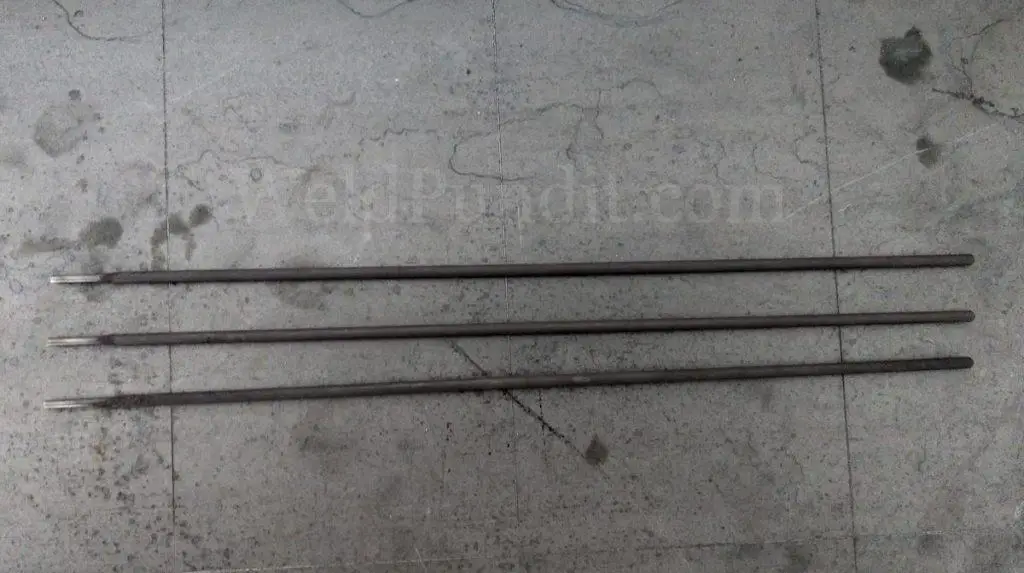 Stick welding rods for cast iron
Stick welding (SMAW) is the best overall arc process for cast iron. It is the cheapest process to use, and by nature, it is excellent for repair work.
All cast-iron rods have a flux covering designed for swallow penetration to prevent the hardening of the heat-affected zone (HAZ). The HAZ is the area next to the bead. Because the welding heat alters the HAZ's properties, it is where most cracks appear.
The flux adds elements to the weld metal to match the casting's characteristics. It also has elements that clean the weld metal of impurities. 
The flux can also prevent the shrinkage of the weld metal and make it similar to cast iron's shrinkage rate. This will prevent uneven stress between them.
Stick welding has the largest rod variety for cast iron. There are nickel-based rods and a special type of iron rod.
The nickel-based rods are the best ones because nickel weld metal:
Resists absorbing carbon from the casting. This prevents the hardening of the weld metal and remains ductile (elastic).
High ductility balances the shrinkage forces when the bead cools down. That is very important for restraint joints.
It is very soft, and thus very machinable, so you can drill and cut it easily.
Can be used without preheating at room temperature if the casting is small, has superficial damage, etc.
The disadvantages of nickel rods are the price and the generation of harmful fumes.
Let's take a closer look at each one of these rods.
ENi-CI
The ENi-CI or ENi99 cast-iron rod is an almost pure nickel rod, with an 85-99% nickel content. The main advantage is that the weld metal always remains soft and machinable. Therefore, it is your best choice if you want to drill or cut the weld metal without difficulty.
But the ENi-CI is the most expensive rod, and it is suitable only for single-pass welds.
The ENi-CI designation means:
E stands for stick welding electrode.
Ni for nickel.
CI for cast iron. This is important because other nickel rods with similar chemistry and names are not designed to weld cast iron as their primary job. For example, the ENi-1 rod that welds mostly nickel alloys. While you can use an ENi-1 rod for cast iron, it deposits weld metal that shrinks more than ENi-CI.
ENiFe-CI
The ENiFe-CI or ENi55 rod has 55% nickel, 40% iron (Fe), and a few other elements. It offers higher strength and ductility and is cheaper than the ENi-CI.
The ENiFe-CI rod's weld metal is machinable if you take care and prevent deep fusion with the casting. The deeper the fusion, the higher amounts of carbon will combine with the rod's iron, and carbides will form. Carbides are extremely brittle and will increase the risk of cracks in the weld metal.
As mentioned, the ENiFe-CI rod is the best and the most versatile, it is ideal for:
Thick and heavy cast iron sections.
The ductile irons: malleable and nodular iron.
High-strength gray irons.
Welding cast iron to mild steel, stainless steel, and nickel alloys.
Castings with a high amount of impurities such as phosphorus because they increase the risk of hot cracking. Hot cracking is when the weld metal cracks longitudinal when it cools down.
Dirty and oily castings.
Castings that have lost strength from prolonged service time under tough conditions.
Complex joints or joints that will be under high restraint.
Multipass welds.
ENiFeMn-CI
The ENiFeMn-CI is similar to the ENiFe-CI but contains 12% manganese (Mn) and has lower nickel and iron percentages. Manganese makes the weld metal stronger and more ductile. It also improves the flow of the weld metal and the crack resistance.
It is suitable for welding the strongest ductile irons and is also good for surfacing because manganese offers great wear resistance.
But it's not that easy to find, and manganese releases more harmful fumes.
ENiCu
The ENiCu rod contains high amounts of nickel and copper (Cu) and low amounts of carbon and other elements. While it's not made for cast iron, many welders use it with acceptable results.
You can use it similarly to an ENiFe-CI, but it has lower tensile strength and is more sensitive to carbon absorption.
For this, you must keep the dilution very low by using the lowest amperage and the fastest speed possible, which will offer a superficial but acceptable weld.
There are two types:
The ENiCu-A with 55% nickel and 40% copper and
The easier to find ENiCu-B, with 65% nickel and 30% copper.
ESt
ESt is a steel rod without nickel, but with a flux covering that makes it suitable for cast iron. This rod produces weld metal with a composition, mechanical properties, microstructure, and color similar to cast iron. It is also the cheapest rod for the job.
The weld metal of ESt rods is very hard, without ductility, prone to cracking, and isn't machinable. It also needs a higher preheating temperature than nickel rods for the same kind of work.
For these reasons, ESt rods are intended for small repair welds such as cracks and rebuilding small missing parts, but not complex joints.
If you want to avoid the high cost of nickel rods, try at least to obtain one or two. Use them for welding the surface of the joint. We call this buttering. This method seals the cast iron so no carbon or impurities can pass beyond the new nickel surface. After that, you can use other cheaper rods, such as the ESt or even the E7018, to fill the joint.
Here is a comparison table of the mentioned welding rods.
| Electrode type | Tensile strength | Ductility | Preheating | Machinability | Cracking sensitivity |
| --- | --- | --- | --- | --- | --- |
| ENi-CI | 70,000 | medium-high | lowest | best | low |
| ENiFe-CI | 90,000 | high | low | good | lowest |
| ENiFeMn-CI | 100,000 | high | low | good | lowest |
| ENiCu-A | 70,000 | high | medium | good | low-medium |
| ESt | 70,000 | none | high | none | high |
Characteristics of SMAW cast-iron electrodes
And a table with the typical preheating temperatures for the most common cast-iron rods.
| Electrode type | Preheating temperatures |
| --- | --- |
| ENi-CI | 200-570°F (100-300°C) |
| ENiFe-CI | 300-650°F (150-350°C) |
| ESt | 650-750°F (350-400°C) |
Typical preheating temperatures of cast-iron electrodes using the SMAW process for gray iron.
Another table with the typical amperage ranges for these rods. However, always check the recommended amperage on the specific packaging you have at hand.
The ranges are for the flat position with DC current. For vertical, decrease 10-20A, and for overhead 5-15A. With AC, increase 5 or even 10A.
| Size | ENi-CI | ENiFe-CI | Est |
| --- | --- | --- | --- |
| 3/32″ (2.4mm) | 40-70 | 45-80 | 50-90 |
| 1/8″ (3.2mm) | 70-100 | 70-110 | 80-120 |
Cast iron rod amperage range
---
How to choose the proper rod
Now let's see what you should consider before you select a cast-iron rod:
The cast iron type. If it is unknown, select an ENiFe-CI rod.
The weld metal's machinability. That is how easy it is to drill it or cut it. For guaranteed machinability, pick an ENi-CI rod.
The cost. Nickel cast-iron rods belong to the most expensive rods you can buy, but you only use a few rods. The cheapest cast-iron rod is the ESt.
For a single-pass weld, you can use an ENi-CI. But for multi-pass welds, you want an ENiFe-CI.
The corrosion resistance. The ENiCu rod has the best resistance and can repair parts of your casting exposed to corrosive elements.
How to store moisture-sensitive rods
You must treat all cast-iron rods like low-hydrogen rods and protect them from moisture. If moisture enters their flux covering, it will deteriorate, resulting in welding defects.
The best way to use them is to prepare everything and, right before welding, open their packaging and use them.
To keep any remaining rods, you must store them in a rod oven at 250 °F (120 °C). Exposed to moisture rods should be baked for at least 1 hour at 480 °F (250 °C) in a rod oven before you use them.
Every manufacturer mentions the storage and baking temperatures on the rod packaging or their internet site.
---
Now let's see if you can use rods not made for cast iron.
Can you use stainless steel rods to weld cast iron?
Although stainless-steel rods can weld various metals together, they are not a good choice for cast iron. During welding, the rod's iron and chromium combine with the casting's carbon. The result is brittle carbides that increase the cracking risk. The rod's nickel cannot counter the negative effects.
Also, the risk of cracking in the HAZ is even higher because the two metals have considerable differences in tensile strength, thermal expansion, and shrinkage rates.
One thing you can do is weld the joint's surface with an ENi-CI rod. This keeps the casting's carbon away from the following rod's chromium and iron. After that, you can weld the remaining gap with stainless steel rods such as the E309.
Can you weld cast iron with an E7018 rod?
Although the E7018 rod is not designed for cast iron, you can do minor repair welds for non-critical work. To accomplish this you must follow the steps of cast iron welding with precision. The problem is that the weld metal of this rod will always absorb carbon from the casting and become extremely hard and brittle.
If you do not have a cast-iron rod, a typical E7018 is your next best choice because:
Has an arc with low penetration.
It has the highest ductility of any other common steel rod.
The flux contains low amounts of hydrogen. Hydrogen increases the cracking risk of hard and brittle metals.
The slag covering on the bead is thick and prevents fast cooling, so you have enough time to peen the bead.
It's very easy to find and
It's far cheaper than cast-iron rods.
But an E7018 has some serious disadvantages for cast iron:
It requires a high-temperature preheating, at least 750 °F (400 °C). That takes time and has a high cost.
Steel has a greater shrinkage rate than cast iron. This will create high tensile stress upon cooling, which can crack the bead and the HAZ.
The weld metal is always hardened, and no machining can take place. But you can grind it.
To increase the success rate with an E7018 rod you can:
Preheat the casting at higher temperatures and for a longer time than usual.
Use the lowest amperage that will melt the rod.
Use the faster speed possible without or with minimal side-to-side movement, for example, 1.5 times the wire diameter.
Weld short 1/2" (12.7 mm) beads. 
Never forget to peen the bead when it's red hot.
Place the beads in different areas until you fill the joint. 
The crater at the bead's end is highly sensitive to cracking. Therefore, you must ensure that each crater fills with enough weld metal to prevent cracking.
Use the slowest cooling down you possibly can.
Welding cast iron with an E7018 will always result in a poor weld with a hardened HAZ. This happens because it is impossible to prevent the carbon from leaving the casting and entering the weld metal. Often small cracks appear as the bead cools down, even if you took care of all the welding steps.
Can a 6013 rod be used for cast iron?
An E6013 can't give acceptable results on cast iron, even for small or superficial repairs. This is because this rod will absorb carbon and does not leave a thick slag covering to prevent the bead's fast cooling. As a result, the weld metal and the HAZ will become too hard and brittle and will crack when they cool down.
Can a 6011 rod be used for cast iron?
An E6011 rod is the worst rod you can pick to weld cast iron. The cracking risk is too high because a 6011 generates an aggressive arc and a thin slag covering. The results are a casting that expands very fast, a weld metal that absorbs too much carbon, and a HAZ that converts to brittle white iron.
---
Oxyfuel welding rods for cast iron
The oxyfuel process uses rods with a composition similar to cast iron, containing high amounts of carbon and silicon. As a result, these rods offer similar mechanical properties, color, and machinability as the cast iron type they weld.
The RCI rod welds ordinary gray iron.
The RCI-A rod welds high-strength gray irons.
The RCI-B rod offers ductile weld metal for the malleable and nodular irons, but can also weld gray iron.
The oxyfuel process always needs prolonged and high-temperature preheating. Also, a proper flux material for cast iron. Flux prevents oxidation, makes the puddle flow better, and captures impurities.
---
Weldpundit has an introductory article on cast iron for beginners, but also on how to stick weld it, and if it's better to braze or weld it.
---
References
Heat-affected zone inspectioneering.com