Welding Cast Iron for Beginners: Types, Processes, Steps
Even with today's knowledge and equipment, welding cast iron has a high risk of failure. A beginner needs a sound understanding of how this metal behaves when welding it.
After reading this article, you will familiarize yourself with the basic topics of cast iron welding, how suitable each process is, and a description of each step.
Table of Contents
What is cast iron?
Cast iron is an iron alloy with a high carbon amount of 1.7-4% and silicon 1-3%. It is melted and poured into a mold to solidify in the desired shape. Cast iron's unique characteristics are due to its extraordinarily high carbon content.
Cast iron has many beneficial characteristics:
Low production cost of complex shapes.
Resistance to deformation even under heavy loads.
Vibration and sound dampening.
Compression strength.
Abrasion resistance.
High thermal conductivity.
Corrosion resistance (compared to carbon steel).
It's used to make engine and drive components such as blocks, gearboxes, and exhaust manifolds. But also decorative castings, skillets, stoves, pipes, valves, and pumps.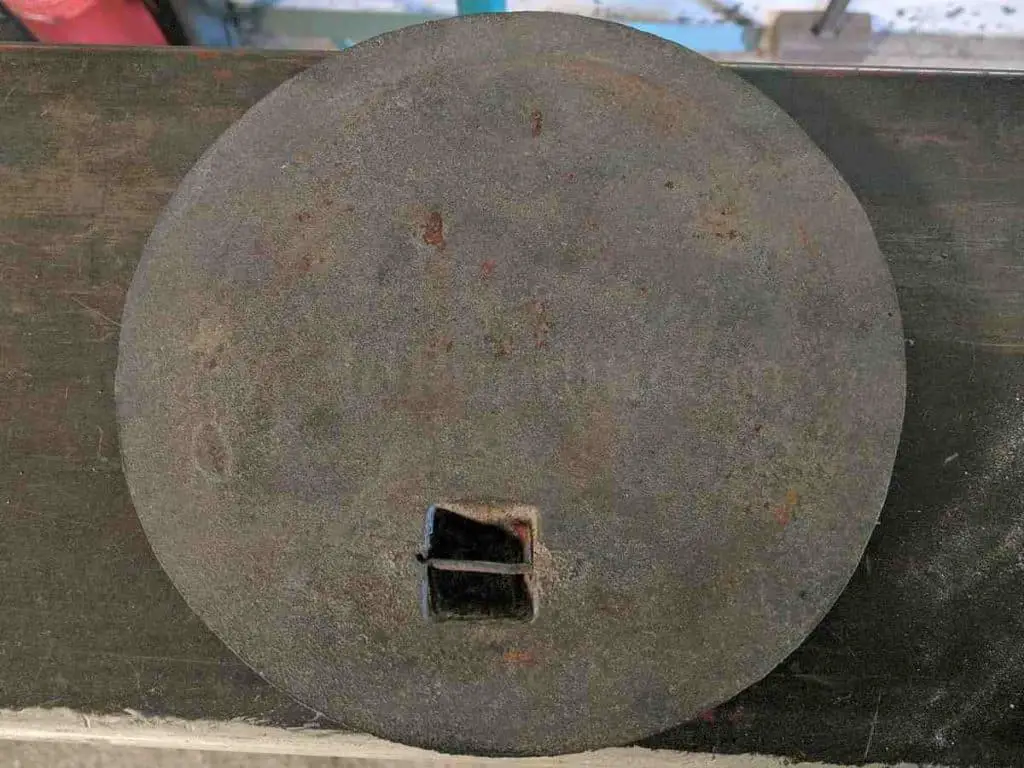 Cast iron types
There are different types, and each one has many grades, the most well-known are:
1. Gray
Gray iron such as the ASTM A48 is the simplest, cheapest, and most common type covering more than 90% of all the castings. It's almost a synonym to cast iron and most articles and tutorials are about this type. 
When gray iron solidifies, a part of the carbon content precipitates out. This gives its characteristic dark-gray color and name. It's excellent at vibration dampening and is very machinable. Machinable means you can cut it, drill holes, etc., without difficulty or damaging the tools.
Gray iron has almost no ductility (elasticity) and doesn't bend. It's the second most brittle after white iron. Despite that, you can weld it with acceptable results. 
Cracks of gray iron castings are long and irregular because of the free carbon.
2. White
White iron such as the ASTM A532 is chemically similar to gray iron, but the manufacturer cools it rapidly to make it very hard. 
This type looks silvery-white, and it is not as coarse as gray iron. White iron castings are small and used for their extreme abrasion resistance.
It's the hardest and most brittle type. For this, it's impossible to weld.
3. Malleable
Malleable iron such as the ASTM A47 was white iron that went through a long heat treatment to make it less hard and brittle. This type is the second most popular.
Malleable iron is different from the previous types because it's ductile and less brittle. It's less rigid with lower compression strength and vibration dampening than gray iron. But it has higher tensile strength, and impact resistance and doesn't crack as easily.
The ductility of malleable iron makes it weldable, but you need to follow a precise procedure to keep it ductile. If it gets too hot and then cools down fast, it will turn back to white iron. 
4. Nodular
Nodular iron such as the ASTM A536 is the newest type, thus not very common. It's also called ductile or SG iron. This type gains ductility not from heat treatment, but from a low amount of magnesium content.
Nodular iron has the best combination of tensile strength, ductility, impact, and corrosion resistance. Depending on its grade, it's less or more ductile than malleable iron.
This type offers a great combination of cast iron and cast steel characteristics. It's preferred for heavy-duty pipes and automotive components. It's also possible to produce large castings, unlike white and malleable iron.
Nodular iron is weldable, but there are many grades with very different properties from each other. For this, each grade requires its own welding procedure, and pre and post-welding heating temperatures. 
| Cast iron type | Hardness | Tensile strength | Ductility |
| --- | --- | --- | --- |
| Gray (A48) | 260 | 50 | 0.5 |
| White (A532) | 450 | 25 | 0 |
| Malleable (A47) | 130 | 72 | 7 |
| Nodular (A536) | 170 | 90 | 10 |
Cast iron types comparison
---
Can you weld cast iron?
You can weld ordinary gray or ductile irons with a well-defined procedure. However, castings with demanding service conditions are alloyed or hardened irons and are exceptionally hard to weld.
Even with gray iron, most jobs are repairing cracks, reattaching small broken parts, or filling surface gaps. You don't create complex fabrications or go after full penetration or multiple passes.
If the casting has demanding service conditions, it's expensive or irreplaceable, it would be better to give it to an experienced welder to fix it.
Why is welding cast iron difficult?
The primary reason that makes cast iron hard to weld is the huge amount of carbon. Carbon makes the metal less ductile and more brittle. Welding instantly inputs a high amount of heat in a small area. This causes the metal to expand and contract unevenly and rapidly, resulting in cracking. 
Let's see in detail the various difficulties.
1. High carbon content
Typical cast iron has 3-3.5% carbon, and by comparison:
Low-carbon (or mild) steel has 0.08-0.30% carbon and is very easy to weld. 
Medium-carbon steel has 0.30-0.50% carbon and needs preheating and low-hydrogen rods to prevent cracking.
High-carbon steel has 0.50-0.90% carbon and needs strict procedures with additional post heat treatments to avoid cracking.
Cast iron has at least six times more carbon than medium steel and almost four times more than high-carbon steel, metals that are already hard to weld.
It's very brittle before any welding takes place. But when a metal contains a lot of carbon, it has high hardenability. That means it gets much more brittle when it cools down after welding.
The area that suffers the most is right next to the bead and is called the heat-affected zone (HAZ). It's where most of the cracks occur.
After each welding attempt, the HAZ is always affected, increasing the cracking risk. If cast iron has cracked once, chances are it will crack again in the future.
Furthermore, a portion of the carbon will enter the puddle and mix with the filler metal. Typical steel rods (or wires) will combine with the carbon, and the weld metal will become hard and brittle.
These beads will crack almost immediately after welding. To counter this, you use special nickel rods that do not absorb carbon.
Cast iron shouldn't go beyond 1450 °F (790 °C) because the carbon will combine with iron, forming carbides that are exceptionally hard and brittle. When the casting cools down, it will crack everywhere. For this, you avoid turning the casting red-hot from preheating or overwelding.
2. It contains numerous impurities
Cast iron always contains elements such as sulfur and phosphorus that increase the risk of hot cracking. Even if you follow the correct procedure.
Many cheap castings are made not only from pig iron (Wikipedia), but the manufacturer adds scrap iron and steel to the blast furnace without perfectly cleaning them.
Also, the casting method traps gases in the final product that contribute to porosity and inclusions.
Cast iron often gets covered and absorbs oil and grease. These contaminants will resurface when welding. A part of them will evaporate, releasing gases that will cause defects. Hydrogen can crack the metal after welding, and oxygen can cause porosity and inclusions in the metal.
If you weld clean cast iron and porosity appears, it's because of impurities inside the casting. In a situation like this, you remove the bead by grinding and passing it again until you get a bead without porosity.
3. Each type has many grades with different properties
All cast iron types have many grades. Some may have alloying elements or go through heat treatments, changing their characteristics. You might have identified gray iron, but it may belong to a rare and very hard-to-weld grade. This problem is worse when dealing with nodular iron.
Furthermore, a manufacturer might change the composition of well-known castings through the years.
To make things even harder, modern-day castings are of lower quality. Manufacturers keep producing cheaper ones that are more prone to cracking.
4. Demanding service conditions
The casting's service conditions often are very demanding. Welding can compromise the performance of castings that endure constant heat or high mechanical stress.
These castings need specific and strict procedures to preserve their initial properties and keep them working as intended.
On the other hand, if the casting endures low static loads, It would be easy to weld. Even if your work is not perfect, if the weld fails at some point, the consequences would not be serious.
5. Deterioration from harsh service conditions
Cast-iron components that serve harsh service conditions for a long time eventually become unweldable. The older the casting, the less likely it's to weld successfully.
For example, prolonged high temperatures change the cast iron in a way that it's hard to melt properly. The arc will create a crater, but there will be no molten metal to mix with the filler metal.
High vibration dampening will mechanically weaken the casting with time. It will become very sensitive to cracking and will crack even if you follow the most precise procedures.
6. It is an expensive procedure
Cast iron needs costly filler metal, preheating equipment, high preheating fuel costs, and a lot of time.  
And there is always a high risk of failure. If the casting cracks after welding, it will become worse than before and, in many cases, impossible to fix.
---
Can you stick weld cast iron?
Stick welding is probably the best process for cast iron because it has great manual control over the heat input. Furthermore, a wide variety of rods designed for cast iron are available in small 1 lb (450 gr) packages. Finally, it's very portable for quick field repairs.
Stick rods are covered by flux material. That is a huge advantage because the flux can be designed to counter the cast iron problems:
These rods do not penetrate deep to avoid too much heat in the casting. 
They prevent the absorption of carbon into the weld metal. 
The flux can contribute elements to the weld metal so that it can match the casting's characteristics.
The weld metal expands and contracts at a lower rate.
Finally, the flux has elements that clean the weld metal of impurities. 
Weldpundit has a detailed guide on how to stick weld cast iron.
Now, let's see the different rod types.
Pure nickel rods
Pure nickel rods contain a large amount of nickel, at least 90%. Their official name is ENi-CI (Nickel-Cast Iron), but you might find them as ENi99.
Their advantage is offering weld metal that doesn't combine with carbon. It remains soft, ductile, and machinable. This is important if you want, for example, to drill a hole to reattach the casting. Finally, with these rods, you can have the least amount of preheating.
But, ENi-CI rods are the most expensive and suitable for single-pass welds of thin to medium welds. 
Nickel-iron rods
Nickel-iron rods contain 55% nickel and a high amount of iron, around 40%. Their official name is ENiFe-CI, but you might find them as ENi55.
ENiFe-CI rods are the best overall rods for cast iron. Their weld metal has high tensile strength and ductility. They are machinable depending on how much carbon the weld metal will absorb.  These rods are very versatile and can weld:
Badly damaged broken parts.
Thick castings.
Old castings that have lost part of their strength.
Dirty castings with residual oil, grease, etc. 
They can weld other steels to cast iron. 
They are suitable for multipass welds.
Iron rods
Iron rods or ESt do not contain nickel, but they are steel rods with flux designed for cast iron. They are the cheapest rods, good for old and oily castings, and have a matching color to gray iron. 
ESt rods are excellent for quick maintenance and short repair welds. Their weld metal is so hard that it's not machinable, but you can grind it. 
Can you use mild steel rods?
Typical mild steel rods such as the E6013 are not suitable to weld cast iron with reliable results. If you use them, their iron content will combine with carbon from the casting. This will make the weld metal extremely hard and brittle, resulting in hot cracking. The same applies to ordinary MIG wire and TIG rods.
Now it is technically possible to use common rods for minor repairs on lightweight castings if there is no other way around it. But the chances of cracking at a later point are too high.
Your best bet is the E7018 rod. But you need to preheat more than usual, place very short beads, apply perfect peening, and ensure a very slow cooldown.
Weldpundit has a detailed article on cast-iron rods.
There are bronze welding rods for cast iron, such as the ECuSi and the ECuAl. They do not melt the casting, so they input far less heat into it. Furthermore, they do not absorb carbon, stay ductile, and require less or no preheating. But the joints they create have lower strength than those made with normal rods. Also, they are not suitable if the casting endures high temperatures.
---
Oxyfuel welding and cast iron
Oxyfuel welding was used extensively to weld cast iron with the proper flame setting, rods, and flux material. Oxyfuel welds with a flame that generates a far lower temperature than an arc, and you control the amount of the deposited weld metal. The heat input is much slower, reducing the cracking risk.
Furthermore, it's a versatile process that can also preheat the casting with rosebud tips for faster results. Also, with small gas cylinders, it's very portable since it doesn't require electricity.
Oxyfuel gives excellent results for gray irons and acceptable results for nodular iron. However, it's troublesome for malleable iron because prolonged heating tends to turn a large part of the HAZ into white iron.
However, oxyfuel has disadvantages:
It uses very expensive gases (acetylene) to weld.
Needs much higher preheating temperatures than the arc processes.
Has concerns about the dangers of the fuel gas cylinder.
Finally, it's a very slow process.
Can you weld cast iron with a flux-cored welder?
If you have a flux-core welder, things are troublesome to weld cast iron because it is hard to find the proper wire. While there are wires for cast iron, they are available in big spools meant for high production rates and thick castings. Furthermore, most of them are dual-shielded wires. This means they use external gas to shield the puddle, like MIG welding.
Finding a small two-pound tubular wire for cast iron is very hard and expensive. A small nickel-iron spool would cost more than $150 because they are hard to produce.
Moreover, you have to use these tubular wires immediately after opening their package or keep them dry in rod ovens. If you leave the spool exposed, it will absorb moisture and deteriorate.
Can you MIG weld cast iron?
With MIG welding, you can weld cast iron using the short-circuit transfer mode. This mode inputs the lowest amount of heat in the casting. The spray transfer mode is unsuitable for most jobs because it's too hot and aggressive, increasing the cracking risk. Another problem is the low variety of wires for cast iron.
The short-circuit transfer mode has a low penetration effect and creates a narrow HAZ reducing the chances of cracking. It also prevents too much carbon from entering the puddle. But you cannot use this mode to weld thick and heavy castings.
On the other hand, spray transfer mode offers deep penetration and a large HAZ that must be avoided for brittle metals.
If your MIG welder can use pulsed current, it can reduce the total amount of heat that spray transfer releases.
Cons of MIG welding cast iron:
Finding small ENi-CI or ENiFe-CI wire spools suitable for cast iron is hard, and they are very expensive. A two-pound (900gr) nickel-iron spool costs on average $100.
Furthermore, these wires need 75% argon and 25% helium shielding gas to offer good results with the short-circuit transfer. You can also use the tri-mix gas (90% helium – 7.5% argon – 2.5% CO2) used for stainless steel. A separate gas tank adds additional cost, time, and effort.
Another problem is that MIG needs clean metal to give good results, and cast iron rarely is.
Weldpundit has a detailed guide on how to MIG weld cast iron.
If you have a MIG welder, braze welding with silicon bronze wire with 100% argon gas might be a better option.
Can you TIG weld cast iron?
TIG welding is used to weld cast iron because it is excellent at controlling how much heat and weld metal goes into the casting and creates low amounts of spatter. The problem with TIG is that you need a perfectly clean joint. You will have good results with new or high-quality castings.
All castings have impurities by nature. TIG is unable to counter their defects, such as porosity and inclusions.
Furthermore, impurities will oxidize the tungsten electrode and the other torch consumables. You will often stop to regrind the tungsten electrode or even replace it, losing time and money.
Weldpundit has a detailed guide on how to TIG weld cast iron.
If you have a TIG welder, braze welding rods are a good alternative.
---
Why do you preheat cast iron before welding?
The primary reason you preheat cast iron is to minimize the cracking risk. With preheating, you avoid rapid expansion during welding and rapid shrinkage, metal hardening, and residual stress after welding. Preheating also protects the weld metal from carbon migration.
Other benefits of preheating are:
It helps to clean the casting from residual oil, grease, and moisture.
Helps to weld thicker to thinner metal.
Expands the casting's service life.
The arc starts and restarts easier.
It makes the casting melt easier, so you can use a slightly lower amperage.
The weld metal flows better.
Prevents porosity.
Preheat temperatures depend on: 
The cast iron type. Brittle, alloyed, and hardened irons need more preheating. Ductile and low-alloyed irons less.
The welding process. Stick welding requires less preheating and oxyfuel the most.
The filler metal type. Nickel-based rods and wires require far less preheating than steel rods.
The casting's mass. Small and lightweight castings require less preheating.
The complexity of the casting. Simple castings without significant variations in thickness require less preheat.
The joint's complexity. If the joint is complex and restricted or needs multiple beads to fill, you need more preheating.
The typical preheating temperatures for the arc welding processes are:
For malleable iron, 200 °F (95 °C).
For gray iron, 500 °F (260 °C).
Nodular irons have a wide range depending on their grade. Low-strength ductile iron needs the same as malleable iron, but high-strength iron may need 600 °F (315 °C) or more.
You can safely preheat up to 900 °F (480 °C) if the casting is very thick and has an irregular shape. That's where it starts to glow red. The hotter the metal, the easier it is to weld.
The oxyfuel process always needs preheating and at much higher temperatures than the arc processes, at least 800 °F (425 °C).
One occasion when it's risky to preheat is when other metals restrict the casting. The casting will have no room to expand, and it will crack. You should detach parts before preheating them.
How to preheat cast iron
The best way to preheat cast iron is with an oven. Inside an oven, the casting will preheat evenly at a steady rate. After that, if you don't have an oven or the casting is too big, you can use oxyfuel equipment or a simple propane torch if the casting is small. 
You preheat the entire workpiece evenly, not just locally where you are going to weld. That increases the time and costs, but uneven preheating can cause cracking. The colder part will absorb the heat and harden the area you try to weld.
If you want to use a flame torch to warm the casting, make sure to move it around and focus on the thicker sections.
It would be helpful to put firebricks around the casting when you preheat so they can keep it warm during welding. 
How to check the preheating temperature
The most reliable way to check the temperature is with temperature sticks made for welding. You select one that melts at the desired temperature, you scratch it on the metal's surface, and when it melts, you can start.
As an alternative, you can use infrared digital thermometers but avoid measuring on shiny surfaces.
How to deposit the weld metal
When welding cast iron, you always try to avoid high heat input in one spot. Creating short beads scattered all over the joint is mandatory to prevent temperature differences in the casting. This also lowers the risk of carbon and impurities flowing into the puddle.
Below is an image to illustrate this.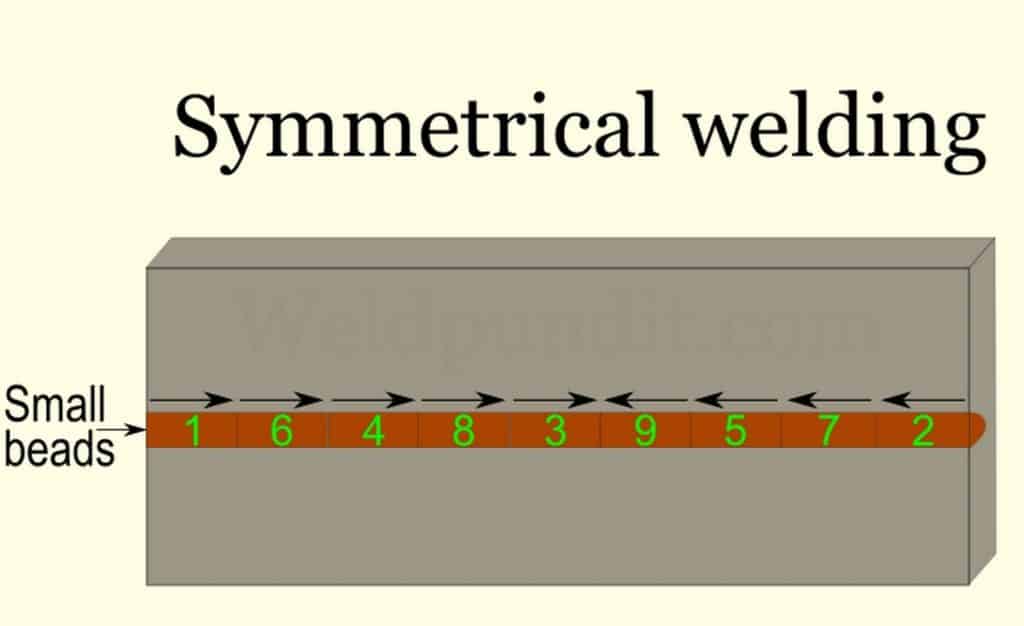 When you weld with nickel rods and preheating, a short 1″ (2.5 cm) bead is suitable for most jobs. If the casting is thick, for example, more than 1/2" (1.27 cm), and you used higher preheating temperatures, you can weld 1.5″ (3.8 cm) long beads.
To ensure the lowest heat input with each bead, you use the lowest amperage necessary to melt the rod. Remember that welding preheated metal is like using higher amperage. As a result, you will have a properly fused joint.
The traveling speed greatly affects the heat input. For this, you should travel as fast as possible. Prefer straight (or stringer) beads without rod weaving. Turning a wide area to red hot is a valid indication you weld slowly.
Always try to position the casting so you can weld in the flat position.
Peen the bead
Peening is when you tap all over the red hot bead with a small rounded hammer. It will stretch the bead and counter shrinkage stress. Peen from the crater back to the starting point.
Peening will prevent residual stress in the bead and cracking of the HAZ. You may also use a rounded chisel or an electric scaler with round needles.
When you peen the bead, you also remove the slag covering. Use your wire brush to clean the remaining slag before you continue.
Why do you reheat cast iron after welding?
After you finish welding, you heat the entire casting again, at least to the pre-heat temperature. Welding made the area you repaired hotter, but the environment cooled down the rest of the casting. You want to fix these temperature differences to ensure that the casting will cool down evenly.
If you want to release residual stress in complex castings, you must reheat to 1100 °F (590 °C) and keep this temperature steady for one hour per inch of thickness.
Why do you cool down cast iron?
The slow and even cooling of cast iron is essential to avoid hardening and strong residual shrinkage stress. If you make mistakes in this step, the casting will almost certainly crack. 
Cast iron is already brittle enough to crack even without further hardening. If you leave the casting to cool down at room temperature, it will harden even further. Hardening also reduces its service life. 
When the metal cools down, it shrinks, and the powerful contraction forces that develop can easily cause multiple cracks.  
Ideally, you should cool down the casting to 50 °F (10 °C) per hour. The slower, the better. You need to insulate it, so the entire casting cools down evenly until it reaches room temperature, and you can touch it.
How to insulate the casting
There are many ways to slowly cool down hot metal:
Use the same oven you used for preheating.
Use welding blankets or similar products made of heat-resisting materials such as fiberglass.
Bury the casting in sand or hot ashes. If you don't want sand to get in a complex casting, wrap it in aluminum foil.
You can buy a bag of vermiculite minerals from gardening supplies and cover the casting. It's far better than sand and affordable.
If you used firebricks when preheating it, you could use more to surround the casting.
You can put it in a thick metallic container.
Here is a video of a gray iron repair using stick welding and preheating.
---
Conclusion
Welding cast iron is a hard job to do, even for welders with long experience. The high amount of carbon is the main reason it's so brittle and often cracks right after welding.
Furthermore, many castings have varied compositions with many impurities that lower the success rate.
The best way to weld cast iron is stick welding with nickel rods that have 'CI' as a suffix in their designation.
Furthermore, proper pre- and post-welding heating followed by slow cooling are necessary for demanding castings to avoid cracking and prolong their service life. 
Oxyfuel welding is a proven but costly method. TIG is good for clean casting but hard to use. Wire-feed processes have expensive nickel spools that limit their usefulness for beginners.
---
Resources
---
More Weldpundit articles
Can You Weld Cast Iron to Steel? And How to Do It.