What Is a Welding Respirator? (N95, P100, and PAPRs)
Welding generates fumes and gases into the air, which you should avoid breathing. A welding respirator is a common approach to protect yourself from these hazards.
Α welding respirator is a personal protection device that provides clean, breathable air to the welder, preventing health issues caused by polluted air. Respirators can either clean the air to acceptable levels or provide clean air from a secure source, depending on the level of pollution.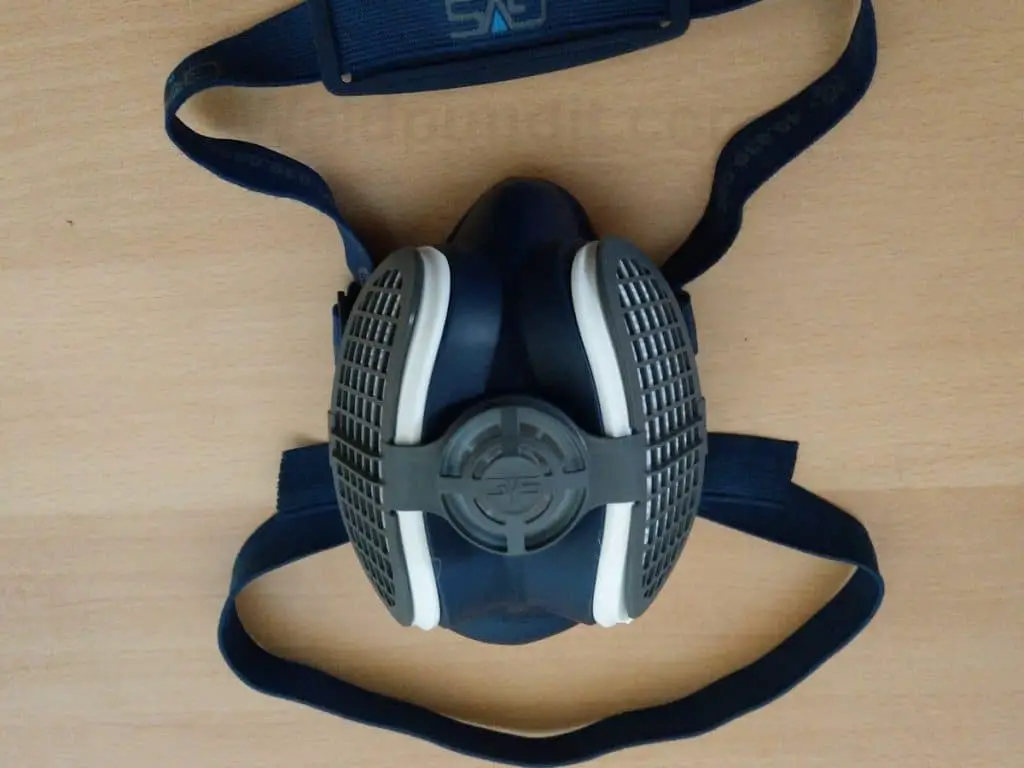 There are many things to learn about the various respirator types and their filters. In this article, you can read about:
Table of Contents
Why do you need a respirator when welding?
Respirators help to avoid overexposure to many air pollutants in the welding environment. They prevent overexposure to the following pollutants:
Welding fumes are generated by the intense heat of the arc. Fumes are solid airborne particulates of the electrode (rod or wire), coatings, and the base metal. Hot-cutting processes such as plasma and oxyfuel also generate fumes.
Gases that may have the same origin as the fumes or be the welding gases themselves, such as acetylene or argon. Furthermore, when the arc's ultraviolet rays (UV) interact with the air's oxygen, they generate ozone.
Chemical vapors can be released from degreasing products and paints. To make things worse, if welding takes place when vapors are in the air, more harmful gases may appear from the arc's heat and UV rays.
Oil particulates in the form of mist. Their sources are high-speed machinery that uses oil for lubrication or oil for drilling and cutting protection.
Dust from grinding, cold cutting, drilling, and sandblasting.
Respirators are necessary when:
General or local ventilation can not keep the air at safe levels.
Welding toxic metals, such as stainless steel, even if you have ventilation.
Institutes like NIOSH (Wikipedia) set standards and effectiveness levels that respirator manufacturers follow. Based on these standards, manufacturers produce various respirators to fit different needs and welding conditions.
What types of welding respirators are there?
There are two major types of welding respirators. The air-purifying respirators (APR) that clean the polluted air and the supplied-air respirators (SAR) that provide clean air from a separate source.
Because air-purifying respirators are the most popular and suitable for the most common welding projects, the rest of the article will be about them.
Supplied-air respirators don't use filters or gas cartridges that could underperform under harsh conditions. They always provide clean air from a secure source.
For this, they offer superior protection against all fumes and gases, including areas with low oxygen.
However, they are intended for industrious and dangerous environments. If you want to read more about them, you can check out this Safeopedia article.
What is a welding air-purifying respirator (APR)?
An air-purifying respirator is a device that takes the polluted air before it is inhaled and cleans it to safe levels with particulate or chemical filters. After that, it passes the clean air to the welder's breathing zone. 
An air-purifying respirator's filtration efficiency depends on several factors:
The type and quality of the design.
The type and quality of the cleaning mechanism.
In the case of a tight-fitting respirator, how well it fits on each welder's face.
The overall condition of the respirator.
Most but not all APRs have a half-face form. They cover the nose, mouth, and chin but not the eyes. Their advantage is that they can fit under most welding helmets.
There are three types of APRs: disposable, reusable, and powered air-purifying respirators.
Disposable welding respirators
The cleaning mechanism of disposable respirators (filtering facepiece respirators FFR) is fixed on them. When they lose their efficiency, you dispose of them. They come as half-face respirators, so they are only useful when the air hazards do not affect the eyes.
Often, this type has an extra layer of activated carbon to offer light protection against gases such as ozone and organic vapors (OV).
You stop using disposable respirators when:
The manufacturer's recommended service life is over.
You detect breathing resistance.
They show signs of physical damage.
There are two types of disposable respirators.
What is a single-use disposable respirator?
Single-use disposable respirators are simple mechanical filters in the shape of a quarter mask to remove particulates from the air. They are the simplest, cheapest, and most lightweight type. They have the shortest service life but can fit under any welding helmet.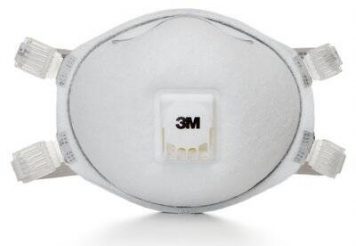 Their disadvantage is that they do not provide a secure fit for most people, minimizing their effectiveness.
Also, they are cheap as a unit but meant for one day's work only. So if you want to use them daily, their monthly cost will be too high.
What is a disposable elastomeric respirator?
Disposable elastomeric respirators are made from elastomeric materials, offering excellent fitting. In addition, they have a pair of fixed mechanical filters that are robust and offer great air-cleaning effectiveness. 
Disposable elastomeric respirators are a suitable solution for welding because they:
Have a long service life. They last around one month for fume or dust protection, or slightly less if they offer additional gas protection.
They are easy to use without any special setup. When you open the package, you do a fit test, and if there are no air leaks, you can use them right away.
Finally, they don't need any special maintenance but protection from physical damage and cleaning. Their fixed filters make them compact and can fit under most helmets.
However, they lack the versatility of the following type.
What is a reusable welding respirator?
A reusable welding respirator is a durable and reusable mask that you can use, maintain, and keep for years. This type uses replaceable filters, gas cartridges, or a combination of both. As a result, a reusable respirator is the most cost-efficient and versatile type.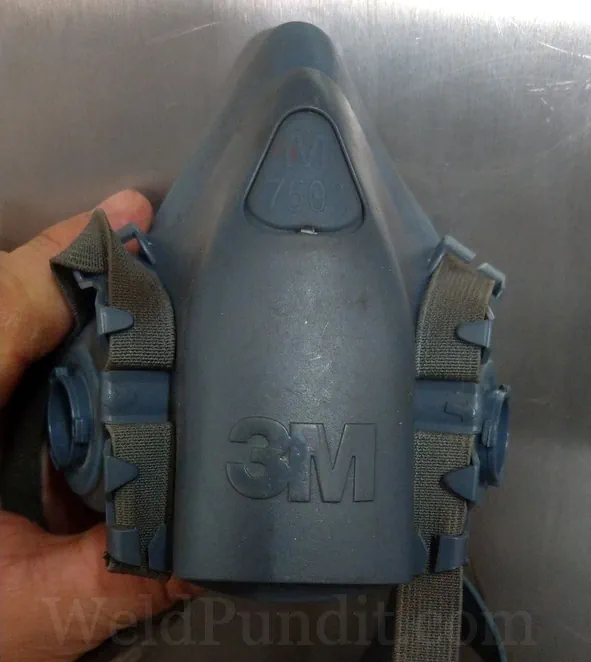 Reusable respirators are made from silicone or neoprene materials (elastomeric) that offer secure fitting. This makes them efficient for continuous professional work.
However, reusable respirators have some drawbacks that cause discomfort and reduce the focus on the job:
They have considerable weight for long work time.
Their tight-fitting design makes them heavier, hotter, and more humid, especially if they don't have a valve.
They can muffle the wearer's speech, making communication difficult.
Manufacturers provide many particulate filters and gas cartridges for reusable respirators. They can cover not only metalworking pollutants but also woodworking, painting, and so on.
Particulate filters for reusable respirators
Particulate filters are replaceable devices that attach to reusable respirators and remove particulates from the incoming polluted air. Filters consist of a fine mesh of synthetic polymer fibers that remove only particulates. Filters cannot remove gases or vapors.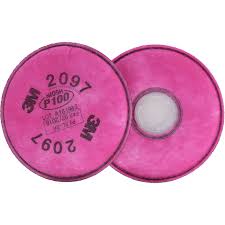 One way to classify filters is by their efficiency to clean the air from particulates equal to or bigger than 0.3 microns. This efficiency is indicated with a percentage:
95% filtering efficiency means removing 95% of the air particulates and is enough to cover the most common projects.
99% filtering efficiency removes more particulates and offers better protection when working with metals such as stainless steel.
100% filtering efficiency traps 99.97% of air particulates. A high efficiency like this is necessary when you weld, cut, or grind metals that contain toxic elements such as cadmium.
Another way to classify filters is by their capacity to capture oil particulates. The letters N, R, or P on their designation indicate this:
N stands for not oil-resistant filters. They can filter solid particulates such as welding fumes and grinding dust, and water particulates that may exist in the air. But, they cannot filter oil particulates. N filters last much longer than R or P filters. You cannot use N filters when oil particulates are in the air because they will degrade fast. 
R stands for oil-resistant filters. They are similar to the N filters, but can also filter oil particulates. They only offer resistance, which means no more than a day's work.
P stands for oil-proof filters. They are similar to the R filters, but offer far longer protection from oil particulates. The manufacturer specifies the service life of P filters.
You can use R and P filters when there are no oil particulates in the air without problems.
Nine different mechanical particulate filter types are available based on the combination of solid and oil capabilities and absorption efficiencies.
| Type | Oil resistance | Filtering efficiency % |
| --- | --- | --- |
| N95 | None | 95 |
| N99 | None | 99 |
| N100 | None | 100 |
| R95 | Resistant | 95 |
| R99 | Resistant | 99 |
| R100 | Resistant | 100 |
| P95 | oil-Proof | 95 |
| P99 | oil-Proof | 99 |
| P100 | oil-Proof | 100 |
NIOSH air filtration categories
The N95 and the P100 filters are the most popular ones.
Is N95 good for welding?
An N95 mask or filter is quite suitable for welding common steel. However, if you weld galvanized steel, a P100 would be a better choice. If you weld stainless steel, you should always wear an elastomeric respirator with P100 filters.
Filter sizes
Replaceable filters made for welding are compact and come in different sizes to fit under your helmet. However, the smaller they are, the more fragile they are and have a shorter service life.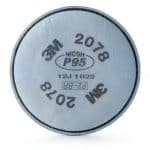 There are replaceable filters that have a larger filter surface area and a longer service life. Furthermore, their protective cases offer higher resistance to physical damage, heat, liquids, and sparks. However, they are bulkier and will not fit under all helmets.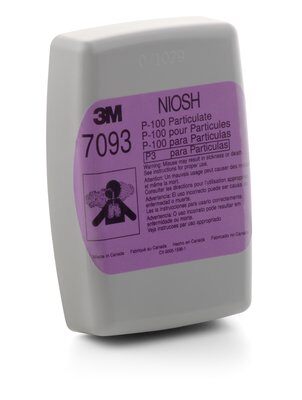 When to replace the respirator's filters?
Let's see when you replace the filters:
Each filter manufacturer or workshop establishes a specific replacement schedule for each filter.
However, using the filters frequently will saturate them faster, and you should replace them earlier than scheduled. The same applies if they become clotted for any other reason and give you inhalation difficulty.
When they get damaged from harsh use or accident.
Finally, if dirt covers them, and you cannot remove it without damaging the filters.
European particulate welding filter standards
In the European market, there are particulate filters with different designations.
Filtering Face Pieces (FFP) are single-use masks. Particle (P) filters are replaceable filters for reusable respirators:
The FFP1 masks and the P1 filters offer only 80% filtration efficiency, which is insufficient for welding.
After that, the FFP2 masks and the P2 filters are the equivalents of the N95 filters.
Finally, the FFP3 masks and P3 filters are the equivalents of the P100 filters.
| Class | Type | Efficiency % |
| --- | --- | --- |
| FFP2 | single-use mask | 94 |
| FFP3 | single-use mask | 99 |
| P2 | replaceable filter | 94 |
| P3 | replaceable filter | 99 |
European particulate filter standards
You can recognize the filtering (FFP) mask types by the color of their elastic bands. FFP2 masks have a blue or white elastic band, and the FFP3 masks have a red one.
Other countries have their own standards, but they are similar or based on the US and EU standards.
Gas and vapor cartridges for reusable respirators
Gas cartridges are replaceable devices that attach to reusable respirators and remove gases and vapors that pass through them. Removal is achieved by absorption, adsorption, or a chemical reaction with a sorbent. This sorbent comes in various forms of activated carbon. Gas cartridges cannot clean the air from particulates.
Welding fumes are the primary air pollutant, and respirators with suitable filters can absorb most of them.
On the other hand, gases and vapors are not so easy to remove. Harmful gases of organic, acid, or organic/acid nature can appear, especially when solvents are used in the area.
Depending on the gases and vapors, you must use the appropriate cartridge made explicitly for them. Figuring out the nature and concentration of toxic gases is difficult.
The most reliable way is a safety professional who can collect air samples in your workshop. You can choose the correct respirator, filters, and cartridges and set their change schedule with the results.
Keep in mind that there are gases that no sorbent can capture, such as argon or carbon monoxide.
NIOSH color coding of gas cartridges
Gas cartridges are color-coded to identify which pollutants they can remove.
| Code | Gas or vapor type | Color |
| --- | --- | --- |
| 6001 | Organic vapor | Black |
| 6002 | Acidic gas | White |
| 6003 | Organic vapor/Acidic gas | Yellow |
| 6004 | Ammonia/Methylamine | Green |
| 6005 | Formaldehyde/Organic Vapor | Olive/Black |
| 6006 | Multi-Gas/Vapor | Olive |
| 6009 | Mercury Vapor/Chlorine Gas | Orange |
NIOSH color coding of gas cartridges
When to replace the gas cartridges?
The replacement time of gas cartridges is shorter than that of particulate filters. It depends on the chemicals, their concentration, the environment's heat and humidity, your breathing rate, and more.
When a gas cartridge becomes saturated prematurely, it will not stop the polluted air from flowing into your breathing zone. Furthermore, if the pollutants are odorless, you will be left unprotected without realizing it.
To prevent this problem, many gas cartridges embed devices called the end of service life indicators (ESLI) (3M link) to help indicate their expiration. However, only a limited number of pollutants can work with them. These indicators change their color to show the saturation level.
Gas cartridges that remain exposed to the air continue to interact with it and decay. Therefore, you need to store them in airtight packages to maintain their service life.
Furthermore, when a cartridge saturates, you must remove it from the work area right away. Otherwise, it might start releasing the captured hazards back into the air. The same can happen if you store cartridges for a long time.
Here is when you replace the respirator's gas cartridges:
When gas cartridges reach the workshop's or the manufacturer's replacement schedule.
If the ESLI indicators change color. Also, if the indicators become dirty or worn out, you need to replace the cartridge.
When odor from pollutants passes through the respirator, and you detect that by smell or taste.
If the cartridges get physically damaged, or they get covered with dirt.
Things are more strict and difficult with gas cartridges, and thus dangerous if you don't change them in time. In cases of doubt, ask for more detailed instructions from the manufacturer or safety professional.
Nowadays, well-known manufacturers have developed software to help monitor the service life of their gas cartridges.
Combined filters for reusable respirators
Manufacturers also make NIOSH-approved combined filters that protect from all air pollutant types simultaneously.
Combined filters come as small-framed filters with a permanently attached thin carbon layer. With it, these filters can protect from certain gases and vapors, but only at a limited concentration level. Nevertheless, they are suitable for typical welding work.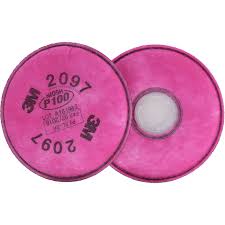 Combined filters also come as standard gas cartridges combined with particulate filters. These offer strong gas protection and long service life. However, they are bulky.
Below, you can see an organic vapor and acid gas cartridge (yellow color) combined with a P100 filter (magenta color). The protective case offers enhanced protection from physical damage, heat, liquids, and sparks.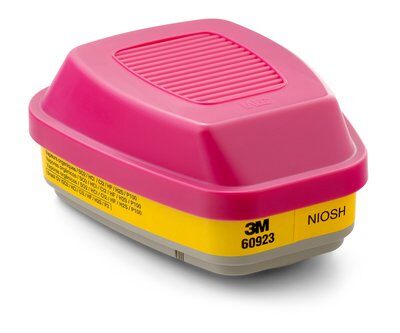 Details on disposable and reusable respirators
Because disposable and reusable welding respirators require a perfect fit with your face, they are called tight-fitting respirators.
Because of this, when selecting the tight-fitting type for the first time, you need to fit-test it for the correct size and shape.
After that, you should do a seal test each time you wear it, in case it has deformed or you had a bodyweight change.
Furthermore, these types are not suitable for people with facial hair, scars, or any facial deformities.
Tight-fitting respirators rely on the respiratory system's effort to filter the polluted air. This creates negative pressure in your breathing zone. For this, they are also called negative-pressure respirators.
Negative pressure prevents people who have inhalation problems, such as asthma, from using these respirators.
Many disposable and reusable respirators integrate exhalation valves that open when exhaling the air. Valves improve the sealing and reduce the heat and sweat build-up inside the respirator for added comfort.
What is a welding powered air-purifying respirator (PAPR)?
A welding powered-air-purifying respirator (PAPR) is a device that uses a powered air blower to absorb polluted air from the environment to clean it through a heavy-duty filter. After that, the clean air is delivered at a steady flow to the welder's breathing zone.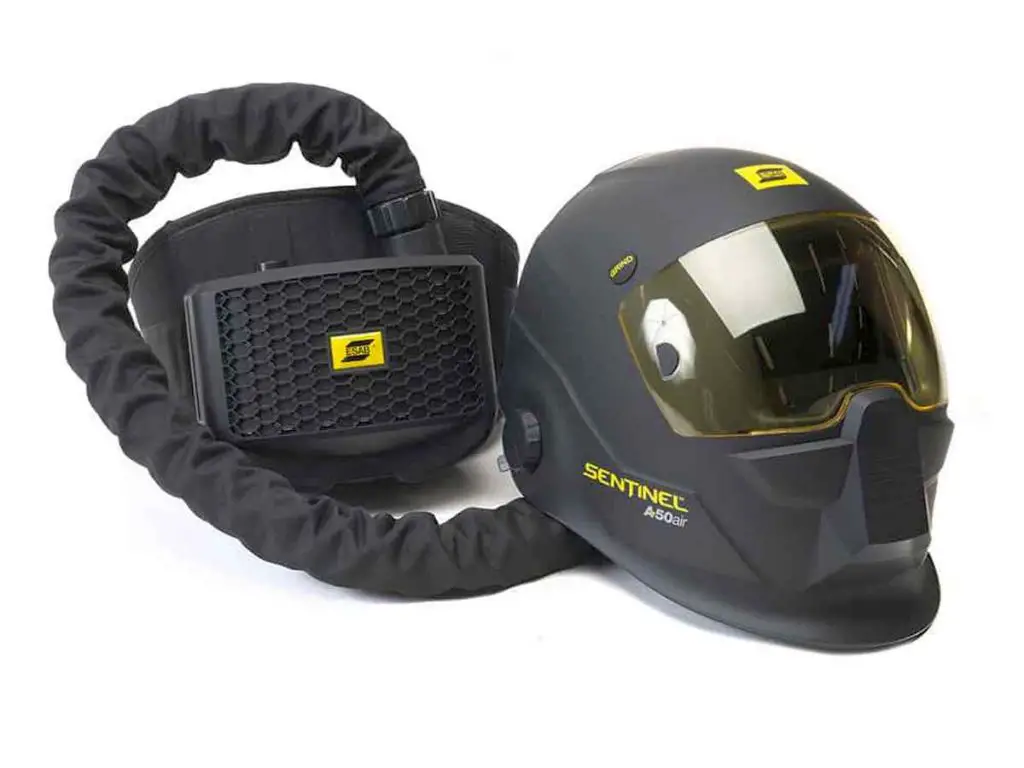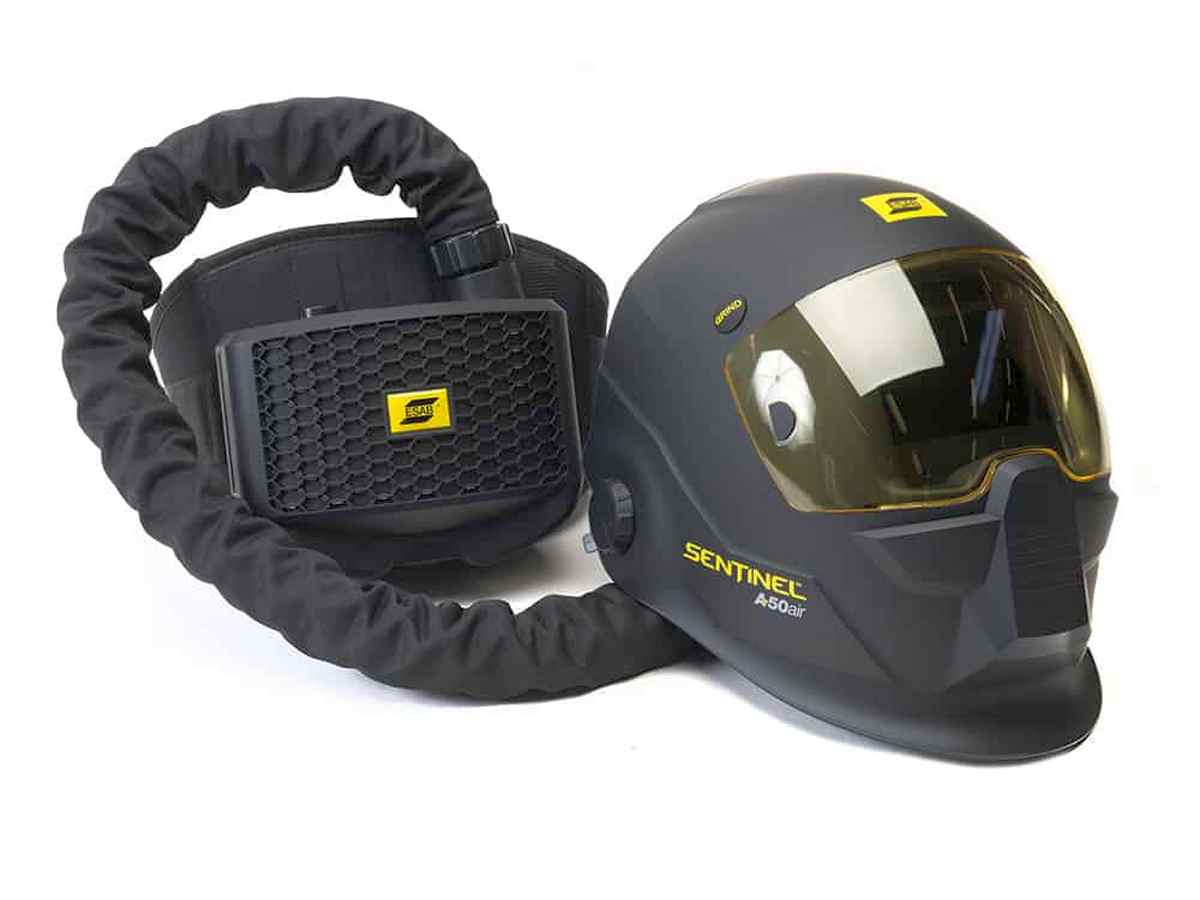 Powered respirators are the professional heavy-duty air-purifying type. They offer excellent protection and breathing comfort for prolonged working periods.
A welding powered respirator consists of several parts:
An air blower to pull the air in the main unit.
The rechargeable battery that gives power to the air blower. Most PAPRs have a duration of eight hours or more.
A heavy-duty (HEPA) filter designed for powered respirators.
A properly modified welding helmet.
The hose that connects the air blower with the helmet.
Finally, the shoulder straps and waist belt used to secure the main unit behind your waist.
You don't need an additional mask under the welding helmet, except as a temporary measure if you think the PAPR underperforms.
When you do stationary work, you can place the main unit on a steady surface for more comfort.
Advantages of PAPR
Powered respirators always use high-efficiency particulate absorbing (HEPA) filters. HEPA filters remove 99.97% of the particulates and are more robust than elastomeric respirator P100 filters. Often, HEPA filters combine with active carbon material to protect against gases and vapors.
Powered respirators are positive-pressure respirators because the excess airflow drives the air out, creating outward pressure in the welding helmet. Positive pressure offers the following benefits:
Superior respiratory protection than the previous types.
The low breathing resistance they offer is a solution for people who can not use negative-pressure ones for medical reasons.
Positive pressure also cools the face, providing relief from heat and moisture.
When positive-pressure respirators combine with welding helmets, they are also called loose-fitting respirators that offer the following benefits:
Loose-fitting respirators remove the need for a fit test and are suitable for welders with beards.
They leave the area behind the helmet uncluttered.
They protect the eyes from pollutants.
As an added bonus, there are helmets with internal safety shields and external welding lenses. With them, after welding, you can lift the lenses and inspect the bead, grind it, and so on while the respirator keeps providing clean air.
If a tight-fitting facepiece is preferred over a helmet, you can use one that has the appropriate connector and connect it to the air hose.
Disadvantages of PAPR
Powered respirators have the typical drawbacks of any high-tech system.
Powered respirators cost a lot of money, 20 to 40 times more than an elastomeric one.
The HEPA filter and the other parts cost a lot of money to replace.
You need more training to use them correctly.
They are hard to troubleshoot and maintain.
The battery requires a lot of care to keep it efficient and durable.
They are bulky and much heavier than the previous types.
---
Disadvantages of air-purifying respirators (APR)
The previous APR types (disposable, reusable, and powered respirators) clean the surrounding polluted air before passing it to the welder. For this reason, they have several disadvantages and are not suitable for several cases:
Air-purifying respirators protect you from specific hazards. You need to select the correct type and then the filters or cartridges for the job at hand.
They are not suitable for welding in confined spaces.
There are gases that no cartridge can trap, such as carbon monoxide and argon.
When the air pollution type and concentrations are unknown.
If the air has oxygen levels below 19.5%.
When pollution is higher than the respirator's assigned protection factor (APF) or immediately dangerous to life or health (IDLH).
Only supplied-air respirators can offer protection against these hazards.
---
What are the limitations of welding respirators?
Welding respirators are the last method of pollution control because many factors affect their efficiency. Let's see the limitations of every type, even the supplied-air ones:
Respirators can only protect individual workers.
You need training with each type to use it correctly.
They require regular maintenance to keep them efficient.
You also want to keep them clean to avoid eye or skin irritations.
They are prone to failure if harshly used, dropped, etc.
Tight-fitting respirators offer protection only when they fit perfectly.
Half-face respirators are useful only in environments where the pollutants are not harmful to the eyes.
Many types can interfere with your speech and make communication difficult.
Workers with certain medical problems may not wear respirators or wear only expensive powered ones.
If the respirator doesn't work correctly, you will have a false sense of security.
---
What factors when choosing a welding respirator?
There are many factors to consider when choosing a respirator. Each type works for specific hazards and must fit each welder's physical characteristics:
The density of the pollutants in the air. Even the best air-filtering ones can not protect you well enough if concentrations exceed the respirator's capabilities.
What types of pollutants are in the air: particulates, gases, or vapors.
The toxicity of the pollutants.
The existing ventilation of the workshop.
The amount of time the respirator has to keep working. For example, active carbon layers deteriorate fast in the presence of certain chemicals and might not provide even 8-hour protection.
When choosing a tight-fitting one, you must do a fitting test to ensure no air leakage. PAPRs don't have this limitation.
The overall physical or psychological stress the respirator may cause. Either to the breathing zone, vision, communication, movement, neck fatigue, and so on.
The maintenance and storage that each type requires. PAPRs need more care than elastomeric ones.
The initial cost and the cost of the consumables and replaceable parts.
The portability.
Check if the type and size of a half-face respirator can fit under your welding helmet.
If the type and size will interfere with other protective equipment you use, for example, safety glasses or earmuffs.
If you work in a hot and humid environment, you want one with an exhalation valve or, even better, a powered one that can provide cool air.
Check if the respirator's materials may give you allergic reactions.
Individual preference is important. You must be sure you are comfortable wearing one for a long time.
Make sure that you buy from a well-known manufacturer, so you can find consumables and parts for a long time at competitive prices.
Weldpundit has a simpler guide on how to choose a welding respirator for home welders.
---
Who can't wear respirators?
Tight-fitting welding respirators are popular, but need a perfect fit and create negative pressure in the breathing zone. For these reasons, they are not suitable for you:
Have heart or breathing problems.
Have facial hair, facial deformities, or injuries that prevent a tight fit.
Experience difficulties from increased heat and moisture in your breathing zone.
Furthermore, people with claustrophobia may experience stress if they wear respirators with hoods, helmets, and so on.
---
In a nutshell
Welding respirators are protection devices to prevent overexposure to harmful fumes and gases.
The most popular and cost-efficient are the elastomeric reusable respirators. The best ones are the powered respirators.
There are filters for solid or oil particulates and gas cartridges for gases and vapors. You must choose the filters and gas cartridges according to the present air pollutants.
For regular steel welding, an N95 mask or filter is more than enough. However, if you weld metals with coatings (galvanized) or alloyed metals such as stainless steel, it's better to use a P100.
While respirators are necessary for many situations, they are the last defense line against fumes and gases because they have several drawbacks.
---
Weldpundit articles
What Is Welding PPE? A Helpful Guide for Beginners.
Can You Weld at Home? Basic Considerations.