What Is the Best Welding Rod for Galvanized Steel?
Selecting the best welding rod for galvanized steel is crucial if you cannot remove the coating or there is zinc residue after grinding. The proper rod will help you avoid defects such as zinc cracking, porosity, and spatter. 
The best welding rod for galvanized steel is the E6011 because it has a cellulosic flux covering. The cellulosic flux is ideal against the zinc coating because it creates an aggressive arc, has the lowest silicon content, and generates a lot of shielding gases. You can also use an E6010 rod, but not all welding machines can burn it.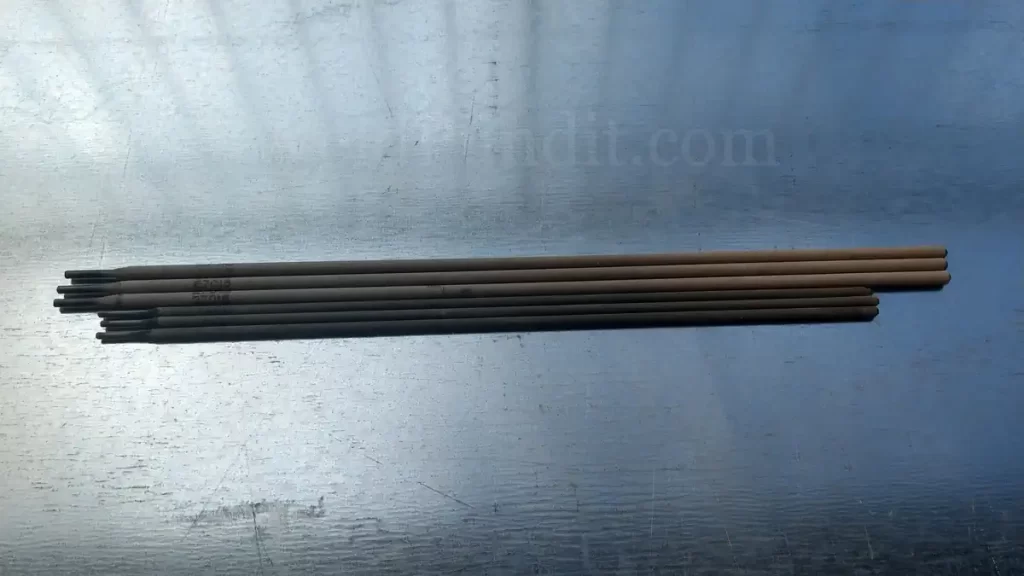 First, a safety warning. Welding galvanized steel generates zinc fumes that combine with stick welding fumes. The mixed fumes are too dense. Inhaling them can result in health issues. To avoid them, it's always best to remove the galvanized coating.
Next, we'll see in more detail why cellulosic rods are the best and how the other rods perform.
Why cellulosic rods are the best for galvanized steel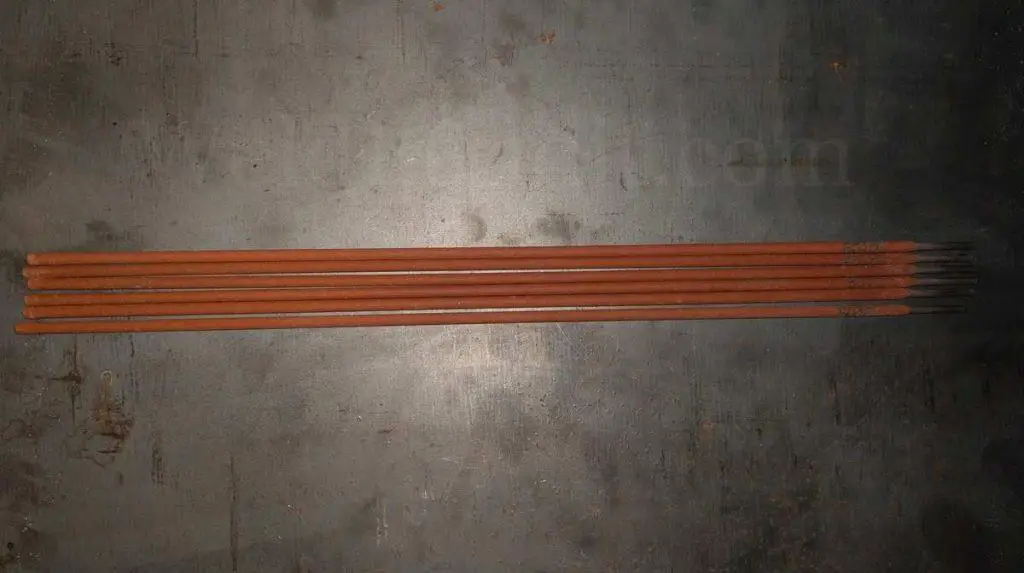 Using the same amperage, the E6011 and the E6010 create a 60-70% stronger arc than other well-known rods such as the E6013 or the E7018. The stronger arc can burn the galvanized coating and dig deep into the metal, offering deep penetration.
Another advantage is that cellulosic rods have the lowest silicon content. This is very important for heavy-duty projects because silicon increases the zinc cracking defect. 
Zinc cracking happens when molten zinc penetrates the bead and the heat-affected zone (HAZ), making them brittle. The HAZ is the area next to the bead. These brittle areas may crack under strong residual or external stress.
Cellulosic flux coverings are thin, but they offer the best shielding gas protection. That allows not only welding under windy conditions but also wide rod manipulation. 
When you strike the arc and form the puddle, you can move the arc 1-3 rod diameters forward and over the zinc coating to burn it before the puddle arrives. After that, you bring the arc back and pause to fill the puddle. Then you repeat the cycle.
We call this the whip and pause technique. This way, you can burn thick galvanization and avoid zinc cracking, porosity, and spatter.
Another plus is that cellulosic rods create a thin slag covering that solidifies the puddle quickly. That makes them ideal for all position welding, including the vertical-down (downhill) position. Vertical-down is useful for metals thinner than 1/4″ (6.4 mm), a common situation when repairing galvanized steel.
When weld metal is exposed to very low temperatures, for example, it's covered in snow, it tends to become brittle. If the fabrication is big and heavy and takes high impact, it may crack. For example, a heavy gate. Cellulosic rods offer weld metal that stays ductile (elastic) under low temperatures.
One problem with the E6010 rods is that small welding machines cannot burn them. For this reason, the E6011 rods are the only option if you don't have a heavy-duty machine. If your welder can burn E7018 rods, it can also burn E6011 rods. 
Also, the E6011 rods can work with direct current positive (DC+) and alternating current (AC). The E6010 rods work only with DC+. 
These differences make E6011s versatile and more suitable for home projects or repairs, such as galvanized fence pipe welding.
The E6010s are preferred for heavy-duty work, for example, pressurized pipes and tanks.
Can you weld galvanized steel with a 6013 rod?
You can weld galvanized steel with an E6013 rod because it has a flux covering low on silicon, reducing the zinc cracking risk. In addition, it creates an arc strong enough to burn the zinc coating and weld the metal underneath. However, it cannot compete against the effectiveness of E6010 or E6011 rods.

An E6013 rod has a flux covering rich in rutile. A similar rod that offers even better results is the E7014.
The E7014 is superior to the E6013 in almost every way because it:
Creates a stronger and more stable arc.
Welds faster because it has iron powder in the flux covering.
Creates fewer slag inclusions.
It's easier to see the puddle.
On the other hand, the E6013 is the best rod for thin galvanized sheet metal and is easier to find.
The rutile rods work with every welding machine that has enough amperage and are the easiest rods to use.
Now let's see their disadvantages:
You cannot clearly see the puddle.
They are more prone to slag inclusions.
The rutile rods are not designed for the whip and pause technique. But you can try to move slightly forward (1-rod diameter) to burn some of the zinc.
Finally, these rods offer weld metal that becomes brittle under severe cold. As a result, they are not suitable for heavy-duty work exposed to such conditions.
Can you weld galvanized steel with an E7018 rod?
An E7018 rod has a basic flux covering and offers stronger, cleaner, and more ductile weld metal than the previous rods. But is it suitable for galvanized steel?
You can weld galvanized steel with an E7018 rod if the project doesn't have demanding service conditions. That's because an E7018 has a flux covering high on silicon that increases the chances of zinc cracking. If you want to use an E7018 rod for a heavy-duty project, always remove the zinc coating to get the safest welds.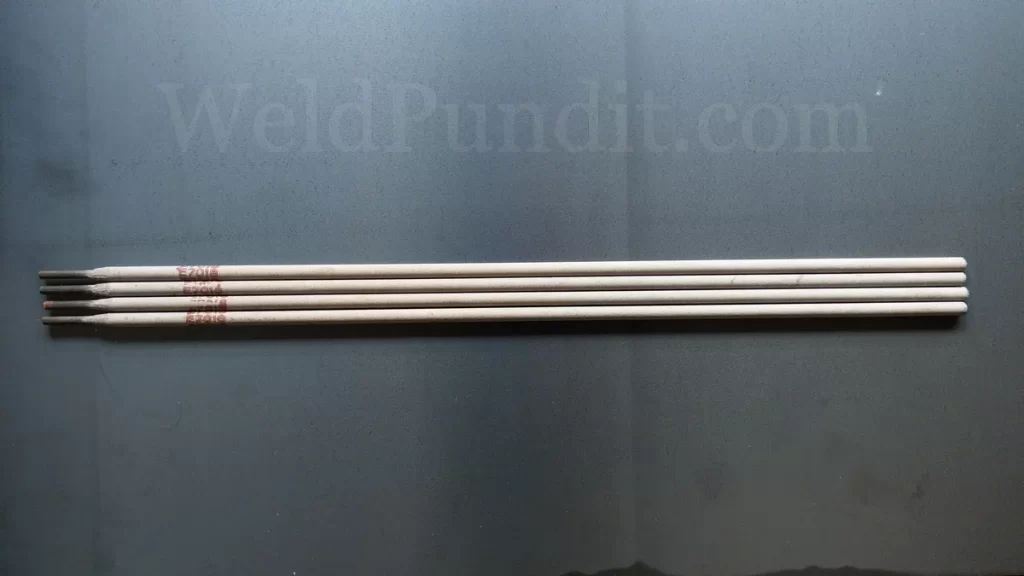 Another thing to mention is that E7018 rods create a thick slag covering but low gas protection. As a result, you cannot use a whipping technique to burn the zinc before the puddle arrives. 
While an E7018 rod isn't suitable for welding directly over thick zinc coating, you can use it for the additional passes of a multipass weld.
However, if you weld a simple project that will not take heavy stress, an E7018 rod can weld it without problems. Porosity may be present but not so much to require rewelding. 
A basic rod more suitable for galvanized steel is the E7016. It has the same chemistry as an E7018, but without iron powder in the flux.
As a result, it has a slightly stronger arc to burn the zinc and can penetrate deeper in a root pass. Also, the bead solidifies faster, making it better for out-of-position welds, something important for repair welding.
However, an E7016 deposits less weld metal, it's harder to find, and more expensive.
Can you weld galvanized steel with stainless steel rods?
Welding galvanized steel using stainless steel rods is not recommended because stainless weld metal is susceptible to zinc cracking. Furthermore, there will be galvanic corrosion between the stainless bead and the galvanized metal. Finally, these rods generate harmful fumes, are expensive to buy, and have demanding storage.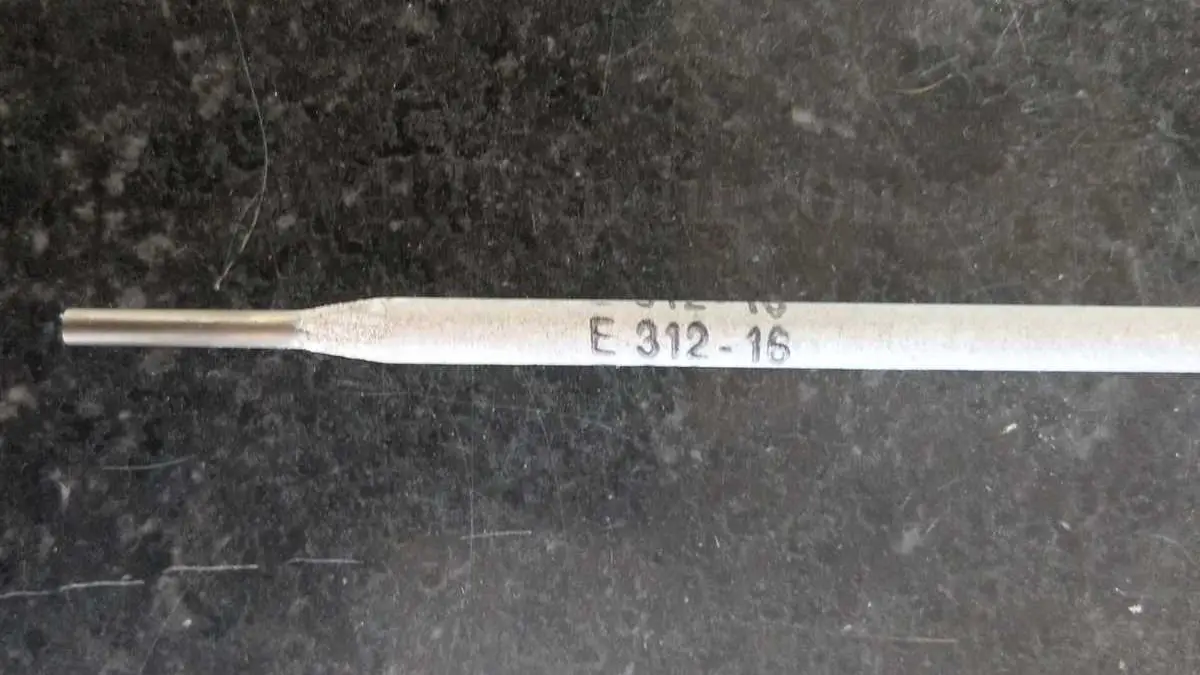 Stainless steel rods such as the E309 or the E312 are known to weld many metals with strong results, but they are unsuitable for galvanized steel.
The main reason is that molten zinc can penetrate the stainless bead and make it brittle. The joint may crack if the zinc content is too high or the weldment takes heavy stress.
New welders think it's a good idea to use stainless rods to maintain the joint's corrosion resistance.
But in the same way that zinc corrodes to protect the steel underneath it, both zinc and steel will corrode to protect the stainless bead. As a result, the area next to the bead will corrode faster than usual.
Furthermore, welding will damage the galvanized covering at a distance beyond the stainless bead, leaving the steel unprotected. The zinc covering can protect exposed steel up to 3/16″ (4.8 mm) but not more.
After welding, you always need to use zinc paint to protect the exposed areas.
Another reason to avoid using stainless rods is that they generate fumes more harmful than zinc fumes. The combination of stainless and zinc fumes can cause metal fume fever (pubmed.gov) and long-term health issues.
---
Conclusion
Since galvanized steel is regular steel with a zinc coating, you don't need special rods, you use the standard mild steel rods.
Some manufacturers offer optimized rods for the job, but they are the same rods with modified flux material to slightly reduce the zinc defects.
The best rods for galvanized steel are the cellulosic E6010 and the E6011. After that, the rutile E7014 and the E6013.
The basic rods such as the E7018 have a high silicon content that may result in cracking. Therefore, it's always best to remove the coating if you want to weld with this rod.
Finally, stainless steel rods are unsuitable because they are susceptible to zinc cracking. Therefore, you need to remove the zinc coating perfectly.
E6010
E6011
E6013
E7014
E7018
Power supply
compatibility
1
4
10
9
4
Penetration
10
10
5
6
7
All positions
10
10
7
7
8
Coated metals
10
9
5
6
3
Sheet metal
6
7
10
8
3
Thick metal
8
8
6
7
10
Cold
environment
7
7
3
3
9
Stick welding electrodes comparison table
---
More Weldpundit articles
How to Stick Weld Galvanized Steel in 7 Steps.
What Welding Rod to Use on Cast Iron? Complete Guide.